"Wait a minute, you're how old?" Missy Clark questioned Paraic Kenny.
When she heard that the Irishman who's been working for her this summer is indeed still just 17, a light bulb went off in Clark's head. She got him outfitted in show clothes, and when the Pessoa/USEF Medal Finals start on Oct. 12, Kenny will be waiting at the in-gate.
Kenny has been a working student for Clark and her husband, John Brennan, at their North Run in Warren, Vt., and Clark spotted his riding talent right away.
"His flatwork is gorgeous. In my career, I've watched a lot of people ride on the flat, and it's rare that I don't watch and think about what the rider could be doing better. And I never look at him and feel bothered by anything he's doing. It's always beautiful flatwork, absolutely gorgeous," Clark said.
Kenny came to the United States this winter for a three-month stint as a working student for Irish grand prix rider Darragh Kenny (they have the same last name but aren't related). Then Darragh connected Paraic with Clark and Brennan for a summer working student position.
"I said to Darragh, 'How does he ride over jumps?' and he said, 'Not bad.' It was typical Irish understatement," Clark said. "I gave Paraic a lesson and he did very well. He has some of what we call 'Irish moments' over the top of the jump with his position, but he figured out the softer, more American style so quickly. It's been fun; he's like a sponge. He's so eager to learn and he has such a great work ethic. It's been very enjoyable to have him with us."
Once Clark figured out Paraic was eligible to qualify for the fall equitation finals, she got to work channeling the raw natural she saw into polished equitation riding. His first forays into the equitation ring were during the Vermont Summer Festival in July and August, and he earned top-five ribbons consistently. By the Fieldstone Farm August (Mass.) show, he was winning.
The only equitation final Paraic isn't able to compete in is the USEF Show Jumping Talent Search. There's a long history of Canadian riders showing in (and winning) U.S. equitation finals, but Paraic just might be the first Irish rider to do so.

Paraic Kenny, here riding Zagneb at the Hampton Classic, has turned a working student position with
trainer Missy Clark into a bid for an equitation title. Photo by Shawn McMillen Photography
Paraic is originally from County Wexford, Ireland, and has had a noteworthy career in the pony jumpers. On the Connemara pony Grey Ross, Paraic represented Ireland in the 2012 FEI European Pony Championships (France), where he placed 18th individually.
His parents foxhunt, and while Paraic has certainly jumped his fair share of the massive brushes and yawning ditches in the Irish foxhunting fields, his heart is in the jumper ring.
Paraic knew Darragh from Ireland, so when the teenager won the same Young Riders Bursary at the Dublin Horse Show that Darragh had years ago, he knew who to call for a visit to the United States. "Darragh introduced me to Missy, and I asked her if she'd take me on as a working student. She said yes, and it's been lovely," Paraic said. "It's completely different than what I'm used to, but I'm in the right place to learn how to do it! Missy has a great system and I feel like I've learned a lot."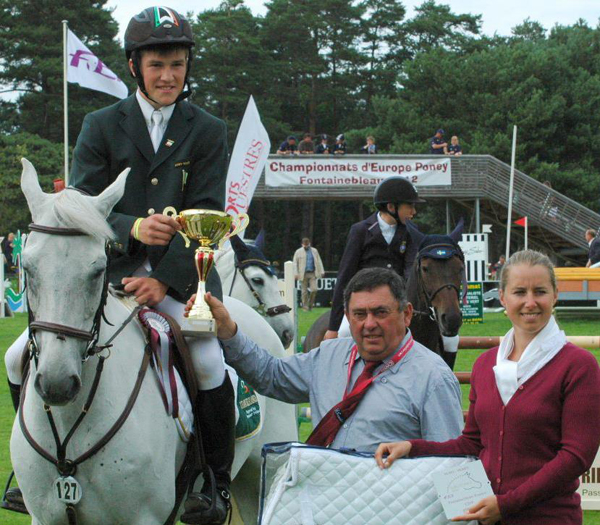 Paraic Kenny (left) first came to the United States after winning
the Young Riders Bursary at the Dublin Horse Show.
Clark's given Paraic the ride on Chocolat and Zagneb, two greener equitation horses in her barn. "She's given me great horses to ride; they're absolute machines. I'm having a lot of fun with them and it's great to have such nice horses. They've been teaching me a lot as well," Paraic said.
Clark's lessons are legendary in their difficulty, with grueling no-stirrups work, but Paraic's not fazed. "I've learned more in the last three months than I have in a very long time!" he said. "I've had to be a little bit quieter in my riding and keep everything more smooth. We've been working on a lot of details about my position, especially the two-point at the canter. To change from the European style to the American style has been the hardest part, but it's come along, slowly but surely."
In just two months of showing in the equitation classes, Paraic qualified for the Pessoa/USEF Medal Finals. He made a bid to qualify for the ASPCA Maclay Final as well, but in the regional qualifier, he added a stride in the first line. "He just rode it the Irish jumper way," Clark said with a laugh.
But it's not just in the saddle that Paraic's been impressing Clark. "He's a hard worker, and you always want to help the person who's willing to put in the hard work all day every day," she said.
"We never have to say, 'Will you do this?' If it's getting late in the day and there's a hook full of tack or some stalls that need cleaning or the aisle needs sweeping, he's the first to do it. You don't even need to ask him. It's people like that who you really want to go to bat for. He does everything. He flats so many for me every day. He gets it; his work ethic is amazing," Clark continued.

Paraic Kenny is just as comfortable in the hunt field in Ireland as he is in the show jumping ring.
Darragh just represented Ireland in the Alltech FEI World Equestrian Games (France) and has made a real name for himself in the U.S. grand prix ranks after going out on his own in late 2012. But it all started for him just the same way it has for Paraic. Darragh won the same bursary to travel to the United States to train for three months, and he worked with Clark, then returned on his own the next year as a working student.
"Darragh worked as an exercise rider for that one winter, then called me to come back. It was almost the third winter he'd worked for me that I let him jump a little and I realized that he was hugely talented," Clark said. "When I saw Paraic jump a little bit, I saw some similar qualities in him."
From 2010 to 2012, Darragh started to make a name for himself on grand prix horses Clark either owned or helped him to get the ride on. "If I'm most proud of one thing in my career, it's that I've helped to sponsor a lot of people in the early days of their career in the jumper ring, being a part of helping them to get mounts," Clark said.
And Paraic is hoping to follow in Darragh's footsteps. "I think he's one that's in it for the long haul," Clark said. "I can't say enough good things about his character and his work ethic. He's just a good kid. I think he could go on and do a lot of good things in the sport—he knows how to work for that."
Chronicle reporters will be in Harrisburg, Pa., from Oct. 9-19 at the Pennsylvania National Horse Show to bring you all the action from not only the Pessoa/USEF Medal Finals, but also the hunter and jumper divisions. Make sure to check in at www.chronofhorse.com for all the great stories, fantastic photos and behind-the-scenes details.