When Emily Donaldson canters down centerline with Audi in her open fourth level championship test at the U.S. Dressage Finals, it'll be the continuation of the comeback she always knew he'd make. Two years ago, Donaldson scratched Audi, a horse she's had since he was 2, from his GAIG/USDF Regional Championships third level test before the competition started.
"Everything fell apart, and he couldn't even do a training level test," she said. "He went to [Penn Vet's New Bolton Center (Pa.)], and they diagnosed him with kissing spine and a problem with his sacroiliac. We found a way to manage that. He works in the Pessoa [Lungeing System] and works in the ring and hacks, so he's been able to find a good balance with a lot of variety in his work to keep him fit and happy. He's been doing great."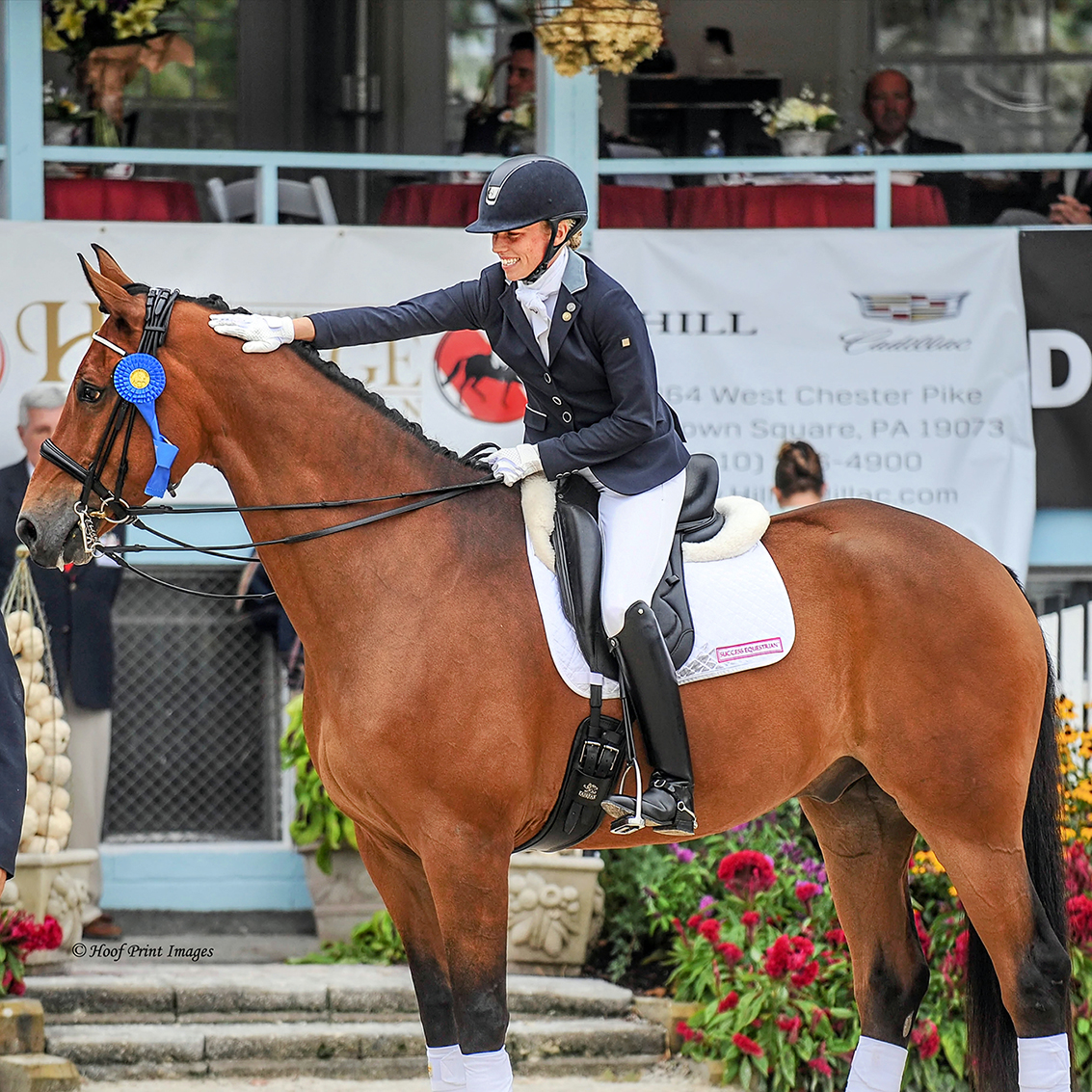 Emily Donaldson and Audi at Dressage At Devon. Photo by Hoof Print Images

Audi isn't Donaldson's only mount for the finals; she'll also compete her own Beaujolais 75 at second level and Elaine DiMarco's Campione at training level. Beaujolais 75 earned a wild card invitation at regionals, and Campione won the open training level division there. It's Donaldson's first trip to the U.S. Dressage Finals in Lexington, Ky.
"I have no clue what to expect!" she said. "I've been to the Rolex [CCI****] twice [to watch], but those are the only two times I've been to the Kentucky Horse Park. It seemed like regionals was more of a competitive feeling, and this has more of a fun feel, kind of like a year-end celebration. I do feel like with this I'm going into it with the mindset of actually just being excited to be there—be around friends and enjoy myself."
Donaldson purchased Audi from his breeder, Nancy Murray, when he was 2. At the time, she was still living in her hometown of Pittsburg. She gathered the money for him partially with a car loan, and her dad loaned her the rest.
"I managed to sort of scrape together the money to buy him, broke him, and then I started him," she said. "He's huge, about 17.2, and he was a big baby when I bought him. He was tricky, and being in Pittsburgh, you're isolated, and so I ended up started working with Scott Hassler in the fall of his 3-year-old year."
While she was living in Pittsburg, Donaldson was also working in the non-profit sector and riding on the side as an amateur. When she moved to Unionville, Pa., after marrying her husband, veterinarian Mark Donaldson, she started an LLC for her teaching and training business.
"I applied and interviewed for a job there, and I was not offered the job, so I thought, 'I'll just go for it and see what happens,' " said Emily. "I'm not one to sit still, and it was really hard the first three months. I cried a lot. Slowly, it was sort of one client at a time, one person at a time, things gradually started to take off. I have 12 horses right now in my care. Some of are students, and the rest are training horses. I'm obviously a dressage trainer, but I like to jump, so I cater to eventers, helping them with their dressage, and then hunter/jumper riders, helping them with their flatwork, and then I have dressage students."
But as things were taking off for her business, Audi went downhill and received his diagnosis of kissing spine and sacroiliac issues.
"I was told at the time he'd never do what I wanted—go to FEI levels—but over the two years, I've been able to build his fitness and just manage him a way I can continue to make progress," said Emily.
The gelding did his first Prix St. Georges test this season, and he'll continue at the level next year.
On his way to the national final, Audi topped the GAIG/USDF Region 1 Championships open fourth level division at NCDCTA Autumn Leaves (N.C.), and he did that despite Emily admitting that the fourth level, test 3, is one of her least favorite floor plans.
"It was definitely one of those rides you leave the ring and thought, 'OK, I did the best I could.' He tried for me, and the fact he finished first was really, really remarkable," said Emily. "I love him, and he's just been one of those horses I've always believed in."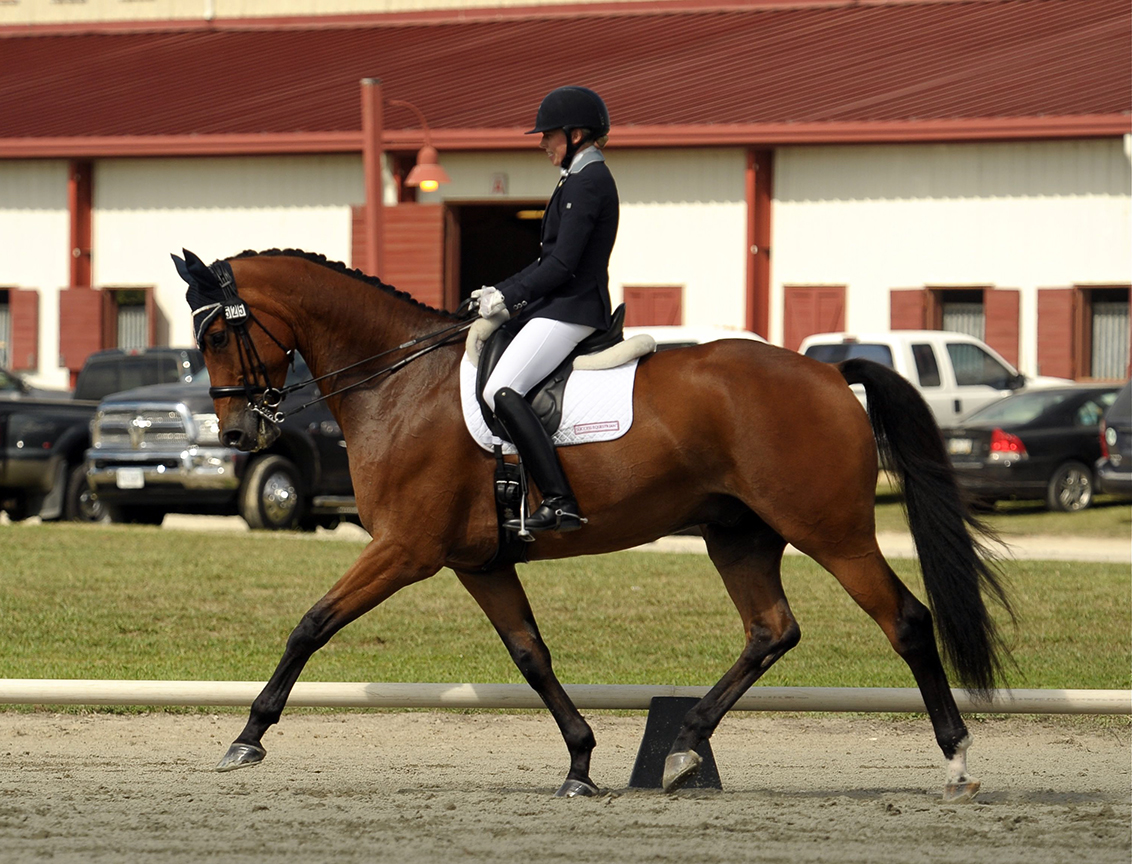 Emily Donaldson and Audi at the GAIG/USDF Region 1 Championships. Photo by Mark Donaldson

Between the Region 1 Championships and U.S. Dressage Finals, Emily took Audi to Dressage At Devon (Pa.) for two fourth level classes. Her first day there didn't go 100 percent to plan, and the pair didn't place with a 65.48 percent. Part of the ticket to managing Audi has been learning how to ride him in the warm-up ring, where the gelding doesn't like other horses coming toward him.
"He was a little tight in his back, so he ended up throwing in multiple single changes at inappropriate times," said Emily. "The judge at C had a good sense of humor and commented on how much he liked those. I was just really mad at myself, and I was like, 'Gosh, it's all in there.' "
For the next day's ride, Emily touched base with coach Jessica Ransehousen and developed a better plan for warm-up and for her test with the the 11-year-old Dutch Warmblood (Sir Sinclair—Priceless, Idocus).
"Sunday he came out, and I felt more confident, and he was fantastic," she said. "I had a really good test, and we ended up winning the class with a 69 percent. When I saluted, I looked over at Lilo Fore, who was one of the judges on the side, and she was smiling at me. I knew that was good because I know Lilo's tough. It was really cool and like my childhood dream came true. That's been my favorite horse show, and when I was there with my off-track Thoroughbred years ago, I really wanted to break 60 percent. I thought I was on top of the world when I did."
Audi isn't the only horse who's benefited from Emily's willingness to think outside of the box when it comes to training. The 7-year-old Hanoverian Beaujolais 75, or "Bunny," competed at training level in eventing alongside his dressage work before transitioning to full-time dressage.
"I started jumping him with Boyd Martin during the fall of his 5-year-old year," said Emily. "He really liked it, so I continued and worked with Jimmy Wofford too when he'd come monthly for clinics. He did really well at beginner novice and novice, and then I succumbed to the peer pressure to go training."

Emily Donaldson and Beaujolais 75 eventing. Photo by Steve Berkowitz

Even though he might not enter any more events in the future after getting a technical elimination at his training level debut when Emily missed a fence on cross-country, Emily still jumps Bunny (Bugatti Hilltop—Conflora, Contucci) one day a week.
"He really blossomed in his 7-year-old year," she said. "He's always been a big horse, but he's definitely a dressage horse now, and I was like, 'OK, we don't have the fitness, and he doesn't have the gallop in him, to go training.' He's not at all bred to jump, but he likes it, and it's helped give him good mileage.
"It's fun to have the three of them going," she added. "On any given day, all three horses are competitive."

Emily Donaldson and Beaujolais 75 at the GAIG/USDF Region 1 Championships. Photo by Mark Donaldson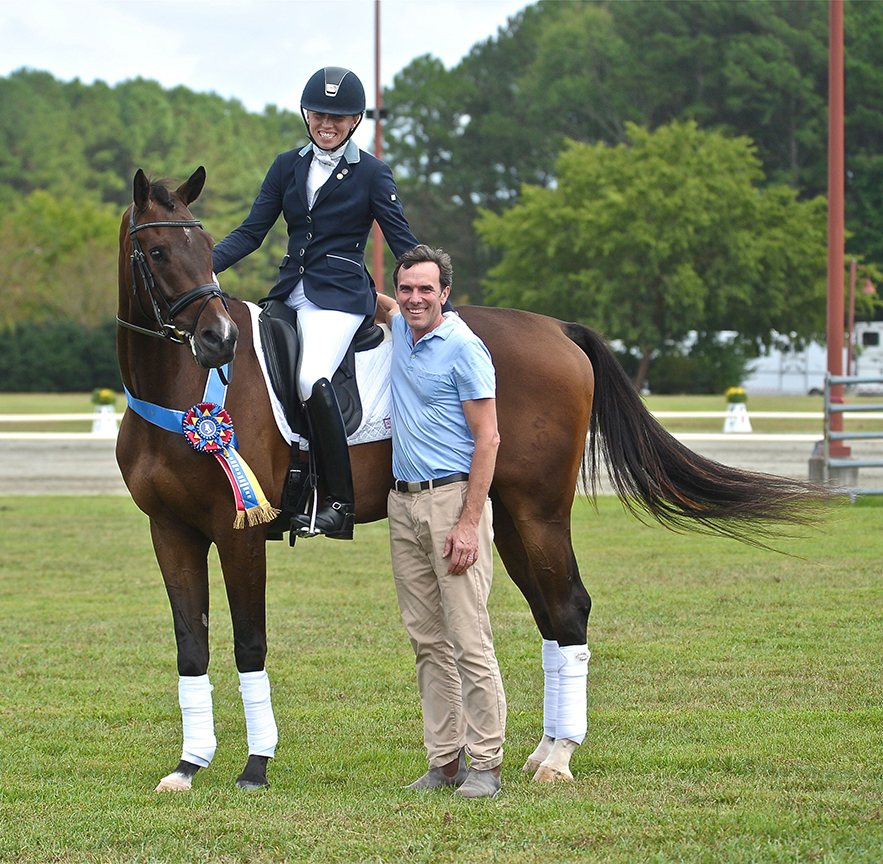 Emily Donaldson with her husband, Mark Donaldson, and Campione at the GAIG/USDF Region 1 Championships. Photo courtesy Emily Donaldson
Need to know more about the U.S. Dressage Finals? The Chronicle has What You Need To Know, with links to ride times, results, live streaming, and more. Make sure to stay tuned with www.coth.com all weekend for all the news and follow along @chronofhorse.com on Twitter, Facebook and Instagram.