Virginia native Brooke Kemper may only have one grand prix horse currently in her string, but she's definitely not a one-trick pony.
The 30-year-old is winning grand prix classes up and down the East Coast with her 11-year-old Holsteiner/Thoroughbred gelding Classified (Crescendo—Aim At Me), and she's doing it while also developing her growing business at Shadow Pond Stables, a full service hunter/jumper barn in Culpeper, Va.
Kemper founded Shadow Pond less than three years ago, but her partnership with Classified has spanned more than seven. She's working on living out her philosophy of, "I go in the ring, and I just try to jump clear rounds. Sometimes I'm the fastest, and sometimes I'm not," she said.
Kemper and Classified have jumped more clear rounds than not. After knocking on the door at the grand prix level last year, placing in the top 10 of 13 grand prix classes last year. They started 2015 winning the $35,000 CWD Grand Prix during the Gulf Coast Winter Series in Gulfport, Miss. That helped them claim the grand prix circuit championship after they also placed third and sixth in two other grand prix classes at Gulfport as well as winning a welcome class. Most recently, they topped the field in the $25,000 Rockbridge Grand Prix at the Virginia Horse Center in Lexington, Va., on April 27.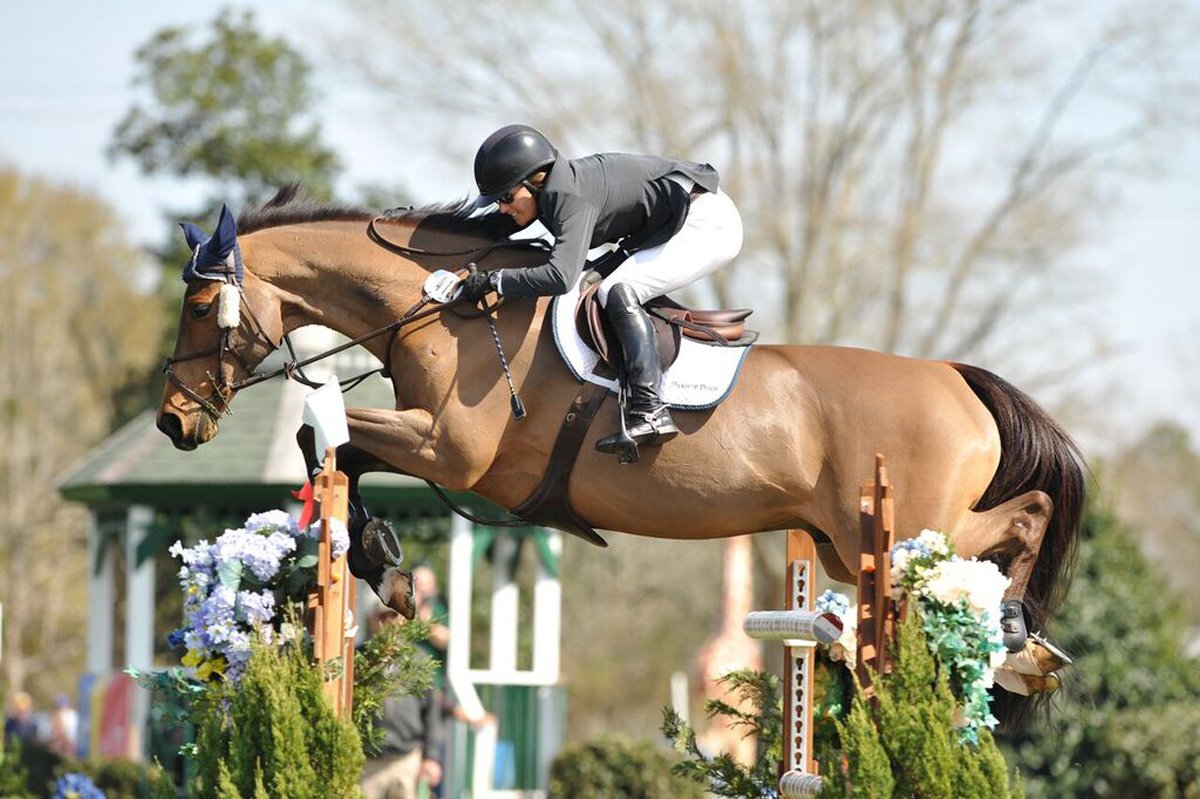 Brooke Kemper on Classified during the Gulf Coast Winter Series. Photo by Mollie Bailey
A career in the horse industry was always in the cards for Kemper, having grown up on her parents' Kemper Knoll Farm in Harrisonburg, Va. Her mother, Darlene, is a riding instructor, while her father, Whit, is a full-time farmer.
"I grew up not only on a horse farm, but on a working farm," Brooke will tell you.
"I've been riding since I was a baby," she said. "I think I did my first lead-line class at 18 months. There's a picture of me in that class, and now the riding jacket that I wore at that age, my nephews wear. So, I've been doing it since I was a kid. I don't think I've ever known anything else. I've never really thought about a different career path."
Brooke, naturally, had a regular presence on the Virginia horse show circuit as a junior rider; she trained with Paul and Wendy Matthews of DaisyField, Inc. in Somerset, Va., and was their working student throughout much of her junior riding career. Upon turning professional, she continued to work with the Matthews and still maintains a professional relationship with them today. Brooke worked for established operations for about six years before "taking the next step" and opening her own barn. Thus, Shadow Pond was founded.
"When I started out, I had five jumpers and two horses in training," Brooke recalled. "Now I have Classified, a school horse, several in-training horses, and boarders that lesson with me. I also have customers that ship in."
Shadow Pond riders are regulars on the HITS Culpeper circuit and at Upperville (Va.), and they also travel to Lexington (Ky. and Va.), Gulfport, Devon (Pa.), Atlanta (Ga.), and Tryon (N.C.) to show. Brooke has made successful trips with her students to the USEF Pony Finals, but she admits that now is a "growing stage" for her stable, as many of those young riders are graduating to larger mounts. The bulk of her clientele is junior and amateur riders now.
But the star of the barn is Classified, a horse that Brooke has brought along since he was 4 years old. The gelding, then "a little quirky and wild," was first spotted by a friend of Brooke's who thought the two would be a good match.
"A good friend of mine called me and said he knew of a horse that a friend owned. The horse wasn't working out for what the woman wanted the horse for, but he thought that I would really like him," Brooke said. "So, I acquired the horse, and he spent a couple years just kind of growing up. I started really showing him as an 8-year-old, and as a 9-year-old, he jumped his first grand prix, actually in Lexington, Va., where he just won. He's been jumping grand prix [classes] for two years now."
Watch Brooke's first round on Classified in the $35,000 CWD Grand Prix in Gulfport, which they won…
Through it all, Classified's continued success gives her confidence.
Brooke said she instantly saw talent and athletic ability in the gelding, but the horse needed time to develop.
"I just went really slow with him and gave him a lot of time to grow up," she said. "In the spring of his 8-year-old year, I started really showing and campaigning him, and he started jumping in the 8-year-old [young jumper] divisions. He went on and jumped in the [young jumper regional] finals in Kentucky. At that point, he was sort of starting to show me that maybe he was going to be more than I expected."
Brooke said Classified's strength is his reliability. Trust—in each other and in Brooke's program—is a big part of their success.
"I've really gotten to know him and trust him," Brooke explained. "He walks in the ring and he knows his job and he wants to do it. He's gotten very dependable. He's good in any venue. He sort of walks around like, 'This is cool. Everybody's here to see me!' He's not spooky in the ring. I've spent a lot of time training and prepping him. I've just really kind of tried to trust the training and know that he's prepared to go in the ring."
Such was the case when Brooke and Classified walked into the ring for the welcome class at the Gulf Course Premier I horse show in February, having shown in just one 1.20-meter class in four months. The two entered the grass field at the Harrison County Equestrian Center and Fairgrounds and were one of only two pairs to jump double-clear rounds; they were also the winners.
"I wasn't surprised," Brooke said. "I think I jumped him in something a little early in the week, and he was a little frisky and wild in the corners but just needed to get back in the ring, and that was actually a different ring than where the welcome was being held. He doesn't care. He likes to go in the ring. He knows his job. He knows how to jump the jumps. Sometimes it's just about getting the edge off and getting him ready."
Classified's summer schedule is a bit uncertain, as Brooke works around the schedules of her junior students during their summer vacations, but the direction in which Brooke plans to take her business is much more clear.
"I really enjoy helping develop young horses and riders. I'd like to grow my business a little bit and keep adding to the quality of horse and rider," she said. "That's a short-term and a long-term goal of mine. Long-term, I'd really like to develop some owners and investors for some jumpers. I enjoy bringing them along and watching them develop.
"I would absolutely love to pursue riding internationally, competing on teams, representing my country," she added. "To do that, I have to develop the financial backing and the support system behind me to give myself those opportunities. That's something I have to learn how to do. The horse part I'm good at; the developing the business side of it something I have to work on."
"It lets you know that you're on the right track when the horses go and they're successful," Brooke said. "It's really rewarding. I've just always wanted to jump clear rounds and be consistent, and Classified has really gotten to where he does that. He's been very consistent for me, and that gives me a lot of confidence about my program and about my training and my management of the horses."