Brian Moggre is starting to make a habit of achieving big goals, and his next target is the Black Barn $250,000 Junior/Amateur-Owner Jumper Prix on Sept. 10-11 at HITS Saugerties (N.Y.), so keep an eye out for this teenager who made some headlines this summer. (Editor's note: He won the $250,000 Junior/Amateur-Owner Jumper Prix two days after this article was posted.)
If Moggre's lightning fast rounds aboard a feisty chestnut mare at the Adequan/FEI North American Junior and Young Rider Championships (Colo.) didn't catch your attention, hearing his age would. He was 14 years old at the time and among the youngest competitors at the NAJYRC in July, but that didn't stop him from showing more seasoned competitors how it's done.
He picked up an individual bronze medal in the junior show jumping competition aboard MTM Fluttterby, and it was just the start of a great late summer season for the young rider.
Since competing at NAJYRC, Moggre traveled to Wayne, Ill., to compete at the Chicago Festival of the Horse, where he won two 1.40-meter open jumper classes aboard his horses MTM Ace of Spades and MTM Erkel, the WIHS equitation class aboard Viceroy, and capped it all off with victory in the $50,000 Lamplight Grand Prix aboard MTM Ace of Spades on Aug. 13, earning his first grand prix win just a few days after his 15th birthday.
If you ask Moggre's trainer, Mike McCormick, Moggre, from Flower Mound, Texas, has always been gunning for the top of the pack—the only difference now is he has the skills to make it happen.
"He's always been the aggressive, 'I want to win' type rider, even though he didn't know how to ride," McCormick said. "He liked to do the tight turns and go fast. He fell off probably a third of the time.
"You couldn't keep him from it, you'd tell him go wider, be safer, and he would turn tighter and try it anyway," McCormick continued. "And I'd always have to say that's too much, tone it down. He just has that attitude." So McCormick has worked with Moggre to balance that aggressive competitiveness with some technical skills.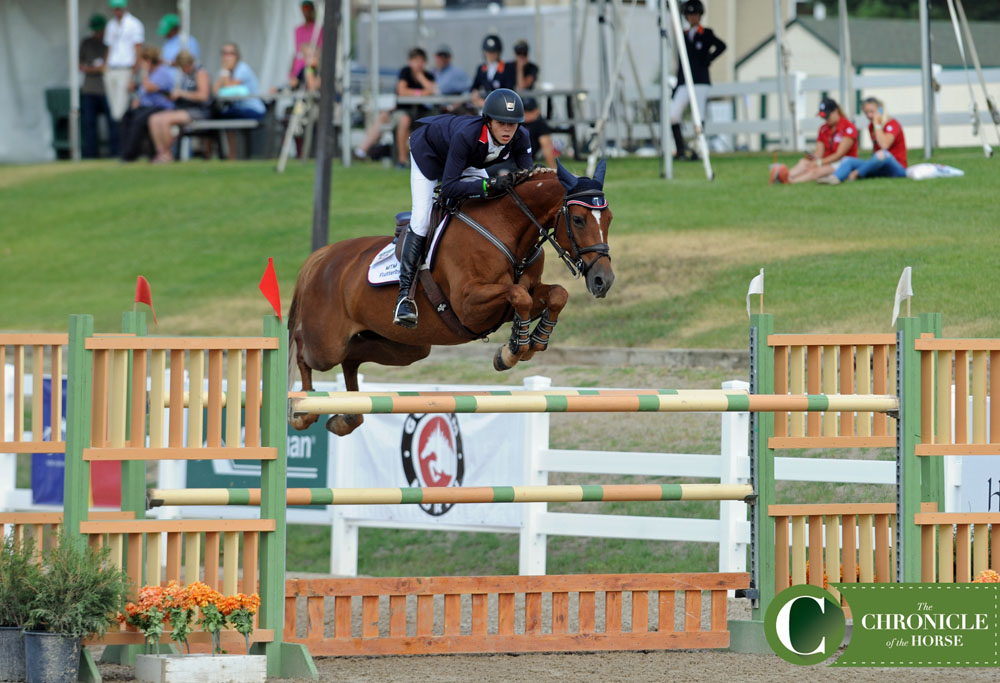 Brian Moggre on MTM Flutterby at the Adequan/FEI North American Junior and Young Riders Championships. Photo by Ann Glavan
Moggre has never been one for slowing things down—unlike most children, he didn't start in the hunters when he began riding.
"I went to my first A-rated show when I was 7, and I did the .85- and the .90-meter jumpers on a little black [Icelandic] pony named Tinna," Moggre said.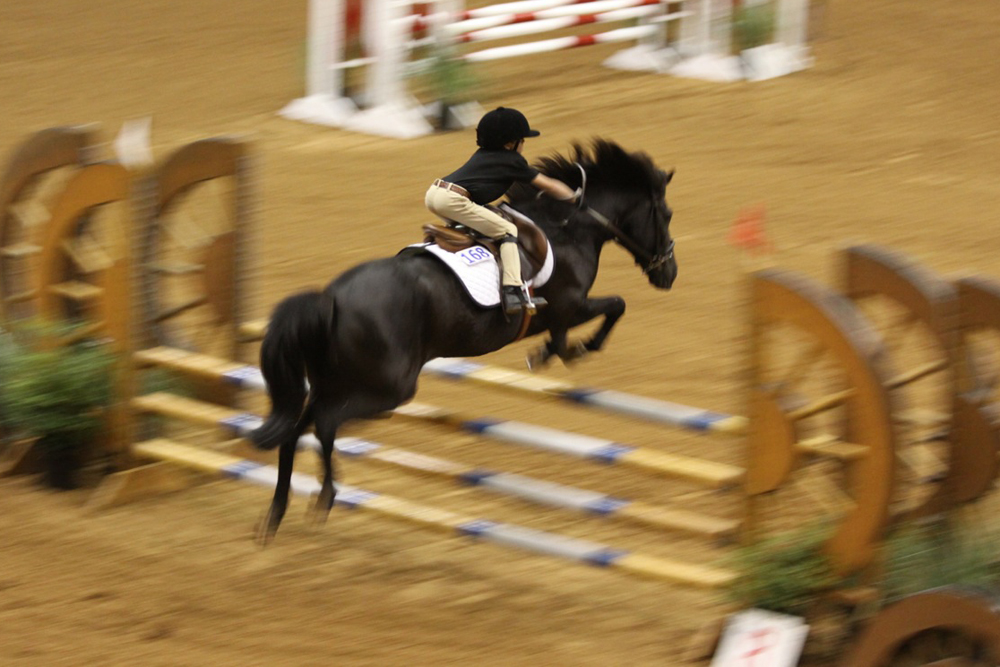 Brian Moggre on Gianna Aycock's Icelandic pony mare Tinna, who he showed in the puddle jumpers and .90-meter classes in 2009 and 2010. Photo by Teena Moggre
Moggre grew up in Dallas, Texas, riding with Gianna Aycock out of Storybook Farm. Neither of his parents are riders or had an interest in horses—that all came from Moggre at a very young age.
"When I was about a year and a half old, my parents moved into a new house and there was an equestrian center right down the road," Moggre explained. "So every time they would take my sister to school, I would always ask to stop at the barn, and eventually my mom and dad finally let me have pony ride lessons.
"Technically you had to be 5 years old to ride, so I was 5 years old for three years," Moggre continued with a laugh.
Moggre trained full-time with Aycock for the next six years, steadily moving up the jumper ranks and occasionally getting some training and advice from McCormick, who sold Moggre his first junior jumper, Tafary Quidam. Moggre moved into the 1.30-meter junior division with Tafary Quidam in 2013, contesting his first grand prix the same year at the age of 11.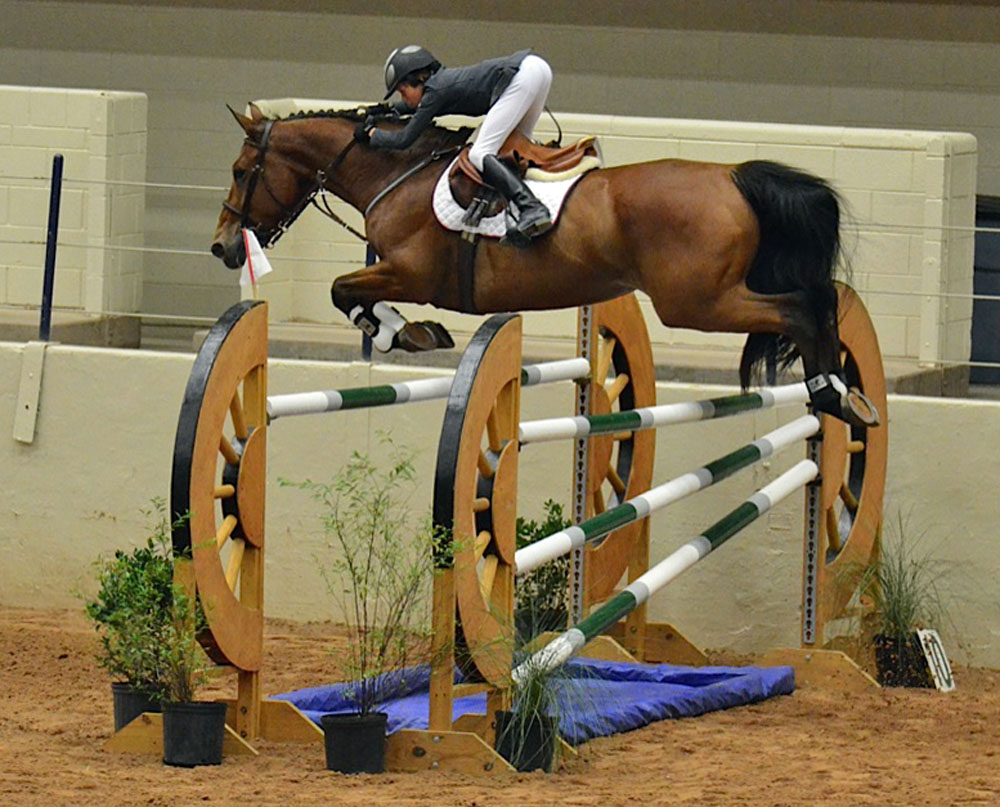 Brian Moggre showing Tafary Quidam when he was 11 years old. Photo by Teena Moggre
Moggre eventually began travelling to horse shows with McCormick, and now trains regularly with McCormick's MTM stables in Flower Mound, Texas. Moggre's wave of wins came after McCormick finally got him to appreciate the value in easing off the gas pedal a smidge.
"I would always tell him no, no, calm down, be smart, the smoother of a rider you are the faster you are," McCormick said. "To make him fast we had to be smooth, smooth is the most fast. So he's learned that well, he's become quite a proficient, almost artistic rider."
Part of that could be attributed to Moggre's recent introduction to the hunter and equitation rings—he's started catch-riding a few here and there for McCormick and Tracey Fenney, and is actually enjoying the slower paced divisions.
"I think what I like so much about the hunters and the equitation is the jumps aren't very big, so I can kind of focus more on myself," Moggre said. "It's fun making myself do things and not have to worry about the fence height, because in the jumpers they're big jumps. You have to make sure you get over them and leave everything up!"
"It's amazing, it was only a year ago in Chicago that he had never ridden a hunter," McCormick said. "I explained to him you go straight, you jump the middle, you go straight again, you get your lead, you go into the corner and repeat the process four times. That's a hunter course. And he won right away—he's quite good."
More important to McCormick than his student's stack of blue ribbons is the attitude it took to earn them.
"His parents have done a great job raising him; he's quite a good person," McCormick said. "He's really thoughtful and courteous and he's a nice person to go along with all of that talent. And his work ethic is crazy good."
Listening to Moggre discuss his plans for the future of his riding career, you would think you were speaking to a seasoned pro—he's not just riding beyond his years, he's thinking beyond them, too.
"I've always said since I was little I want to be on the Olympic team and everything, but a more short-term realistic goal is to compete in the Nations Cups and win the equitation finals," Moggre said. "I plan to place in [the Black Barn $250,000 Junior/Amateur-Owner Jumper Prix at HITS Saugerties] and do well, and then whenever I am no longer a junior, I think I will become an amateur for a year or two, and then go pro. I don't want to go straight to being a pro after my junior years—I want more time to mature and know how to run a business and do all that."
Want to find out how Brian Moggre does in the

Black Barn 

$250,000 Junior/Amateur-Owner Jumper Prix at HITS Saugerties? The Chronicle's Catie Staszak will be on site to report on that class, the $500,000 Diamond Mills Hunter Prix, the $250,000 Platinum Performance Hunter Prix and of course the Saugerties $1 Million Grand Prix.Stay tuned to www.coth.com and the Chronicle's Facebook page and Twitter feed for all the news and photos from one of the biggest prize money weekends all year.