Saugerties, N.Y.—Sept. 11
When 15-year-old Brian Moggre realized he had won the $250,000 Junior/Amateur-Owner Jumper Prix, his reaction was priceless.
He quickly turned around in his saddle, looking for someone to confirm his victory. A smile was glued to his face, and he grinned ear to ear. He reached down to hug his horse, and he cupped his gaping mouth with his hand. Elation.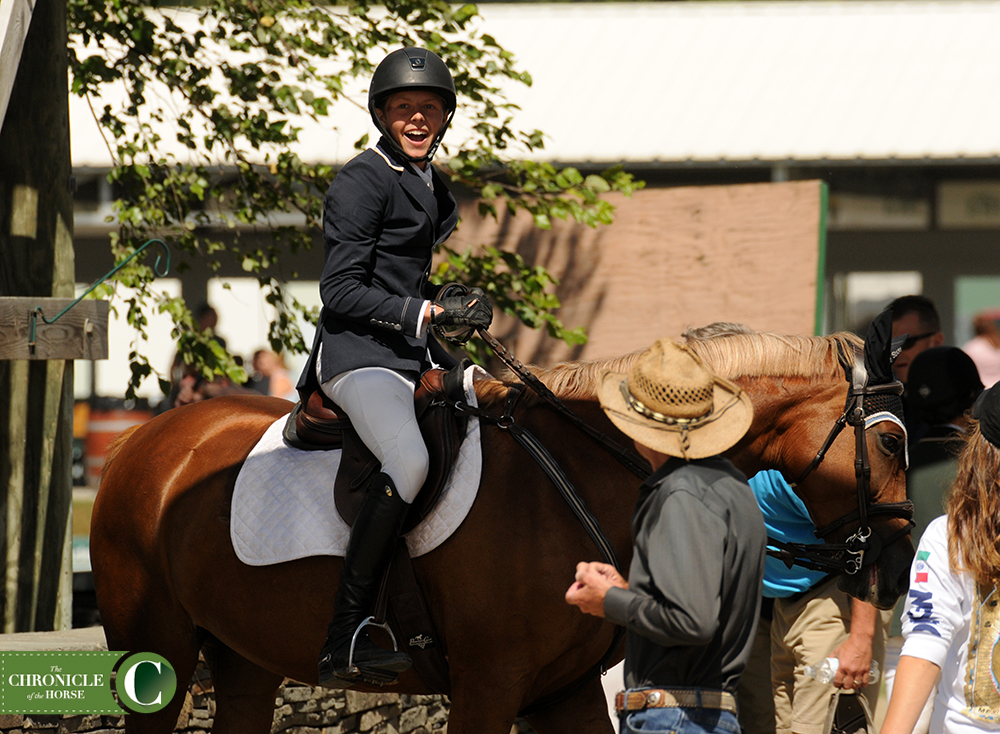 Brian Moggre almost couldn't believe it when he won the Black Barn $250,000 Junior/Amateur Owner Jumper Prix.
"It's surreal," he said. "I've never done a class with this much money before, and I've never won a class with this much money. Last month, I won a $50,000 [grand prix] class, and that was the most money I had ever won. Going from $50,000 to $250,000 is pretty insane. I'm on cloud nine. It's an amazing feeling."
Moggre, first to go in a six-horse jump-off, could not be caught, jumping cleanly with a final time of 39.41 seconds aboard his 9-year-old mare MTM Flutterby (Indoctro—Grace).
Only two other riders could navigate the shortened track without fault: Giavanna Rinaldi and Dulf Van Den Bisschop finished second (39.80 seconds), and Ali Ramsay finished third with Hermelien VD Hooghoeve (41.16 seconds). Lucy Deslauriers and Hester and Andrienne Sternlicht and Helios had Moggre's time, but they each incurred a single rail in the process, finishing fourth and fifth, respectively.
"I think I could have gone a bit faster," Moggre said of his jump-off. "In the first line, I planned to do eight [strides]. There were six horses in the jump-off, and if something happened, that worst I was going to be was sixth. That's still a pretty nice payout.
"So, I jumped into the first line and started galloping down, and I knew the eight was not going to work. I could sense a disaster happening, so I held on to her and put that last step in and whipped back around. I ran in places I could run, but I do think I could have been better prepared for the first line, where I would have jumped in and stayed out and been able to gallop more rather than having to slow down. I jumped in, and I had a plan, and I just had to resort to Plan B."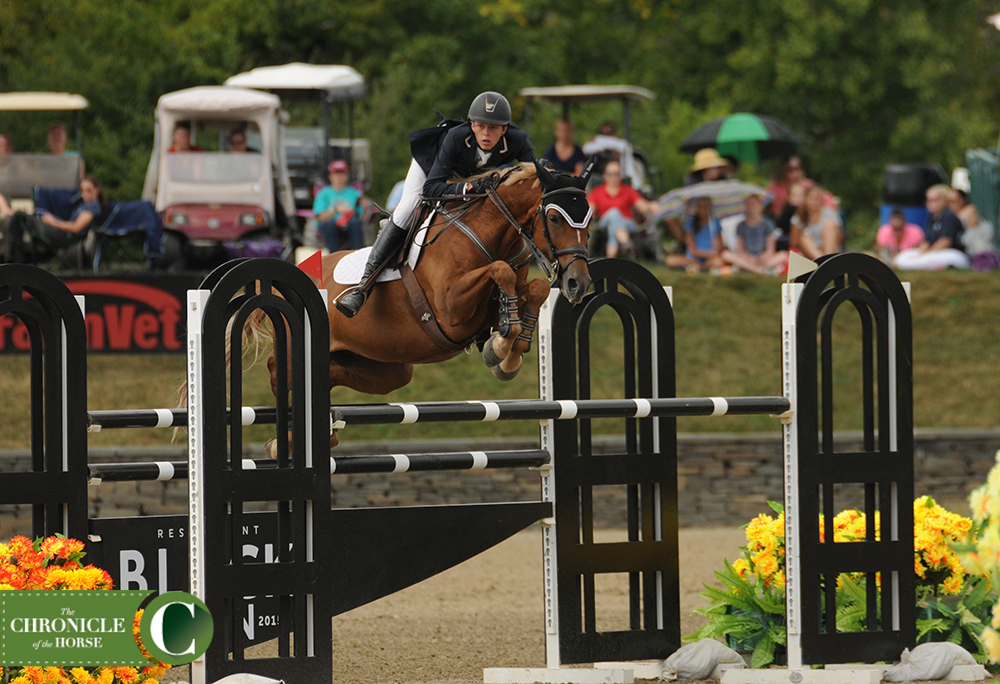 Brian Moggre and MTM Flutterby
Moggre has become a breakout star this summer after earning an individual bronze medal with MTM Flutterby at the Adequan/FEI North American Junior Championships and winning his first grand prix in August in the $50,000 Lamplight Grand Prix with another mount, MTM Ace of Spades.
But this class was a specific goal of his, and he was happy to execute with "Izzy," whom he has had for almost two years.
"[We've been putting in] consistent showing at the bigger jumps, [and] we've been doing more situational [training], saying, 'If this is in your course, execute this plan' " Moggre said. "We planned for what would be best for Izzy; I had a plan for how she was going to perform her best and get the best result."
Who else took home big checks from HITS Saugerties? Read about Jessica Springsteen's big payday in the Saugerties $1 Million Grand Prix, how Patricia Griffith won the Diamond Mills $500,000 Hunter Prix Final with Skorekeeper and about Allie Joyce and Boccaccio's win in the Platinum Performance $250,000 Hunter Prix Final. For more on the CSI***** Saugerties $1 Million Grand Prix and the $250,000 Junior/Amateur-Owner Jumper Prix, pick up a copy of the Sept. 26 issue of the Chronicle.