Rio de Janeiro—Aug. 11
The stadium at Deodoro fell silent today as Charlotte Dujardin and Valegro entered the ring.
Whether you were a dressage fan or not, it was hard to deny the harmony and fluidity of their test, which put them on top of the leader board at the conclusion of the Grand Prix on a score of 85.07 percent.
While not their best score for this test, Dujardin was ecstatic anyways, and just tried to enjoy her time in the ring with her special partner.
"I think for me, going in there today was all about going in and enjoying it. That was the biggest thing," she said. "I watched a lot of people yesterday, and they looked very white and nervous. I just thought, for me, it's my absolute passion, I've got the horse of my lifetime, I've got the top trainer, I've got everything around me. I've got huge support with the team—the team is fantastic. I thought, I've got to go out there and enjoy it.
"I can honestly say I came out of there with a huge smile on my face. I was smiling even before I went in there. II can't help but smile when I ride Valegro," she added.
"Blueberry," a 14-year-old Dutch Warmblood gelding (Negro—Maifleur, Gershwin) was focused on his rider the entire time, a testament to their long partnership.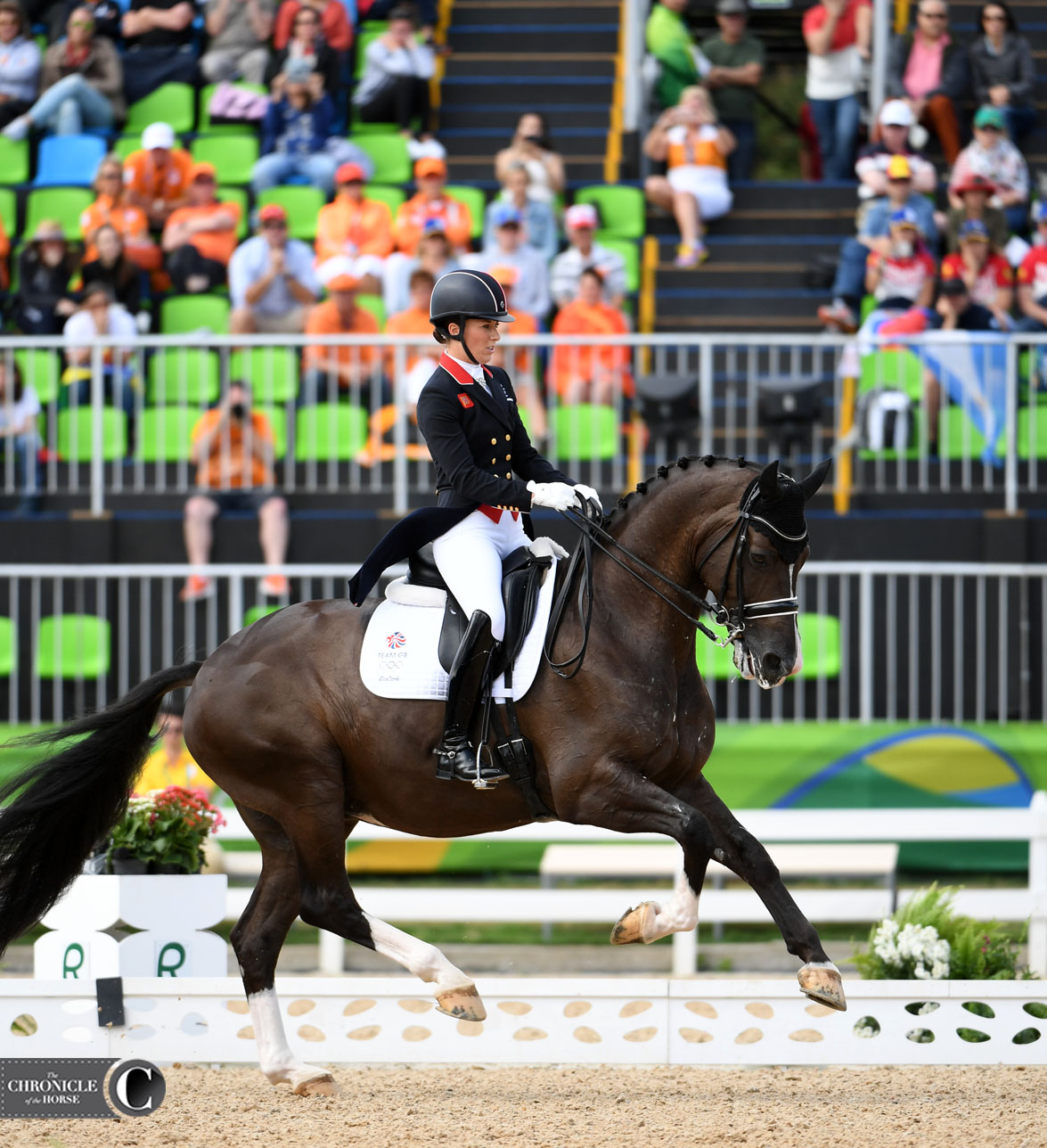 Charlotte Dujardin and Valegro. Photo by Lindsay Berreth.

"I think something, and he does it. I laugh, and think 'How does he know, I didn't even ask it, I just thought it!'" she said. "He's got the biggest heart, and he's a very clever person. He's very intelligent and brave. Nothing frightens him. And he's a pure performer. He just goes out, he knows his job, and he does it."
Dujardin's score was enough to boost the British team, which also includes Spencer Wilton on Super Nova II, Carl Hester on Nip Tuck and Fiona Bigwood or Orthilia, into second place (79.25%) behind Germany (81.29%).
The U.S. team (Steffen Peters on Legolas 92, Laura Graves on Verdades, Allison Brock on Rosevelt and Kasey Perry-Glass on Dublet) is just holding on to third place with 76.97 percent, just ahead of the Netherlands, who are on 76.04 percent.
Werth's score on Weihegold OLD was enough to move her into fourth place (80.64%) behind two of her teammates, Dorothee Schneider on Showtime FRH (80.98%) and Kristina Bröring-Sprehe on Desperados (82.25%).
"I'm really happy. She did a great job. She was really tense because the flags were really rough when I came in. It was quite windy," she said. "So I was a bit careful because I felt that she was reacting a bit off this. The rest was a few little things, nothing serious. In a few transitions she was a bit earlier than me. The rest of the piaffe-passage I think was really nice. The canter work was good, so I'm really pleased. Just the little things to make better for tomorrow."
Isabell Werth and Weihegold OLD. Photo by Lindsay Berreth.
Graves went last for the U.S. team and scored a 78.07 percent to lie fifth individually. Peters and Legolas' test from this morning keeps them in sixth place.
"I'm really happy with my pirouettes and the piaffe-passage, which is a talent for this horse, but not in the arena when he's a little bit kind of not sure where to be with all of his big legs. That has really improved in the last two months," she said.
Graves said she had a light 15-minute school this morning, and "Diddy" was very relaxed.
"I popped on him this afternoon [to warm up for my test,] and he was again very quiet, and then the winds popped up, and the plastic bag around the speaker started going, and he just burst into action, so I was kind of happy with that," she said. "We did get a chance to settle him down a bit before he came in. Unfortunately we just weren't able to ride clean today [with a bobble in canter zig-zags and a small bobble in the one-tempi changes], but I'm super happy with the feeling and the way the training is reflecting in the test."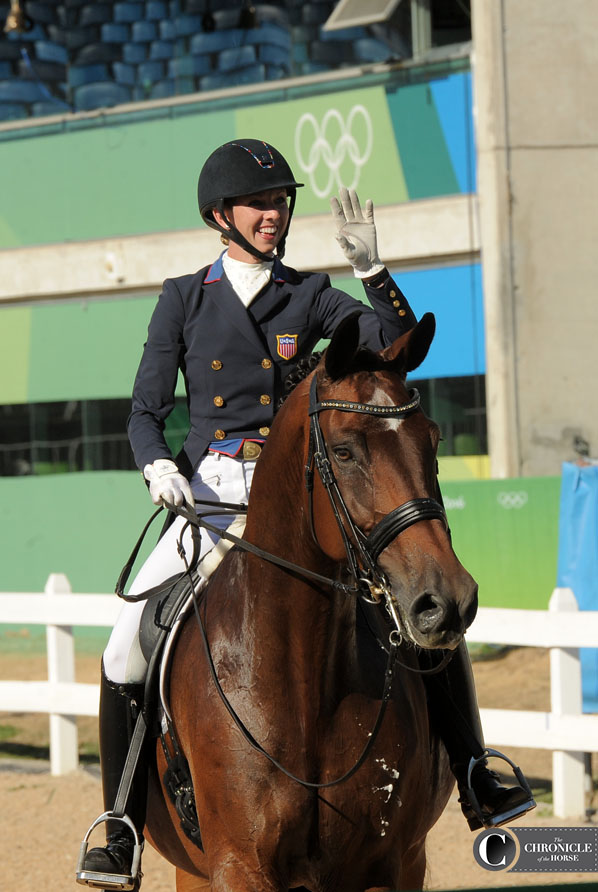 Laura Graves and Verdades. Photo by Mollie Bailey.
Fun facts
•Anders Dahl showed his Danish pride by painting his toes with the national flag. It's not the first time he's had a patriotic pedicure either. There's a Danish tradition of cutting the toes of one's socks off at a wedding, so when he married British dressage rider Fiona Bigwood, who's also riding at the Games, he had alternating toes painted with his home country's flag and the Union Jack to surprise everyone.
•Laura Graves has revived her former career as a cosmetologist to help her teammates look their best. Her list of "clients" in Rio include teammate Kasey Perry-Glass, Perry-Glass's sister Holly Gorman, Graves' coach Debbie McDonald, and U.S. Chef d'Equipe Robert Dover.
•German anchor rider Isabell Werth was teammates with Sven Rothenberger, the father of her 21-year-old teammate at these games Sönke Rothenberger. In fact, Werth graduated from reserve rider to starter on her first European championships team in 1989 when Sven's horse suffered an injury.
•Tanya Seymour is the first dressage rider to represent South Africa at an Olympic Games. Similarly Yvonne Losos de Muñiz is the first rider to represent the Dominican Republic in dressage.
•Though he was qualified for the London Olympic Games, Claudio Castilla Ruiz is making his Olympic debut in Rio. He didn't compete in London because his horse died after a bout with colic.
•Russian rider Inessa Merkulova has a ritual with Mister X: before every competition she reads to him for an hour and a half. He prefers romance novels, and yes, he has read 50 Shades Of Gray.
•Charlotte Dujardin has been getting in on the Olympic pin trading. Her very-decorated lanyard includes a lucky nail from Valegro's farrier, Haydn Price.•
•Irish rider Judy Reynolds has a lucky pin as well, a gift from her parents that's an exact model of her horse, Vancouver K's shoe.
•Steffen Peters was gabbing with Michael Phelps during the Olympic Opening Ceremonies.
•Megan Lane's mount Caravella got her start as a show hunter in Canada. She's also the only Canadian-bred horse competing in dressage.
•Sönke Rothenberger competes in field boots—a throwback to his jumper roots.
Tomorrow's Grand Prix Special starts at 10 a.m. local time. The top six teams and riders with the next best eight scores will compete to determine team medals.
Live results are here.
Mollie Bailey and Lindsay Berreth are on the ground in Rio de Janeiro for the Chronicle and will be reporting with all the news, fantastic photos and behind-the-scenes details, all posted on www.coth.com. Your go-to page for all things Olympic is http://www.chronofhorse.com/2016-Olympics
We'll have live blogs of competition sessions, Twitter updates, blogs, photo galleries, stories about each day's competition and so much more. Don't miss a thing—we'll have everything you need to know. Also make sure to follow along on the Chronicle's social media outlets: Facebook, Twitter, Instagram and Snapchat (@chronofhorse).