Dear Rita,
Life with horses is a never-ending learning process, and training a successful international Grand Prix horse is no exception. You can teach a horse to perform the test at home relatively quickly, but experience will teach you that you don't really have a competitive Grand Prix horse until you master the art of riding him at a show the way you ride him at home. This takes time. Many factors come into play, and you might be surprised how intricate the polishing of a Grand Prix horse can become.
My journey with Mane Stream Hotmail is just beginning. When I rode him in Florida last winter, I found him to be fearless, focused and, generally speaking, an uncomplicated ride. He is still so. But our trip to Europe threw a few unforeseen irons in the fire.
Identifying A New Training Goal
After that tough learning curve in Austria, "Scottsdale" and I traveled to a base near Munich for a few weeks to prepare for the CDI5* at the end of May. We stayed at the stable of friend and colleague, Ralf Kornprobst, who had trained and shown Winyamaro in his early years. It was fantastic to be back in Germany, with old and new friends (Hi Conny!), a great horse to ride, and some of Germany's best restaurants at our fingertips. Eating became a theme…
I assess my horses after every horse show, and our R and R in Munich gave me time to do just that. Hotmail had lost a lot of weight since arriving in Europe. He was drinking normally and working well, but I had to fatten him up, and I only had a few weeks to do it. Fortunately, the hay at Ralf's stable was fantastic, and the grazing was even better.
I should have been patient. I should have let Hotmail pick up weight slowly on his normal diet with the extra good forage….
But no! In typical Haddad fashion, I decided that my reliable and steady horse that had always responded well to a low carb, slow releasing energy diet, would be just fine eating those power-packed, premium Muenchener oats! Oats and hay were after all the main staples of the sport horse diet in Germany as recently as 20 years ago. At Mr. Schultheis' stable we had never fed anything else. So why not?
Hotmail LOVES oats. And he looked fantastic almost overnight. Me, my groom, my friends—we were all very proud of his newly buff look! Unfortunately, the quick-releasing energy produced by those oats proved to be too much for Hotmail's inner-devil-horse as I would gradually learn over the next few horse shows. The oats added so much power to his pack that he could hardly contain his enthusiasm. Training at home was fantastic, but dressage at the shows became an EXTREME SPORT.
The CDI5* Munich is a show like no other for electricity and general madness in the air. The venue is huge—covering over 7,000 square meters with competition arenas for jumping, dressage, vaulting, driving and western. A children's playground, a dog show venue, a petting zoo, and countless vendors of every type fill the gaps between competition areas and stabling. To give you an idea of the size and scope of this place, a horse and rider can walk for 40 unbroken minutes from the furthest stable by the racetrack to the spectator entrance on the other side of the show.
And here is the best part. On that walk you will see dogs chasing Frisbees, children screaming while "bull wrestling" on an inflatable bull, jungle-gyms teeming with acrobatic kids, countless spectators (most of them with a dog in one hand and an umbrella on the other), mares with foals at the side, a galloping troika of Haflingers or a prancing four-in-hand of Friesians, and just possibly if you are lucky, a mad Bavarian (barefoot in Lederhosen) Roman-riding the back pair of a six-horse-heavyweight hitch at a dead gallop.
Seriously.
I LOVE THIS HORSE SHOW! Hotmail handled all that chaos remarkably well. He would walk quietly along the trail from stable to the warm-up and take in all the sites with curiosity. Right through the middle of all that commotion, no worries! I was proud of him.
But his newly fueled oat-based energy finally alerted him to the fun of this new location as soon as he started working in the warm-up arena. Loud music, galloping horses and lots of applause in that huge Munich venue became an excuse to EXPRESS HIS INNER DIVA.
Now let's be clear, Rita. Hotmail is a talented and fierce competitor, but in Munich his partying started to get in the way of his performance.
A bit of break dancing is of course all fine in the warm-up when you are not being judged. But how do you teach your wired-for-sound, doped-up-on-oats diva to distinguish between the applause of a ribbons ceremony and the applause welcoming you into the arena for your test?
Every time the atmosphere turned electric and the announcer cranked up the volume on his speakers, Hotmail thought he should celebrate and have a good time! He would walk on long reins through total chaos, but as soon as he was warmed up, he would respond more to the sounds pouring in from in the main arena than he would to me. Our strategic warm-ups went totally awry, and I became unsure about how much I could really push him in the test.
Mostly I kept his enthusiasm under control for the Munich show and was able to manage it in Rotterdam, the Netherlands, a few weeks later, but at these shows I could never really sit back and ride. I couldn't go for it. A big red half-halt was forming in my mind. One week later in Perl-Borg, Germany, the mounting tension finally caught up with us and resulted in so much distraction that I could not get Hotmail to focus during an entire Grand Prix Special.
Rita, as much as I love the power and energy of an enthusiastic horse, it was time to crash Scottsdale's party. I changed his diet, and I placed a few calls…
Response Training
I am no expert in response training. I have learned and employed only a few rudimentary techniques with my horses over the years. But I know people who specialize in training horses to respond in a relaxed manner to chaotic environments. My long time trainer, Morten Thomsen, had helped me with several techniques that worked beautifully on Cadillac and Winyamaro, and I had asked Morten's colleague, Tristan Tucker, to help with some difficult young horses while I was still based in Germany.
Tristan is an expert at what he dubs "Response Training." Many people would call this type of training "desensitization," but I think Tristan has a really good point in that we don't want to create a horse that is dead or insensitive to the aids. In fact, we want him to respond instantly to what we ask of him. We want him focused on his rider with high attention, not distracted by his environment. So we have to teach him to respond with quiet relaxation to the environment while keenly listening to his rider.
Having been impressed over the years by what Tristan could achieve with frightened, belligerent, difficult horses, I recommended him to the Global Dressage Forum in the Netherlands in 2012. He gave a brilliant presentation at the forum that year, focusing specifically on preparing dressage horses for ribbons ceremonies at daunting European venues.
Tristan's basic premise in approaching the training of any horse is based on what many of us would deem "natural horsemanship" principles. The primordial nature of a horse stems from "fright and flight," which is typical for prey-animal herbivores. Frightful visual, olfactory and/or audio stimuli result in instantaneous flight. In other words—see, hear or smell lion = RUN. Self preservation at its finest.
So how do you train your horse to respond differently to frightening stimuli? In the case of the modern dressage horse, how do you get him to respond differently to distraction or tension caused by his environment? A horse might react to loud music in a dark arena with spotlights careening across the floor by bolting if it scares him.
Or, you can teach him to respond to that kind of fright by making another choice. In order to do this, you have to train him to respond to fear by relaxing his body. This requires a lot of patience and repetition. Fortunately, the horse's strong Power of Association allows us to do this.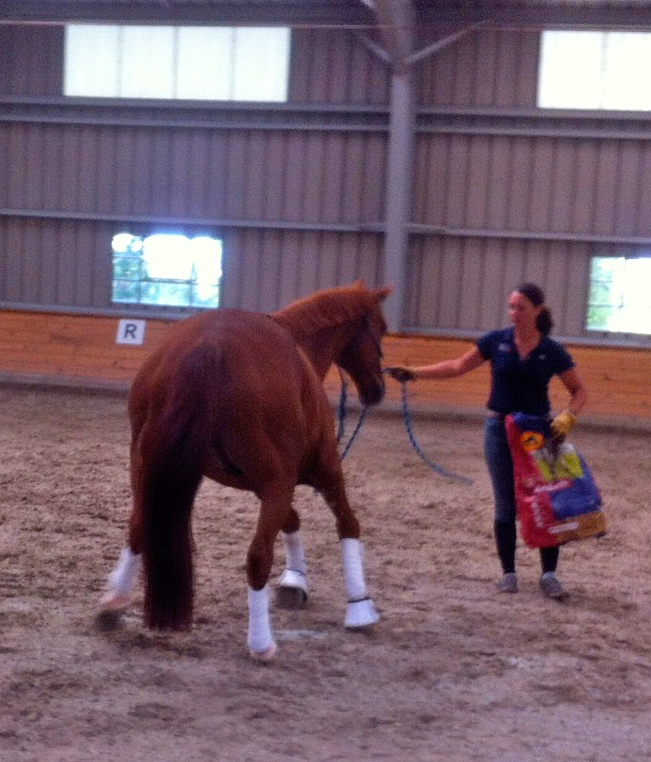 Photo by Michelle Adaway
Tristan Tucker is based in the Netherlands, and I made an appointment with him immediately after returning home from the show in Perl-Borg. Before we could even meet, I started doing some simple training with Hotmail on my own.
I took him in the round pen in a rope halter and taught him to move away from the pressure of the halter on his nose (back up), move away from the pressure of touch on his rib cage (step sideways), and move away from pressure higher than his head (drop his head) by swinging the lead rope over his ears. I introduced his body to the touch of a plastic bag and the surprise of a popping umbrella. And with each application of a stimulus, he learned that I would take it away as soon as he lowered his head and relaxed his body. Thus, he learned that he could control an uncomfortable situation by looking at and approaching the object of his fear.
These techniques are difficult to explain without video. Here is an end product—an advanced training session with Tristan Tucker that resulted from some careful building blocks over a period of days. (Please don't try this at home without the proper guidance!)
Now if you are wondering how to get to this point with your horse, you can to go to DressageTrainingOnline.com and watch my video on the simpler techniques of response training. If you are not already a subscriber to DTO, owner Reisa Bonetti is graciously offering a 30-day free subscription with this coupon: CHResponse0914. The offer expires Nov. 10th, 2014.
You will find the DTO video here:
http://www.dressagetrainingonline.com/video.php?uid=6&filter=1#
This training video on DTO explains how to start with response training, but, as I have said earlier, I am no expert at this kind of thing. I know only a few simple techniques. Tristan Tucker is a master of this kind of training, and I very much appreciated his help with Hotmail in preparation for our final shows in Europe last summer.
Hotmail let me ride him with more confidence and communication in the test at Falsterbo CDI5* (a notoriously rock-concert-like show). Our scores went up, we put in two solid tests, and we finished second in the Grand Prix Special instead of struggling to get around the arena as we had done a few weeks before. Two weeks later (still reinforcing response training at every opportunity) we placed second two more times at the Cappeln CDI 4* in Germany.
By the end of summer, Hotmail had risen to sixth place in the FEI World Rankings for U.S. dressage horses. That is a worthy accomplishment for his virgin year at Grand Prix.
More importantly, Scottsdale will now follow a twirling umbrella through a war zone, mellow out to loud music, and even perform a rockin' freestyle in the heart of Central Park, New York City. More on that soon, Rita!
I'm Catherine Haddad Staller, and I'm sayin it like it is from Califon, N.J.
Training Tip of the Day: Train your horse to relax in unfamiliar situations so that he will respond to you, not his environment.