Parker, Colo.—July 30
Annick Niemuller started the day of Adequan FEI North American Junior and Young Rider Championships CCI* cross-country in fourth place on FE Akari. But by the end of the day, she found herself sitting first after her own double-clear trip.
"Akari felt incredible the entire way around," said Niemuller. "We had one sketchy moment at the coffin; I tried to gun for three strides, and he decided it was better in four. But he was amazing the whole way around. He galloped, which is a big deal for him, because he usually likes to canter around looking pretty. He was a tank. I was really impressed with him."
There were 35 finishers out of the 44 starters, and 26 of those were double-clear rounds, but the riders in the first three slots after dressage were all eliminated on James Atkinson's course.
Makenna Rold, who was first after dressage, picked up three stops at a the ditch-and-wall on course with Fernhill Imperial. Emma Johnston, second after dressage, fell from FE Coconut Kiss in the second water complex on course after the horse stumbled. Megan Traynham was pulled up by the ground jury (Gretchen Butts, Polly Ann Huntington and Kellie Towers) for dangerous riding a few fences from the end of the course with Lord Lombardi.
Ruairi Smith had the only horse fall of the day with Fernhill Gucci in the second water complex when the horse rotated upon landing. The horse walked away, and Smith was transported from the course in an ambulance as a precaution, but officials later said she was OK.
The issues on course also allowed Lee Camiolo to move up from fifth to second on Caharron V. E.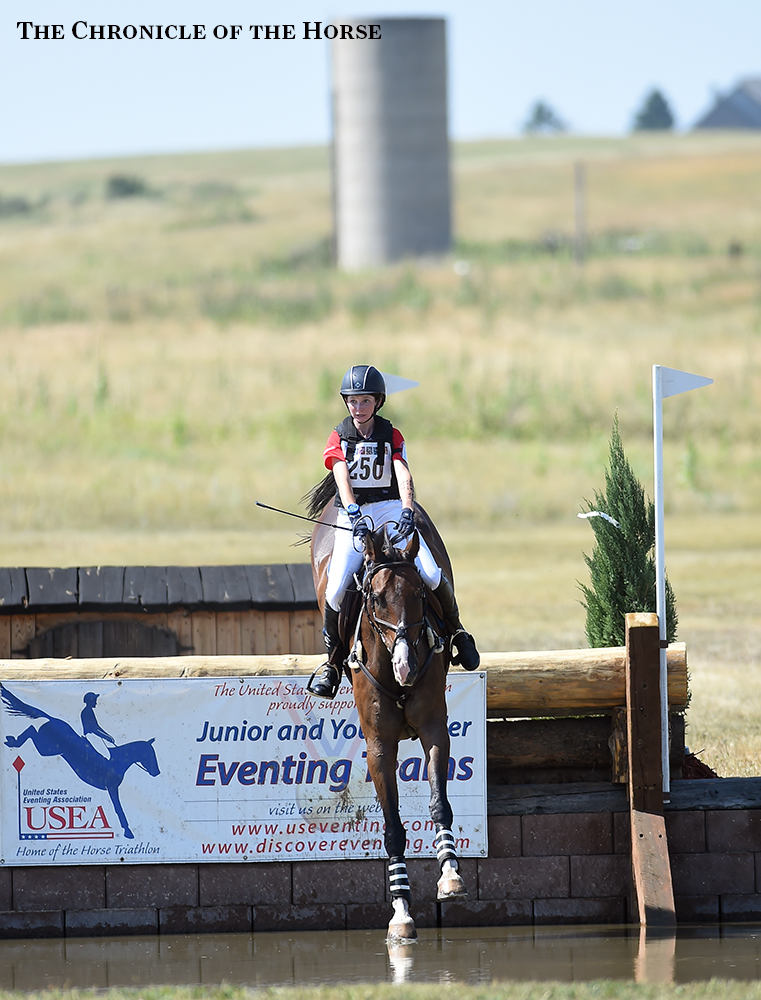 Lee Camiolo on Caharron V. E. Photo by Lisa Slade.
"My horse did really well on the course," said Camiolo. "The ditch-and-wall rode surprisingly well. I was very nervous about it, but I got a nice line there, and he carried himself over."
For tomorrow's show jumping, Niemuller is planning to discuss her plan with coach Mikki Kuchta.
"He's a great jumper and very careful and likes when you come forward at the jumps and get him closer, so he can bring himself back and jump over it," she said. "Since I've had him, I've had a really strong show jumping record, so I'm going to hold onto that and ride him well tomorrow."
The riders from Area I's team (Erica Jarrell on Uni Sprite, Katie Lichten on RF Luminati, Cornelia Dorr on Sir Patico MH and Madeline Lichten Yarrow, 146.7) will show jump with just one rail in hand over Area 3's team (152.8).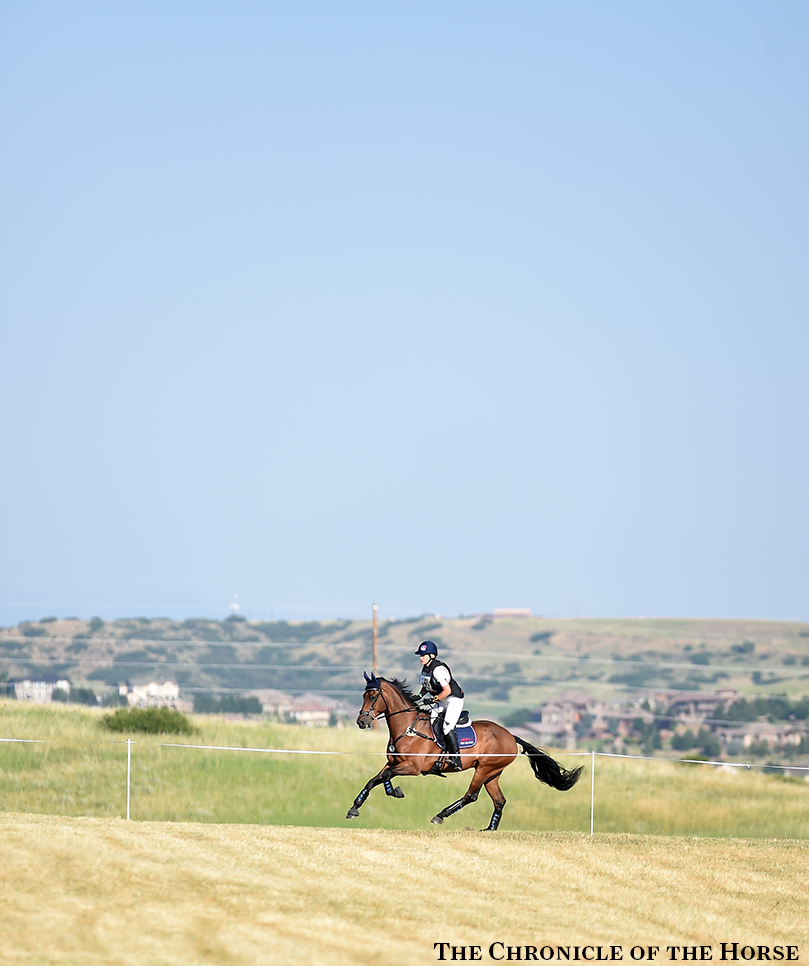 Erica Jarrell and Uni Sprite. Photo by Lisa Slade.
"I thought the beginning of the course was really big and bold, and that set the tone for a good ride throughout the course," said Kate, who's sitting ninth individually. "You had to not take anything for granted out there, but my horse was great, and it was really fun."
Three of the Area I riders jumped double-clear today, with one, Madeline, getting eliminated after jumping the two-star coffin.
"I felt pretty bad I messed up, but everyone was so nice about it," she said. "My horse is amazing, and I was really happy I got to jump most of the course."
Cargile Clinches Two-Star Lead
Clara Cargile and White Indian put in a double-clear round in the CIC** to move up from fourth to first. Dressage leader Elena Hengel and Zipp added 9.6 time penalties to drop to third.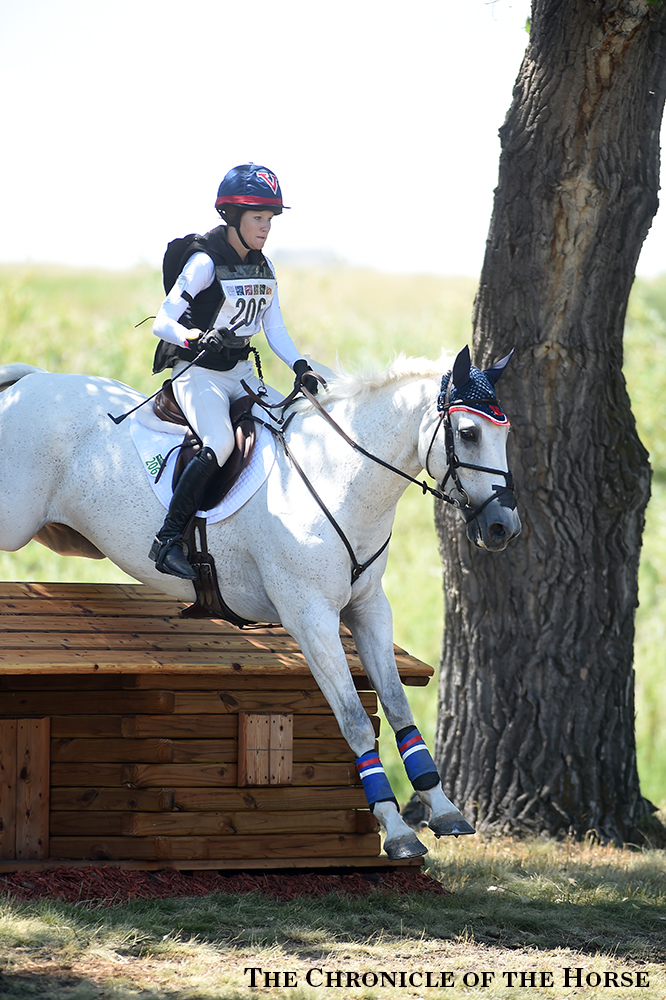 Clara Cargile and White Indian. Photo by Lisa Slade.
"He was really good," said Cargile. "I was really impressed with him; he kept doing everything I told him to do. He was a little strong, but when I told him to come back, he did. I came here in June, and the track was very similar, so I was a little nervous, but it went great."
Cargile is also on the leading two-star team from Area V and IX along with Alyssa Phillips on Bliss III (sixth individually) and Madeline Backus on P.S. Arianna (10th) individually.
Shelby Brost and Crimson are second individually after their double-clear round, one of four in the 15-rider division.
"There was a bit of carnage out there, so it was a little nerve-wracking in warm-up," said Brost. "My trainer Kyle Carter came up to me and said, 'You need to go get it done.' That's exactly what we did. She handled herself well out there."
See team scores and individual scores from cross-country day, or a full gallery of photos from the action. Or check out all of the Chronicle's NAJYRC coverage.