When? The first day of team dressage competition (small tour contestants do the Prix St. Georges, and the big tour does the Grand Prix) will take place on July 28. The next day, July 29, riders will complete their quest for team medals with the Intermediaire I and Grand Prix Special, and that's also the second individual qualifier. The top 50 percent from both tours will go forward to the final day of dressage competition, the individual freestyle tests, on July 31.
Where? All of the dressage takes place at the Escuela de Equitación del Ejército in Lima, Peru.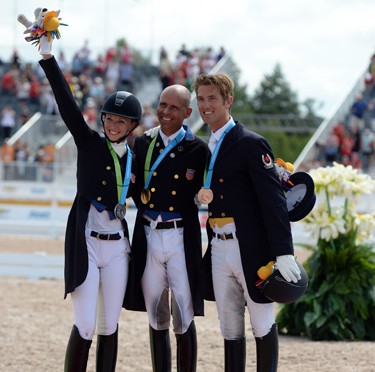 The stakes: The Pan American Games serve as a qualifier for the Olympic Games, but the United States is already qualified thanks to a silver-medal finish at the 2018 Tryon FEI World Equestrian Games. Canada, however, will be looking for gold or silver to secure an invitation to Tokyo.
Team Canada can finish behind any already-qualified nation, but if there are two unqualified nations ahead of them the only way left for Olympic qualification is through individual FEI rankings.
The format: The Pan American Games features large tour and small tour pairs. Countries can choose how they want to mix their teams. If you have a four-member team, you can have four small tour combinations (though you're not eligible for an Olympic slot without a Grand Prix horse on your team), two small tour and two big tour, or three small tour and one big tour.
However those large tour pairs earn a coefficient of 1.5 percent per score. (For example, a Grand Prix score of 60.00 percent will be scored as a 61.50 percent.)
Team USA: The United States is sending three riders to Peru, so there will be no drop score, and they're all championship rookies.  All three combinations—Nora Batchelder and Faro SQF, Jennifer Baumert and Handsome, and Sarah Lockman and First Apple—will be competing at small tour. The fourth member of the team, Endel Ots and Lucky Strike, had to withdraw when Lucky Strike sustained injuries during the team transport to Miami.
How can you follow the action? The Chronicle has a reporter on-site in Lima to bring you all the results, photos, behind-the-scenes details and fun from the Pan Ams. Be sure to follow us on Facebook and Instagram, and check in at coth.com for insightful stories and fantastic photos.
You can find full results by clicking on equestrian on the official Pan Am website.
For more about the Pan American Games check out the Chronicle's Pan Am preview issue. What are you missing if you don't subscribe?