Mill Spring, N.C.—Sept. 13
The cheer that erupted in the U.S. Trust Arena as the chestnut mare decked in chrome floated into the arena was deafening. It's rare that the American crowd gets a chance to see Isabell Werth in action live, and they were more than a little excited.
The stunning Bella Rose 2 last competed on the world stage in 2014, and after years of building her back slowly from an injury, Werth brought her back out earlier this year. With lofty gaits and exacting precision in her movements, the 14-year-old Westphalian mare came to the FEI World Equestrian Games ready to rock.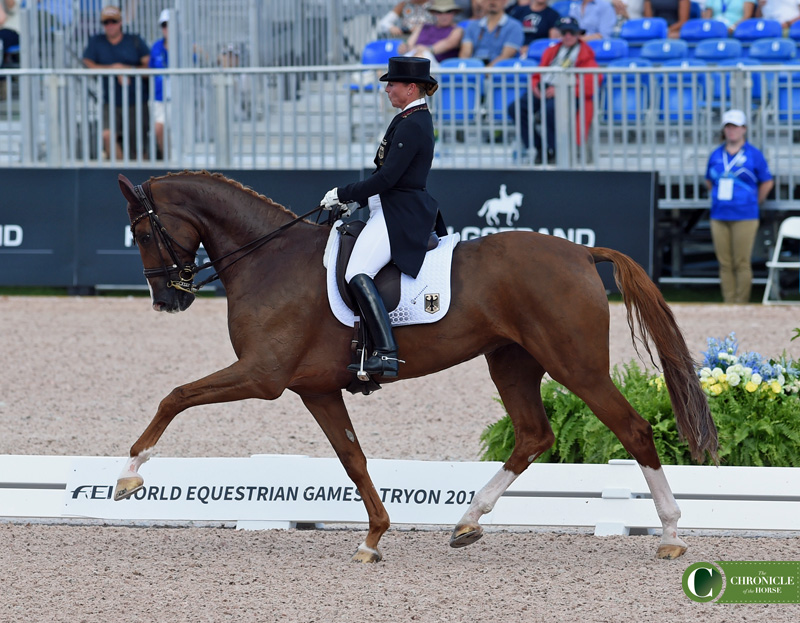 With a number of powerhouse combinations, Germany was the clear favorite going into the Helgstrand Dressage World Team Championship. They're the defending champions at both the World Games and the Olympics, and all four of their riders average at or above the high-70s in the Grand Prix, while most teams strive to have one or two riders who can score that well. Besides Werth, Sonke Rothenberger's been a rising star of the sport with Cosmo 59, and Jessica von Bredow-Werndl (TSF Dalera BB) and Dorothee Schneider (Sammy Davis Jr.) are no slouches either.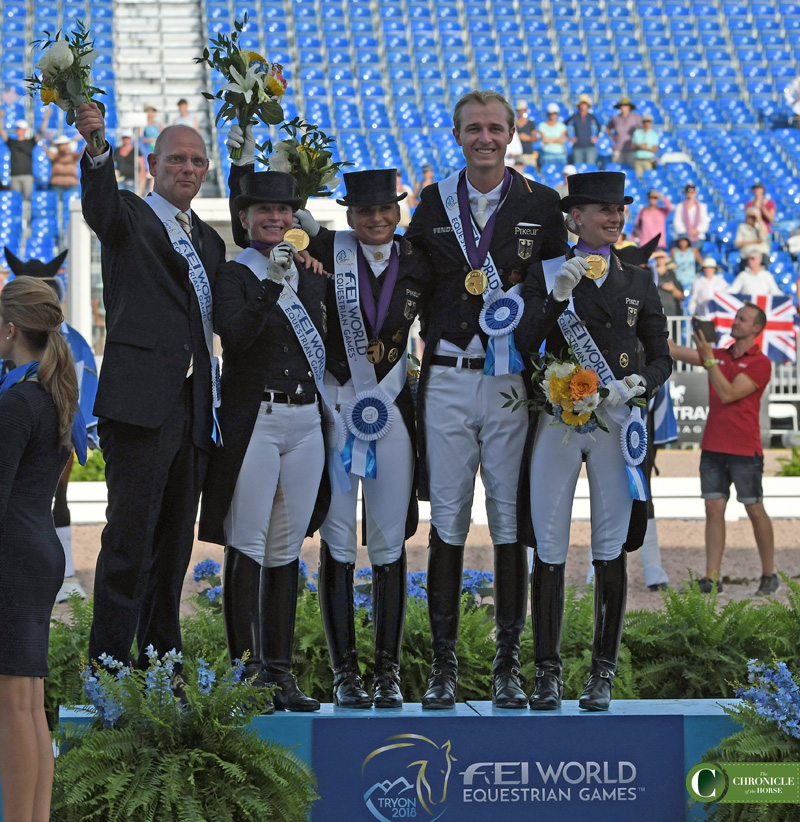 With the odds in their favor, the Germans led the competition from start to finish, and with a monster score of 84.82 percent from Werth, a second consecutive title was in the bag.
"Could be worse, huh?" Werth joked in the press conference. "I'm so happy; it's so special to come back after four years to WEG. Most of the riders and the horses people know how close my heart is to this horse, and this performance was very special to win. I feel so happy and emotional; I could enjoy it, and the last centerline to go back and to realize that this was a very special day and very special competition and very special performance, I'm really proud of this horse."
And Werth, normally stoic in the saddle until her final salute, cracked a wide grin before bursting into tears, leaning into the mare's neck as she reflected on their journey. Many might have wondered why Werth picked this mare when she left the No. 1 and 2 in the world, Weihegold OLD and Emilio 107, behind, but the German veteran never wavered in her decision making.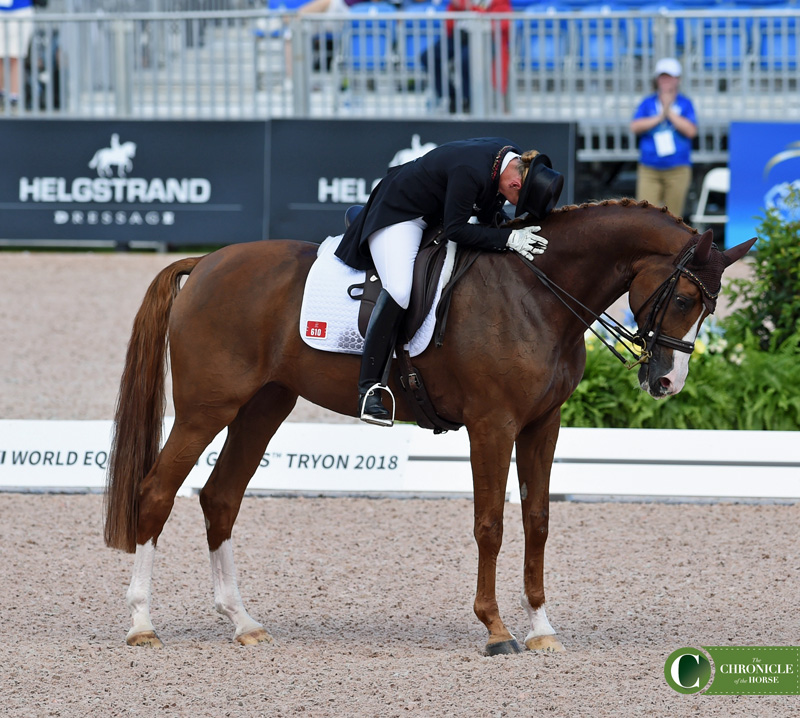 "To have three great horses and decide which horse to come and leave No. 1 at home, and decide for Bella Rose, was of course a question," she said. "We knew that [there was] risk [with] all the other ones. She's on a top level again, and I was so happy with her at home."
Germany might have been unstoppable, but it didn't mean that the other two medals were sure things. Great Britain and the United States had been doing battle from the get-go, with the U.S. trending slightly behind the Brits. That was, until Laura Graves and Verdades entered the ring.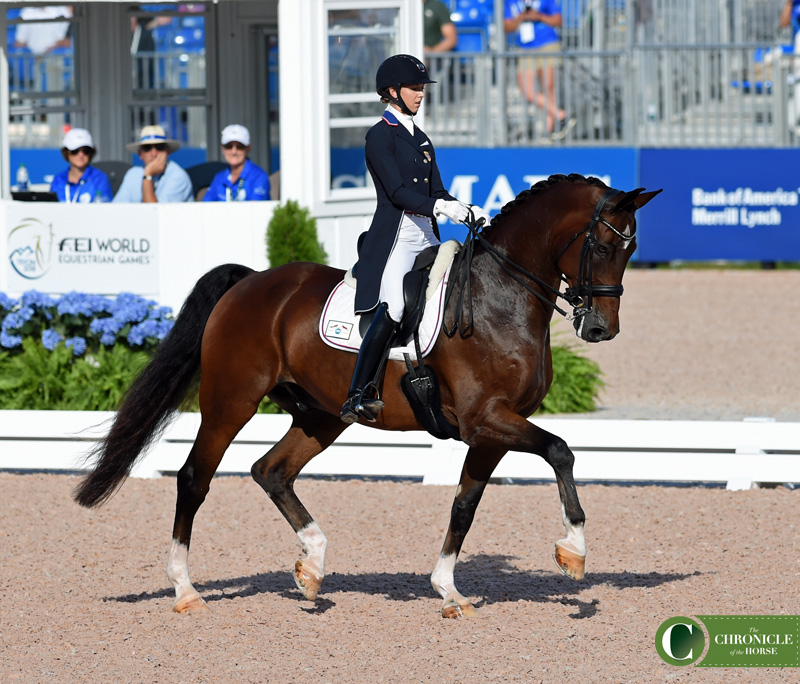 Tension radiated through the ring as the pair entered as the final combination for the team competition. As the early marks came in, the anchor pair's scores were trending high—higher than Werth—but ultimately a few hiccups resulted in a score of 81.53 percent to clinch the silver medal with teammates Steffen Peters (Suppenkasper), Adrienne Lyle (Salvino) and Kasey Perry-Glass (Goerklintgaards Dublet).
"Actually I'm feeling a bit under the weather, so I was a little nervous of that going in more than anything," said Graves. "But I've been laughing because adrenaline is such an amazing thing; the second I get in the saddle, I'm totally ready to go, and now I'm fading a bit again. Sure it's a lot of pressure, but it's an amazing team to ride on."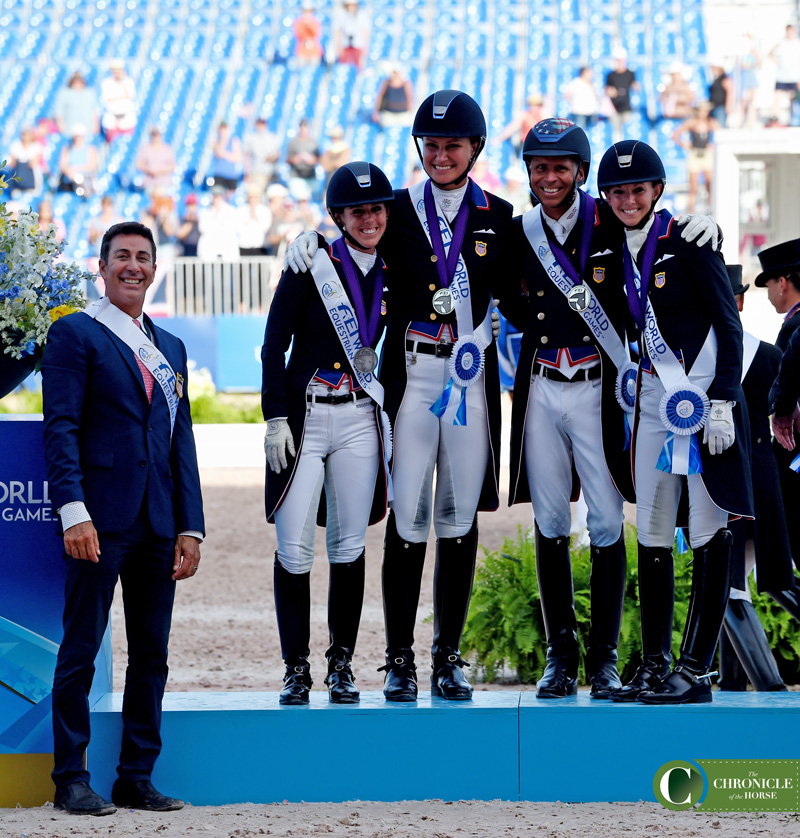 While the riders on the British team might be familiar faces, three of their four horses were newcomers to the international scene. Both Carl Hester (Hawtins Delicato) and Charlotte Dujardin (Mount St. John Freestyle) were riding mounts who debuted at Grand Prix earlier this year, while Emile Faurie's Dono Di Maggio only showed at the level twice last year. The remaining team member was Spencer Wilton with his 2016 Olympic partner Super Nova II.
This was the American audience's first time seeing Dujardin's new mare, who's been dubbed "Ms. Valegro" by many media outlets, so they sat transfixed in quiet anticipation as she cantered down centerline. The mare did not disappoint, earning a 77.64 to keep Britain on the podium ahead of Sweden.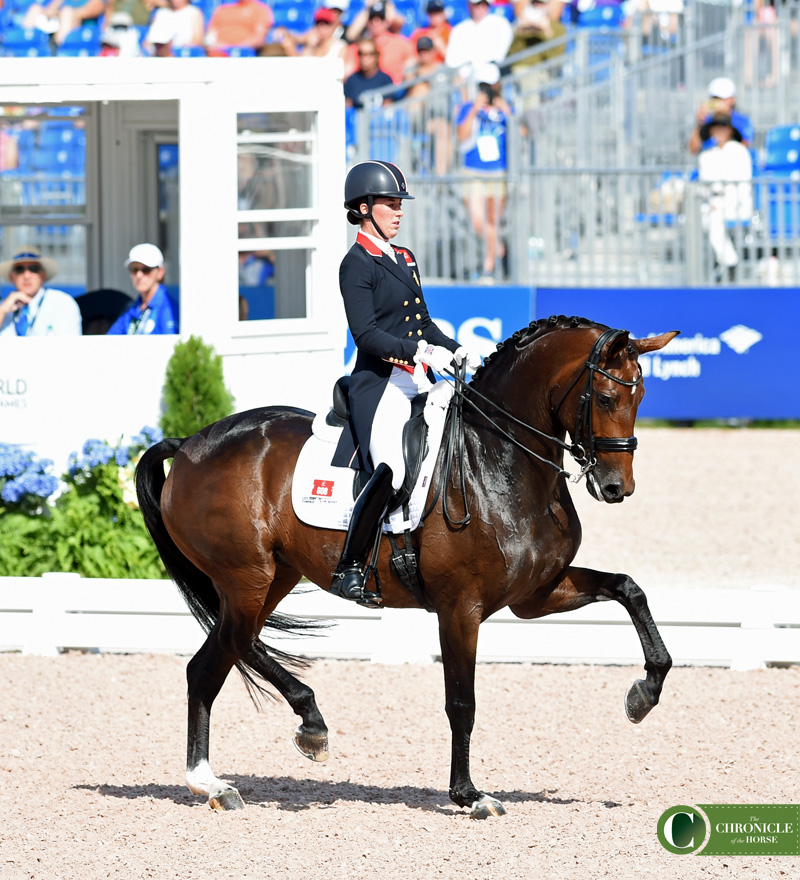 "Everyone kept saying, 'How'd you think going to go?' And to be honest I really didn't know because she's 9 years old," said Dujardin. "That's her sixth Grand Prix, very inexperienced. I've not really done much at all in that sort of atmosphere with her, so for me it was just trying to go in there and give her the best ride I could."
For full results, click here.
For everything you need to know, including broadcast schedules, click here.
For all WEG coverage, click here.
We'll be onsite for the full two weeks of WEG to bring you all the news you need to know plus gorgeous photos and insight into the competition. Be sure to check out the Oct. 8 issue of the Chronicle for detailed analysis.
2018 World Equestrian Games - Dressage Grand Prix Day 2
Kimberly Loushin / Sep 13, 2018 8:26 pm