When the end of August comes around, and someone asks me what I'll be doing in the next couple of weeks, inevitably the Hamptons always come up. For the third year in a row, I'll be spending Labor Day weekend at the Hampton Classic, the annual horse show in Bridgehampton, N.Y., known for drawing all kinds of celebrities for its Sunday grand prix.
The VIP tent is better decorated than most people's weddings, and the vendor row is actually a massive vendor square of tents, with speed boats and Range Rovers parked in the middle, all for the perusal of the high end clientele who happen to come to the Hamptons. And me. ME!
Let me introduce you to the relevant "me" you need to know for this blog. I'm 22. I just graduated from college, the University of Missouri, in December of 2015, and have been working for The Chronicle of the Horse since January.
I have two horses, a 14-year-old Thoroughbred hunter I've owned for 10 years and is currently leased out to an adult amateur, and a 3-year-old Friesian-Thoroughbred cross. The 3-year-old lives in my backyard, literally—I rent a room on a farm from a very nice woman in Lexington, Ky., and I board my horse in the field behind it.
In other words, I am the opposite of the person you think would be going to the Hamptons on Labor Day weekend. When people hear that's where I'll be spending the first weekend in September, they're usually impressed and say something to the effect of, "Wow, that's fancy!"
And then I laugh and tell them one of many stories of my previous trips to the Hamptons, because I can tell the trip they're picturing is not at all what I'll be doing.
The Hampton Classic is indeed very, very fancy, and I am very, very not. I'm the dummy living on a journalist's starting salary who thought it was a good idea to buy a 3-year-old horse with 20 days under saddle. I'm sometimes broke, sometimes have $500 dollars in my checking account and feel like a billionaire ("Yes, Chipotle, I KNOW guacamole is extra, and I KNOW my card got declined the last time I was in here, but on this particular day, I CAN AFFORD IT.").
I go to Panera all the time for the free wifi. Like, I have made friends with the staff, because I am regularly there for over four hours at a time, smiling and nodding and hoping they don't come check my free water cup to find it's filled with Sprite. I collect friends' HBO Go account passwords like it's my job.
And yet, just like Sarah Jessica Parker, Jennifer Lopez, and Mary Kate Olsen, I too find myself in the Hamptons that first weekend in September, and it never ceases to make me laugh at the absurdity of it. I'm off to bring you coverage of this year's Hampton Classic horse show once again, and I'd like to share with you some of the many tidbits I share with people to explain what that trip is really like.
Step 1 is getting to the Hamptons.
This is a feat in and of itself, particularly when you are a travel moron like yours truly. I am that person who goes through security, puts their shoes back on and completely forgets their carry-on luggage, waltzing off to my gate care (and baggage) free, hoping there's a Cinnabon nearby.
My parents worry (as they should) whenever my travel plans involve more than a direct flight with a ride from friends to and from the airport, and getting to the Hamptons is more like the movie "Planes, Trains and Automobiles."
To get to the Hamptons, I first fly into the JFK airport in New York City, which requires a connecting flight when your take-off point is Kentucky. You then wait in a line to catch a cab, which drops you off at a particular movie theater in Queens. You then wait at that movie theater for a bus called the Hampton Jitney to pick you up. It took forever to show up last year, so I went into the movie theater and bought popcorn, Twizzlers and a soda to snack on while watching NYC traffic go by (as far as free movies go, pretty entertaining!).
That bus eventually arrives and gives you a tiny bag of Goldfish and a very long ride out to Long Island, stopping at all the various little towns in the Hamptons before it reaches Bridgehampton, where the horse show takes place. The drop-off point is by an ice cream parlor, where for something between $10 and $14 you can get yourself a small sweet treat while you wait for the cab/Uber/very nice friend to come pick you up and drive you the rest of the way to wherever you're staying, which in my case is in the room of a rented house.
Unsurprisingly, hotels in the Hamptons are wickedly expensive, so I rent a room from the horse show photographer, who rents a whole house for the week they are in the Hamptons. Last year, the house was so full I stayed on an air mattress in the laundry room, which was actually awesome because it was queen size (at the time, I was sleeping on a twin size futon in my studio apartment in college, which I was sharing with my 45-pound dog), so I could sleep spread eagle and not fall off the bed. It's the little things in life, right?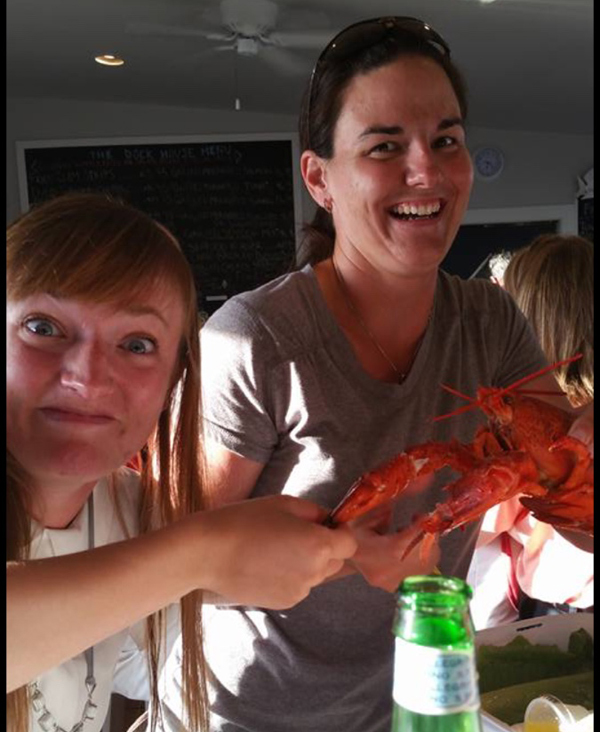 When in the Hamptons…
Anyway, so you're in the Hamptons, you got your good night's sleep, you're ready for your first day at the actual horse show: hurray! The show is beautiful.
A good number of rings (like the main grand prix ring) are on grass, the pedestrian walkways are built like beach boardwalks with lots of pretty flowers and landscaping, the barns are these massive blue-and-white striped tents—it feels very summery, and the weather is the perfect not quite fall, not quite summer 70-degree temperature.
First things first, you go to the press room, check in, and are given a media credential and a canvas bag stamped with the horse show logo. This bag will come in handy when the day ends and half of the free press bagels are still sitting on the table, and you would like to maybe take them all with you for snacks later. #BagelBag.
Then, while you're waiting for the class you're covering and photographing to start, you can wander around the vendor area of the show (the square with the speed boats parked in the middle). I made the mistake the first time I came here of thinking I could buy a little something, maybe a cute ring or necklace, as a souvenir.
Then you walk into one of the tents, ask how much a certain scarf is, and try to keep your face composed in a "Thanks! I'll think about it!" expression of deference as you slowly back away from a scarf that costs more than your bi-monthly paycheck. Tempting, fashionable neckwear! I'll come back for ya when my single drops.
The horse show will start, you'll shoot your class, which can be fairly hilarious if any sort of celebrity happens to be competing in it. Actual paparazzi will show up with their cameras set on "take eight million pictures per second, please" mode to get pictures of Georgina Bloomberg in the grand prix, or Mary Kate Olsen in the adult jumpers (My particular favorite article about Mary Kate from the Hamptons was a 2014 People Magazine photo that was emblazoned with the well-researched rhetorical question "A designer doing dressage?" It was a photo of Mary Kate jumping).
On grand prix Sunday, the show takes it to a whole new level, because this is the day the big time celebrities all show up for the 2 p.m., class. You have to go through media training and get a special sticker on your press credential to be allowed into the VIP tent for exactly one hour to take pictures of celebrities at their various tables, which are decorated to the nines. (You can see pictures of the tables here from another blog here.)
The tent gets crazy crowded during this hour, and as you may have noticed pictures of celebrities eating is not really the Chronicle's target content, so the first year I was there, I was just walking through to see what there was to see with a fellow photographer, not with any real plan in mind. I bumped into about a million people trying to make my way through, one of which was Rudy Giuliani, who I did not recognize because I was making a beeline to take a picture of a particularly well-decorated table. The photographer who was with me had to point him out. So yes, TMZ, if you were looking to hire an expert celebrity identifier, I am your gal.
So as I make my yearly pilgrimage to this wonderfully unique and hilariously juxtaposed horse show that is the Hampton Classic, don't be fooled by any social media post of me hanging out ringside in a dress and sandals trying to pass as a wealthy young Hamptonite.
I picked up the sandals at a thrift store in Lexington, and the dress is a hand-me-down from my mother. (We are the same size, and she has wonderful professional fashion sense. Left to my own devices, my style is more frumpy-hipster-meets-Target-sales-rack.)
I will be doing what I do at any other horse show—photographing and writing about competitors and horses. There will just be an unusual amount of fancy people there, and it happens to take a car-plane-cab-bus-donkey ride-camel caravan to get there and back. (Last year, I lost my wallet in one of those steps traveling home, see *travel moron, and had to play 10 questions with TSA to prove who I was and get on the plane. Pro tip: copious amounts of stress tears seemed to move the process along rather quickly. Also, try to remember the address of the last FIVE PLACES you had your mail sent, IN ORDER. Try it. It's impossible.)
The Hampton Classic never fails to remind me of just how un-fancy I really am. That yearly meeting of a free food hoarding journalist and a celebrity infused horse show is the reason I will always laugh if we happen to meet in the days leading up to my departure, and I see you picturing what a weekend in the Hamptons must look like.
Come join the fun—I'll save you a bagel!
Ann Glavan is an editorial staffer for The Chronicle of the Horse. Originally from Cedar Rapids, Iowa, Ann grew up competing at A circuit shows in the hunter and equitation divisions, first on her pony Is A Belle and more recently on her horse Happy Go Lucky. Ann interned for Phelps Media Group during the 2014 FTI Winter Equestrian Festival and photographed for The Book LLC before joining the Chronicle team for the summer of 2014.Ann interned for the Chronicle again in the summer of 2015 before finishing up her undergraduate degree in economics and journalism at the University of Missouri, graduating with honors in the fall of 2015, and is back with the Chronicle as a full time staffer.