I blogged last year about coming to the realization that my beloved childhood horse, my children's hunter Lucky, was not the right horse for my current situation. I wanted desperately to try the jumpers, and Lucky has zero interest in going fast, turning sharply or jumping anything bigger than 3'.
We were able to find a fabulous leasee for Lucky who does want to do the hunters and lives in Lexington, Ky., where I am based for the summer and fall. I visit and ride him often, and he's fantastic.
But leasing him out left me horseless and in the market for something that would want to do the jumpers. My parents bought Lucky for me when I was a kid, but I was on my own for the next horse. Being a very recent college grad on an entry-level salary, the bank account was not going to allow for anything remotely finished or fancy. I either needed a Thoroughbred from a re-homing site or a very, very young warmblood, and I was excited about that.
Even if I had the money, I wouldn't buy a finished horse. Lucky was 4 years old and doing the baby greens when my parents bought him for then-12-year-old me, and I loved learning and moving up the levels together.
Would it be fun to lease a schoolmaster for a season? Sure! Why not? I would undoubtedly learn a ton, get to run faster and jump higher and show much sooner than I would with a baby. I would get to feel super cool wearing white breeches on Sunday for the classic and get to give my fellow classic riders that knowing nod walking around on Sunday like, "Yeah, you and me, we get this. Never mind you're riding in the grand prix this afternoon, and I'm doing the puddle jumpers. #WhitePantedBrethren."
It would be fun to jump big courses on a horse who knows his way around them. But that takes away one of my favorite challenges associated with riding: teaching a horse something new, building your own confidence together, moving up the levels and knowing that this horse has never done this before, and you're on its back for all those giddy I-can't-believe-he-jumped-his-first-liverpool/3′ oxer/big old stump in the middle of the field (shhhhh, trainer was out of town for that last one!) moments.
Lucky would like me to point out this journey was much more fun for me than it was for him, and he maybe would have appreciated a little more professional guidance. That's fair, Duck. I was a dumb teenager!
I'm not saying I have or can turn out polished show horses by myself. I can't, and they would certainly move up the levels faster with someone else.
With my riding skills, I learn like I'm rowing a very slow canoe through the chocolate river from Charlie and the Chocolate Factory while everyone else whizzes by on motorboats, the McLains and Beezies of the world riding the magical Willy Wonka super speedboat of talent. They lap me every once in a while, ask why I still haven't gotten past the "but surely this distance will work better if I flap my elbows" part of the candy factory. But with a good trainer and some (a lot!) of time, I can bring along a baby.
I say that like I have other options, like I could buy the made horse if I wanted to. I do not—remember, this is just a long theoretical rambling of my adventures in a fictional factory with two U.S. Olympians. Snap back to reality, ammie—you literally once wrote a blog about how you super glued a $30 shadbelly together to show in a hunter derby. No need to imagine wandering around in white breeches with a made horse just yet.
So I started poking around online, looking for my next greenie. I looked at OTTB websites and looked at different breeders' websites. I found warmblood yearlings I liked that were out of my price range; I found Thoroughbreds with pictures and bios I loved that didn't look like a good fit in videos.
Finally, after months of doing this, while scrolling through a Facebook sales group, I saw a picture of Moji. He was very cute, a dark bay with a little white star. His listing said he was a 3-year-old American Warmblood gelding and well within my budget! I clicked on the listing, wondering what his specific breeding was.
I watched the video attached to his ad, and I loved what I saw. His canter was so uphill. I used to joke with my trainer that the horse I got after Lucky had to be uphill to the point of rearing every time it cantered, because Lucky is painfully downhill.
This horse was the total opposite. The video showed him free-lunging around an arena, and his stride was huge. He had the uphill war horse canter with lots of reach.
So far, so good. Then the video cuts to a picture of his sire, and my head does the Scooby Doo "Huhhhhhh?" tilt. It's a big black horse, and I can't quite tell, but I'm pretty sure it has feathering and a wavy mane and tail. A little more clicking around, and I see it: Friesian-Thoroughbred cross.
My hunter princess came out in full force—Friesians fall into a group of breeds I like to call calendar horses. They take beautiful pictures galloping through fields with their 5′ long manes blowing, the ones that always end up in calendars, but rarely do you see them jumping at horse shows. While you do see them from time to time in the dressage ring, I can't tell you I've ever seen one jumping at an A show. I sighed—add this one to the list of not quite fitting the bill.
I kept clicking around on Facebook and looked at some other horses, but I couldn't stop thinking about the video I saw of Moji. His canter was seriously awesome. I loved how calm he was trotting and cantering around the arena with horses trotting by in paddocks, and dogs running at his heels.
I asked myself: If you didn't know he was half-Friesian, would you be interested again? I would.
I reached out to the seller, Moji's breeder Ela Ladwig, and asked if she could send me free-jumping video. She did, and I was sold the moment I saw it. He jumped tight with his knees, slow with his hind end, and despite having never done it before (Ela is a dressage rider and trainer herself), he was completely unfazed by it, landing at a slow and steady canter.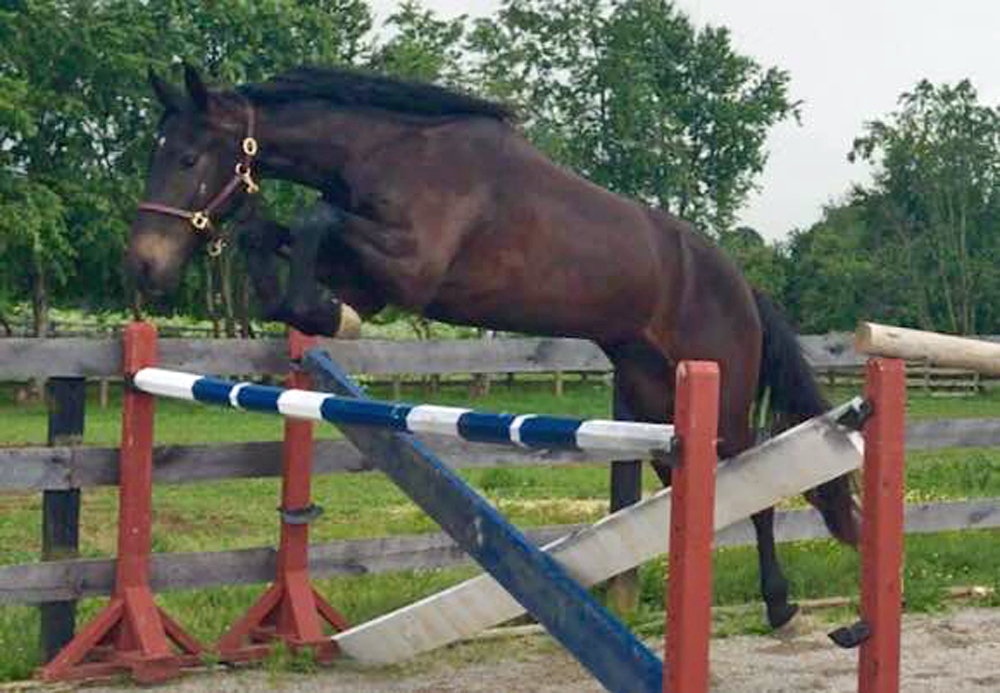 Here he is. Now do you see why I like him?
I forwarded the videos to my friend and childhood trainer, Katie Lange Lima, leaving out the part about him being a half-Friesian, and asked if she liked this horse. She said she did. She loved his canter too and liked his technique over the small fence. But I had been sending countless videos and ads to her for months. She didn't think I was any more serious about this one than I had been about the other 80 million ones that didn't pan out. I asked her if she thought I should buy him, like I had those 80 million times before. "Is he in your price range?" Yes. "Sure, he's cute."
I took that and ran with it—I vetted him, he passed, and I bought him.
I didn't put anything on Facebook when I bought him, an unusual move for a millennial like myself. For one, while I bought him myself, I knew my parents wouldn't be crazy about me buying a horse fresh out of college; they would rather I wait a few years.
But the other bigger reason I didn't put anything online is I didn't want to announce to the world I just bought a Friesian cross with the intention of show jumping it. I could see the eye rolls and practically hear the comments, the ones people wouldn't actually leave on Facebook.
"How cute! Best of luck, Ann!" (Translation: That girl is nuts. Why would she buy that breed for jumping?) "What an interesting choice!" (Translation: Have fun with that, not sure why you thought that was a good idea.)
Those comments aren't baseless—statistically speaking, buying a Friesian-cross for show jumping is not smart. How many did you see at your last A show outing? And my friends know I have big goals for myself. I want to get in the jumper ring, and I want to move up the levels, as high as my skill set will let me.
So why did I buy this horse? Why not an OTTB? Sure they're rare these days, but that would make more sense than a half-Friesian. It just doesn't make sense on paper, or in an "I bought a Friesian" Facebook post.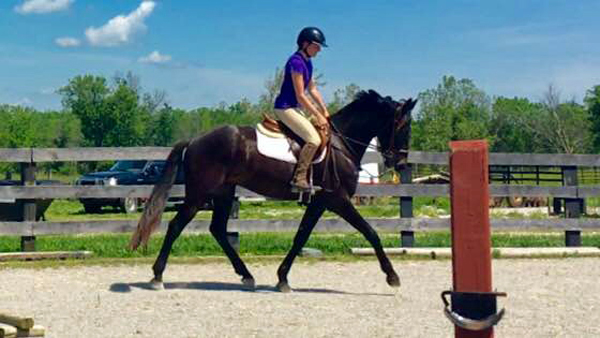 Here's why I bought this horse: I bought him because I can afford him.
I wasn't going to stretch myself paper thin and empty out my savings account on a better-bred horse I could hardly afford. I bought him because his video showed what I wanted, an uphill, athletic horse with some good instincts over fences.
But here's the most important part: I bought this horse fully prepared to be a passenger on his journey, on his canoe in the Willy Wonka chocolate river.
I talked earlier about my goals, my dreams in the show ring, and I still have those, and I fully intend to see them through. If this horse can be part of reaching those goals, then super. I would love for him to be the horse that carried me around my first trips in the jumper ring. But if he doesn't want to do that, that's fine too. Our canoes may diverge in a yellow candy wood in this convoluted metaphor I refuse to let go of. That's fine.
I love Steven Colbert, and one of my favorite jokes of his is when he's riffing off of Mitt and Ann Romney's dressage horse, Rafalca, and he asks, "Did a horse just say one day, 'Dad, I don't want to charge into war. I just wanna DANCE?!' " Moji may well tell me he doesn't want to charge at jumps. He may want to do dressage like his sire, he may want to be a pleasure horse, a trail horse, pull a cart, go in parades, be a painting horse and go on a tour with the painting elephant—I don't know! This is his journey.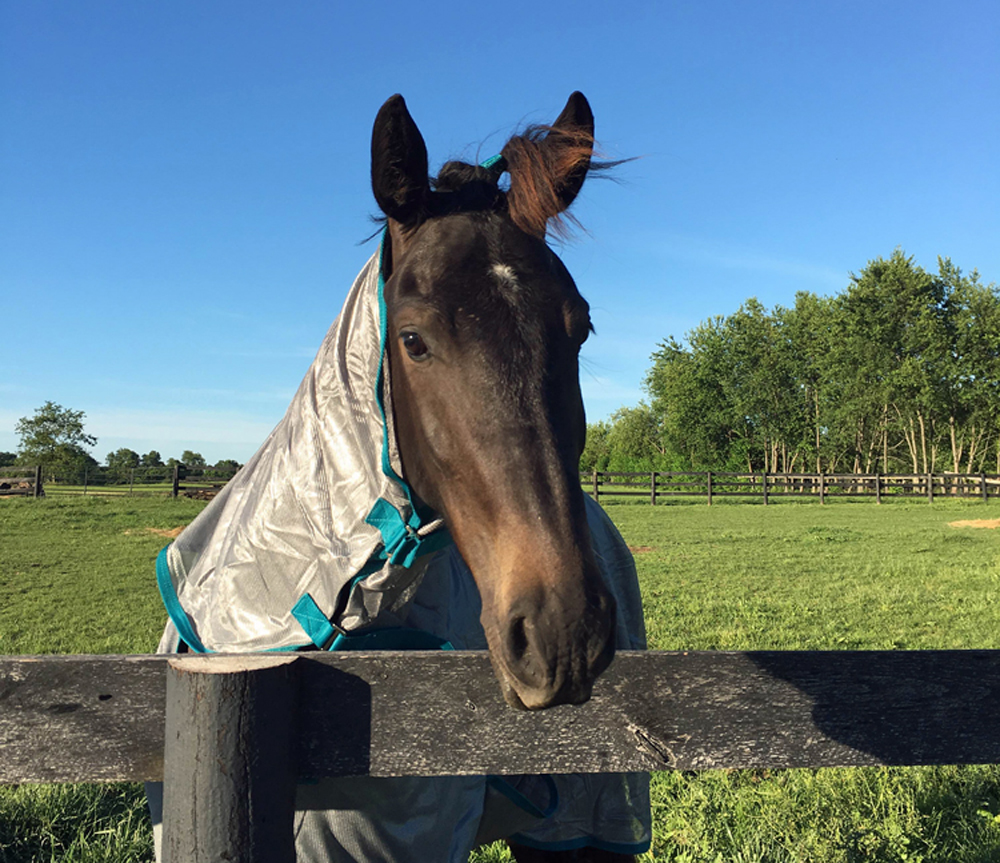 What a goof.
If you're an amateur of average means in this sport, you figure out very quickly to go with the flow or get out of the game, because nothing is quick or easy. Divisions that wealthy riders skip up during their winter season will take you years and years to slowly inch your way through.
If you bought a young horse—if you looked around at the last show, saw the enormous amounts of wealth fellow competitors had, and the quality of horses it afforded them, and still chose to throw every last dime of your modest salary into competing against them—it's what you signed up for. You're going to have to buy young, and you're going to have to accept that sometimes that young horse won't want to do what you want to do, and you'll spend years figuring that out just to have to start over with a different baby.
That may very well happen to Moji and me. So far, though, he seems to enjoy the sport horse life. He shows good form in the chute and hacks around like a champ, on the buckle or with contact. Is he an odd breed? Sure is. My friend Chey calls him a "Frough-bred," which I love and sounds hysterical when she says it.
Does that breeding leave him with some traits that work against him for what I want? Absolutely. He's quite strung out behind, has a lot of knee action, and he likes to carry his head so high I think he would look more at home in a parade with a feathered headpiece than a jumper class.
He's also sweet, quiet and has the personality of a puppy dog. His breeder Ela gave him a great first 30 days of training and backed him before I brought him to Lexington. He throws his gangly, uncoordinated self into any task we point him toward, with varying levels of success that leave me laughing so hard I nearly can't stay on him.
For example, I trotted him up to a log maybe a foot tall at best, and he looked down at it and took the most awkward, overdone frog leap over it. I grabbed mane and managed to not pop out of the tack and landed leaning up his neck cackling like a hyena while he cantered away, tossing his head and hopping around like a bunny, pleased as punch with himself.
He likes to play a game where he pulls me toward traffic cones in the ring and either dodges them at the last second or canters over them. If I lead him past cones on the ground, he picks them up in his teeth.
His canter feels like riding a spider wearing roller skates, long legs not at all sure what they're supposed to be doing with a person sitting on their back, but damn if he isn't going to flail all over the place trying to do it right. It's like he's tap dancing down the quarter line, throwing up some jazz hands going "Like this? Is this what you wanted? Well what about THIS *twirls cane, clicks heels.*"
He doesn't pay attention when being led from the ground and regularly bonks his nose on the barn door when we walk inside because his big brown doe eyes are distracted by the other horses, by the lawn mower, by a buzzing bee.
We took him to a hunter pace, with the intention of just walking the whole course and getting him some good out-of-the-ring experience, but when I walked him up to a small log to sniff it, he just stepped over it, and when I let him start trotting with the intention of going past a small coop, he tried to drag me over it, agreeing on a compromise to walk over it.
The first time I free-jumped him, I had my friend Chey stand at the end of the chute with a bag of treats to reward him and catch him each time he went through, and when she stepped away to video and didn't quite make it to the end to catch him, he landed after the last jump in the chute, cantered two strides out of it and slid to a dead stop in front of the unattended treat bag, gleefully burying his whole nose in it.
Working with Moji has made me so much less of a breed snob. He doesn't know he's not really bred to do what I want him to do—he's just an eager little bay gelding who thinks his version of under saddle "jumping" is a blast and wants to try anything and everything I ask him to do, because he loves to be praised and petted (the Mrs. Pastures cookies don't hurt, either).
He's hilarious, and he's exactly the horse I wanted and needed at this point in my life. Is he going to jump me around the amateur-owners someday? No, probably not.
Will he, in his own journey of discovering what exactly he wants to do with his horsey life, be a part of my progression to the jumper ring? Absolutely.
Whether he ends up jumping a single course in a show ring or not, what I learn from training him will undoubtedly carry over to whatever young horse I get next. I hope he can be a bigger part of the puzzle—I hope we can really give the jumpers a go when he's older.
But I'm just an amateur on a budget, and he's just a puppy dog Friesian cross learning where his own four hooves are. We're both along for the canoe ride, wherever it takes us.
Ann Glavan is an editorial staffer for The Chronicle of the Horse. Originally from Cedar Rapids, Iowa, Ann grew up competing at A circuit shows in the hunter and equitation divisions, first on her pony Is A Belle and more recently on her horse Happy Go Lucky. Ann interned for Phelps Media Group during the 2014 FTI Winter Equestrian Festival and photographed for The Book LLC before joining the Chronicle team for the summer of 2014.Ann interned for the Chronicle again in the summer of 2015 before finishing up her undergraduate degree in economics and journalism at the University of Missouri, graduating with honors in the fall of 2015, and is back with the Chronicle as a full time staffer.