The Plains, Va. – July 10
Cross-country day at the Land Rover Great Meadow International CICO*** served as both practice and a wake-up call for Team USA as they put the finishing touches on their performances before heading to Rio de Janeiro in a few weeks time.
Overnight leader Clark Montgomery admitted his round with Loughan Glen was more the latter, as the gelding came out guns blazing and was quite strong for much of the course, but the pair held it together and came home with the individual win. They also helped the U.S. team, which included Boyd Martin on Welcome Shadow, Phillip Dutton on Fernhill Fugitive and Lauren Kieffer on Meadowbrooks Scarlett, to a win in the inaugural FEI Nations Cup competition on a final score of 138.3.
Team Canada finished second with 177.6 and Great Britain finished on 254.3.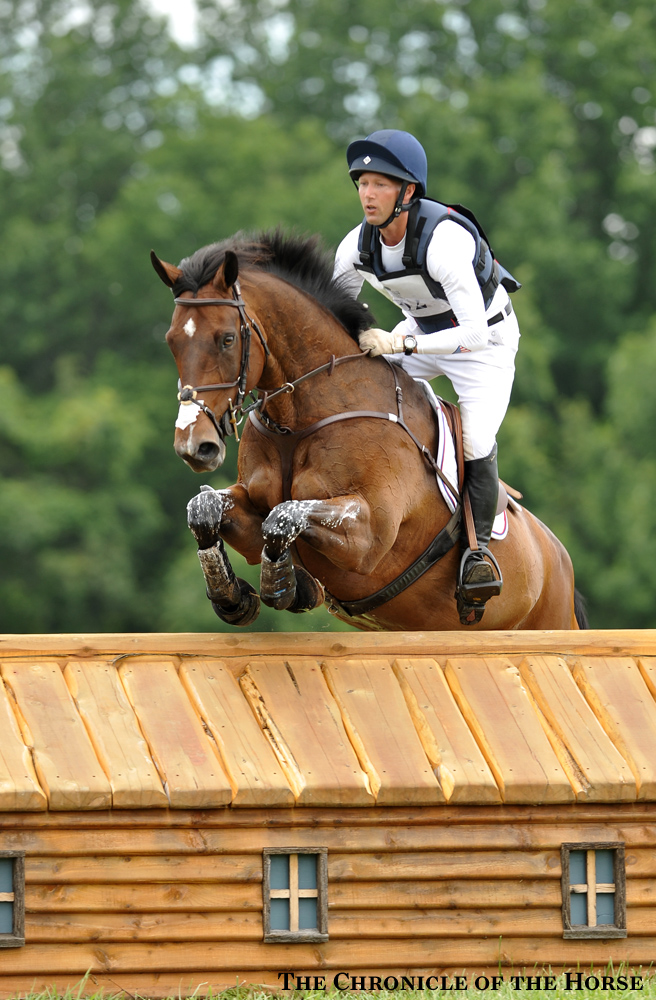 Clark Montgomery and Loughan Glen. Photo by Kimberly Loushin.
"I had a couple of hairy moments on the course today," said Montgomery. "He came out in the true form of his nickname 'Beastie' now. I think because I've been running him quite fast all year, he came out and was a little bit unadjustable for me, so it was nice that it was here at Great Meadow and not at Rio. It was a bit of a wake up call. I had to argue with him a little bit, but he's such an honest horse, and he wants to jump the fences, and that never became a problem."
The optimum time of 6 minutes 36 seconds was a factor today, but Montgomery had quite a cushion when he went out as the third to last and the top 10 shuffled considerably.
He finished with 1.2 time penalties ahead of Marilyn Little and RF Demeter, who had one of four double-clears (Jodie Amos and Wise Crack, Lillian Heard and LCC Barnaby and Alexandra Knowles and Sound Prospect were the others).
Montgomery has said all weekend that he's been a bit nervous riding in front of the home crowd after several years basing in England, but it never showed.
"You just try not to think about it," he said. "You try to rely on your training and all of your preparation and believe that you've prepared correctly. The best thing to do with nerves is to just get out there and do it. It's all the sitting around that's the killer. As soon as you get on your horse and start the process of warming up, all of it just starts to happen so quickly and it's all second nature to us now. You just can't wait to get on."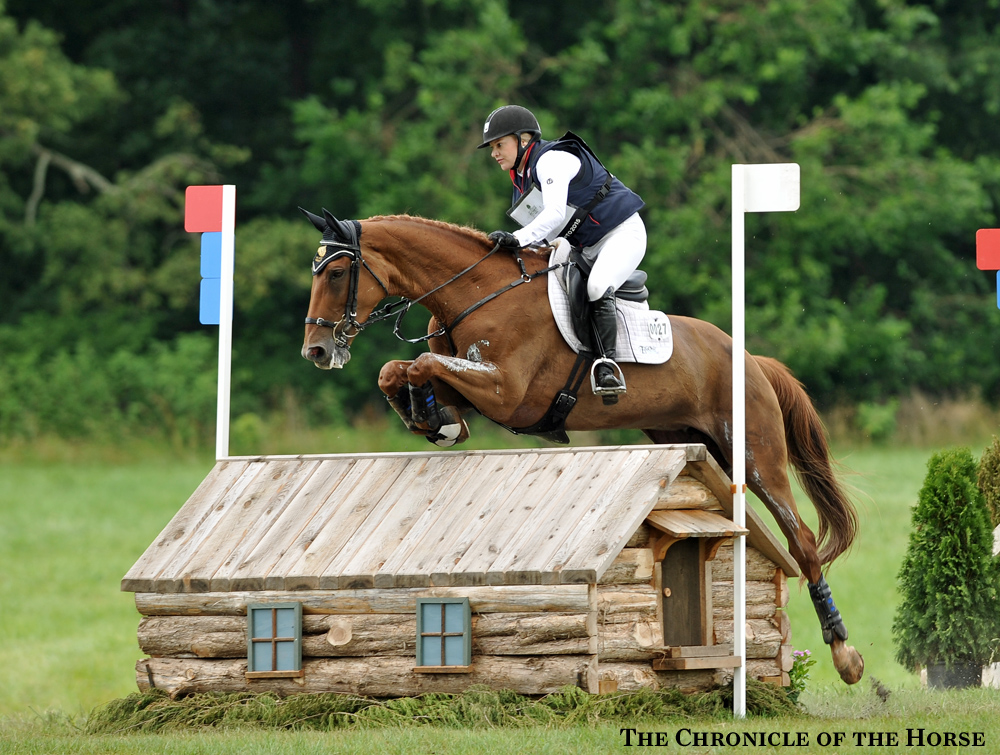 Marilyn Little and RF Demeter. Photo by Kimberly Loushin.
Michael Etherington-Smith's course caused a few problems, and 36 of 40 pairs to start came home.
Kim Severson retired Fernhill Fearless on course at fence 5, the Adequan Beaver Pond, after one refusal. Elisa Wallace fell from Simply Priceless there, as did British rider Rosalind Canter, who was riding Zenshara.
Australian rider Kate Chadderton fell from Collection Pass at fence 18, the Land Rover Water Complex, after two refusals at 11, the Adequan Drop Complex.
Fences 8a and b, the Beverly Equestrian Brush Corners, caused the most trouble. Located in the arena, the severely angled fences had a couple of options. Justine Dutton and Huck Finn faulted there, as did Boyd Martin and his Olympic mount Blackfoot Mystery, who picked up two refusals.
Caravella on Never Outfoxed, Hannah Sue Burnett on Cooley Dream, Emily Beshear on Shame On The Moon and Olympic team traveling alternate Maya Black and Doesn't Play Fair also picked up resfusals there.
Olympic team pair Lauren Kieffer and Veronica picked up 11 penalties for breaking a frangible pin at fence 12, the New Oxer, as did Kurt Martin and Delux Z.
Martin was thrilled with the U.S. Nations Cup team's weekend. He, Dutton and Kieffer were riding their reserve horses, and he felt the weekend was a good dress rehearsal for the Olympics.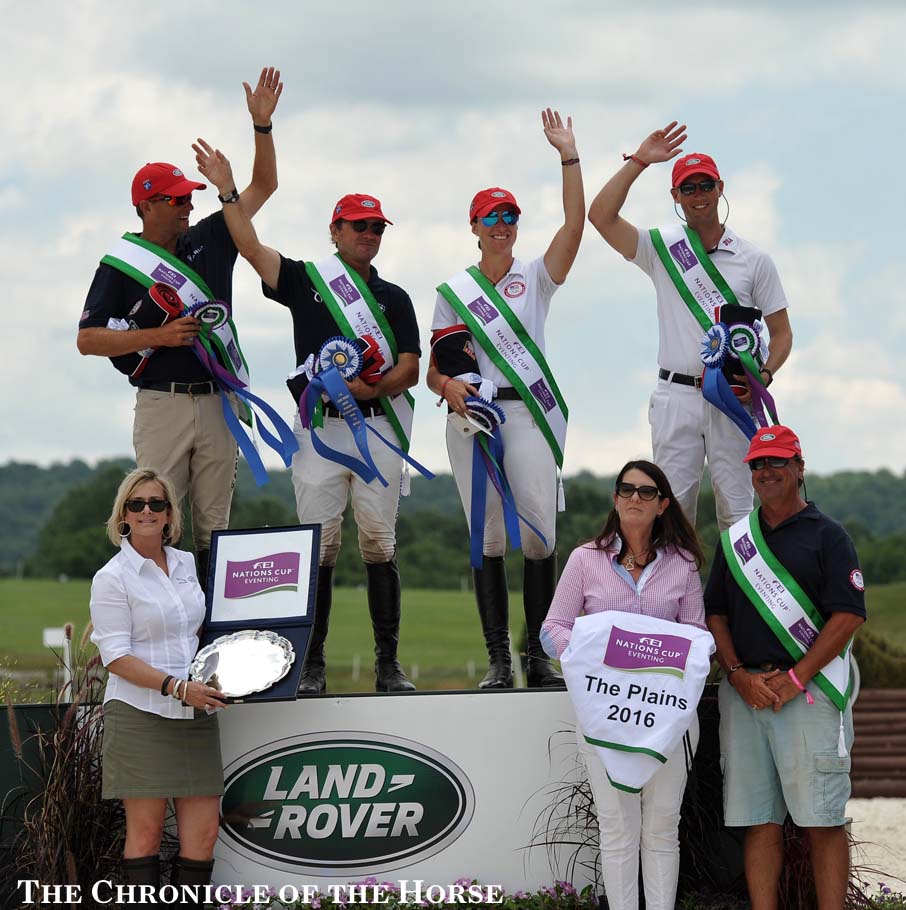 Team USA. Photo by Lindsay Berreth.
"I think this weekend was a fantastic event. It was bigger and better than last year," he said. "For me personally, it was a good and bad day. Welcome Shadow was on the Nations Cup team, and she gave me a great round, and then I had a bit of a surprise on Blackfoot Mystery at the double-hedge corners.
"I wanted to give him a nice, easy round and approached it, and I thought I got him about right, but right at the last minute he decided not to jump it. Thinking about it, I've been working so hard on the show jumping that I just sort of assumed he's a cross-country machine," he continued. "For me it was obviously very disappointing, but at the same time, I'm glad it happened this weekend instead of our next outing. You'll be sure that I'll have a nice brush corner at my farm come tomorrow.
"Team USA looks strong," he added. "All four horses and riders looked really good. I think we're all in pretty good shape for a good games in Rio. All four horses have to keep working hard the next couple of weeks and each rider and each horse has got to polish up bits and pieces of their performance, but coach David O'Connor is making sure that we're going for it, and I think we're in it with a good chance."
Click here for full results.
Click here for more photos.