Devon, Pa.—May 27
"Congratulations again!" called out a spectator over the fence rail to Kelley Farmer after she collected yet another blue ribbon at Devon with Mindful.
"Thanks!" Farmer replied. "He's an unbelievable horse."
They're words she says in every interview about Mindful, but they're not empty words. Farmer really believes Mindful is something truly special. It's why the talented black gelding has been in her barn—where horses get sold like clockwork—for more than a year. It's why when she's waiting for awards they share a nuzzle. And it's why Mindful claimed the high performance and grand hunter championships at Devon.
Devon was the site of Mindful's breakthrough performance last year—Farmer had been riding him for just a few weeks and the black gelding topped the high performance division and won the $25,000 USHJA International Hunter Derby. But then, his barnmate Scripted pipped him for the grand hunter title. Not this year.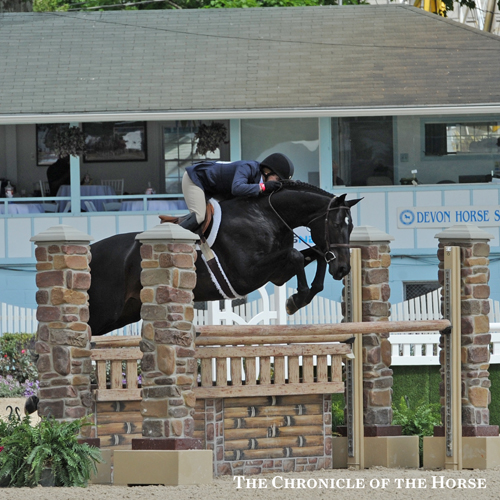 Mindful and Kelley Farmer. Photo by Molly Sorge
It all came down to the under saddle, though. Headed in, Farmer and Mindful had to be third or better to beat out Scott Stewart and green conformation champion First Light for the grand championship. They were second. "I didn't know what I had to get when I walked into the ring, but [partner and trainer Larry Glefke] for sure knew! He and Scott had done the math. Nobody tells me, which is a good thing!" Farmer said.
Mindful will stick around at Devon to defend his derby title tomorrow at noon. Stewart, however, is bypassing the Derby despite having two champions and taking the leading rider title. "I don't have a real derby horse," he explained.
"You can stay and ride some of mine if you want!" Farmer quipped. She's well known for having multiple rides in the derbies and will have three to ride tomorrow.
Another Devon winner not entered in the derby is Hunt Tosh. He rode Betsee Parker's Cold Harbor to the regular conformation tricolor, though. "He's been so wonderful to us. He tries so hard and jumps beautiful. He truly is a special horse," Tosh said.
Cold Harbor might impress the crowd and the judges with his lofty jump and round bascule, but back at the barn he's Tosh's daughter Maddie's favorite. She's 9, and takes pride in leading the bay and helping care for him. Hunt hasn't turned her loose on riding him yet, but said he'd be great for that too.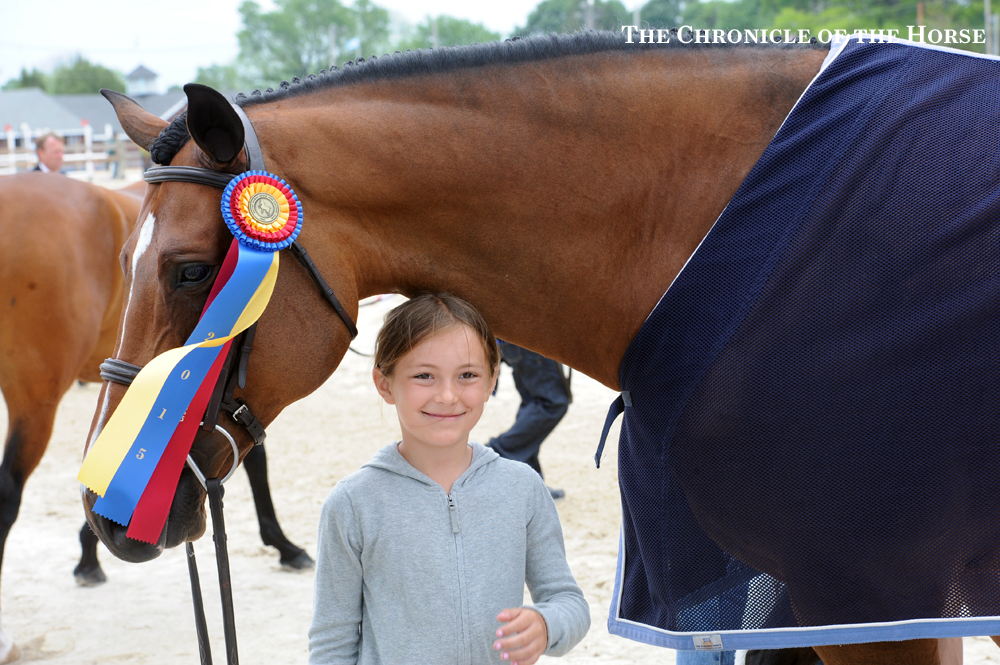 Cold Harbor and Maddie Tosh. Photo by Molly Sorge
Want to see more gorgeous photos of the open hunters at Devon? Check out our gallery.
See all of our Devon coverage, including a story about an amateur with 4-H roots who made her Devon dream come true this year. And make sure to check in tomorrow to see if Mindful can reprise his derby win, and who tops the $100,000 Sapphire Grand Prix of Devon.
Read more about Devon, including how Kelley Farmer keeps Mindful fresh and happy, in the June 15 print issue of The Chronicle of the Horse.