Caroline Johnson stood at the in-gate of the Dixon Oval at Devon, towel tucked in her back pocket and heart in her throat as her horse Distance trotted into the ring to show in the first year green division with Joey Barley aboard.
"It was a little surreal. Seeing her on the Jumbotron playing over the ring was cool. I thought to myself, 'She actually looks like all these other horses that are here! She fits in,'" Johnson said.
There are lots of reasons Johnson doubted that Distance might not fit in. The Irish Sport Horse mare showed in her first USEF-recognized show in October at age 10. Her purchase price was probably fractions of those of the horses she warmed up alongside at Devon. And amateur rider Johnson, from Julian, N.C., does most of the work with "Dizzy" herself. But, despite all the challenges, Distance did indeed fit in. She didn't win any ribbons, but she made Johnson and Barley proud.
"I was very happy with how she went. We wanted to have her go around, have a good experience and keep everybody happy and healthy. And we did it!" Johnson said.
"She was great," Barley said. "She went in and tried hard and made some mistakes but was good. I was extremely proud of her. She exceeded any expectations I may have had for her."

Distance and Joey Barley in the first year green division at Devon. Photo by Molly Sorge
Devon is a show Johnson has only read about, watched online and dreamed of. There was no elaborate tackroom set-up for Johnson, her mother Emily and friend Jess Haraway—Distance's grooming team for Devon. They worked out of a trunk set in front of Distance's stall, caring for the mare themselves to ready her for her Devon debut. "It's very cool to be here. We're all exhausted, but it's worth it!" Caroline said.
Caroline started riding at age 3, but "A" shows weren't a part of her life until last year. "I've always wanted to show like this. I started in 4-H on a large pony and never really got her to this level even though I think she might have been able to do it. Maybe we went to a C show every now and then. My pony could have done bigger shows, but we never really had the finances and I had two brothers who did 4-H and western pleasure, so it was easy for all three of us to go to the same shows and do 4-H together," she said.
"My pony was also a gray mare, so I fall in love with gray mares. Distance is kind of my bigger large pony who could bring me here."
Caroline, who is 20 and a third-year student at North Carolina State University, found Distance, then an 8-year-old, at Gentry Creek Inn and Horse Rehabilitation, a farm that takes in unwanted horses and rehabs them, selling the the ones who can go on to be ridden.
"She was a product of a divorce situation," Caroline said. "She had had a foal and was put out to pasture for a few years. She had 30 days of training when we went to try her."
Dizzy (High Scope—Empey Queen) is actually by the Irish Sport Horse stallion evented to the four-star level by Bruce Davidson, so she's well bred, but not a traditional breed for the hunter ring.
Caroline spent a few years putting basic flatwork and jumping training into Dizzy with the help of trainer Joan Boyce, but it wasn't until she started working with Barley last year that she started dreaming of Devon for Dizzy.
"This time last year, she had no lead changes and went around the ring with her tail on fire," Emily joked about Dizzy. Barley has helped Caroline put changes on Dizzy and finesse their ride. Caroline boards Dizzy, but does all the grooming and riding herself.
"We have a lesson with Joey once or twice a week. I ride her the rest of the time. Joey helps me figure out what I'm going to do, with a plan, and then I implement it on our own," she said. "He's really put a lot of polish on both of us."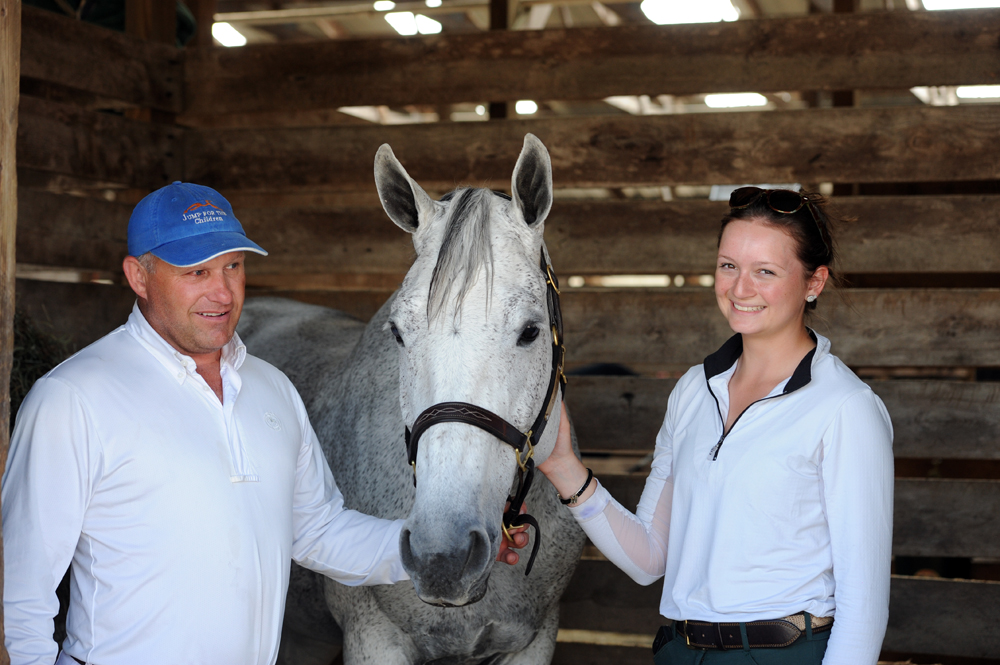 Joey Barley (left) has helped Caroline Johnson develop Distance into a consistent show horse. Photo by Molly Sorge
When Barley first met Caroline and Dizzy, he saw that there was a lot of work to be done, but he also saw a spark of promise. "The mare was very dominant and unruly, way out of her boundaries," he said. "It was a matter of getting her controlled. But I liked her athleticism and her desire to get it done. It was just a matter of educating her and getting the details taken care of.
"She has the ability to do a lot, so it's been fun working with her," Barley continued. "Once you keep her in her boundaries, she tries to do exactly what you want. She's an overachiever, and Caroline is too. Caroline is her biggest fan. I think without Caroline she wouldn't have become what she is. Emily is a great supporter and backer. She's the spine of it all. It's a good working team. It's made this experience a really fun one."
With Barley's guidance, Dizzy made her USEF-recognized show debut in October at the North Carolina State Fair. Barley showed her in the 3'3" performance division and Caroline showed her in the adult amateur hunters.
By December at the Triangle Farms Sandhill Classic (N.C.), Dizzy was reserve champion in the first year green division with Barley and won the Ariat Adult Medal and showed in the 3'3" amateur-owner division with Caroline. They continued to show about once a month through the spring, improving each time.
"We weren't really expecting to qualify for Devon, but we figured we may as well fill out an entry and see what happens. We were a little surprised to get in!" Caroline said.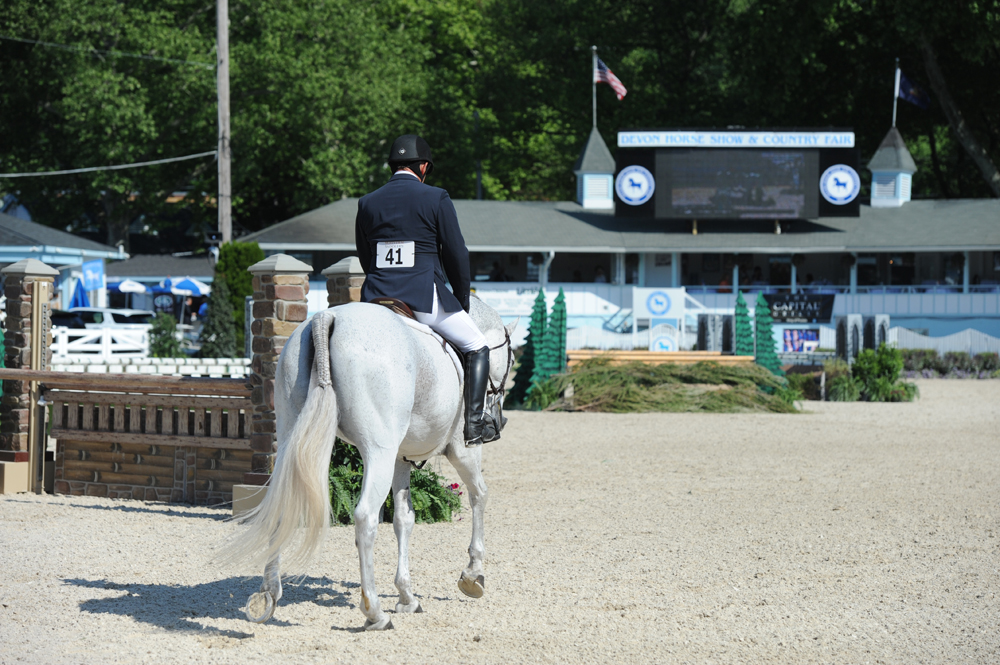 Watching Distance walk into the Dixon Oval was a dream come true for Caroline Johnson. Photo by Molly Sorge
Caroline and Dizzy's showing has been possible because of her grandmother Barbara Hiestand's generosity. "She's Caroline's fairy godmother for the horses," Emily said. "She's the reason we're doing this. She's our financial backbone."
Caroline has big plans for Dizzy's future. She's riding in the USHJA Emerging Athlete Program in June in Herndon, Va., and they have some summer shows on the schedule before Caroline goes back to college in the fall to work toward a degree in animal science. Dizzy goes with her when she moves back to N.C. State.
And Caroline and Barley are looking at Devon as a springboard to Dizzy's future. Caroline wants to come back next year, with Barley riding in the second year greens and herself showing in the amateur-owners.
Barley thinks the goals are solid. "I think there's a lot more in store for her. I don't think this is the end of her story; I think she has the potential to do a lot more," he said of Dizzy.
Click here for all the Chronicle's coverage from Devon.
You can read more about all the hunter champions in the June 15 print issue of The Chronicle of the Horse.

This is part of our "Amateurs Like Us" series of articles about amateur riders juggling busy careers with show ring success.
Read all the stories in the Amateurs Like Us series
Are you one of those inspiring amateurs? Do you know one? Email us and tell us more and maybe you'll be next in the series!