Gothenburg, Sweden—March 27
In his sixth appearance in an FEI World Cup Dressage Final, Hans Peter Minderhoud wasn't expecting the butterflies that materialized this week.
"I'm normally not very nervous," said the Dutch team veteran, "but I felt I really could win, and I really wanted to.
"I was never on the podium before; twice I was really close," he added. "So after the Grand Prix [which he won on Friday] were two long days!"
Luckily Minderhoud's equine partner, Glock's Flirt, isn't the type to react to an unexpected onset of nerves.
"I've always been riding not-so-easy mares and not-so-easy stallions, and it's just so fun to have him—a horse you can always rely on," Minderhoud said of the 15-year-old Swiss Warmblood (Florestan I—Envie du Lully, Gauguin de Lully) owned by Gaston Glock. "He's almost like a dog; he's so easy, and you can travel with him everywhere. He's really sweet and really easygoing, but also a very hard worker and always tries for you."
"Flirty's" effort earned a personal-best mark of 82.35 percent and the Reem Acra World Cup trophy. It's the 13th Dutch win in the final since its inception in 1986, and it's also a prize Minderhoud's longtime partner and fellow Dutch teammate Edward Gal won in 2010 with Totilas.
"I think it's very good for our [relationship], that I have one too now!" Minderhoud joked.
Flirty's accurate, rhythmic and mistake-free test featured extended canters into double pirouettes and passage half-passes into the final halt and was set to Spanish-inspired music.
It earned great applause from the Easter Sunday crowd of nearly 12,000, but they saved their most raucous cheers for second-placed Swedish rider Tinne Vilhemson-Silfven and Don Auriello (81.42%).
"The feeling to get into the arena with all this great audience was indescribable," said Vilhelmson-Silfven, who trains throughout the winter in Wellington, Fla. "And Don Auriello felt great with that. He had a lot of power in that but a lot of confidence too.
"It was a pity I couldn't stand still in our first halt!" she added. "But it's a great feeling to ride a horse who really enjoys the atmosphere."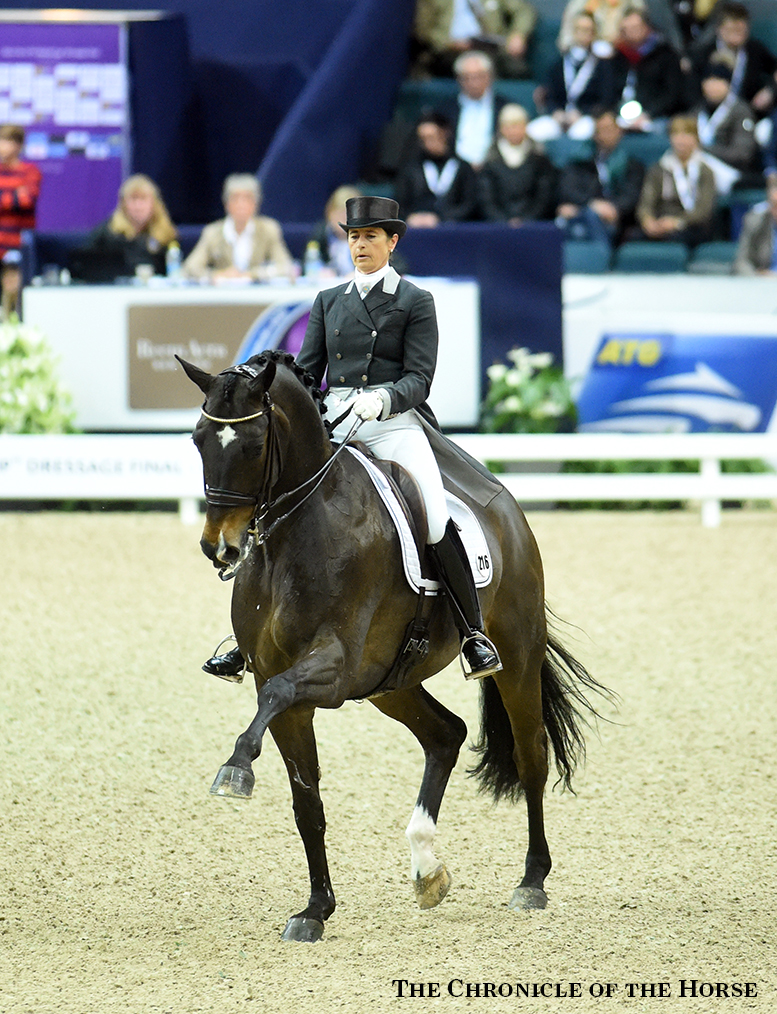 (Tinne Vilhelmson-Silfven and Don Auriello. Photo by Lisa Slade.)
For the first time in recent memory, this year's final seemed anyone's to win or lose. With many of the world's top horses sitting this year's final out for various reasons, it was an open field. But Minderhoud's winning score of 82.35 percent ended up being the lowest in 13 years. (Debbie McDonald and Brentina won on 78.89 percent in 2003.)
Germany's Jessica von Bredow-Werndl, who came into the final with the best freestyle record and placed third last year with Unee BB, ended up back in the same position this time around (80.46%).
"I had two very big mistakes today [in the two-tempis and the trot half-pass], which was a shame, because you don't want to make a mistake in the final," she said.
"Every one of us could have won today," von Bredow-Werndl said in the press conference, "but you were the one who had no mistakes," she noted, giving Minderhoud a friendly pat. "You were the best one today, and that's who should be champion."
Jorst Finds Joy With A Dressage Ninja
Charlotte Jorst made good on her Thursday promise to smile non-stop through her World Cup Finals debut; while she ended up 12th in the overall placings, she would have been miles ahead in any competition for happiest rider.
"For me, this is such an incredible thing to be doing," said Jorst, who was still competing as an adult amateur until recently. "To feel all the people clapping… I love the Swedish people watching, because they're so supportive. Everybody loved my music, so I just felt fantastic out there."
Jorst's score of 73.23 percent with Kastel's Nintendo led the standings for much of this afternoon's first session. As in their Grand Prix test on Friday, the canter pirouette right was a bit sticky, and Jorst turned a bit too soon onto centerline for her final halt, mistakenly thinking she was about to run out of music and instead nearly running out of room in the arena at C.
"I liked that American—even if she came a little close!" joked ground jury president Gustav Stalling afterward.
But on the whole, the test was solid and mistake-free.
"I should have turned a little later [for the final halt], but it was great," said Jorst, Reno, Nev. "I was very happy with that being my first [freestyle] in a big arena like that. It was so much fun! He was a ninja—a dressage ninja. He was wonderful."
Set to operatic melodies including "Time To Say Goodbye," Jorst's freestyle didn't garner massive marks for difficulty, but she did include a piaffe pirouette on centerline.
"That's a new thing that I just started to do, so I'm not sure how great that was executed, but it'll come," she said. "This is all a process—I'm in the middle of a big process. I'm here for the long run, and I'm not going anywhere, and neither is Nintendo."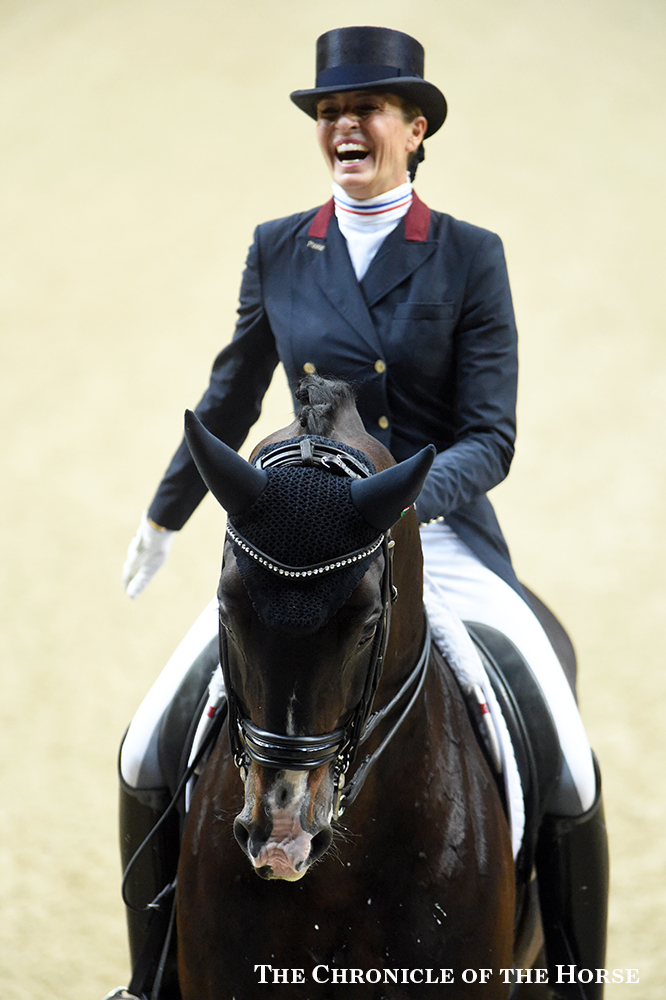 (Charlotte Jorst and Kastel's Nintendo. Photo by Lisa Slade.)
The Admirable Art Of Damage Control
While Jorst beamed throughout her test, Guenter Seidel's face was stuck in a determined grimace for most of his performance. He wasn't exactly having fun aboard a thoroughly overwhelmed Zero Gravity, who finished last on 67.46 percent, but Seidel did give those in attendance a master class in keeping the lid on it.
"I thought he was just going to leave the arena," the five-time World Cup finalist admitted. "Considering [how he was feeling], I'm amazed we didn't have more mistakes, because he was ready to just explode!"
This weekend has been a big step up in terms of electric atmosphere for Zero Gravity, a 12-year-old Dutch Warmblood. Seidel said he'd been feeling confident in the warm-up, but the moment they performed their opening halt, the gelding thrust his head up in the air, gave a wide-eyed look to his right, and recoiled from the packed crowds.
"He was quite overwhelmed, but he just hasn't had that experience," said an empathetic Seidel of the gelding, who's owned by James and Charlotte Mashburn. "In the canter work, he was tense, but he didn't have major mistakes, which could have happened. The trot was OK too; the piaffe passage was just was very tense. The horribly tense part, of course, was the walk—in the extended and collected walk, he piaffed through the whole thing, so that's a 0.
"I think it's obvious that you have to walk that line between brilliance and failure," he added, "and right now there's really nothing you can do but practice these kinds of shows and get him more comfortable."
See more photos from the day's class.
Looking for full scores from the Reem Acra FEI Dressage World Cup Final? You can find them here.