Gothenburg, Sweden—March 25
There's no Charlotte Dujardin or Valegro here, no Isabell Werth on one of her top-scoring mounts, no Edward Gal. And so, as ground jury president Susanne Baarup said at the conclusion of the Reem Acra FEI World Cup Dressage Final Grand Prix, "On paper, it was a very open competition."
Hans Peter Minderhoud, on Glock's Flirt, was champion of the day with 76.87 percent.
But right behind Minderhoud sit two riders from the host country—Tinne Vilhelmson-Silfven on Don Auriello and Patrik Kittel on Watermill Scandic. The top three scores were all within half a percentage of each other.
"I think the results also show that they're very close at the top," said Baarup. "On Sunday in the freestyle, it will be very open again. It's the small differences making the winner this time in the World Cup Final."
This is the sixth World Cup Final for Minderhoud and his second on Glock's Flirt, a 15-year-old Swiss Warmblood gelding (Florestan I—Envie du Lully, Gauguin de Lully) owned by Gaston Glock.
"I know if I want to win once, then here is my chance," said the Dutch rider. "I was very happy with my ride today. I thought my horse was very good and really with me and super concentrated. I had a small thing before the one pirouette, but for the rest I really could ride him the way I wanted to ride.
"Sunday is a new day, and with those two Swedes in it, I have to give everything, and I will," he added.
For Vilhelmson-Silfven, her test didn't get off quite the way she wanted. Don Auriello didn't stand in the halt, and then he cantered off.
"As soon as I made one left turn, I felt he was confident again, and I felt confident, and after that I had a good feeling," she said. "But I was a little scared at first to think I wasn't where I was supposed to be."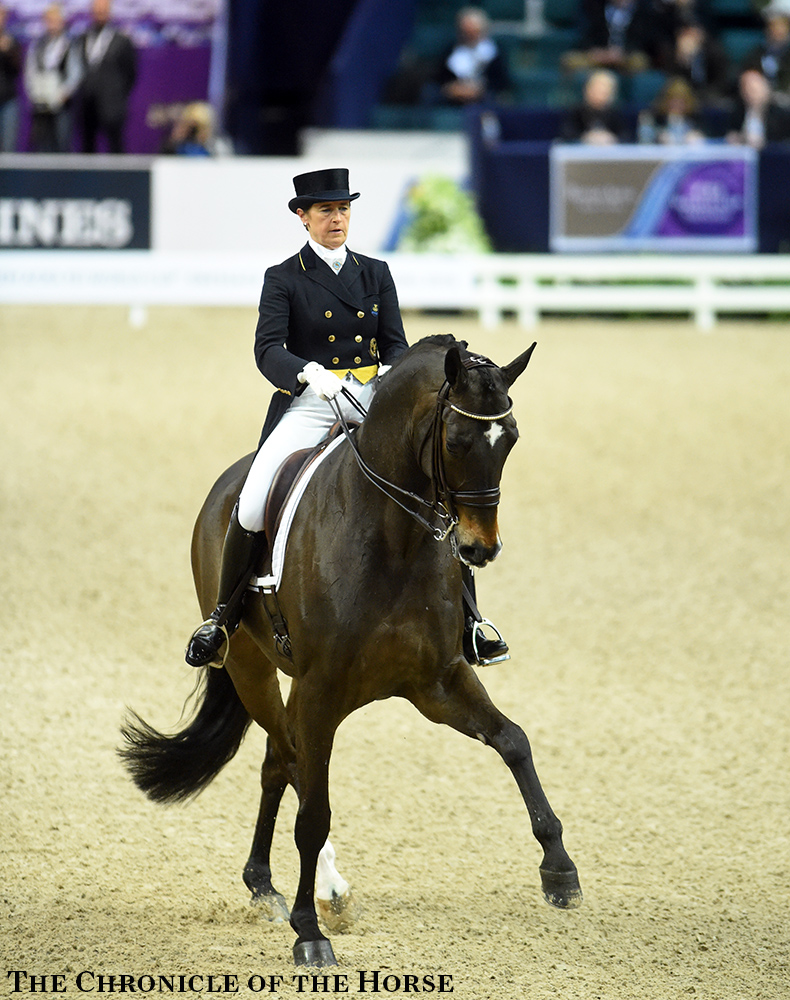 (Tinne Vilhelmson-Silfven and Don Auriello. Photo by Lisa Slade.)
Last to go, Kittel contended with an excited crowd immediately upon entry. Though Watermill Scandic spooked when he first entered the ring, he quickly got down to business.
"He's 17, and you kind of think, 'Is he ever going to quiet down?' " said Kittel. "He was like that at 7, and he's like that at 17 now, and I love him for that. He's a special character. But I love it when they clap. That makes good dressage. We need the people to want to see us. If we stop wanting people to clap, we're not going to have a sport. I'd rather have great sport and audience and performances rather than having people not showing any emotions."
Happy To Be Here
As for the U.S. pairs, Charlotte Jorst and Kastel's Nintendo earned 71.11 percent for 11th place, and Guenter Seidel slotted into 15th with Zero Gravity (69.80%).
One of Jorst's major goals for her first FEI World Cup Final experience was simple: to smile. It wasn't hard for her to do, despite drawing second in the order of 18.
"Well, I loved it," Jorst said. "I loved the arena. I love being here in Sweden. You know, I'm from Denmark, so I almost feel at home. The Swedes are just so wonderful and welcoming. Nintendo felt wonderful today; it's my first go in such a big competition, so for me it was really something I'll always remember. I don't really care [about going early in the class] because i'm just happy to be here at all! If you ride well and think you have a good ride, that's what I wanted today, and I think I got it."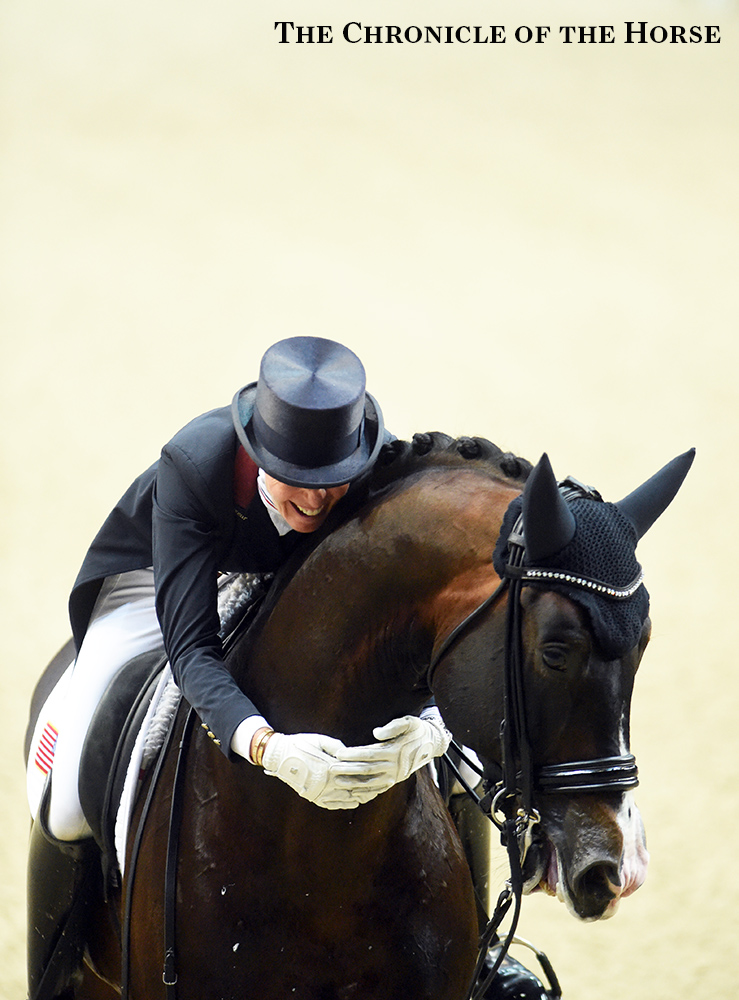 (Charlotte Jorst and Kastel's Nintendo. Photo by Lisa Slade.)
Seidel knew coming in this competition would prove a big experience for his 12-year-old mount.
"He was pretty nervous," said Seidel. "You could tell in the collected walk. He was pretty lit up, but for his first time in there, he was very good. I was happy with him.
"I think the changes were good; the [canter half-pass] zig-zag felt pretty good. The canter work was in general not bad," he continued. "We'll prepare and get him settled more before the freestyle. We'll just keep him happy."
All 18 riders move on to Sunday's Grand Prix freestyle.
Want to see more photos from the day's Grand Prix?
Or see full scores from the class.