Bromont, Quebec—June 9
A year ago, Bobby Meyerhoff made it his goal to win the Bromont CCI2*-L, and today he made it a reality, leading the victory gallop with Lumumba, a 9-year-old Mecklenburg mare (Levisonn—Lamara, Lamarc) owned by The Donovan Group.
Show jumping was influential today with 10 pairs jumping double clear over Marc Donovan's course. Overnight leaders Sondra Shantz and Unique dropped three poles to fall to 13th, but they won the Ledger Family trophy for the top-placed amateur rider.
"Ever since day one she was lovely to produce and ride and train," said Meyerhoff of "Lulu."  "She has all the personality traits that I look for and want in a good horse, and she loves to work and keeps improving. She loves to try. We all try to win, and I said I'd like to go and win this show, but for it to happen is pretty cool."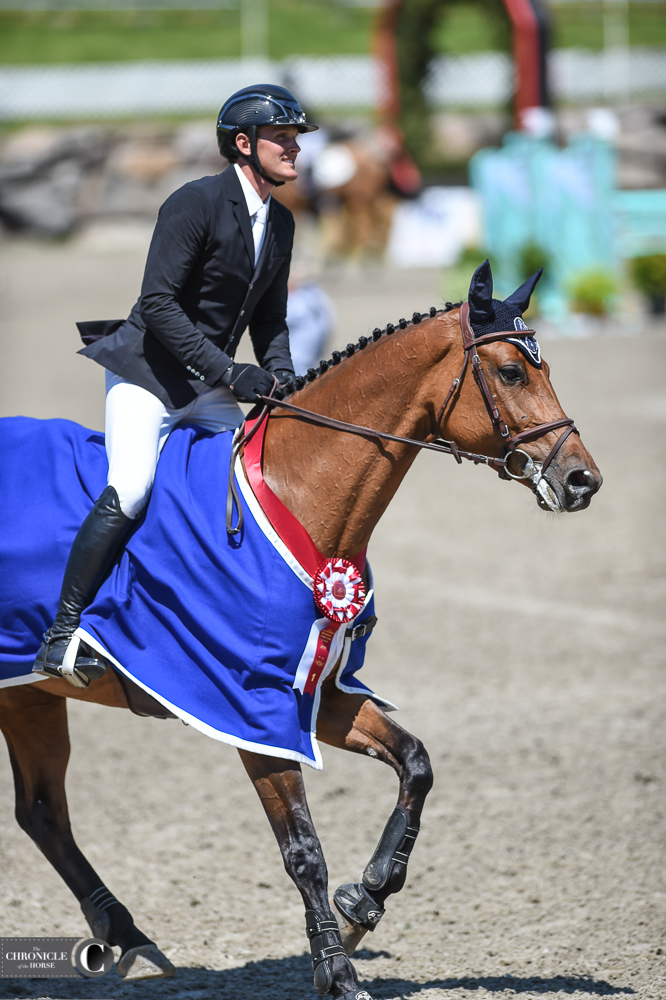 Meyerhoff and Lulu were third yesterday after cross-country. "Yesterday was super," he said. "I imagined how she was going to be around the course, and she went just how I thought she would. She's a very keen horse and has a big stride and gallop and just eats it up with her personality and loves the cross-country."
Lulu (who's named after a type of German drink made with coffee, rum and cream) came to Meyerhoff with no eventing experience. He wasn't necessarily planning to get her, but when a promising young horse he'd bought with a group of owners suddenly died, he found Lulu.
"It's a group that got together to buy a horse called Donovan, the Donovan Group," he explained. "It passed away of cancer in the first couple of months that we purchased the horse. In that horse's honor we kept the name of the syndicate. Her being here is in honor of his life. It was sad. He was such a nice horse and everybody loved him. We didn't really get a chance to know him that well, but it's touching to me that the people involved all stayed together and bought this horse."
Meyerhoff, who retired his five-star horse Dunlavin's Token a few years ago, is hoping Lulu could be his next star.
"With her class and her technique and personality and work ethic I think she's going to go all the way and be successful," he said. "She has the quality and desire to win, and she likes to win."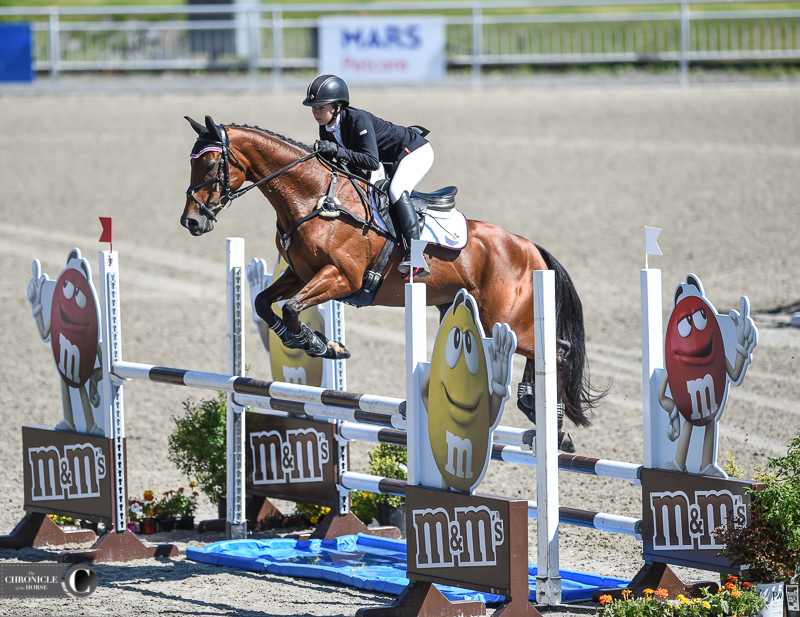 Gabrielle Hutchison and Straight Moonshine topped the inaugural CCI2*U25-L division after jumping a clear round today and moving up from fourth place.
Hutchison got the 7-year-old Thoroughbred mare (Malibu Moonshine—Straight Blues, Straight Man) from a polo player after she'd raced four times.
Bromont was their first long format event. Hutchison is a working student for Erin Sylvester, and started "Moonie" with Pippa Moon.
"She's been better than I could ever have asked her to be," she said. "She can be a bit spooky and a bit wild, but she's been calm all weekend, and she gave me everything that she had. I'm very happy with her. She was perfect yesterday. I came in about 20 seconds under time, and she took it all in stride."
Hutchison appreciated being able to compete against her peers in the new division. "I knew it was going to be big coming here, and I knew it was going to be the biggest horse show she'd ever seen, and I was just hoping we could finish on our dressage score, so to win is just a bonus," she said.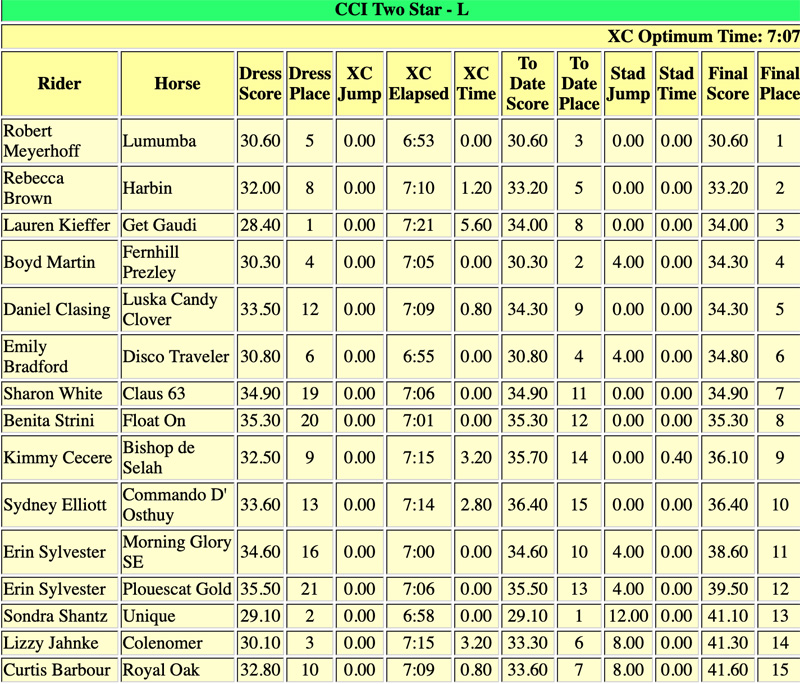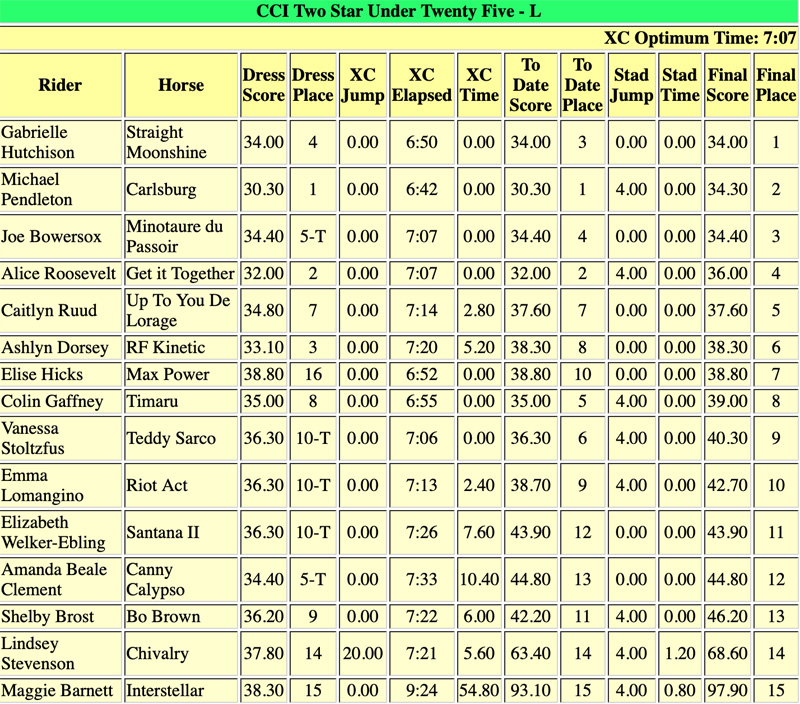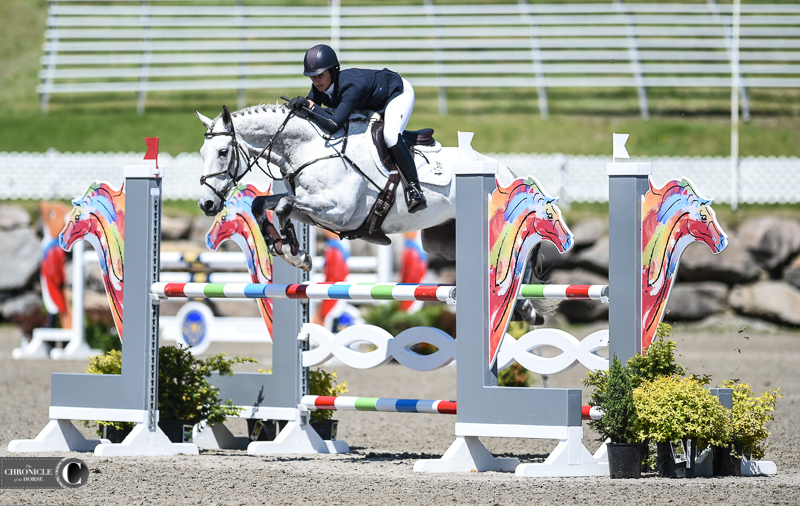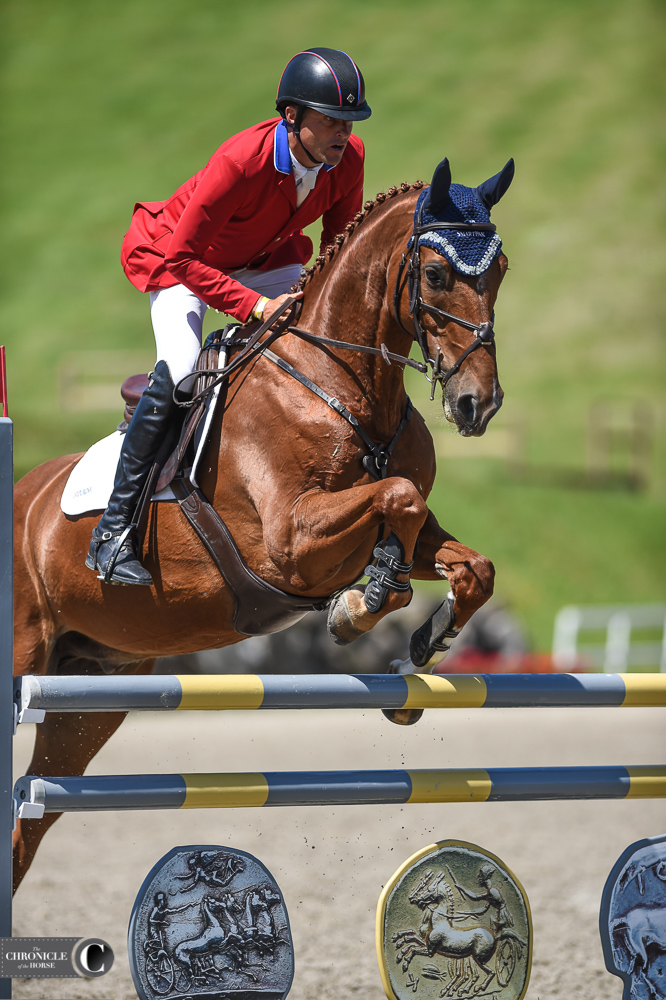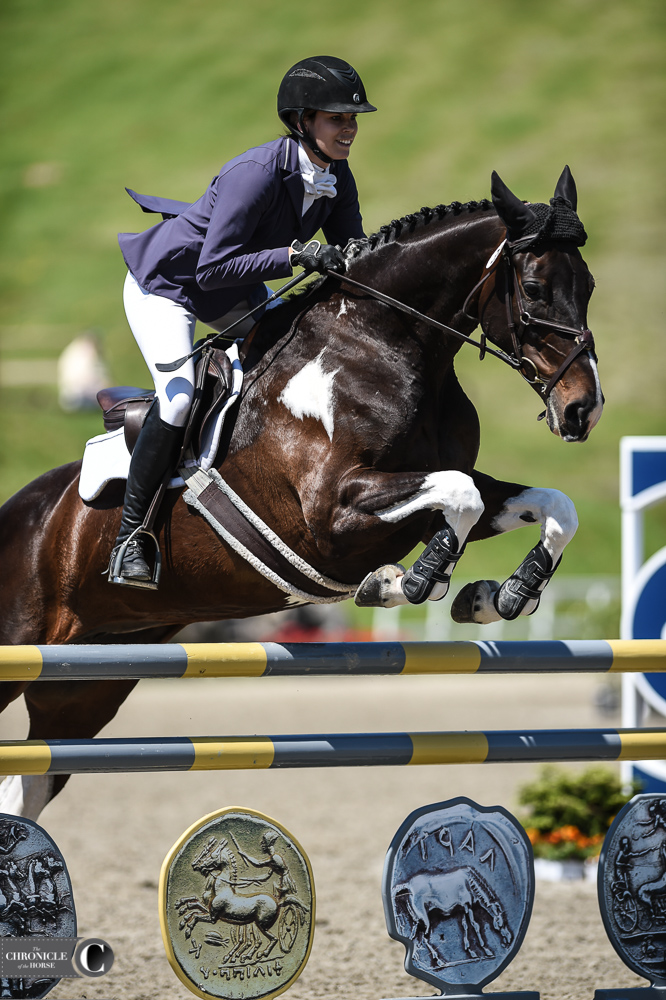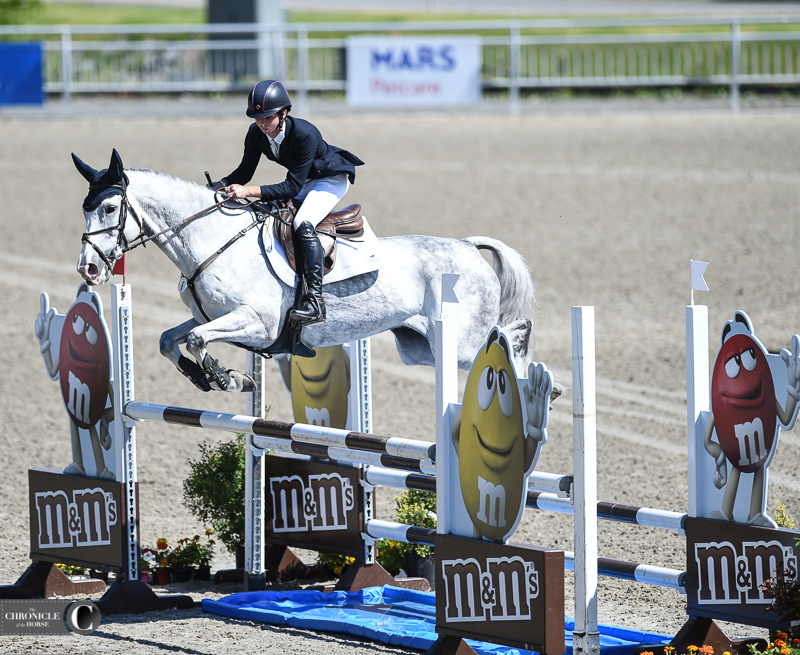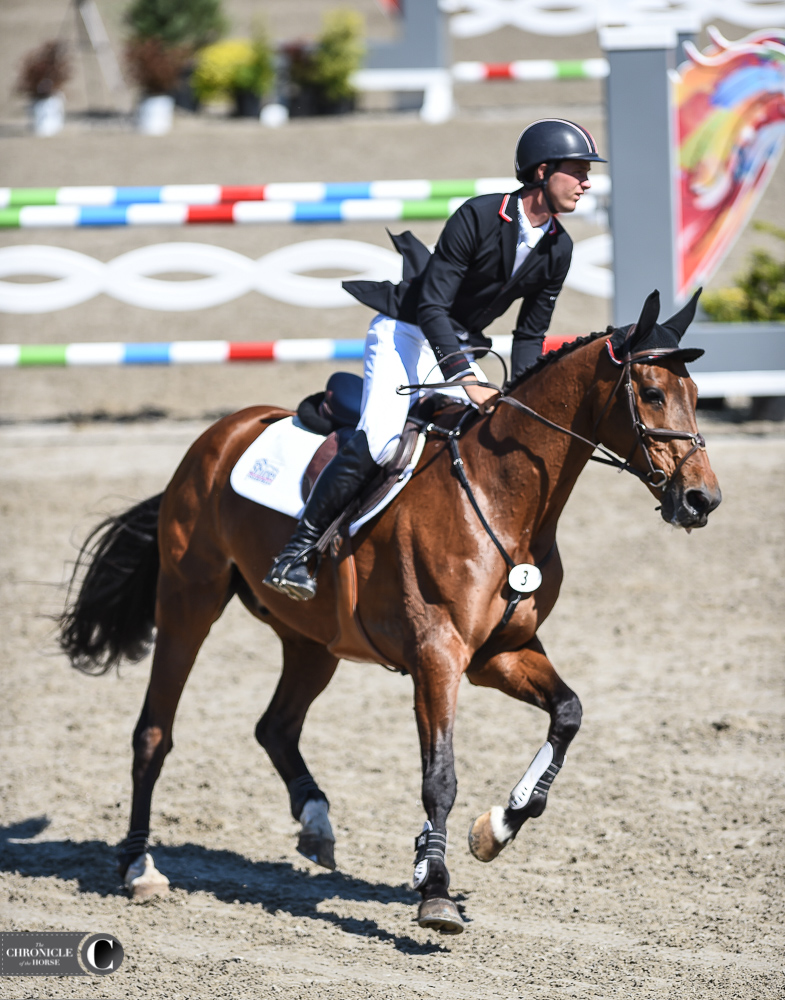 We're on site at the Mars Equestrian Bromont CCI this weekend to bring you news, photos and results! Check back at coth.com and be sure to pick up the July 1 print edition of the Chronicle for more.
Bromont Website I Results I Schedule
Make sure to follow along on the Chronicle's social media outlets: Facebook, Twitter and Instagram.