Washington, D.C.— Oct. 28
When McLain Ward asked his daughter, Lilly, to say congratulations to Beat Mändli after the Swiss beat him in the $130,000 Longines FEI World Cup Jumping Washington, Lilly glared at Mändli over the cupcake she was eating.
"She's giving you the eye!" Ward laughed, while Mändli shrugged and smiled. He and Dsarie conquered a field of 26, including the likes of Kent Farrington and Beezie Madden, to claim their first Washington International President's Cup win.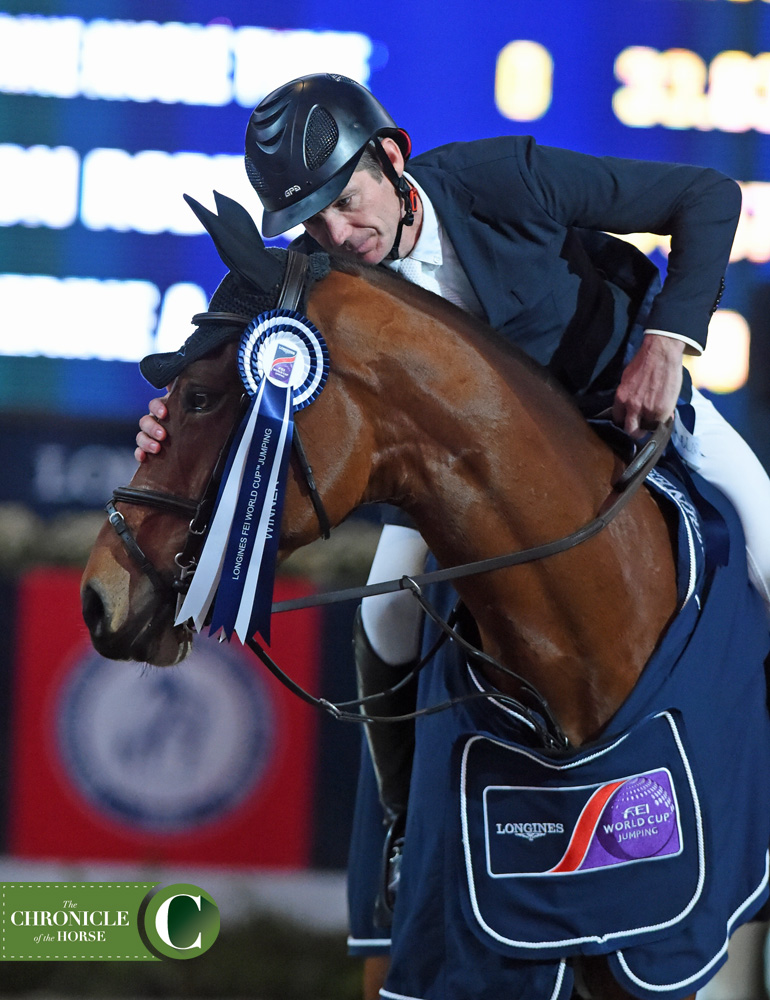 Dsarie (Veron—Tinette) and Mändli were one of 11 teams to go clear through the first round of Alan Wade's course and then they put in a clear jump-off in 32.07 seconds, just a hair faster than Ward's second-place time of 32.30 seconds.
"I feel great," Mändli said. "Everything worked out better than I was thinking at the start of the week. I'm just super happy for the horse and for the whole team. It was great night for me."
Mändli has had the ride on the 9-year-old Dutch Warmblood mare for the past year. They have placed in the top 10 in grand prix classes at the Pennsylvania National, in Wellington, Fla., and Ascona (Switzerland) among others, but this is her biggest win to date. Mändli admitted that part of their success was due to a lucky congruence between the course design and Dsarie's strengths.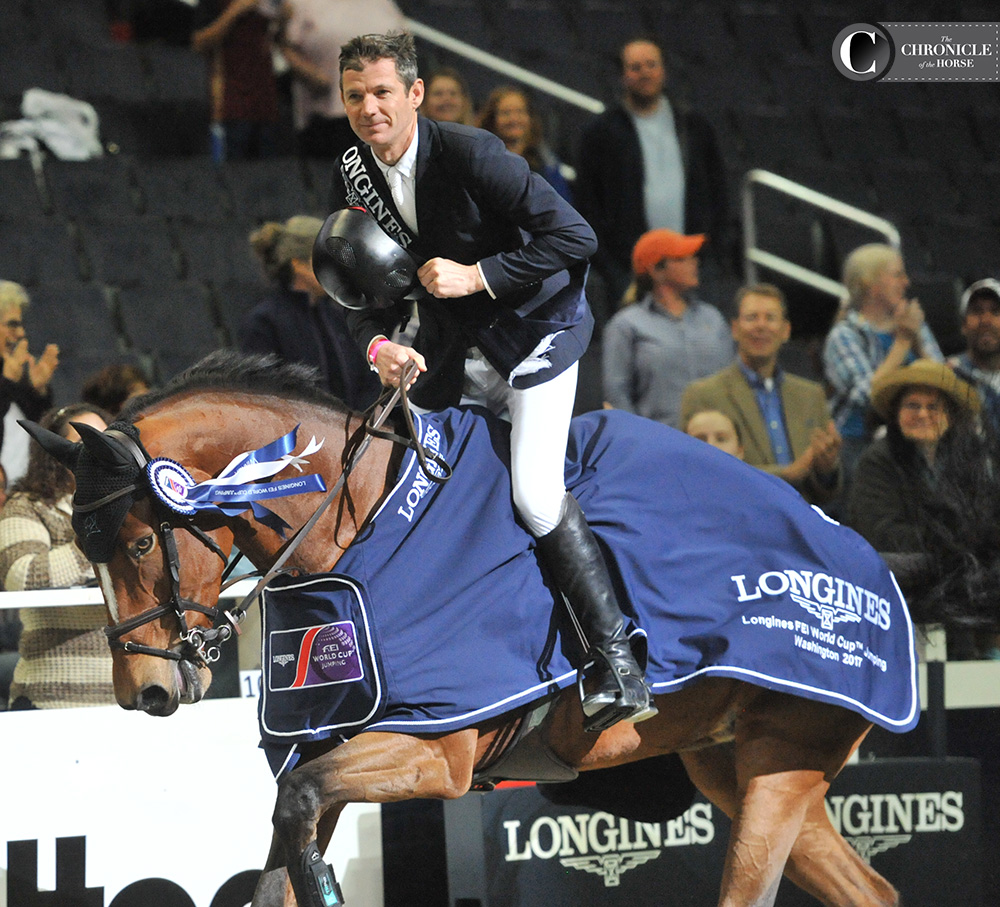 "For me the course was perfect," Mändli said. "I knew that she could do the five [strides] to the last fence [in the jump-off, leaving a stride out from the original line of six strides]. I know she's a very good turner on the rollback. It just suited my horse very well. Every jump is a risk when you try to go fast. One to two I tried to go fast, she gave me such a good feeling."
Next up for Mändli and Dsarie is the CP National Horse Show (Ky.) and from there his sights are set on the 2018 World Equestrian Games.
McLain Ward retired veteran partner HH Carlos Z on Friday night, stating that horse had been a "protector" of superstars like HH Azur. Ward is hopeful that 10-year-old HH Callas (Albatross—Traumfee), who finished second on two clear rounds, will step up into a similar role.

"I feel like the last couple of months have been getting more consistent, which is a key for a horse like that because they have to be predictable," Ward said. "We didn't have a brilliant grand prix last week in Tryon [N.C.]. I made some mistakes. It was nice to rebound and have a good finish today. We have some exciting young horses coming along. We've had a little bit of trying to rebuild the string, because my string is getting a little bit older now."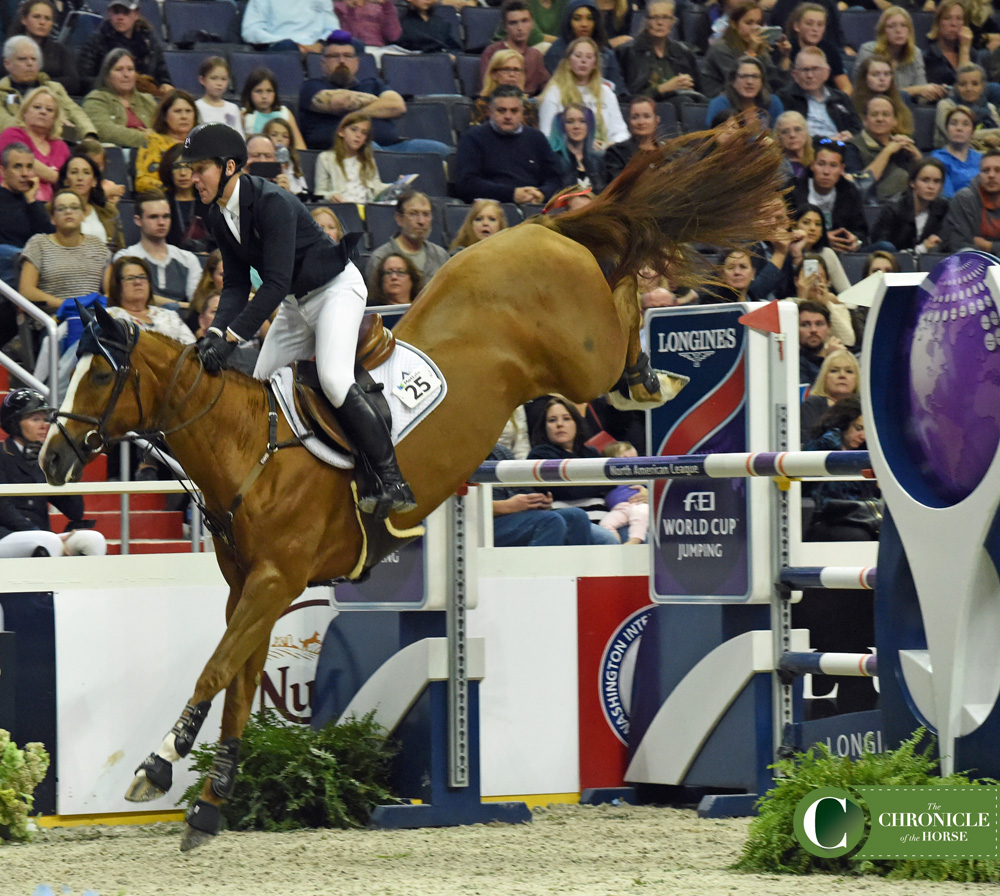 Catherine Tyree and Enjoy Louis rounded out the podium, finishing third on two clear rounds and a jump-off time of 33.83. The 13-year-old Belgian Warmblood has been with Tyree for four years and seen her through several World Cup qualifying classes, but this is their best finish to date.

"Now that I've gotten a bit more comfortable, I've really tried to push myself as much as possible in these jump-offs," she said. "Coming behind Beat and McLain, I know they're phenomenal riders that I look up to, and I heard that they had great jump-off rounds. I'm on a bit more of a slower mover, so I really just tried to be as neat as possible. I could have been a little bit more efficient in a few places, but Louis always steps up."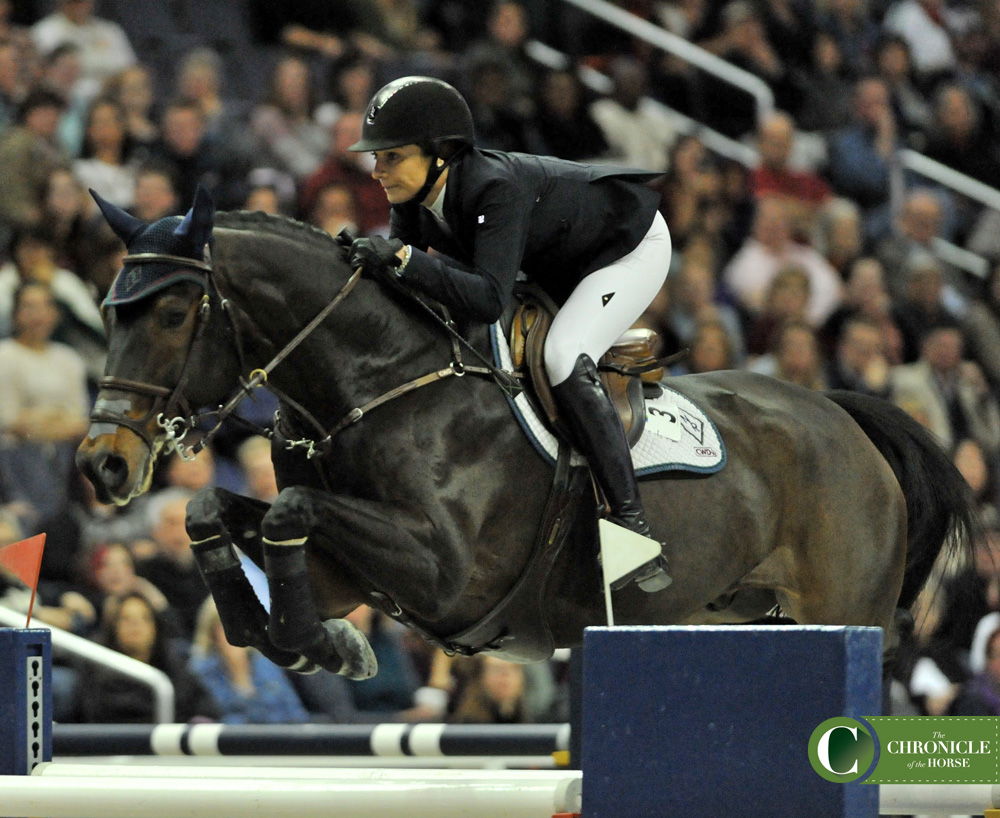 IMPORTANT LINKS:  All the COTH Washington International  coverage  |  What You Need To Know  |  live results/order of go  |  live streaming  |  show website