Elkton, Md.—Oct. 17
Tamra Smith came a long way from California with Mai Baum to contest their first CCI*** together, and luckily she brought a lot of confidence with her to tackle Derek di Grazia's track at the Dutta Corp. Fair Hill International.
Smith and "Lexus" set out looking to hold on to their dressage lead, and they easily cruised in 14 seconds under the optimum time of 10 minutes to have a comfortable lead (38.5) over second placed Phillip Dutton on four-star veteran Mighty Nice (43.5).
"He was fantastic. I went out of the box, and he was a little bit sticky to the first two, so I gave him a little encouragement after that, then he was right in my hand and galloped around the course phenomenal," she said. "I kept looking at my watch and going, 'Gosh, I'm five seconds over the clock, and now I'm seven seconds over the clock, and uh, I'm getting a little too far ahead of the clock.' But his stride just kept getting bigger and he's so rideable that I just let him stay in a rhythm and he just happened to be that way."
Owner Alex Ahearn was on hand to watch the gelding, who she piloted around the CCI** at Fair Hill last year. Smith took over the ride in February and they've won three CIC***s in a row.
"I haven't ridden a course that's been hard for him," she said. "Knock on wood, but he's just so adjustable and so rideable. He just has a great stride and is very light on the ground."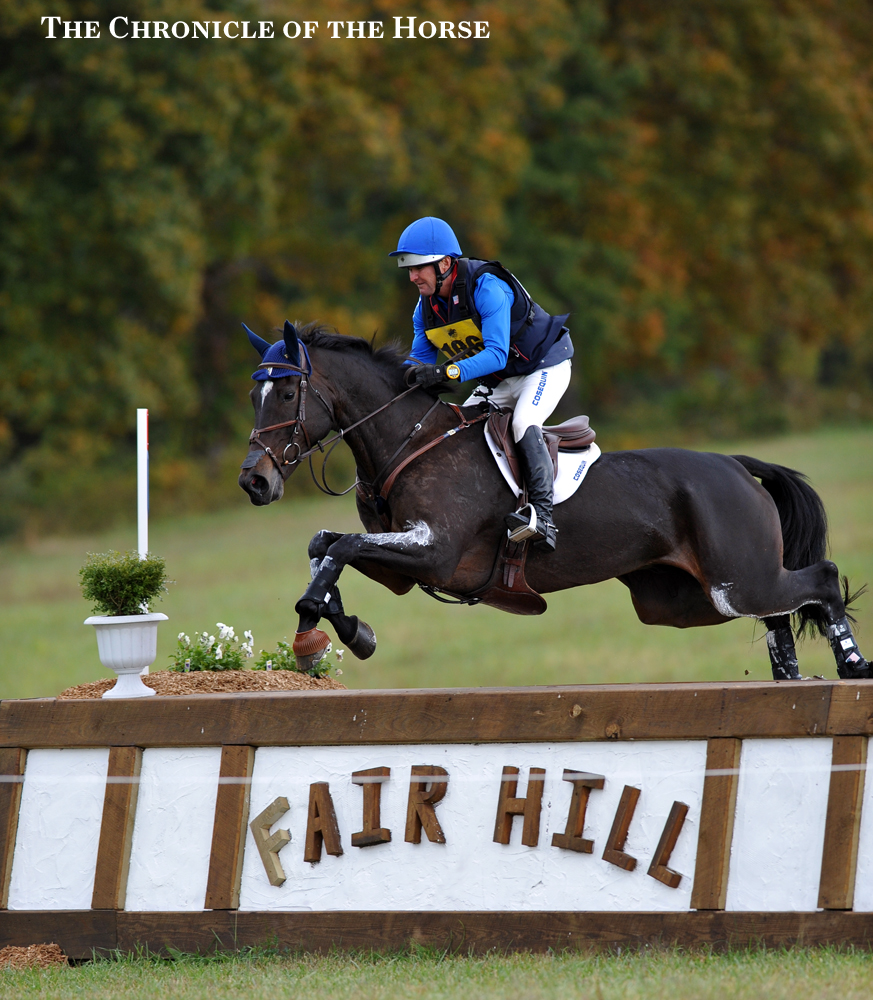 Phillip Dutton and Mighty Nice. Photo by Lindsay Berreth.
Dutton and "Happy" endured a hold on course when Holly Jacks-Smither and More Inspiration fell at fence 9, the Sunburst Ditch and Brush (More Inspiration was trailered off the course and both he and Jacks-Smither were reported to be doing OK).
"I'm getting used to it!" said Dutton of the hold. "I got held at Luhmühlen [CCI**** (Germany)] as well. He was pretty good. You can't get a better cross-country horse than he is. He did it all very easy."
He also slotted into fifth with a double-clear on Fernhill Cubalawn.
"I think overall they should be pleased," he said. "The problems were spread around in both the three-star and the two-star. It was educational for the horses. The conditions were pretty perfect for the horses—maybe even just a touch hard."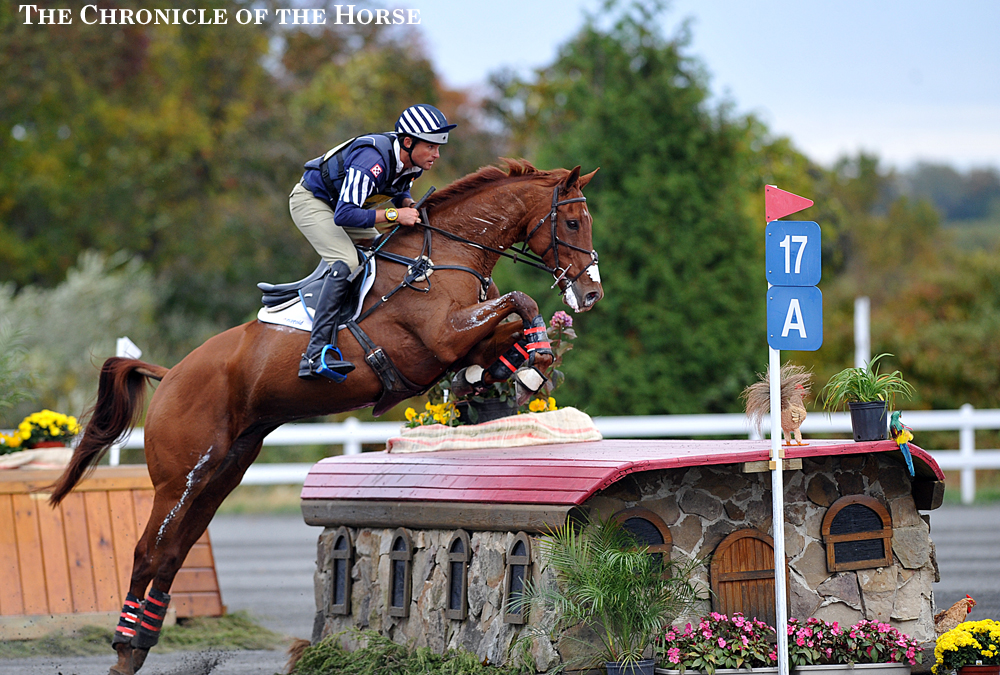 Boyd Martin and Blackfoot Mystery. Photo by Lindsay Berreth.
Boyd Martin jumped two places up the leader board with a double-clear as the last to go on his new ride Blackfoot Mystery. They'll show jump in third place on 44.6.
"I think the ground was very fast," he said. "It's probably the first time I've ever been to Fair Hill where it's not deep in mud. I also think Derek softened it up a wee bit, which I'm not complaining about since it was still very difficult, but I thought last year he made it a three-and-a-half star and this year was a proper three-star. I think if you had a good galloper, the time was pretty easy to make."
Martin only partnered up with the former ride of Kelly Prather this summer.
"I think he's a class horse, and I was so impressed with him today. He's got unbelievable endurance, and it felt like I was coasting around pretty easily, so he showed me that he's a proper [three-star] horse. We're still getting to know each other a little bit. We weren't quite in sync on a couple of fences, so I think in another six months we'll be sweet," he said.
And with his trademark humor he added, "Personally I was under a bit of pressure because I still owe a fair bit of money on him, and I thought if I bombed out today, there'd be no way I'd be able to get my loan sharks their cash back! So I'm pleased that he's in a good spot because I need to sell the last two shares. We're in good shape. I'll be on the phone tonight. There are a few people on the fence, so I'll see if I can get a check before the show jumping."
He also had a big cheering squad as he was joined by wife Silva and new baby Nox, who sported a matching onesie in his cross-country colors, complete with his sponsor Purina's red and white checkered logo.
"He's been howling at night a bit, so I didn't have the best sleep last night," he said. "He's a bit nocturnal and a little bit hyperactive. It's good fun having a new kid."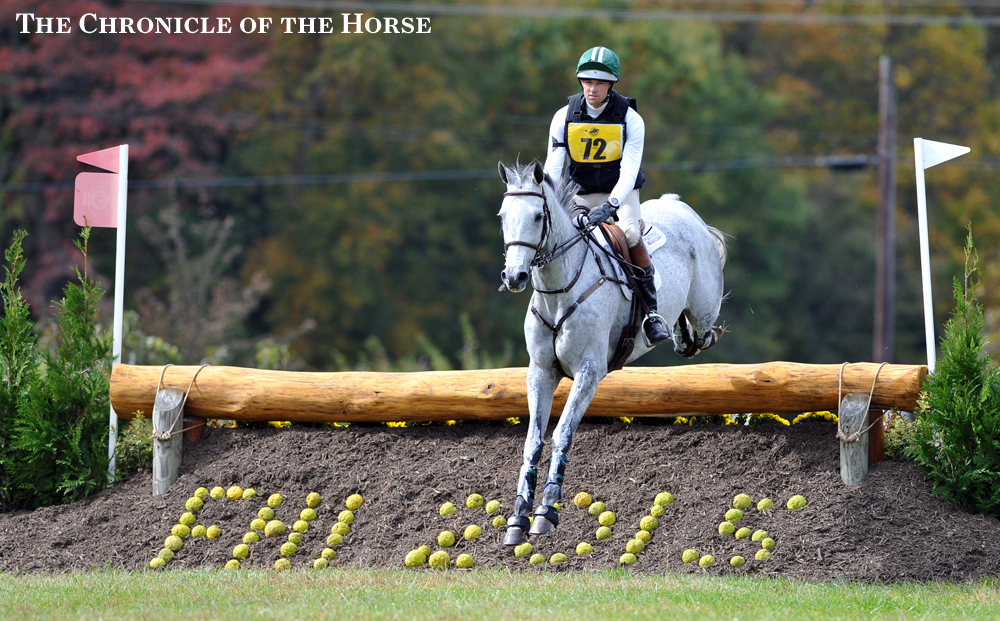 Will Coleman and Tight Lines. Photo by Lindsay Berreth.
To spectators, Will Coleman and Tight Lines appeared to finish the CCI** cross-country course and be ready to go around again. They held their lead while Dutton and Z moved into second with a double-clear. Allison Springer and Cascani round out the top three with a double-clear.
"He was great. He's an incredibly fast horse. I've never had one that builds in speed the whole way around like he does, but he truly gets faster as he goes, which is good and bad," said Coleman. "He settled down a lot. He was much more rideable than he was earlier in the year. He just seems to get better and better. I'm thrilled with him. He was a star."
Coleman went later in the division, so he was able to watch several pairs go and liked that the problems were spread out over the course.
"I thought it was a good test," he said. "The time wasn't a huge issue, but I thought [di Grazia] had really good questions. It does prepare your horse for the next level. If you're hoping to move up in the spring, which I am with him, I think it does set you up well to do that, and I think that's what he tries to do with this course every year."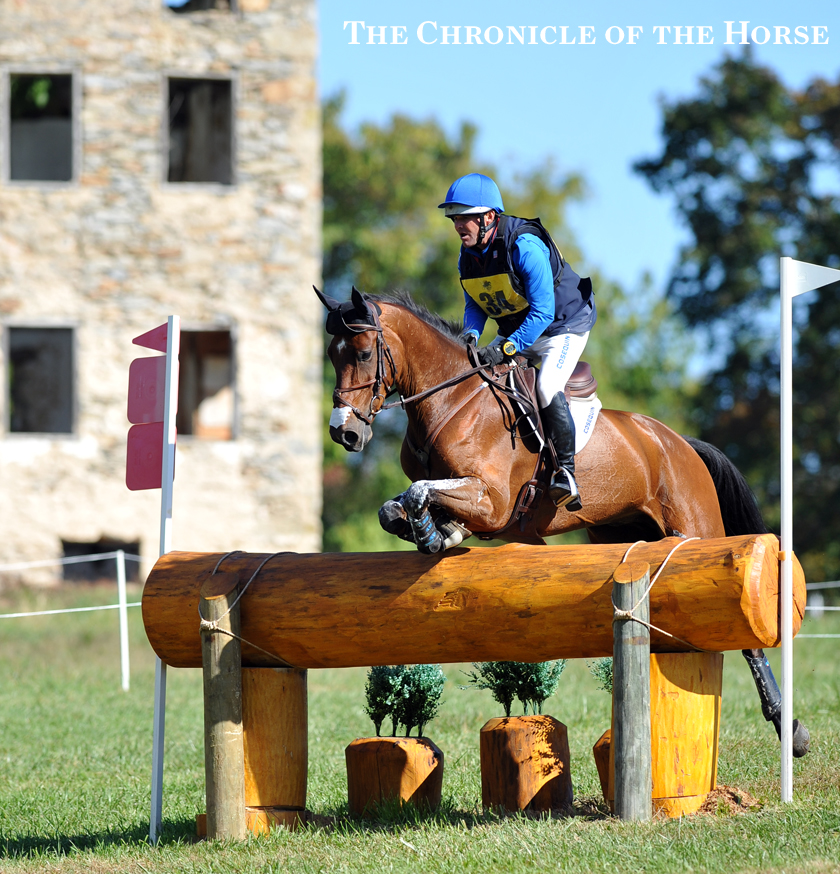 Phillip Dutton and Z. Photo by Lindsay Berreth.
Z is a new ride for Dutton and he said the gelding handled his first CCI** pretty easily.
"I was very impressed with him," he said. "Hopefully he'll come out of it well, and it will be a good experience for him. He's a bit of a hot horse and he's a 7-year-old, so it might be good to give him more time [before moving up to advanced.]"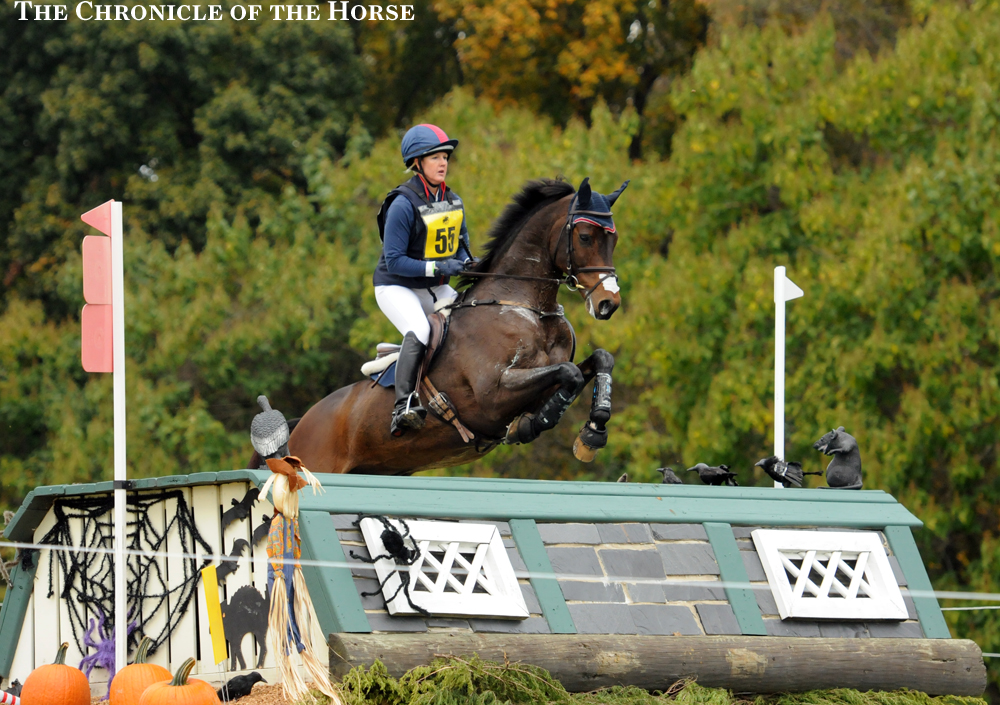 Allison Springer and Cascani. Photo by Lindsay Berreth.
Springer was celebrating her birthday today, and while she got wet on her three-star horse, Athlone Anto, at the end of the day, she was thrilled with new ride Cascani, who she got from Kelli Temple.
"I'm really excited. He's a new horse for me this year. I got him in March," she said. "I did try to take him to Bromont probably a bit prematurely. Phillip helped me a ton with him this summer. I'm so excited about him. He's just changed so much over the summer, and he's a great horse. It felt really nice, just a fun ride around. He felt full of gallop at the end and jumped well and really, really stepped up."
Tidbits
- In the CCI***, 37 pairs finished the cross-country out of 52 starters. Jessica Phoenix withdrew Pavarotti, who was sitting second after dressage. Rachel McDonough withdrew Irish Rhythm, who was cross-entered at the Galway Downs CCI*** (Calif.). Seven riders had one refusal and one rider had two refusals. Werner Geven was eliminated at fence 12, Rachel's Rails, after he failed to go through the flags. Erin Brooke Freedman and Viola were eliminated for refusals at fence 5 and 6, and six riders retired on course.
- There were six rider falls. Maya Black fell from Doesn't Play Fair at fence 20, the Centerpiece Oxer. Sara Kozumplik Murphy fell from Fly Me Courageous at fence 15, the Persimmon Tree Turn, an AB combination of two skinny ditch and brushes. Allison Springer parted company with Athlone Anto at fence 5, the Frog Pond. Joe Meyer fell from Sanskrit at fence 13, a galloping table, the Fish Tank. Both Alexandra Knowles on The Dark Mark and Justine Dutton on Huck Finn fell at fence 6, the Fox Mill Farm Oxer and Corner.
Holly Jacks-Smither and More Inspiration had a mandatory retirement (horse fall) at fence 9, the Sunburst Ditch and Brush. The gelding was transported in a trailer but both were said to be OK.
The only injury reported was Justine Dutton, who wrote on her Facebook page that she was just a little sore. She subsequently withdrew her other CCI*** ride Jollybo.
- Nine riders made the optimum time of 10 minutes in the CCI***.
- In the CCI** 56 of 72 to start came through the finish flags. Six riders were eliminated for refusals, two retired, and six incurred rider falls with no serious injury reported. 21 pairs had one or two refusals.
- Sinead Halpin and Top Gun had a mandatory retirement at fence 20, the Springhouse Water, and Siobhan O'Connor and Faux Indigo had a mandatory retirement at fence 16, the MLB Oxer. Tamra Smith and Dempsey also fell at fence 20. All pairs were up and walking. Halpin went on to ride two more horses in the CCI** and Smith rode her three-star horse.
For full results, click here.
For more Fair Hill stories, click here