Up until this year, Holly Jacks-Smither was considering giving up and selling More Inspiration.
The Thoroughbred, who'd she'd brought along since he was 4, just didn't seem to be cutting it at the upper levels of eventing, with a cross-country blip here and there and mediocre dressage scores.
"I always knew he was going to be a good horse," she said. "He is the best jumping horse I've ever sat on. Because he's so catlike, he'll get himself out of trouble. I think in my head, I always knew I wanted him to be an advanced horse, but during our two-star career, we had a lot of ups and downs. A few people had come to me and said, 'Listen, he's too careful, that's why he's such a good jumper. Show jump him, sell him, buy yourself something nice.'"
But something clicked after the pair competed at the indoor eventing competition at Toronto's Royal Agricultural Winter Fair last winter.
They came out at advanced this season and have been jumping around some tough tracks with a newfound confidence. A 12th place finish at their first CCI*** at Jersey Fresh gave Jacks-Smither the boost she needed to say yes when Team Canada invited her to ride on their Nations Cup team at Aachen (Germany), and she followed it up with a fourth place finish in a huge CIC*** division at Plantation Field (Pa.).
Now she and "Morris" are tackling the Dutta Corp. Fair Hill International CCI*** this weekend after failing to complete the CCI** the last two years.
"I really changed my mind frame and I really believe in him now," she said.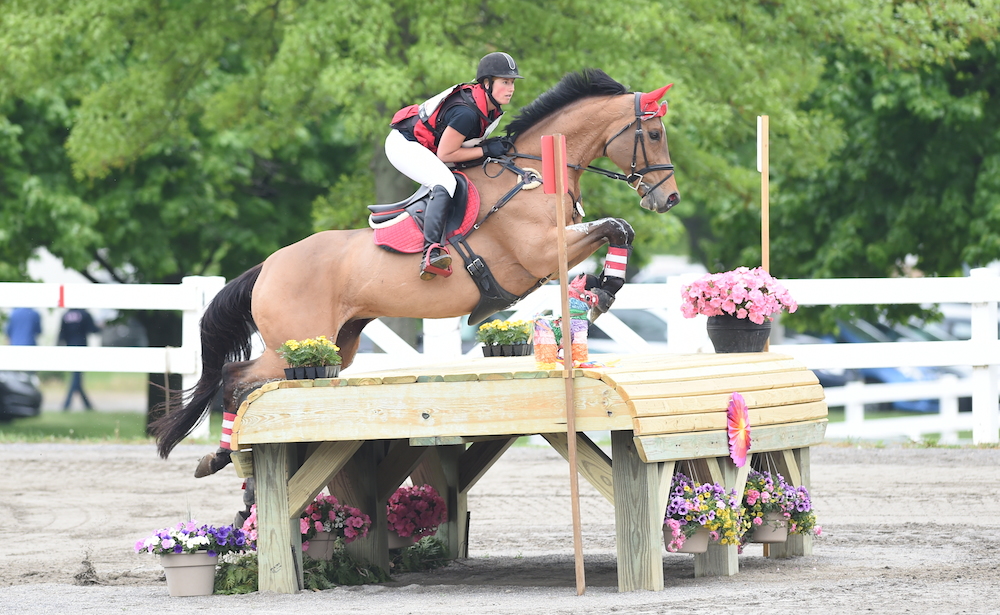 Holly Jacks-Smither has a newfound confidence in More Inspiration as they tackle their third Fair Hill CCI together. Photo by Lindsay Berreth
Jacks-Smither grew up in British Columbia, Canada, and rode primarily western until she discovered eventing in high school. She went to work for Penny Rowland when she was 17, trying to decide whether she wanted become a professional.
From the time she was 12, Jacks-Smither also broke and galloped Thoroughbreds for the track after a trainer leased a barn from her family and introduced her to the sport. To make extra money, she'd gallop racehorses at nearby Woodbine.
"I always wanted to stay small enough to be a jockey, but it just wasn't in the cards!" she said with a laugh.
After three years with Rowland, she was offered a paid position working for show jumper Frankie Chesler, where she broadened her riding skills. She eventually rented a barn from Chesler and kept a few lower level eventers and began taking her own students.
Along the way, she met Morris at the track. Originally she thought he would make a good resale project, but once the pair did their first one-star at Hagyard Mid-South (Ky.) in 2012, she decided to keep him.
"When I first got Morris, I thought about just show jumping him because he's such a brilliant show jumper. Frankie's dad told me I was crazy to event him!" she said. "He was never a great mover, but he was always a great jumper. I couldn't get him sold, and by the time I went to Kentucky and did my first one-star on him, the dressage was coming together a little more and he finished second."
Morris, a 10-year-old gelding (Inspired Prospect—Gentle Buck), finished his first CCI** at Ocala (Fla.) in 2013 with a stop on course and that season, Jacks-Smither's coach Jon Holling advised her to sell him since he'd given her a good experience bringing a horse to that level.
"Jon said to me, 'You don't need miles anymore, you need something that's going to be good, so you should think about show jumping or selling him.' I was devastated. I cried!" she said.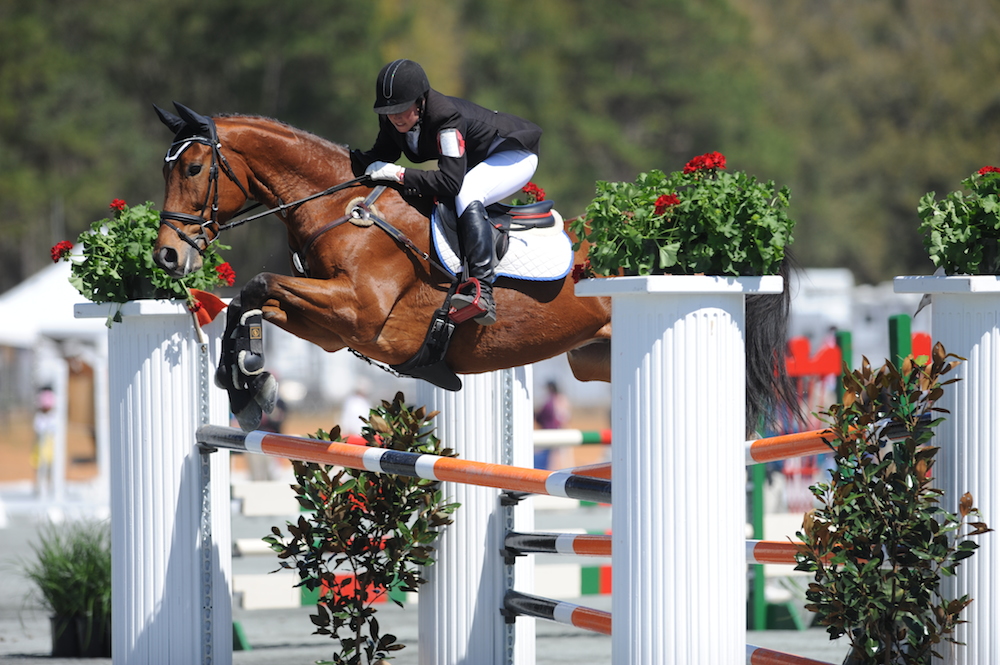 More Inspiration's talent and carefulness in show jumping caused multiple people to recommend that she sell him as a jumper, but Holly Jacks-Smither persevered with him in eventing and is now reaping the rewards of that faith. Photo by Lindsay Berreth
But Jacks-Smither was determined to sort it out. She had coincidently moved next door to Canadian dressage rider Tom Dvorak, and began taking lessons. "He has just been unreal," she said. "He's been not only an amazing dressage coach, but a friend and mentor along the way too. For the first five lessons, I basically did walk and trot transitions. It was right back to basics."
The pair had a couple of good placings at the two-star level in 2014, but it came apart at the Fair Hill CCI** where they retired on course.
Jacks-Smither rerouted to The Royal and had an amazing round. "We kind of became a better partnership, which is funny because most people hate The Royal, but my horse improved after being at The Royal," she said.
This spring Jacks-Smither, 29, buckled down with a new determination and it's showing.
"[Holling] was hard on me. It was, 'You're either going to make it work, which I don't think your horse is brave enough, or you're going to sell him,'" she said. "I brought him out at Pine Top [Ga.] and jumped him around advanced, and he was just a different horse after being at The Royal. He's the bravest he's ever been. And he's 10 now. I think he's matured a lot."
Heading into her first CCI*** at Jersey Fresh, Jacks-Smither said she "felt like a deer in the headlights and didn't totally believe," but the gelding jumped around the cross-country confidently.
A literal last-minute call to go to Aachen in August meant Jacks-Smither would have to pay for the trip on her dime, but she knew she couldn't pass up the opportunity. They picked up a run-out and some time on cross-country, but completed their first overseas event.
"That was the best thing I could have done for my career," she said. "I went out to Plantation after, and I believed that I was sitting on the best horse. I've always loved this horse, but I've had people come to me and say, 'Be realistic. He's not who you think he is. Be realistic, he doesn't move well enough. Be realistic, he's not brave enough.'
"I think going over there and walking the course and going through the motions and doing it—not having the best result, but having a solid result at my first overseas event—I came out at Plantation thinking that I was sitting on one of the best horses," she added. "When everyone was falling at Plantation and it wasn't riding well, I never got nervous because my horse has jumped around Aachen and he made it feel easy."
Jacks-Smither says she'll be fundraising for a long time to pay back the line of credit she took out, but it was worth it in the end. "No regrets," she said. "It was a lot of money and it was scary doing it, and I'll be paying for it forever, but it was why you do this, why you have a horse and you work seven days a week."
These days, Jacks-Smither makes her living breaking and training Thoroughbreds with her husband of two years, Thoroughbred trainer Bruce Smither, at their base in Erin, Ontario. She also rides horses for a few clients.
"I've always loved the Thoroughbreds," she said. "For me, it's all I can afford. I think if you can get one that can move a little and jump, they have so much heart. I think there's nothing like a good Thoroughbred. They have so much desire to do it."
She's looking forward to Fair Hill with Morris, and hopes to keep improving.
"I feel like with him I've always been the underdog, like, 'I have to get the dressage better, I have to get the cross-country better, he's never going to move better or he bucks me off,'" she said. "I think coming off of Aachen and Plantation, I have a different kind of nervousness. There's more weight on my shoulders in a way because I feel like I can possibly go there and do well. I think I have to put the pressure out of my head and ride like I normally do, ride more like an underdog and not someone who's come off a European event and a good place at Plantation."
Want to know how Jacks-Smither and Morris are doing at the Dutta Corp. Fair Hill CCI***? Make sure to follow along with the Chronicle's coverage of the event. And keep up with live scores all weekend.