Switzerland's Felix Vogg celebrated his 32nd birthday Sunday, June 19, by winning the first five-star event of his career with his Tokyo Olympic partner Colero, while U.S. riders Lauren Nicholson and Elisabeth Halliday-Sharp finished fourth and fifth, respectively, in the Longines Luhmühlen Horse Trials (Germany).
Vogg, who sat in fourth after dressage, rose to the top of the scoreboard after an influential cross-country day Saturday that saw 11 horses eliminated or retired, including dressage leaders Bubby Upton (Great Britain) and Cannavaro and two others who had been inside the top 10 on Friday.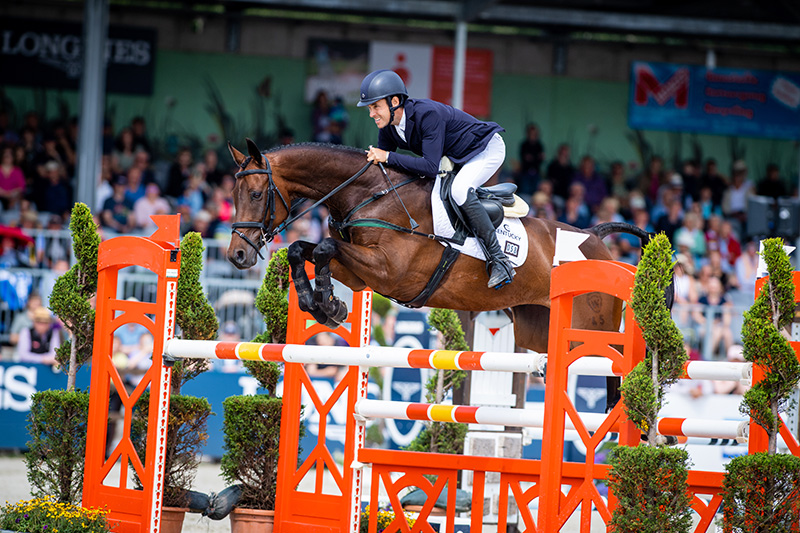 Just like the cross-country course, the show-jumping of the Longines CCI5*-L proved to be very influential. Only two riders completed the weekend on their dressage scores. With a very fresh and smooth round, Vogg and Colero, a 14-year-old Westphalian gelding (Captain Fire—Bonita, Bormio) owned by Vogg Jürgen, held onto their dressage score of 29.0 points. As the only other pair to finish on their dressage score, Kirsty Chabert (Great Britain) and Classic VI moved up from 11th place after dressage to take second.  New Zealand's Jonelle Price and Faerie Dianimo, who won Luhmühlen in 2018, completed the podium.
It was Vogg's week. He laid the foundation for the win on Friday with a super dressage, which was rewarded with 29.0 points. Vogg and Colero then mastered the demanding cross-country and show-jumping courses clear within the time.
"When I rode into the arena, I just focused on keeping calm and tried to blank out everything else," he said. "That took the pressure off me and also off the horse, which was important. Even with a pole, the result would have been a personal highlight. He can jump fantastically, and he showed that today."
Chabert's CCI5*-L second-place finish on her dressage score was her biggest achievement so far.
"Classic has been fantastic this whole week," she said. "She gave me a phenomenal round cross-country, and she's a very, very good jumper. It's a team effort, and we go out of our way to keep her in her happy place, and then she rewards us by going above and beyond."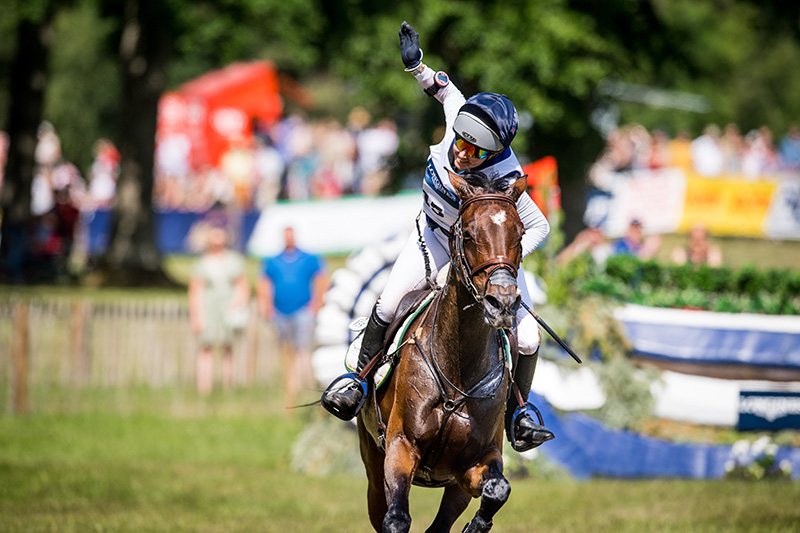 Price's week was off to a rocky start with a dressage test that left her in 14th place.
"I was a little frustrated with our dressage result," she said. "Faerie is brilliant but also a right little madam. It's her fourth time in Luhmühlen, and she's already 17, so you'd think she knows her job, but the dressage was hard work. We had a few mistakes, and during today's prize giving I couldn't help but think 'what if.' On the other hand, she gave me lovely rides in the cross-country and show-jumping phases, and she's always trying to do the right thing. She's an incredible nice little mare and deserved a podium finish. She's also quite pretentious, so I'm sure she enjoyed the prize giving today and thinks she has won."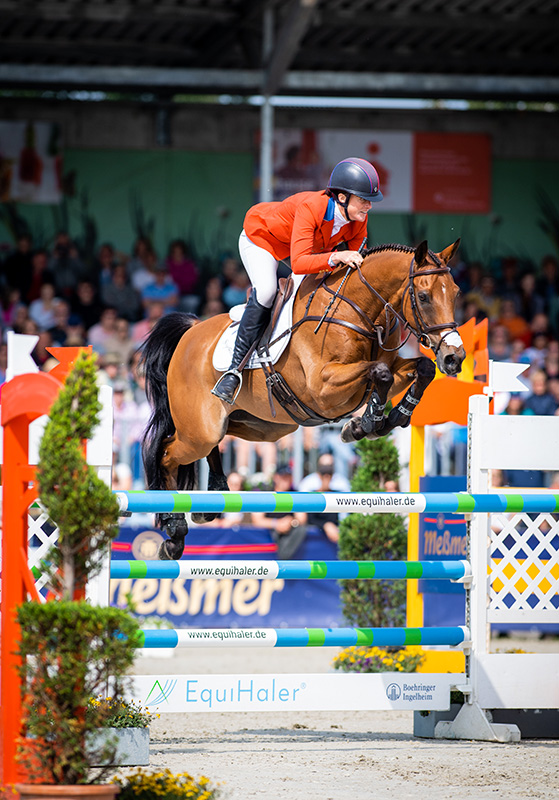 For the American contingent, Nicholson and Vermiculus, a 15-year-old Anglo Arabian gelding owned by Jacqueline Mars, started the week on fire—second the first day of dressage with a score of 26.7 and went into cross-country second only to Upton—and added barely a handful of time penalties to finish fourth. Their 5.2 time penalties cross-country dropped them to seventh place going into stadium, while a mere 0.8 time penalties in the difficult final phase, which saw only three riders make the time allowed, boosted them back up to their final position.
Halliday-Sharp and Cooley Quicksilver, an 11-year-old Irish Sport Horse gelding owned by The Monster Partnership, also added nothing but time to their dressage score of 29.1. Sitting in fifth after dressage, 6 cross-country time penalties dropped them to 10th place, while turning in the third of Sunday's three double-clear show-jumping rounds boosted them back up to fifth place with a final score of 35.1.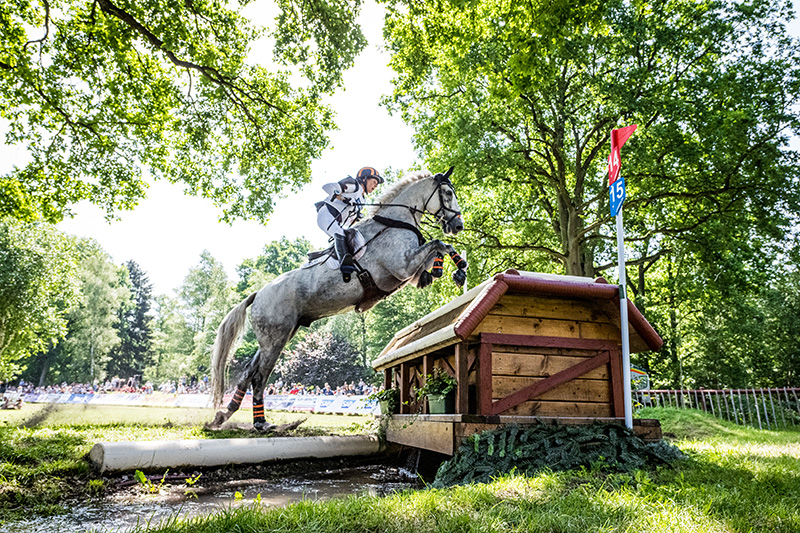 U.S.-based Canadian Karl Slezak and Fernhill Wishes moved up from 24th after dressage to finish 14th on a score of 63.1, while the final U.S. pair in the five-star, Matt Flynn and Wizzerd, finished 17th on a score of 73.8.
In the CCI4*-S division, Germany's Michael Jung won the German championship with Highlighter, an 11-year-old warmblood (Natal—Ard Silhouette, Landgraf I), with a score of 25.6 and the distinction of being the only pair to finish on their dressage score.
"Highlighter has come a long way," Jung said. "To win the German Championship title with him now means a lot to me. He has been going strong all season, and I am so proud of him. He has done so well all week and wasn't fazed by the enormous crowd at all. He's so cool."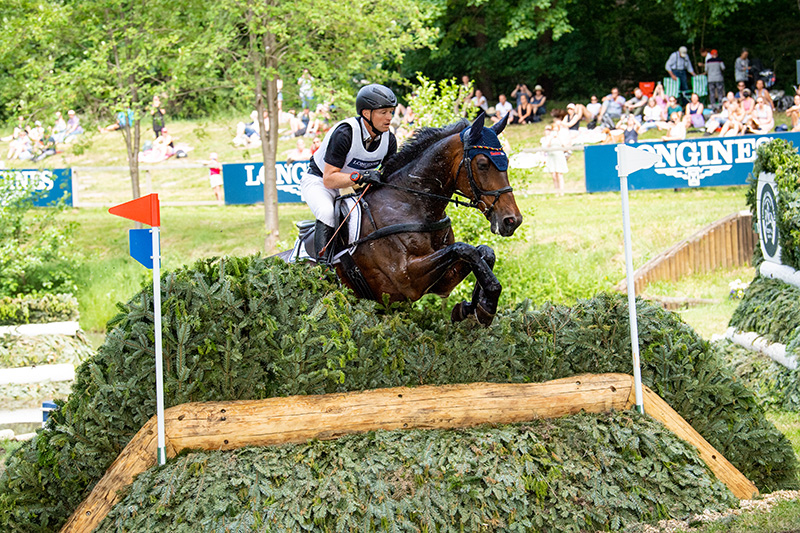 Will Coleman and Hyperion Stud's 10-year-old Chin Tonic HS, who led after the dressage phase as the only pair to best Jung's score, added 11.6 time penalties cross-country and a rail in show jumping to finish in 12th place on a final score of 40.2.
The event served as the final selection trial for the Land Rover U.S. Eventing Team in advance of the 2022 FEI World Eventing Championships, to be held Sept. 15-18 in Pratoni del Vivaro, Italy. Five combinations, plus alternates, will be named for the world championships no later than Aug. 1.