Parker, Colo.—July 31
Lucy Matz never thought she'd be riding Bailey VI, and she certainly never thought she'd be bringing the mare to the Colorado Horse Park for the Adequan FEI North American Junior and Young Rider Championships. She's sure glad she did—Matz piloted Bailey VI to the individual gold medal in the junior competition.
"My brother actually showed her first before I did. I had tried her, and we didn't get along so well," Matz, 18, said with a laugh. "Then my mom thought it usually takes me a little while to get used to a new horse, so I started showing her at the end of the summer last year, and during the winter at WEF we just really clicked."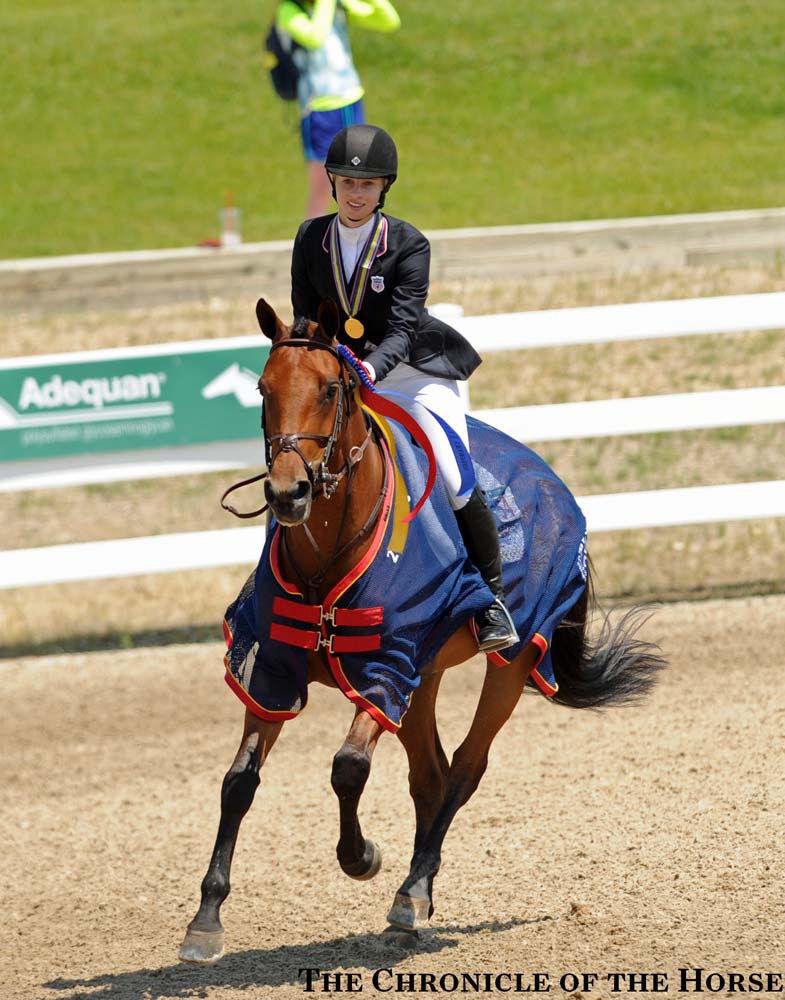 Lucy Matz and Bailey VI. Photo by Ann Glavan.
Matz still wasn't planning on bringing to Bailey to NAJYRC, but when her main horse got taken out of commission at the last second, Bailey was called up.
"She's quite sassy; she's very focused most of the time, but she doesn't like to be messed with," Matz said. "She's a very hot horse, so it took me a little while to get used to her and know that she doesn't necessarily like to be messed with. You just have to let her go."
It helps when your whole family can give advice on how to handle a tricky horse. Lucy's father, Michael Matz, rode on the U.S. Olympic team three times and now trains race horses, and her mother, D.D. Matz, was a successful amateur show jumper. Lucy's brother, Alex Matz, also showed at NAJYRC this year in the young rider division. The whole family is based out of Coatesville, Pa.
"It was great to have most of my family here at NAJYRC. My dad unfortunately had to stay at home with his horses, but I called him up right when I got out of the ring," Lucy said. "He was like, 'Oh, I heard you had a little bit of a scary one at the last fence,' and I said, 'Yeah, you don't have to watch that on the video,' " Lucy said with a laugh.
After jumping a clear first round today, Lucy came back to the second round of the individual competition on top, so she went last in the order, a high pressure situation for the 18-year-old rider.
"Coming into the second round I was very nervous about it and was just hoping I could execute," Lucy said.
She put in a perfect round, right up until the very last fence. A single oxer stood between Lucy and the timers, between her and a gold medal. The pressure proved enough to throw of Lucy's eye, which was dead on up until that fence. An awkward deep distance brought down the whole right side of the jump, standards and all, but luckily Lucy's winning margin was big enough to keep her in the clear.
"Unfortunately the last fence got a little away from me," Lucy said, shaking her head. "But thank goodness it all worked out!"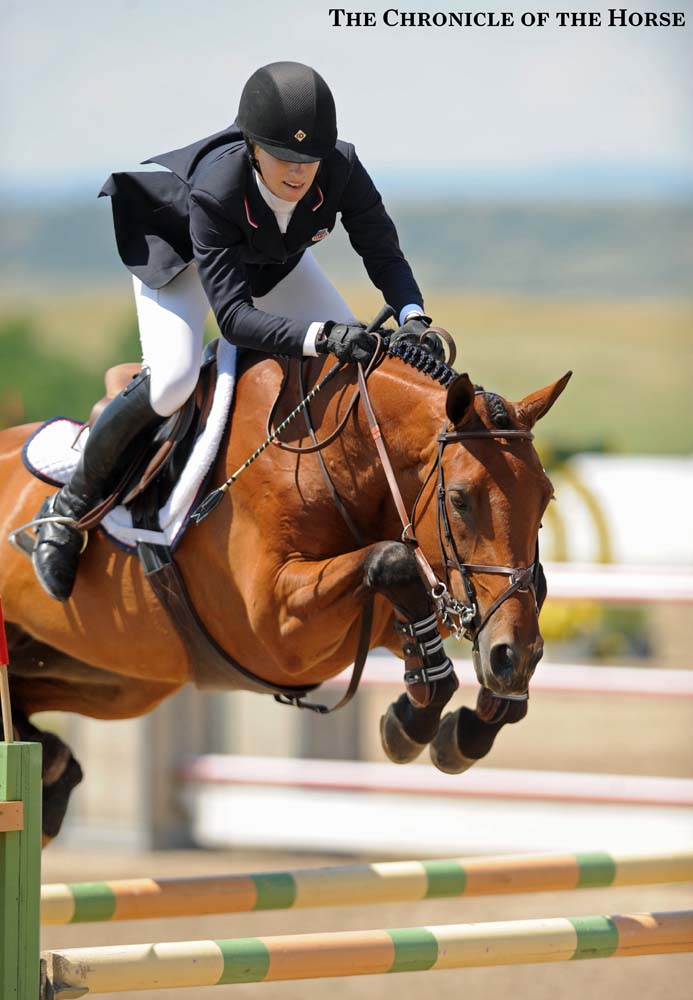 Lucy Matz found a bit of an awkward distance to the final fence (pictured) with Bailey VI. They pulled the right side of the obstacle down, but luckily had enough of a lead on the rest of the competition to still secure the gold medal. Photo by Ann Glavan.
Carlos Hank Guerrerio from Mexico City took the silver medal aboard Santos.
"Our goal was just to jump a clear round, unfortunately we couldn't do that, but it was a little bit of pressure coming into today's first round in the lead," Guerrerio, 16, said. "Then the second round I thought it was quite big and technical, and I felt my horse jumped it really well, just had an unlucky rail, so I'm really happy."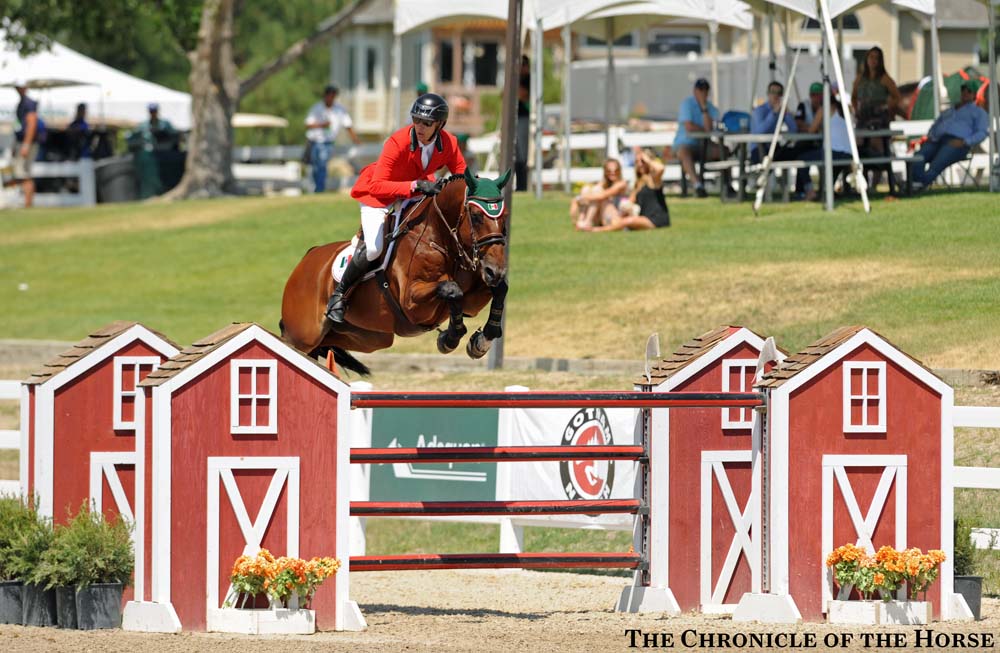 Carlos Hank Guerrerio and Santos. Photo by Ann Glavan.
The bronze medal went to Brian Moggre from Dallas, Texas, riding MTM Flutterby. Medaling was a huge improvement for Moggre, who started out the week with a miscommunication and a stop in the opening speed round.
"When I found out I was bronze, I was very surprised," Moggre said. "I came to young riders hoping for a medal, but after my results earlier in the week I wasn't exactly planning on being on the podium. Being up there was awesome and being in the running with two amazing riders was really an honor."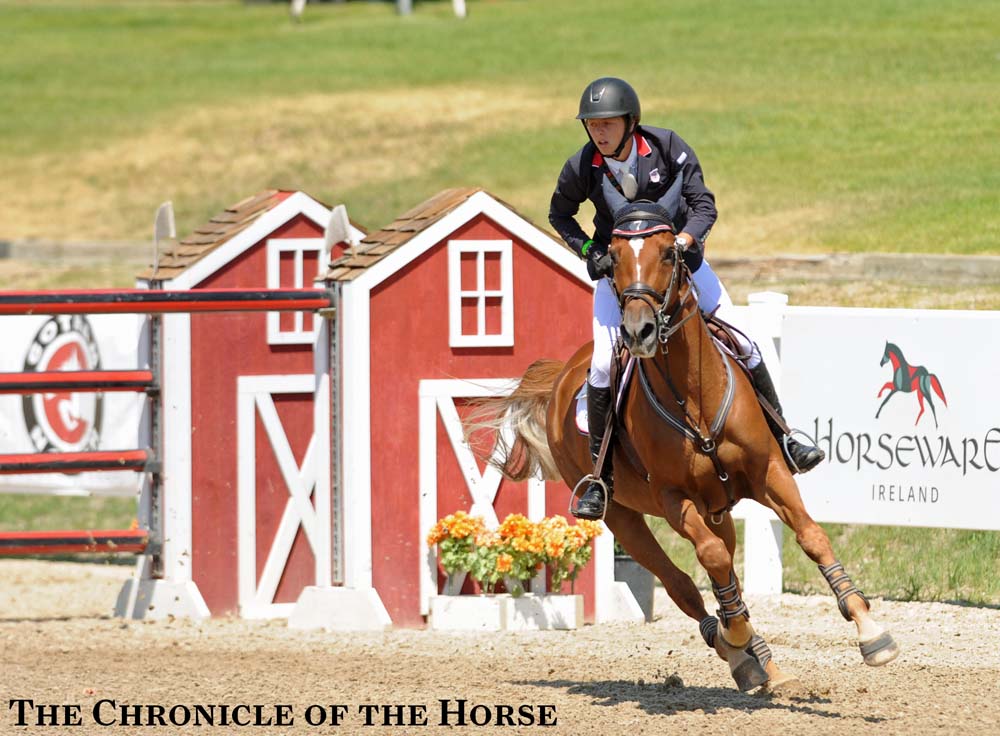 Brian Moggre and MTM Flutterby. Photo by Ann Glavan.
You can find full results on the NAJYRC website, or check out all of the Chronicle's NAJYRC coverage.