Lexington, Ky.—April 29
With two horses in the top four, Oliver Townend couldn't be blamed for dreaming that a win might be within his grasp at the Land Rover Kentucky CCI****. But with three-time Kentucky winner Michael Jung and fischerRocana FST ahead of him, his fate was out of his control. All he could do was put in a clear round and wait.
He got that clear round on four-star first-timer Cooley Master Class, and then he had nothing to do but bite his fingernails and watch and hope and pray. He waved off reporters and cameras and climbed the fence on the edge of the Rolex Arena, wanting to spend those last few minutes in limbo by himself.
When second-placed rider Chris Burton had two down with Nobilis 18, Townend was one step closer to his dream. He waited and watched.
Jung started his round with "Roxy" in typical perfect form, but when the rail fell at the triple bar (fence 5), Townend's wait was over. He'd won the Land Rover Kentucky CCI**** on a horse he'd ridden since it was 4. It was "Coolio's" first four-star. And, most importantly, since Townend won the Land Rover Burghley CCI**** (England) last fall with Ballaghmor Class, he's now headed to the Mitsubishi Motors Badminton CCI**** with a shot at the Rolex Grand Slam of Eventing, a $350,000 prize.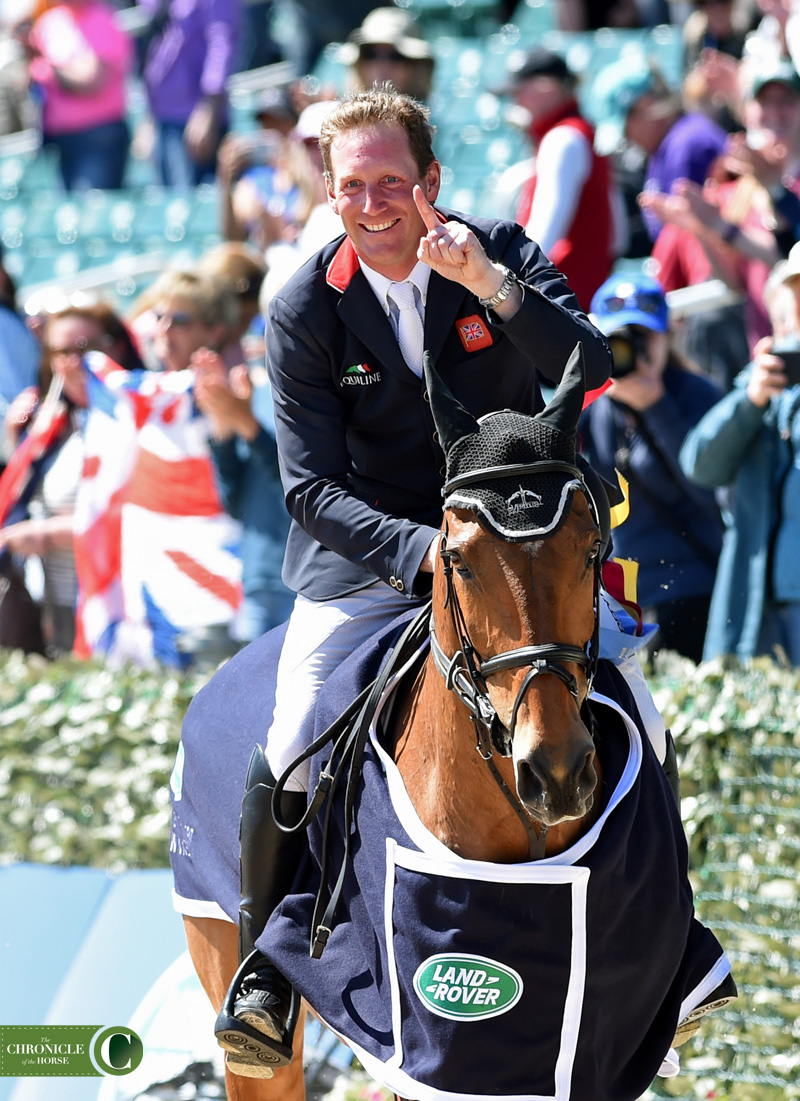 "This is the ultimate dream of mine," said Townend. "I'm a big dreamer. I dreamt last year I'd go to Burghley and win, and it came true. I'll keep dreaming. I'm sure I'll get woken up at some stage.
"I took a huge gamble," he continued. "I had to do a bit of arm twisting to get the horses here because there was no funding from Great Britain this year, so my owners Angela Hislop, [who owns Cooley Master Class], and Tom Joule, who owns King Joules, sort of gambled on me to win a bit of money back, and I'm just very, very pleased that the horses have come through with great results and hopefully repays my owners' gamble on me."
With the Rolex Grand Slam on the line and two horses entered—including Burghley winner Ballaghmor Class—for Badminton, which takes place May 2-6 in England, what will Townend do next?
"I'll give myself one night off," he joked. He also took the opportunity to speed around the Rolex Arena in his new Land Rover—a year's lease is part of his prize package. But then it's back to business.
"I'm very fortunate to have two nice horses both belonging to Angela Hislop, so we're both living in a dream world at the minute," said Townend. "Angela came up to me six years ago and said she'd like to start owning for me and have horses for the four-stars and a horse for the British team, and so far we've won two four-stars, and the other horse was on the British team last year, so we're both living in a dream world, and hopefully it will continue for another week. After that I'm not too worried. Just one more week please."
And what was he thinking in those last moments as he hung on the fence and watched Jung's round? " 'Please have a fence down Michael!' I've let him win enough," joked Townend.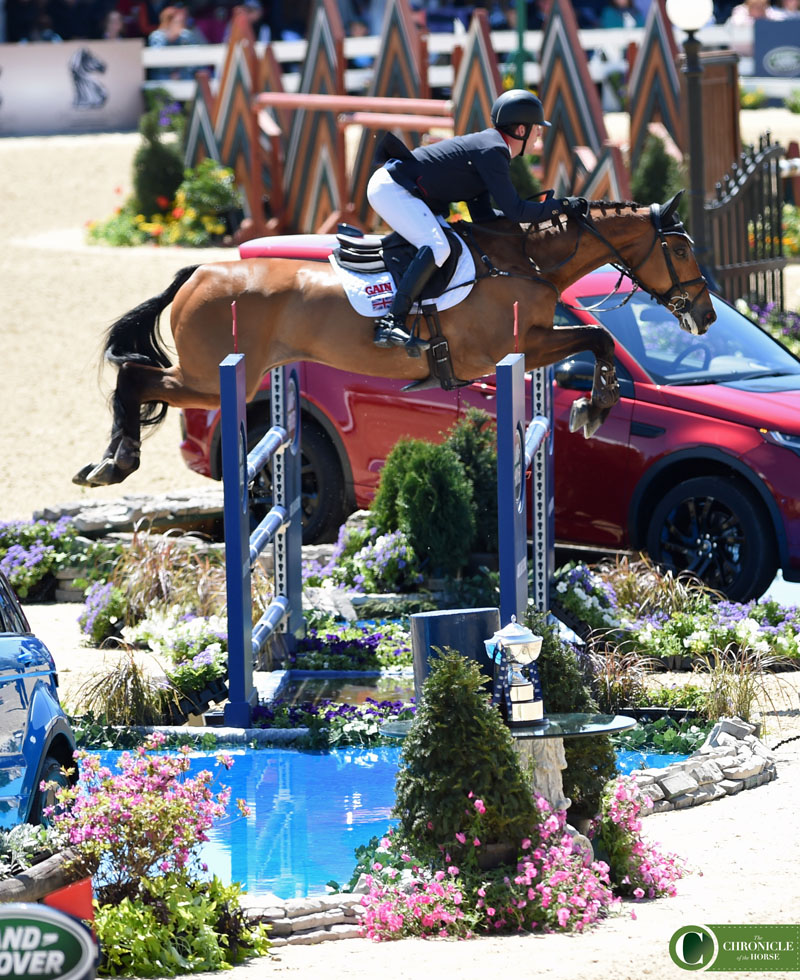 See more photos from the show jumping.
Jung took the blame for Roxy's rail. "I'm very happy about fischerRocana," he said. "I was a little bit sad, more about me because that was absolutely my mistake. I was too far away from this fence, but my mare tried hard. All in all it was a really nice week."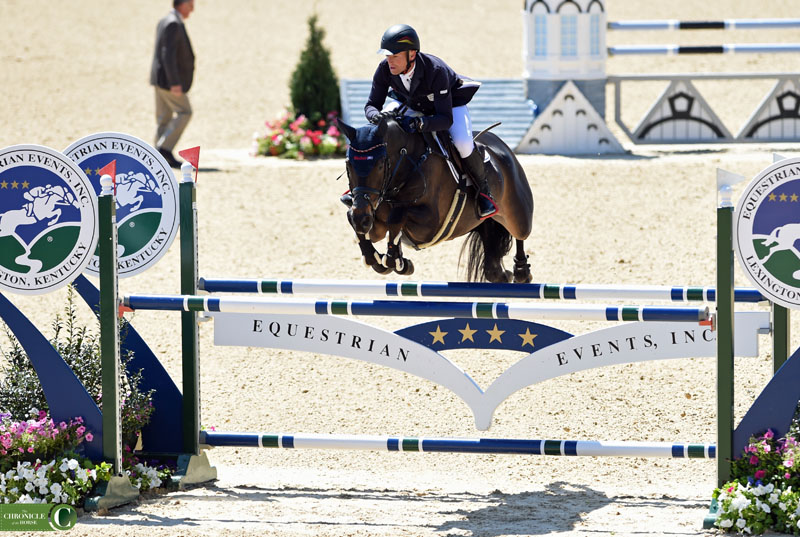 Marilyn Little has endured a week of highs and lows. She started the week at the top by winning the dressage with RF Scandalous, but then she fell to sixth place with time faults on cross-country after losing her watch mid-round. Then an angry roar went up on social media after photos emerged of "Kitty" with blood on her mouth on cross-country. Read Little's explanation here.
But after reassuring herself that her mare was in fighting form, she was able to put her lengthy show jumping background to use when she jumped a perfect round with Kitty to move back up to third and claim the title of national four-star champion.
"She was wonderful," said Little. "She was a little tired today obviously, like a lot of them, but she is all heart, and she puts so much in. It wasn't the smoothest round, but she fought for it the whole way."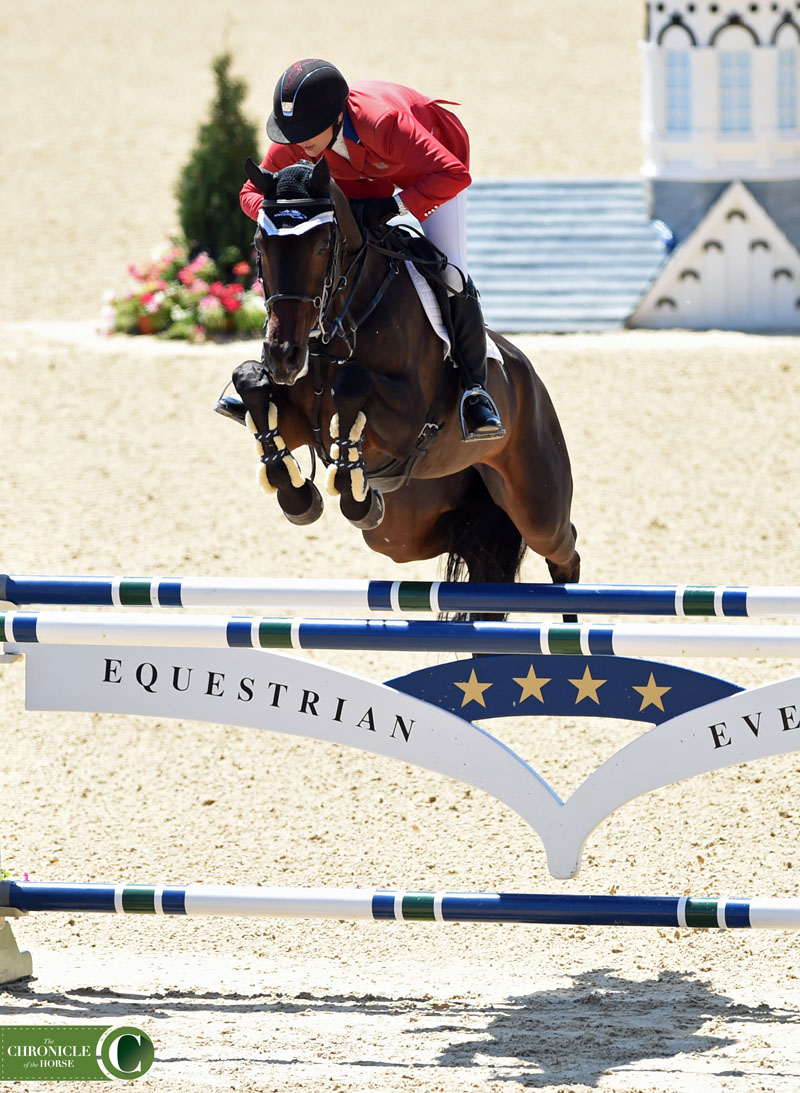 And while first and second belonged to foreign entries, six of the top 10 spots went to Americans. Clear rounds with four-star first-timers Z and Vermiculus slotted Phillip Dutton and Lauren Kieffer into fourth and fifth respectively. Lynn Symansky and Donner took sixth with one rail. Other U.S. riders in the top 10 included Sharon White with Cooley On Show in eighth and Buck Davidson on Copper Beech in 10th.
Don't forget to check out the May 21 issue of the Chronicle for an in-depth analysis of the Land Rover Kentucky CCI**** and the riders who competed there.
The Chronicle was on site at the Land Rover Kentucky CCI****. Read all our coverage of the event.
Important Links: Land Rover Kentucky website  ⁄  Ride Times / Results /  Live streaming / All of the Chronicle's coverage
Make sure to follow along on the Chronicle's social media outlets: Facebook, Twitter and Instagram.
2018 Land Rover Kentucky CCI**** - Show Jumping
Kimberly Loushin / Apr 29, 2018 10:40 pm