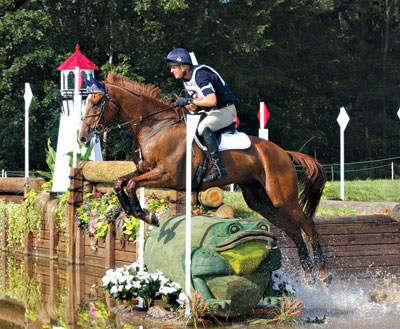 Leslie Law and Fleeceworks Mystere du Val
The blue ribbon for Fleeceworks Mystere du Val and Leslie Law in the CIC*** at Richland Park Horse Trials in Richland, Mich., Aug. 21-24, was just one of seven ribbons the busy 43-year-old British rider took home to Bluemont, Va.
But "more than the fact that he won," Law said of the 8-year-old Selle Français owned by Beatrice Rey-Hermes, "it was the performance. It was the best cross-country ride I've had on the horse. He was confident in taking me to the fences in a positive way."
Fleeceworks Mystere du Val isn't a stranger to leading the victory gallop. He topped the CIC*** at The Fork (N.C.) in April and the CIC** at the Maui Jim Horse Trials (Ill.) in July.
Law, on his first visit to Richland Park, credited event hosts Bob and Kay Willmarth for their continuous attention to footing as a factor in his successful weekend. "I heard it was a good event, and that they are known for being good about ground preparation. Footing is always a huge consideration." Richland Park Horse Trials is one of 13 venues in the Adequan USEA Gold Cup Series. It is also one of 20 venues in the Spalding Labs USEA Young Event Horse Series.
Kristen Bond of Ocala, Fla., and her 10-year-old Irish Sport Horse, Three Wishes II, posted the only double-clear round on cross-country in the CIC***. That left them in second place behind Law and Fleeceworks Mystere du Val Saturday night, but four rails in show jumping dropped them to sixth.
Under The Influence On Top
Erika Treis Petersen's CIC** win was popular with the hometown crowd, since her farm is just a few miles away in Holland, Mich.
Petersen's 10-year-old Thoroughbred, Under The Influence, is in his first season at the intermediate level. She purchased the 17-hand descendent of Secretariat sight unseen when "Jake" was 3 1⁄2.
Tidbits
• No one was more thrilled with their blue ribbon than Sara Calverley, 17, who won her first-ever blue ribbon in eventing with her Something Clever. "We've been in first so many times going into the final phase" but never pulled it off, said Calverley, who has owned "Sydney," a 14-year-old Thorough-bred, for three years.

The proud high school senior from Okemos, Mich., said, "he's taught me a ton. He's truly something clever—it's a good name for him."

• Having a baby just seven weeks before the event didn't keep Jennifer Lewandowski of Holt, Mich., out of the saddle for long.

With the baby's father and older brother helping, Lewandowski finished on her dressage score of 36.3 to take second place behind professional rider Eric Dierks in the open training division. An event rider since age 16, Lewandowski, now 36, returned to Richland Park on Aug. 25, to ride as a demonstration rider at the USEA Area VIII Safety Clinic (see sidebar).
She found him on the internet through CANTER, a Michigan non-profit that finds new homes for ex-racehorses.
At the time, Petersen was living with her husband in northern California. The couple relocated to Michigan in 2006 to build their Great Lakes Equestrian Center after Petersen had completed cancer treatments that kept her out of the saddle for a year.
At Richland Park, "I just wanted to make the time," said Petersen. "I found I could push him. The footing was good and he's very honest. A win here means he's one step closer to moving up to advanced."
With 325 entries from 21 states and four foreign countries, the weekend had the feel of a championship event, said Boyd Martin, 28, assistant trainer at Phillip Dutton's True Prospect Farm in West Grove, Pa.
Martin rode six horses into the ribbons at Richland Park, including three he kept tuned up over the summer for Dutton, who was busy preparing for and competing at the Olympic Games. "It's one of the more difficult courses I've run in America, but it's an open, flowing course that gets the horses running well," Martin said of Michael Etherington-Smith's track at Richland Park.
Martin won the advanced division with Blazing Chief, a 12-year-old Thoroughbred owned by Claudia Graham. With eight scores under 30 after dressage—including a 17.9 for Darren Chiacchia and Windfall II—quick cross-country rounds counted.
The field of 18 competitors saw just three double-clear rounds on cross-country: Martin on Blazing Chief, Kelly Sult on Hollywood, and Dorothy Crowell on Radio Flyer. Although both Martin and Sult finished on their dressage scores, Martin prevailed with a score of 25.4. Crowell took two rails in show jumping to finish third.
Back In Action
Ralph Holstein, 23, won a hotly contested division of open intermediate on his Franklin.
Holstein, from Cleveland, Ohio, said he was especially happy how Franklin, a 9-year-old Thoroughbred in his first full season at the intermediate level, gained both experience and confidence. "It's a big intermediate track, but this was the first time he came out of the start box and clicked on. It was the most adjustable he's been," he said.
Holstein also moved up from seventh after dressage to a fourth-placed finish in the advanced division on Arctic Dancer. "Petey" last competed at the advanced level at the Fair Hill CCI*** (Md.) in 2007 but had some time off this season after an unfortunate encounter with a pasture fence in the spring.
This was his fourth event of the year, and Petey was "right on the money," said Holstein. "I think the advanced track is honest, not trappy, and asks questions in a fair way. It gives you the ability to go
forward and practice the rhythm and balance you need to be successful and safe at the fences."
Alison Wilaby led the pack from start to finish for the win in the junior/young rider open preliminary division. Memphis II is a new ride for Wilaby, 19, an art administration student at University of Kentucky in Lexington.
USEA Area VIII Clinic Promotes Safety
The USEA Area VIII Cross-Country Safe Riding Clinic got underway the morning after Richland Park Horse Trials, Aug. 25. An initiative of the U.S. Eventing Association in response to the challenges faced by this high-risk sport, safe riding clinics are now being organized in various USEA areas. The purpose is "to confirm and improve the spectators' understanding of and eye for safe and effective cross-country riding techniques," according to the clinic flyer.
Many trainers and their students of all levels were on hand to hear Robin Walker, Leslie Law, and Darren Chiacchia—all well-known upper-level event riders—explain and discuss the essentials of galloping to, rebalancing for, and jumping over cross-country fences appropriate to each rider's level.
Eight demonstration riders from novice through preliminary had a rare opportunity to school Bob and Kay Willmarth's Richland Park cross-country course while the presenters spoke to the approximately 65 attendees.
The clinic was organized jointly by Sue Hershey from USEA, Kate Scheltema, who is a board member of The Eventing Association of Michigan and owner of Green Gables Farm in Caledonia, Mich., and Walker, who lives in Grass Lake, Mich., and is a close friend of the Willmarths.
They had just .4 time penalties on cross-country and two rails in show jumping for a final score of 36.3. Wilaby imported the 16.2-hand Irish Sport Horse from England last January but waited until this spring before really starting him. Their cross-country run was especially gratifying after a "running away problem" that caused up to 40 time penalties from circling in the past. "I was using a new bit and had both balance and adjustability this weekend," she said.
Wilaby's other horse, the Thoroughbred-cross gelding Holla Vettir, had his first outing at the intermediate level. The pair came in from cross-country with no jumping and 8 time penalties, finishing in seventh. "I was worried, because he can be a dirty stopper, and he'd never seen a keyhole or an island bounce. But the course rode very well, and all the distances were nice and forgiving." Not bad for a 15.2-hand horse whose name, according to Wilaby, is Scandinavian and means "full of life."
Kate Dernocoeur