It's been a whirlwind six weeks, from the first call from Ronnie Beard asking if I could make this grooming at the Olympics adventure happen, to sweating getting my passport in time to get credentialed, to arriving in New Jersey to meet the rest of the team, Matt and Valinski, to the long journey to Rio. But, here I am!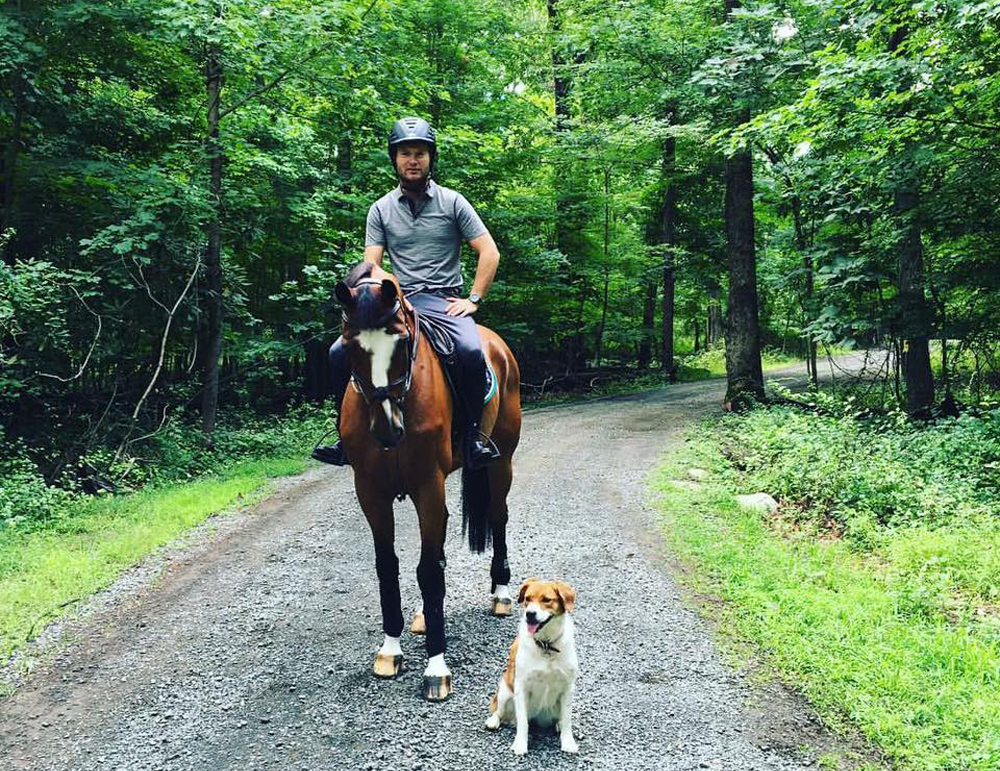 Matt Williams and Valenski S on their last hack at Ri-Arm Farm (N.J.) before the journey began.
Before we left, the brass was all polished, the leather all cleaned and conditioned (even my two 30-plus-year-old lead shanks), the saddle pads, bandages and boots all got laundered and packed, the trunks packed to bursting.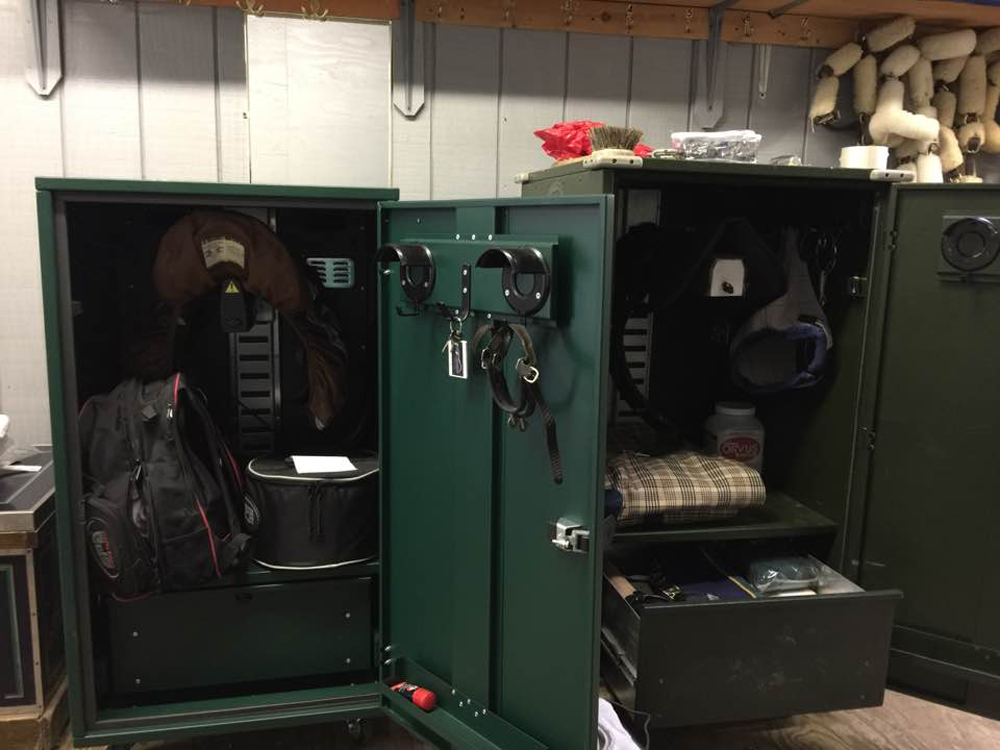 All our gear other than hay and grain had to fit into these two trunks.
Valinski got a bran mash in the morning, a thorough grooming and then a long hand-walk through the beautiful property at Ri-Arm Farm.
Valinski spent the day on Wednesday in a stall at the airport, relaxing until the 10:30 p.m. take-off. I, unfortunately, had to leave him mid-afternoon to go to La Guardia to catch my own plane.
In the old days, we grooms were expected (and we wanted) to fly with the horses. Nowadays, the professional companies who fly horses for a living, accompany them on their journey. The lady who picked us up was also the one who put Valinski on the plane. She knows him and has flown with him before. I flew with another groom for the Aussies.
I am told that part went smoothly and he arrived in Rio a couple of hours before I did. Not to worry, plenty of Aussie team members were there to get him settled.
I did run into some trouble at customs about credentials. But finally, they gave in and let me through. I don't know what changed their minds.
Then, the shuttle that assured us was taking us to the horse complex, did not. It dropped us at some reception center, but not where we needed to be. So we had to get a taxi, and HE didn't know where to take us! Fortunately, we got someone who spoke Portuguese to tell him exactly where to bring us.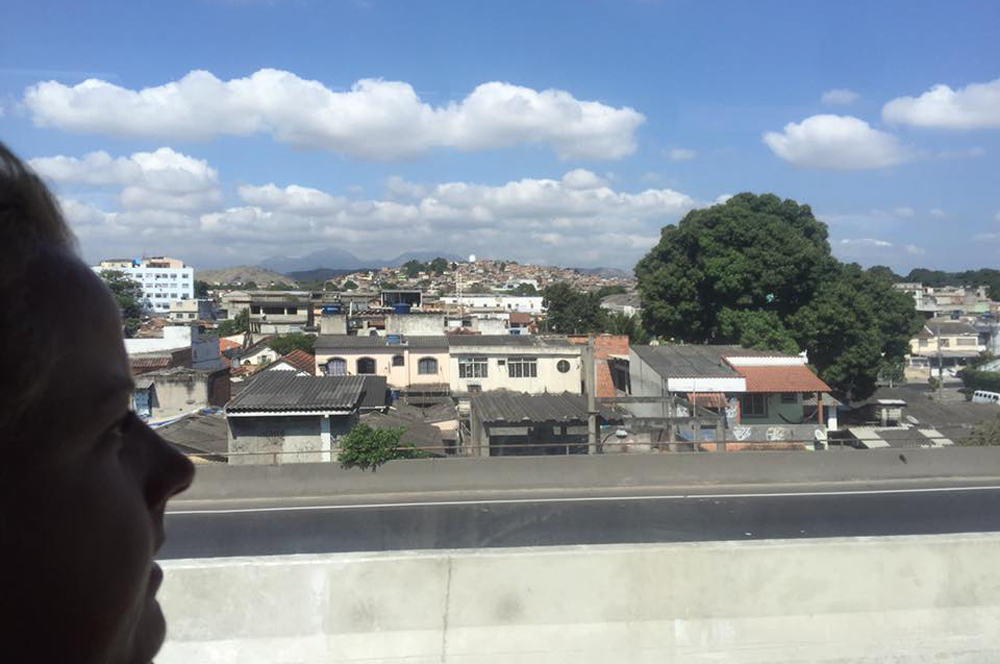 On the shuttle riding through Rio.
Matt had been getting reports from the eventing team who are already at the Deodoro Complex. Everyone seems happy with the equine accommodations, but apparently, the Olympic Village still has issues. I will be staying in a large, six floor building in the Complex, that contains four apartments per floor that sleep seven people each. Semi-dorm style, it seems.
Once here, we got our credentials, a quick tour of the area, dropped our gear at the apartment, got our stable passes, and finally got to the horses. They were fine, but it was good to see them again. We did some organizing, grazed the horses, and hung out with other grooms. So many people to meet!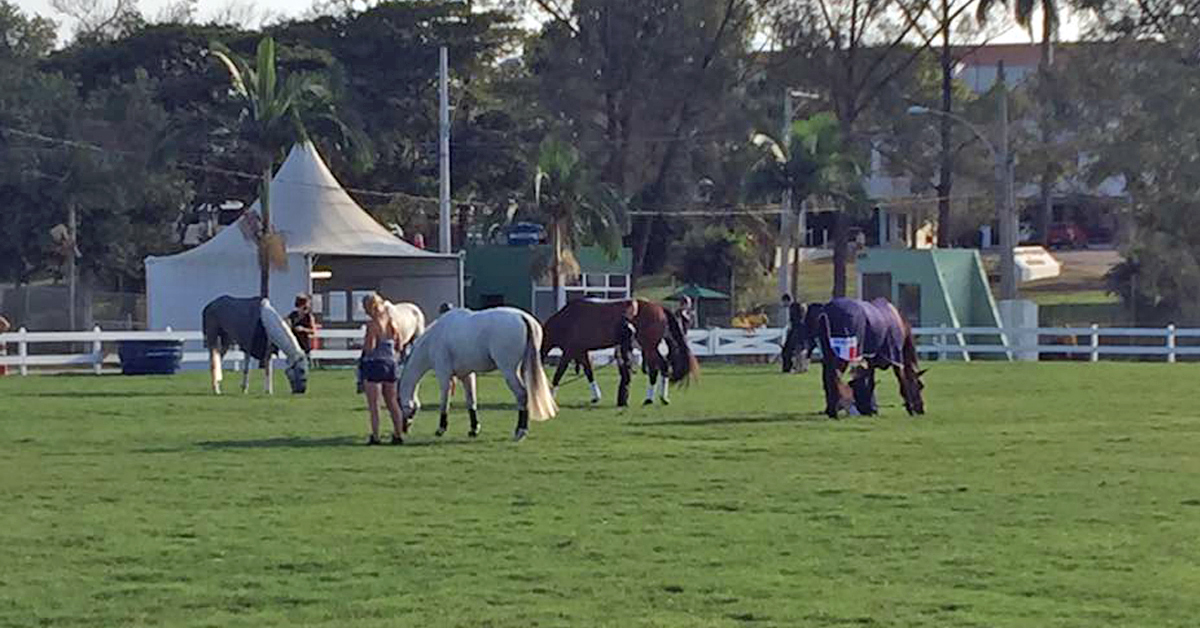 Grazing horses at the Deodoro equestrian complex.
My rider is still stuck in Miami (long story), so a friend of his will hack Valinski today to stretch his legs. Lots planned for tomorrow, so stay tuned!
Laurie Pitts was all ready to groom at the 1980 Moscow Olympic Games with her horse of a lifetime, Balbuco, who was ridden by Conrad Homfeld. But the U.S. boycott of those Games kept her home and missing a line on her grooming resume. Laurie spent a few decades doing non-horsey and horse jobs before after 36 years, the chance to groom at an Olympic Games came up again—this time for U.S.-based Australian show jumper Matt Willams.
You can read all about it in Groom Spotlight: Laurie Pitts Is In Rio To Complete A Dream Deferred. And make sure to follow along with her as she blogs for COTH from Rio about her adventures.