Wellington, Fla.—Jan. 28
Eric Lamaze, Canada's 2008 Olympic individual gold medalist and 2016 Olympic individual bronze medalist, guided his Rio mount Fine Lady 5 to victory in the $130,000 Adequan® Grand Prix CSI 3* on Saturday night at the Winter Equestrian Festival, making it two grand prix wins in a row after he'd claimed the $35,000 Ruby et Violette WEF Challenge Cup Round 3 on Houston.
Lamaze topped Germany's Olympic team bronze medalist Meredith Michaels-Beerbaum riding Comanche 28, who took second, and Spanish Olympian Sergio Alvarez Moya aboard G&C Unicstar de l'Aumone in third.
"Every time I make a plan for her, she just seems to rise to the occasion," said Lamaze. "She's become a horse you can really rely on, and know that she will be ready when it counts."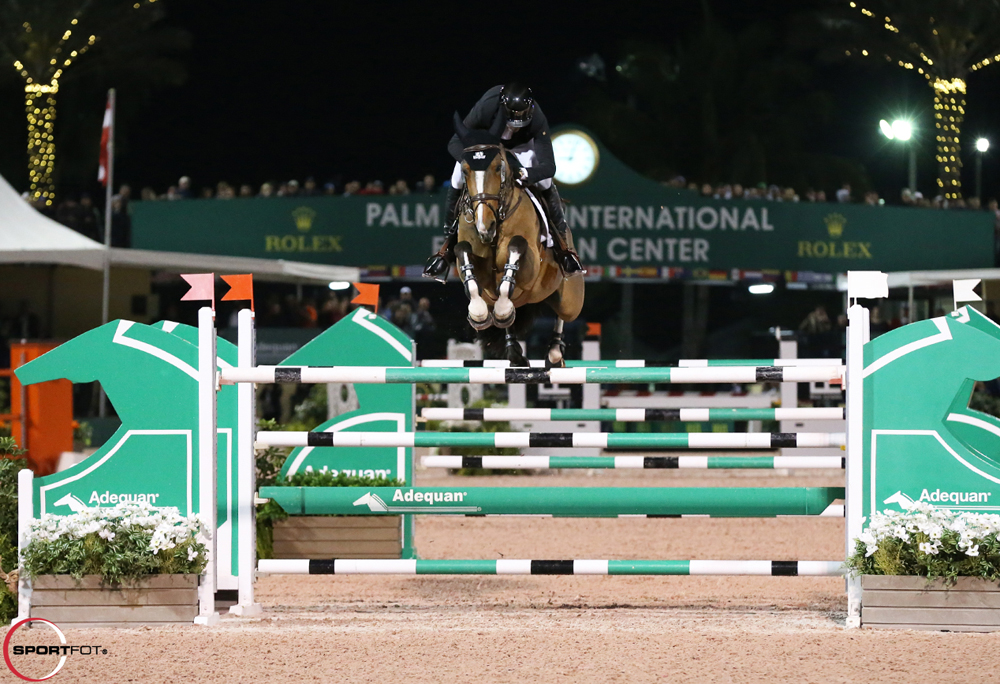 Eric Lamaze on Fine Lady 5. Photo by Sportfot
Lamaze and Fine Lady 5 concluded a banner 2016 season with a win in the Rolex Top 10 Final at CHI Geneva (Switzerland) in December before a short rest and gearing up to compete this winter.
"She felt really good tonight," Lamaze said of the 14-year-old Hanoverian mare (Forsyth FRH x Drosselklang II). "I gave her a long rest after the Olympics, and then started back and just did Paris and Geneva. I plan on using her quite a bit at the beginning of the circuit here since she is fit from Geneva already. Then we will give her a rest before returning to Europe."
Fine Lady's quick foot-speed carried the pair easily through the jump-off track, and Lamaze remarked on the long gallop home to the final oxer on course.
"You need to have the distance in front of you to be fast," he noted. "If there is something in front of you, you take it. One pull and I'm easily third or maybe fourth."
He added, "This was a difficult course, but she has done some very big classes lately. This was hard, but for her but it was a little bit of an easier class."
Belgium's Luc Musette built the course for Saturday night's grand prix under the lights in the International Arena at the Palm Beach International Equestrian Center. After 43 entries contested the first round track, seven advanced to the jump-off, which saw three double-clear rounds.
Lamaze, with Artisan Farms and Torrey Pines Stable's Fine Lady 5, stopped the clock in 40.26 seconds for the win. Michaels-Beerbaum and Artemis Equestrian Farm's Comanche 28 finished second in 40.79 seconds. Moya was close behind for a third place finish in 40.80 seconds with G&C Farm's Unicstar de l'Aumone. Laura Chapot clocked the fastest four-fault round with Mary Chapot's ISHD Dual Star to place fourth in 41.83 seconds.
Michaels-Beerbaum was happy with the progress that her mount, an 11-year-old Oldenburg gelding (Coupe de Couer x Baloubet du Rouet), has made since last winter in Wellington.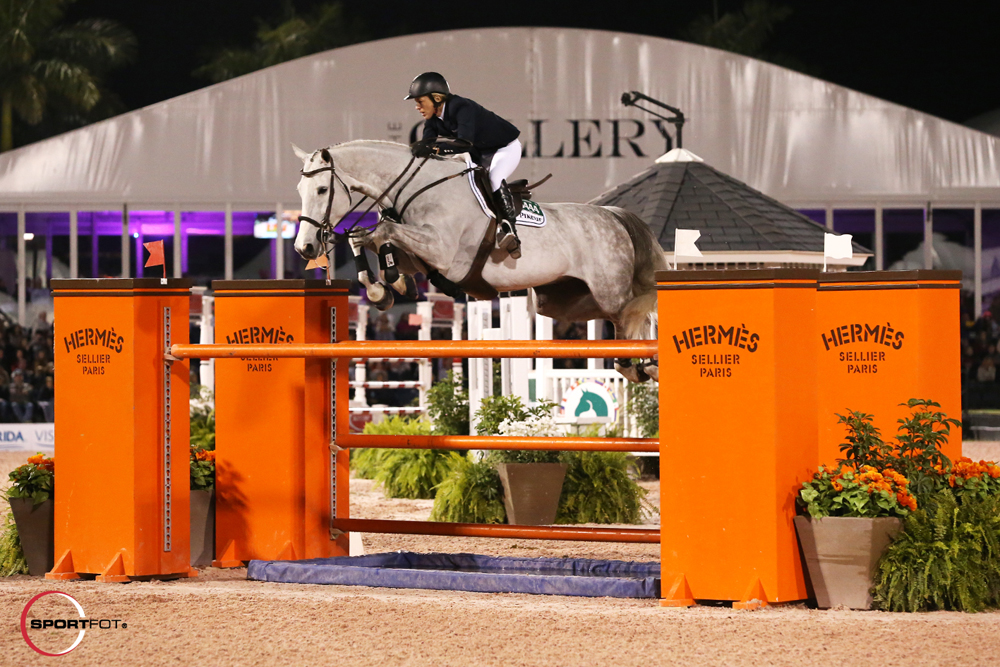 Meredith Michaels-Beerbaum on Comanche. Photo by Sportfot
"I think Fine Lady is a really fast horse, and Comanche is just learning to go fast," she stated. "I was very happy with him tonight. Comanche, I believe over the last year, has gained a tremendous amount of experience. He has always been a fantastic jumper, but he has been slightly green in the ring and a little bit spooky. Over the last year he's been to shows all over the world, and I think that has helped him. I think he has grown up a lot, and tonight you could really see he gained a lot of self-confidence."
Michaels-Beerbaum applauded Lamaze on his victory, adding, "It is a great honor to sit next to this guy and to be second to him by just a tiny bit."
Riding for Spain, Moya was aboard a young mount in the 9-year-old Selle Francais mare Unicstar de l'Aumone (Ninio de Rox x Timorrak des Isles) for his first experience in a WEF Saturday Night Lights grand prix.
Moya stated, "I was very confident with her. She has never been under the lights, but she is always great. She tries her best, and she never doubts anything. She is naturally very fast, so I did not want to override the jump-off. It was not an easy class, and it is an honor to be next to Eric and Meredith. I am very happy with my third place."
Final Results: $130,000 Adequan® Grand Prix CSI 3*
1. Fine Lady 5: 2003 Hanoverian mare by Forsyth FRH x Drosselklang II; Eric Lamaze (CAN), Artisan Farms and Torrey Pines Stable: 0/0/40.26
2. Comanche 28: 2006 Oldenburg gelding by Coupe De Couer x Baloubet Du Rouet; Meredith Michaels-Beerbaum (GER), Artemis Equestrian Farm LLC: 0/0/40.79
3. G&C Unicstar De L'aumone: 2008 Selle Francais mare by Ninio De Rox x Timorrak Des Isles; Sergio Alvarez Moya (ESP), Alvarez Moya Horse Sl: 0/0/40.80
4. ISHD Dual Star: 2002 Irish Sport Horse mare by Quick Star x Concorde; Laura Chapot (USA), Mary Chapot: 0/4/41.83
5. Mark Q: 2002 Irish Sport Horse gelding by Obos Quality 004 x Positively; Kevin Babington (IRL), Kevin Babington: 0/4/42.23
6. Toy Boy: 2008 Bcp Gelding; Jessica Mendoza (GBR), Jessica Mendoza: 0/4/43.15
7. Day Dream: 2008 KWPN gelding by Zento x Heartbreaker; Jimmy Torano (USA), Jimmy and Danielle Torano & Isalou Inc: 0/4/46.22
8. Toulago: 2005 Oldenburg gelding by Toulon x Carthago Z; Adrienne Sternlicht (USA), Starlight Farms LLC: 1/74.40
9. Skara Glen's Machu Picchu: 2007 KWPN Gelding by Silverstone x Matterhorn; Paul O'Shea (IRL), Skara Glen Stables: 1/74.42
10. Atlantis: 2003 Zangersheide gelding by Andiamo x Royal Bravour L; Samuel Parot (CHI), Samuel Parot: 4/68.48
11. Valinski S: 2002 KWPN gelding by Nijinski x Julius; Todd Minikus (USA), Wyndmont: 4/68.76
12. Emilie De Diamant As: 2004 Belgian Warmblood mare by Diamant De Semilly x Flipper D Elle; Hardin Towell (USA), Evergate Stable LLC: 4/70.44