Canada's Eric Lamaze scored his first win of the 2017 competition season by taking the victory in the $35,000 Ruby et Violette WEF Challenge Cup Round 3 at the Winter Equestrian Festival.
A total of 80 starters attempted the track set by course designer Luc Musette of Belgium with 15 producing clear rounds to qualify for the jump-off. Lamaze's last victory came in the Rolex Top Ten Final in Geneva, Switzerland, in December, where Musette was also the course designer. Lamaze and Houston left all the rails in place and stopping the clock in 40.55 seconds in the jump-off to push U.S. Olympic team silver medalist Leslie Howard into second with a time of 41.38 riding Gentille van Spieveld.
Lamaze's winning mount, Houston, is a 10-year-old grey Belgian Warmblood stallion (Heartbreaker x Corofino) owned by Andy and Carlene Ziegler's Artisan Farms.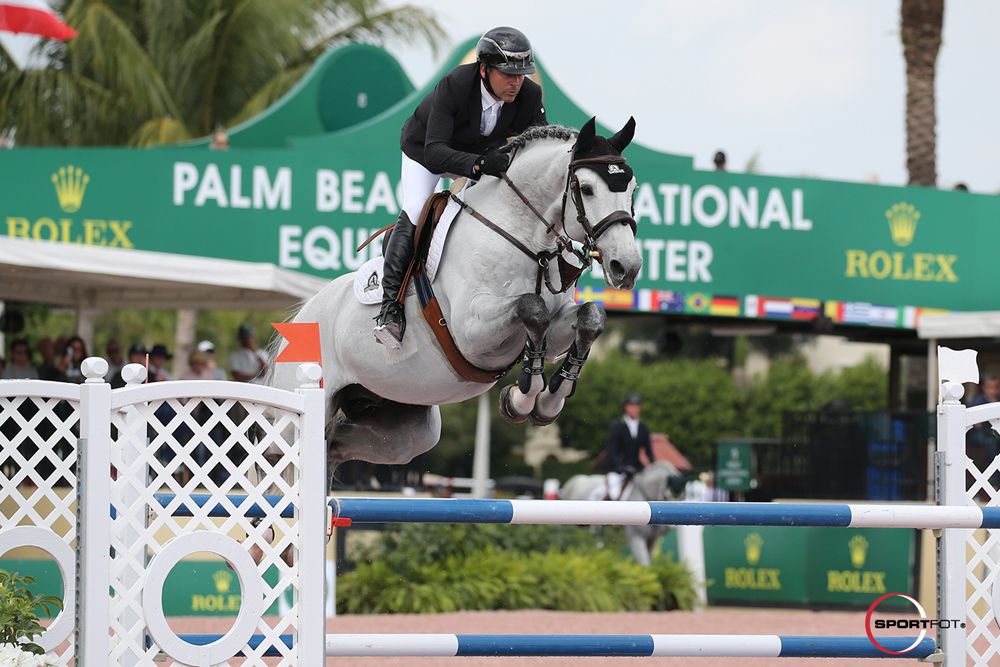 Eric Lamaze on Houston. Photo by Sportfot
"Houston is an up and coming horse that is part of the Artisan Farms team of horses," said Lamaze, who added an individual bronze in Rio to the individual gold and team silver medals he won at the 2008 Olympic Games in Hong Kong. "He's a horse that really came on strong towards the end of the year last year and did some great things. He's got all the talent in the world. When you have a string of horses that can go fast, like Fine Lady and Rosana du Park, he never truly had a chance to show off last year, but he was getting some great mileage at a lot of competitions. This is his time to step up, and we couldn't be happier with how he's coming along."
During last year's Winter Equestrian Festival, Lamaze won a total of four Ruby et Violette WEF Challenge Cup events riding Rosana du Park, Check Picobello Z, and Fine Lady 5. This year, Houston is the first horse to have his name on the list.
"[Houston is] a horse that we've had for about two years," said Lamaze, who divides his time between training bases in Wellington, and Brussels, Belgium. "I have been in many jump-offs with him, but I never really asked for speed because I didn't feel like the timing was right. Now I feel like his time has come, and it's his time now to learn it.
"Every horse develops on its own schedule and in its own time, and it's really important to have owners who understand the process and are patient," continued Lamaze, who is currently ranked eighth in the world. "The Zieglers are wonderful that way, and really understand the sport. A lot of the time we invest years, and the owners invest time and money, into bringing these horses along, so it's nice when you finally get there. I plan on using Houston all along on this circuit; I think you'll see a lot of him."
The jump-off had three clear rounds, the first of which was set by Molly Ashe and Maarten Huygen's Audi's Dimple in 42.60 seconds. Leslie Howard and GJ Stable's Gentille van Spieveld followed, crossing the timers in 41.38 seconds. Lamaze with Artisan Farms and Torrey Pines Stable's Houston then took the lead in 40.55 seconds.
Lauren Hough and Sergio Alvarez Moya were each faster than Lamaze in the jump-off, but incurred 4 faults. Hough's time of 39.49 seconds placed fourth with Laura and Meredith Mateo's Waterford. Moya took fifth place with his time of 40.11 seconds riding G&C Unicstar de l'Aumone.
Commenting on his winning round, Lamaze detailed, "I was very surprised with how big of a stride Houston got. I thought eight strides from Fence 2 to 3 in the jump-off would be very forward, but it was normal for me. I almost asked myself if I did nine. I knew I had to slow down a little bit for the double, and I just let him come home. He put a brilliant effort in at the last fence."
Final Results: $35,000 Ruby et Violette WEF Challenge Cup Round 3
1. Houston: 2007 Belgian Warmblood stallion by Heartbreaker x Corofino; Eric Lamaze (CAN), Artisan Farms And Torrey Pines Stable: 0/0/40.55
2. Gentille Van Spieveld: 2006 Belgian Warmblood gelding by Heartbreaker x Capital; Leslie Howard (USA), GJ Stable: 0/0/41.38
3. Audi's Dimple: 2008 KWPN gelding by Wittinger Vdl x Ahorn; Molly Ashe (USA), Maarten Huygens: 0/0/42.60
4. Waterford: 2003 KWPN gelding by Coolcorron Cool Diamond x Julio Mariner Xx; Lauren Hough (USA), Laura And Meredith Mateo: 0/4/39.49
5. G&C Unicstar De L'aumone: 2008 Selle Francais mare by Ninio De Rox x Timorrak Des Isles; Sergio Alvarez Moya (ESP), Alvarez Moya Horse Sl: 0/4/40.11
6. Cliff 67: 2008 Zangersheide gelding by Casall x Calvaro Z; Ben Maher (GBR), Poden Farms: 0/4/42.22
7. Day Dream: 2008 KWPN gelding by Zento x Heartbreaker; Jimmy Torano (USA), Jimmy And Danielle Torano & Isalou Inc: 0/4/42.51
8. Nektarina B: 2005 Holsteiner mare by Nekton x Lancer Ii; Christina McCrea (USA), Candy Tribble: 0/4/42.79
9. Grand Cru Vd Jijf Eiken: 2006 Belgian Warmblood stallion by Contact Van De Heffinck x Heartbreaker; Vanessa Mannix (CAN), Vanessa Mannix: 0/4/44.98
10. Tnt Explosive: 2007 Hanoverian gelding by Tinka's Boy x Calypso II; Chloe Reid (USA), Live Oak Plantation LLC: 0/8/41.74
11. Bonzay: 2006 KWPN by Numero Uno x Heartbreaker; Jonathon Millar (CAN), Isotropic: 0/12/44.11
12. Flower: 2005 Belgian Warmblood mare by Bon Ami x Randel Z; Conor Swail (IRL), Finca Horses Inc: 0/Ret.