Washington, D.C.—Oct. 27 
When Emma Kurtz first got the ride on Dedication 1½ years ago, she knew a couple of things. She was incredibly lucky to be given the ride on a horse that won countless championships with professional Scott Stewart. But that did not mean it was going a cake walk to win on him.
The 12-year-old Holsteiner gelding (Casado—Dithmarchen) had a couple years away from the show ring, and when he returned under Kurtz's saddle, it took a couple of months to iron out the kinks.
"He's been so amazing," she said. "He's such a nice horse. He's a little tricky though. He's very quirky to ride. He's a little funny about his leads. We never practice lead changes at home just to keep him so that he doesn't get nervous for them. But he jumps amazing; he's beautiful; he's a good mover—he's the whole package. We love him."
The judges at the Washington International Horse Show agreed with that assessment awarding the gelding two blue ribbons over fences, a third in the handy and a fourth under saddle clinched the large junior, 16-17, championship and the grand junior hunter championship.
"It's amazing," Kurtz said of the win. "This horse show's been a little bit tough for me because the venue's so hard for the horses. So for him to come in here and be bombproof is awesome."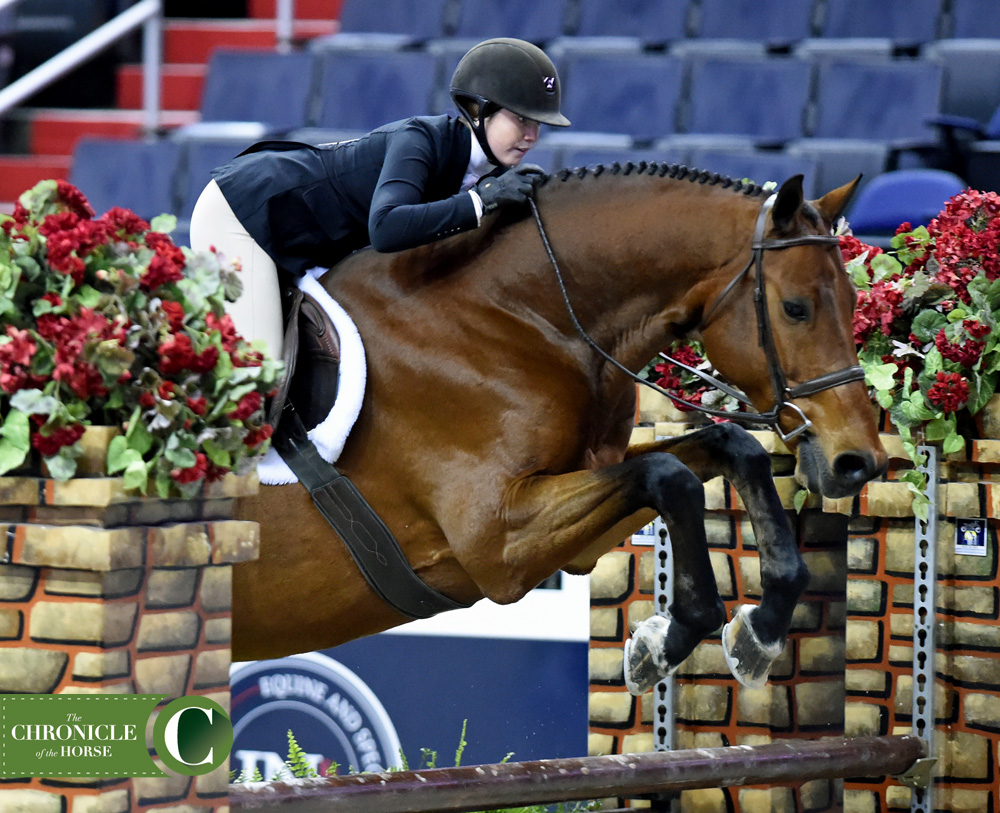 Boss Doubles Up
Anyone who keeps up with the hunters during the indoor season knows that Boss is a tough horse to beat. The 11-year-old added another Washington International championship to his collection, by winning with John French in the high performance conformation on Wednesday by taking the small junior, 15 and under, championship with Stella Wasserman. This brings his grand total of Washington championships up to five in three years.
So what makes the Dutch Warmblood (Samba Hit II—Vulana D) so good?
Time.
Laura purchased Boss as a 3' pre-green horse back in late 2013. He did another year in the pre-green divisions with French before moving up to the first year greens. It'd be another year before a junior showed him.
Though he has championships abound, it wasn't a race to qualify him for indoors. Laura knew he'd eventually be a horse for either her or Stella, and she wanted to make sure things went right.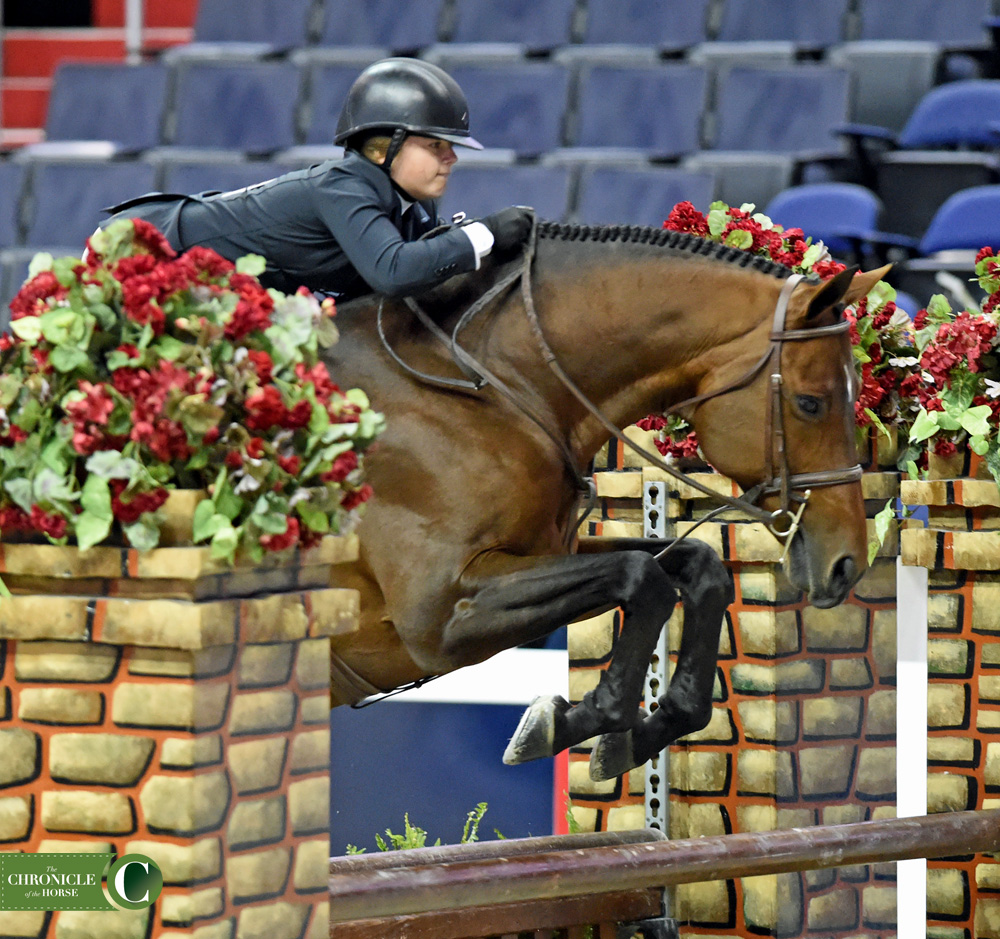 Stella only showed Boss a couple of times before Washington, but the pair was smitten from the start.
"When we got Boss we worked really hard at doing it slowly and making him up," said Laura. "It's just been this incredible love affair. We've had him in the barn, but he's never been like this. He's so affectionate now. He's like, 'My little person! I have her! She's mine!' "
"It's been really fun," said Stella. "It's been a journey—ups and downs you know. He's the best though. He knows his job. He jumps a little big, so I was just trying to stay on. He's just perfect.
"I was really nervous," Stella continued, "but I felt like I didn't have anything to prove because it's not like I've been doing it all year and been champion, so I could go and have fun."
Kingpin Shines
Kingpin knows he's a winner. When the 10-year-old Dutch Warmblood (Carolus H—Mirkowitz) walked into the Capital One Arena adorned in his red cooler, he was ready to put on a show. There was no need to throw sand to catch the striking chestnut's attention, as soon as he spotted the cameras, he knew what to do. Two snaps and you're done.
"He loves getting his picture taken," said Revers. "We always call him a poser. Whenever someone takes out a camera he puts his ears forward and looks really cute. He's kind of a goof. He's a really sweet horse, and he's really friendly."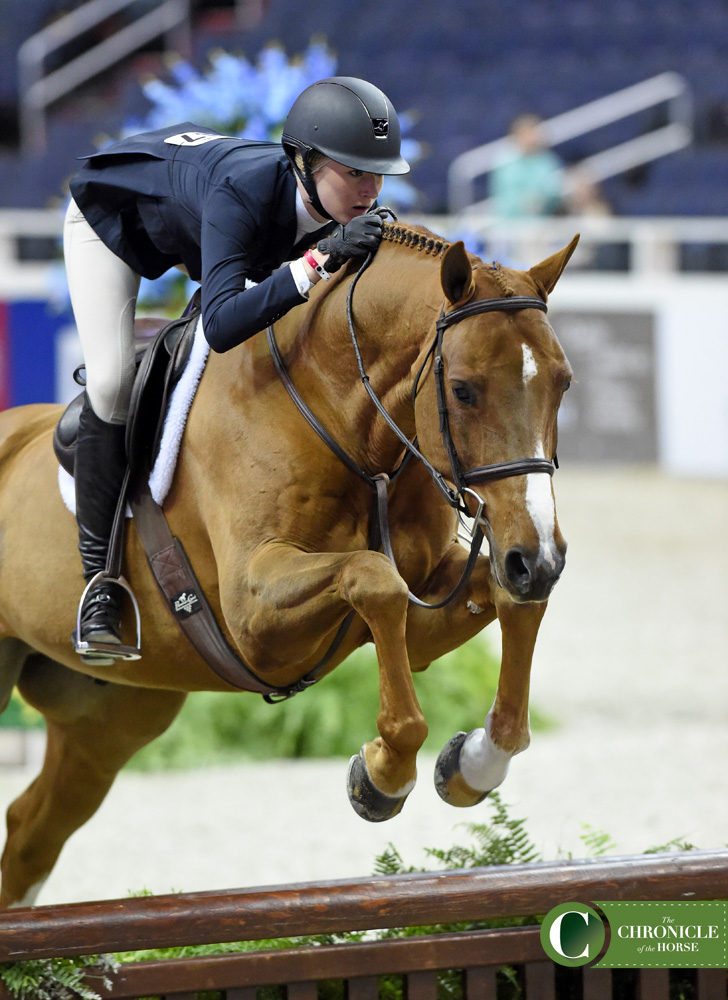 Last year "Bruno" took home the reserve championship in the small junior, 15 and under, while barnmate MTM Hands Down took home the large junior title. This year the two geldings swapped places, this time moving up to the 16-17 section.
"I know him really well at this point," said Revers. "He was really great last year and ended up reserve, so I was happy to be able to be a little more consistent this year and get a good hack ribbon and be champion."
Revers, 17, keeps her horses at home in Weston, Mass., and she meets up with trainers Stacia Madden and Max Amaya at shows or travels to Beacon Hill in Colts Neck, N.J. for the occasional lesson.
"I love [having them at home], otherwise I wouldn't be able to ride during the week, so having them at home is really nice because every day after school I go and ride them," said Revers. "And you know them better if they live with you."
­­
Small Affair Continues His Winning Streak
When you win at the Washington International, you better guard your prizes closely. The champions receive a box of the famed Georgetown Cupcakes, and everyone around you turns green with envy as you take that first bite.
Augusta­­ Iwasaki is no stranger to winning. In fact, she and Small Affair are straight off a win at the Pennsylvania National, but when she earned the large junior, 15 and under, title with "Poker" today, that was a first for her. Iwasaki also earned the Best Child Rider on a Horse award.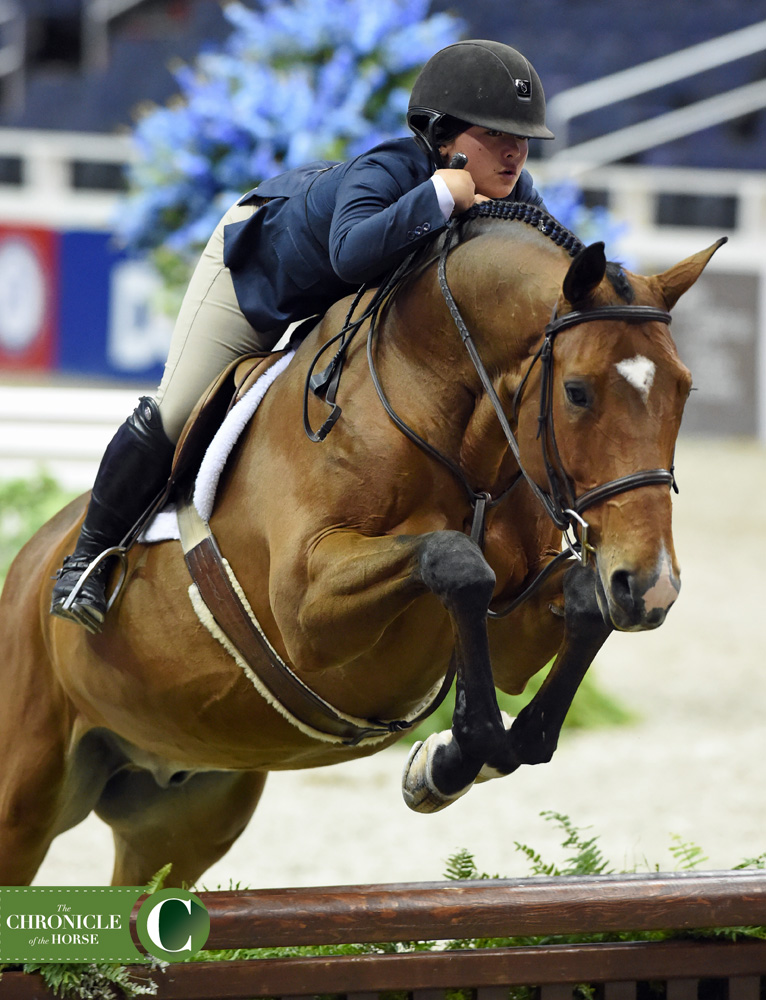 When she left the ring with her prized pink box of cupcakes, she quickly snagged a vanilla one, before distributing the remainder amongst the team that got her there.
Though if you asked her, she'd tell you red velvet probably ranks as her favorite flavor. So why'd she picking vanilla?
"Just changing it up," she quipped.
Iwasaki thrives on challenge, so the small warm-up and narrow ring play right to her strengths.
"It's really exciting to come into the city," she said. "I think it's just so different and so cool because when you show here, you get to drive into the city and show on the streets. I think the challenge is good."
IMPORTANT LINKS:  All the COTH Washington International  coverage  |  What You Need To Know  |  live results/order of go  |  live streaming  |  show website