Devon, Pa.—May 29
As Sara Kozumplik landed from the penultimate fence and turned to the last, the volume of audible commentary around the Dixon Oval started to swell. She had to make it all the way down to the opposite end of the arena to cross the buzzers for the $50,000 Devon Arena Eventing—and she didn't hold back getting there with Rubens D'Ysieux. With every kick to the wide white oxer, the hoots and hollers grew louder around her. And as soon as the 17-year-old's white legs landed on the backside, Kozumplik shot her hand up, like an orchestra conductor signaling to her musicians, "Yes, it's time for the crescendo."
"I just galloped to it," Kozumplik said. "There's not many horses who can do that. I trust him. I just softened the reins and stayed out of his way and galloped. At that point you have everything to gain and nothing really to lose.
"The Dixon Oval is so iconic, and the crowd is just as good as Kentucky [at the Kentucky Three-Day Event]—in some ways they're very different, but it's that great feeling," she added. "We don't get that opportunity very often, so it's very kind of them to let us be here. Today I felt like I did him justice."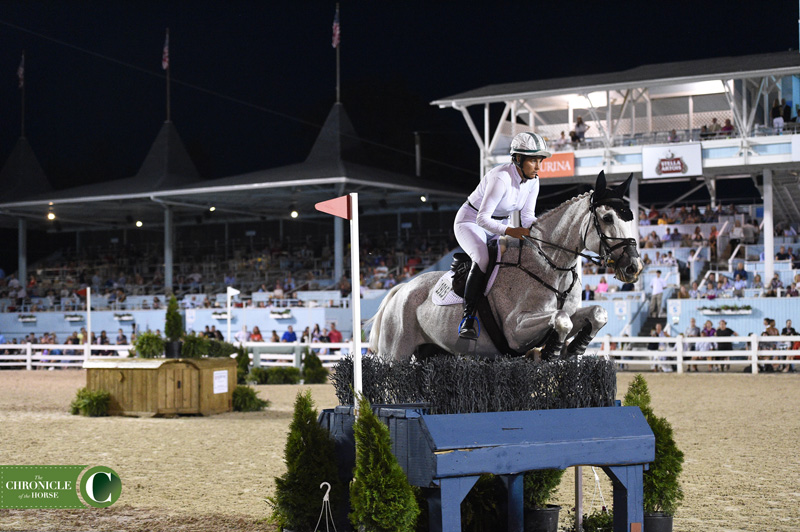 The pair didn't just take the lead away from Boyd Martin and Fedarman B—they grabbed it with 4-plus seconds left to spare over Capt. Mark Phillips' track.
"When I ride him well, he's bloody fast,"  said Kozumplik, Berryville, Virginia. "There's not too many horses you can gallop to a jump like that. So, I had that advantage."
Nonetheless, she acknowledged she was in a field of very strong competitors, including Martin and Fedarman B, who two weeks ago won the Tryon Spring International CCI4*-L.
"I got great company," she said. "I mean Boyd Martin when he laid down that [round]—and had an amazing season with Annie [Goodwin's] lovely horse Federman B. I thought his round was beautiful. It's nice to beat him—I'm not going to say it's not."
It was their second win in the event, reclaiming the crown they first earned in 2017, its inaugural year at Devon. Back then, Kozumplik and the Selle Francais gelding (Balougran Z—Orenda D'Ysieux) were still getting to know each other.
"Our partnership was actually really quite new," she said. "I felt like I made a couple of mistakes that time. But he's such an unbelievable horse. He's so careful. So, he was still fast enough to do it that time."
But in the intervening five years, life and its unfortunate turns got in the way. In the fall of that year, Kozumplik broke her knee in a freak incident in which a horse kicked her in the warm-up arena. She mended just in time for the 2018 running of Devon—but even though the pair got the red ribbon that, Kozumplik didn't feel back at peak form.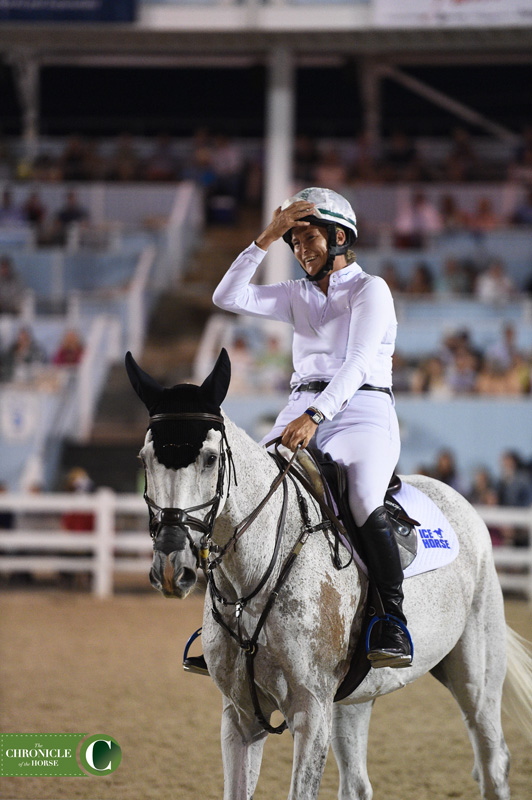 Then in August of 2018, at Millbrook Horse Trials (New York), she suffered a fall with "Rubens" which left her with several fractures in her neck and spine.
"I had to have surgery, and I couldn't actually move," she said. "I wasn't allowed to do anything really for six months."
Instead of riding at Devon in 2019, she live commentated, then stayed sidelined when the next two years' shows were canceled by the pandemic.
"It's nice to have come back from all of that and feel back on top form," she said. "I feel like Devon sort of does that full circle. I was here when I first got him; here after one knee injury… Then I was commentating the year after when I broke my back and neck. And now I'm back again, which is kind of a fun that it's come full circle."
With Rubens in his later teenage years, Kozumplik carefully plans his performance schedule as to not overdo. But Devon was always in the cards—and by the looks of Rubens' dancing jig, he feels 17 going on 7.
"Arena eventing is great for so many things," she said. "For us, I feel like we're getting in front of a new crowd. People get to see what we do a little bit. It's definitely not the same as eventing, but I think it's great for younger riders who haven't had the opportunity to get in front of a crowd—because really in this country, in eventing, we only really get in front of crowds in Kentucky. It's really good practice under pressure. It's great for older horses like mine–we're not going to be running them at everything. But here's a great opportunity for him to have a blast, and he's very good at it. I think it's really, really good for the sport. Most of them think we are a bit crazy, but we can get them on our side a little bit."
Watch their winning round:

"He loves the crowd," she continued. "He's very chill about it at home. We could do up-down lessons on him. But this sort of thing turns him into a circus pony, and he thinks it's great. I could barely get on him, which is fun at 17—he got lots of life left. He owes me nothing, and I'm just enjoying what every month brings."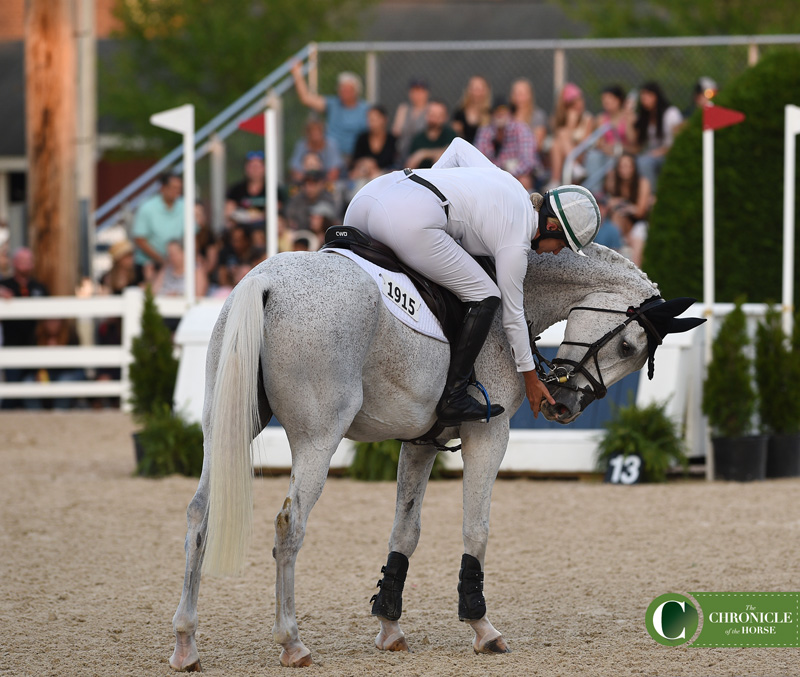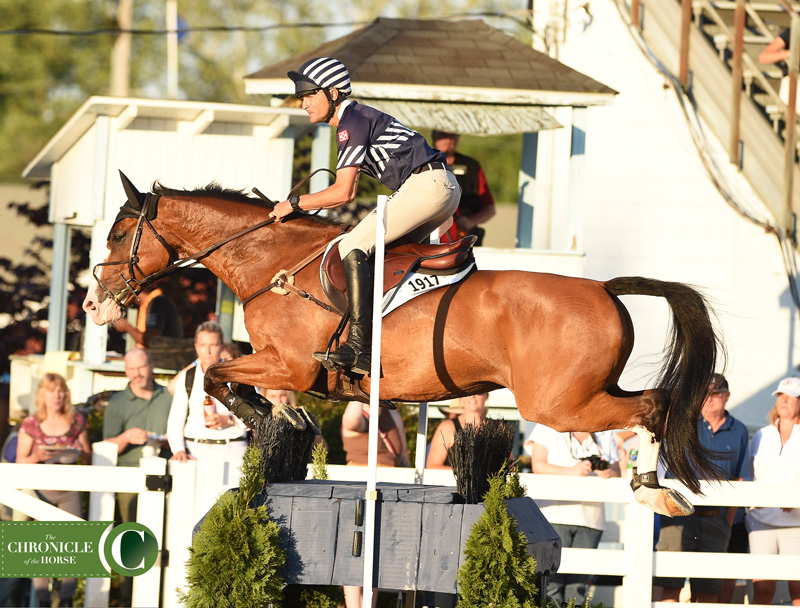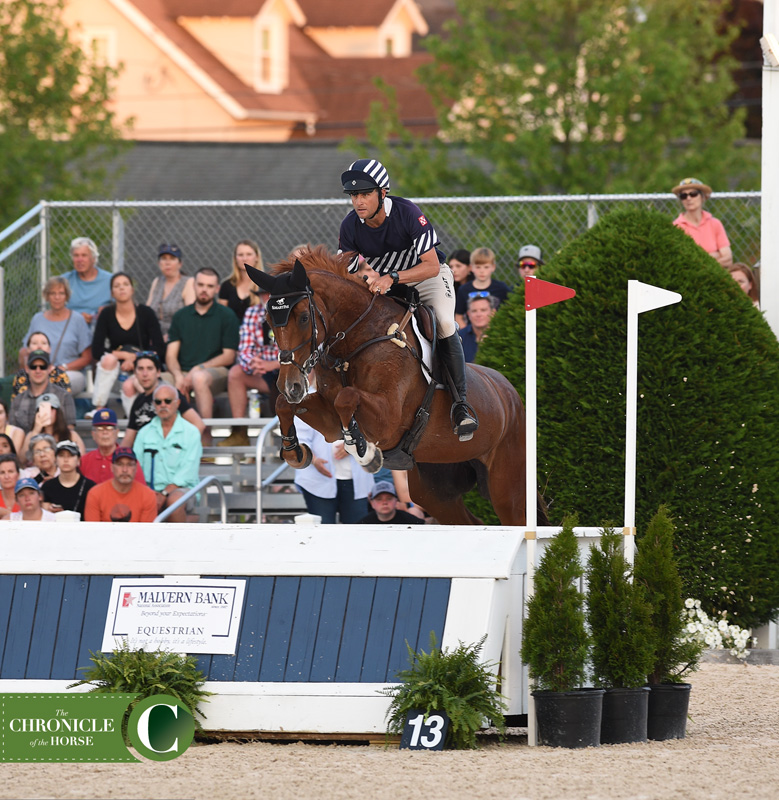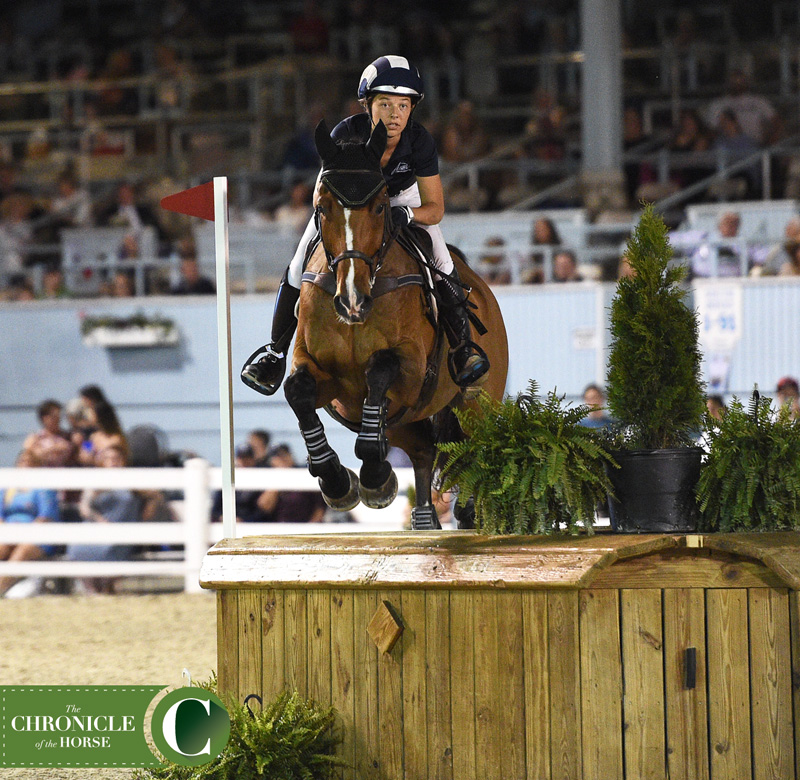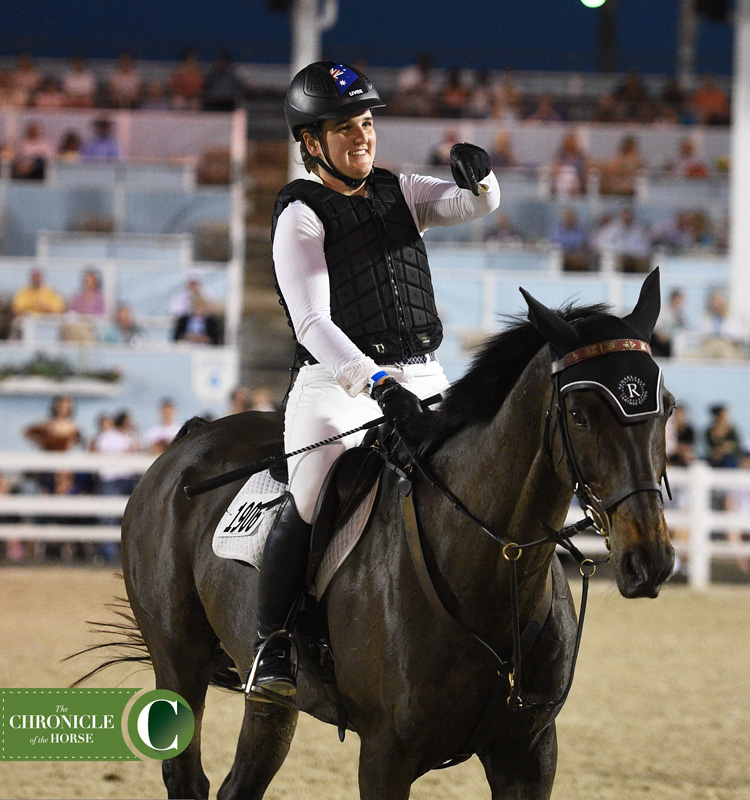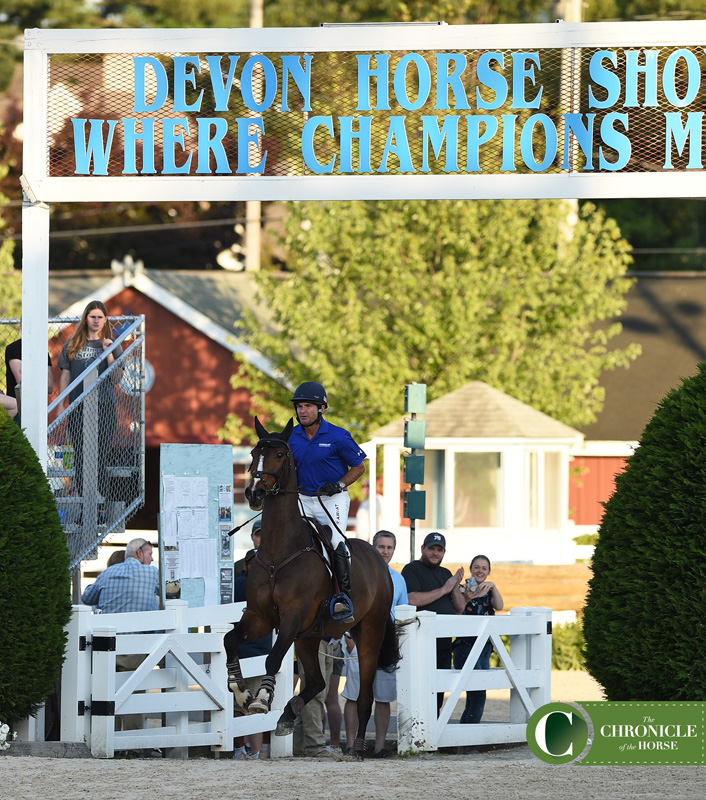 Important Links: Devon Horse Show website / Order of go and results / The complete schedule of classes and exhibitions / Livestreaming / All of the Chronicle's coverage
The Chronicle will be on site all week bringing you beautiful photos, daily reports and more. Don't forget to pick up copies of The Chronicle of the Horse magazine. Junior Weekend coverage will be found in the June 13 & 20 issue, and coverage of Senior Week will be in the June 27 issue.