Reddick, Fla.—Nov. 18
Both Lauren Kieffer and Alexandra Knowles were after confident cross-country runs today at the Ocala Jockey Club International, although for different reasons, and by the time the day played out, they were both leading their divisions.
Kieffer and D.A. Duras were dressage leaders (37.1) in the CCI**, and they added nothing to their score to maintain that lead ahead of Alyssa Phillips and Oskar (40.0).
Kieffer's been competing Debbie Adams' and Jacqueline Mars' 9-year-old Dutch Warmblood gelding (Numero Uno—Medoc, Quattro) at the advanced level since last summer, but this year Kieffer fell three times in competition, triggering a Fédération Equestre Internationale rule that requires the pair to step down and requalify at the two-star level. They did have two successful runs at the CIC*** level though in between the last two falls.
"He's done a lot of big tracks this year, so it was good for him to do something so easy for him. It rode well. He was super rideable and felt great," she said. "All the things this year were just fluke stuff. At Red Hills [CIC*** (Fla.)] I got jumped out of the tack, then at Bramham [CCI*** (England)] he slipped behind on a turn, and at Blenheim [CIC*** (England)] he was two fences from home and inside the time but he made a green mistake and clipped the corner. He's such a big, brave, scopey horse, and I rode him this year to be competitive, and it was just little blips along the way. But he's going to be an incredible horse for sure. His confidence is not an issue. It was me trying to be competitive and making mistakes."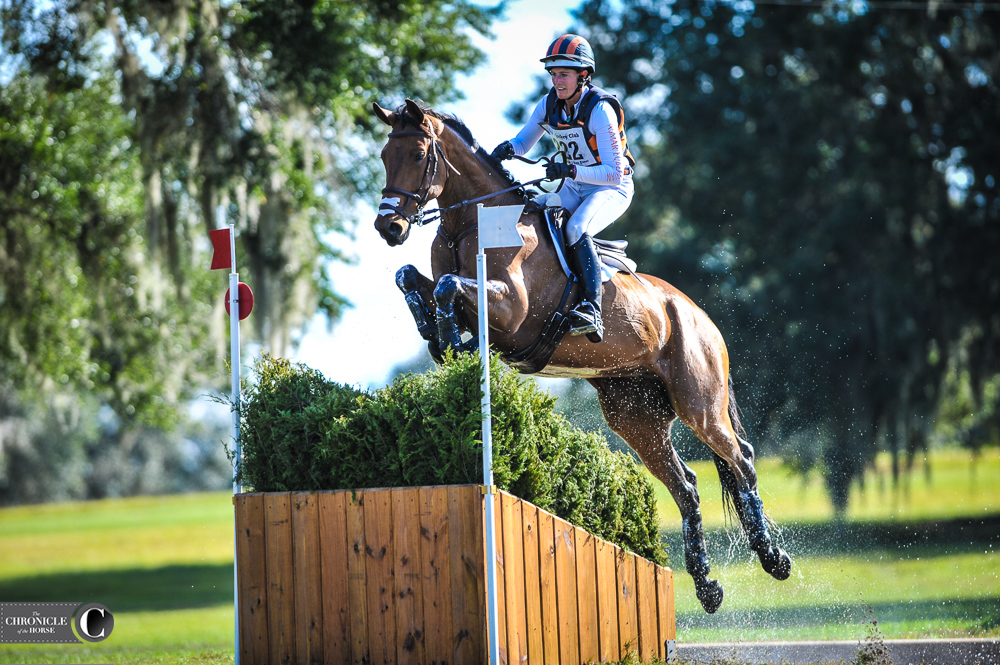 Kieffer could have requalified at a CIC**, but thought since the gelding was already fit, Ocala would be a good place to run before the end of the year.
She said there was plenty to do on Mike Etherington-Smith's cross-country course, which reminded her of the rolling hills at the Land Rover Kentucky CCI****.
"It had a lot of stuff to get in a rhythm," she said. "I think the waters were the hardest part. The shape in, there wasn't anything to ride against, for them to wrap around, so if you had a green horse and you had to ride them into it, they landed so flat and kind of off balance. A more experienced horse could pop in quiet, and it worked on the way out. I don't think he expected that, especially at the second water where they would jump out so far and be so off their line, or they would land totally dead and not be going anywhere. I think that caused a lot of problems."
Watch Kieffer's round via EQSportsNet.
For Knowles, who's leading the CCI* on Business Class, competing this weekend is another step towards building confidence after she suffered a rotational fall at Red Hills in March and suffered a shattered pelvis, broken collarbone and broken ribs.
She's since completed the Pau CCI**** (France) on her veteran partner Sound Prospect in good confidence, but competing some of her newer or greener horses like "Oso" has taken some time.
"I felt like I got my groove back on 'Sounder' very quickly. I have a long history with him, and I have so much confidence in him. I noticed on him I would ride better than before I fell. But on my other ones I was a bit more tentative," she said. "I think going to Pau and doing it gave me confidence to carry over to the other horses. I felt like today I definitely was riding more at the top of my game and not questioning my decisions."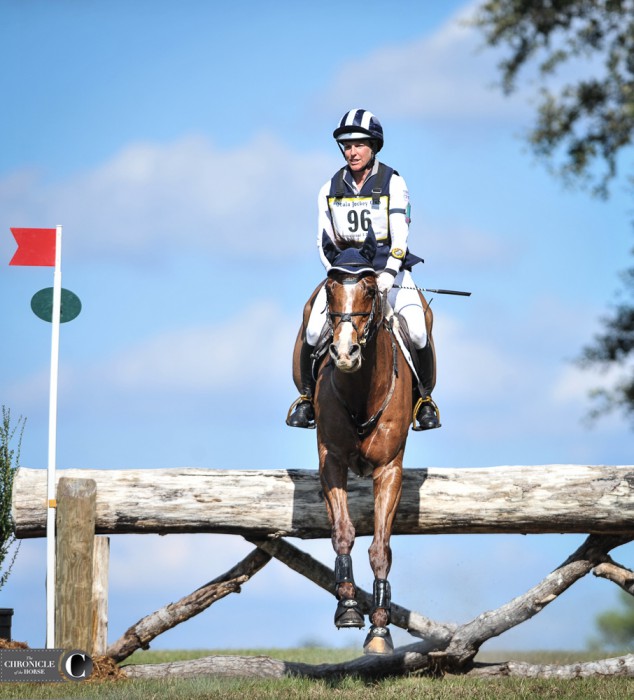 Knowles also rode Casarino into eighth place and Ms. Poppins to 14th in the CCI*.
Knowles got the ride on Oso, Katherine O'Brien's 7-year-old Irish Sport Horse gelding (Harlequin Du Carel—Moxella, Quick Star), this spring after Buck Davidson and JP Sheffield found him in Ireland.
He'd been campaigned to the CCI* level with Irish rider Sophie Richards, placing sixth at the Le Lion Young Horse Championships (France) last year.
He came to her barn in February, but she was injured soon after. "He's still relatively new to me, but now I feel like we're getting a solid partnership," she said. "It takes a little bit of time to get to know him. He definitely has his guard up. It almost appears as if he doesn't have any personality, but you just need to get in there."
Knowles and Oso moved up from second after dressage when leader Leslie Law fell from JKF Vogue. He and the horse were uninjured.
"My other two had gone beforehand and went double clean and had great rounds. I just happened to hear that Leslie fell off as I was going to the start box, and I was like, 'Don't let that affect your ride,' just knowing that know I have it to lose," she said. "That was the main thing. Don't get antsy about anything. The course itself rode great. The horse is 7 years old, and this is his second one-star, but the first one-star I've done on him. I have a lot of confidence in him He gives you a great feel, and he's quite fast. I knew if I did my job right he would definitely do his job, and he was the fastest of my three and took it all in stride. It all felt very easy for him and was very fun.
"Quietly he might be my favorite!" she added with a laugh.
Show jumping starts tomorrow at 10 a.m. for the CCI* and 3:30 p.m. for the CCI**.
Want more from the Ocala Jockey Club International? COTH staff reporter Lindsay Berreth will be on site bringing you news and photos of the event starting Friday at coth.com. Look for a full report in the Dec. 11 issue of The Chronicle of the Horse.
IMPORTANT LINKS: All the COTH coverage  |  full event schedule  |  live scoring  |  event website  |  live streaming via EqSportsNetwork (paid subscription required)
2017 Ocala Jockey Club International - Saturday Cross-Country
Lindsay Berreth / Nov 18, 2017 9:10 pm