Wellington, Fla. – Feb. 19
Darragh Kenny landed off the final fence of his jump-off round and repeatedly thrust his fist in the air like a jockey that had just won the Kentucky Derby.
The display was fitting, as it came down to a two-horse race in the $130,000 CSI*** Grand Prix Friday night in Wellington, and Kenny, riding Oakland Ventures and Sergio Alvarez Moya's Red Star D'Argent (Quick Star — Divina de Frely), captured his first victory of the 2016 Winter Equestrian Festival circuit, defeating Laura Chapot and Mary Chapot's ISHD Dual Star by two-tenths of a second.
"It's absolutely fantastic," said Kenny, who has been knocking on the door for a top finish after having just one time fault in the $86,000 CSI** Grand Prix during the second week of WEF with regular grand prix mount Picolo and a one-rail score with Red Star D'Argent in the WEF Challenge Cup on Friday. "With the last few weeks being very unlucky — I've been second in one grand prix, had a time fault in a grand prix, one down here, one down there — to get this win is really great."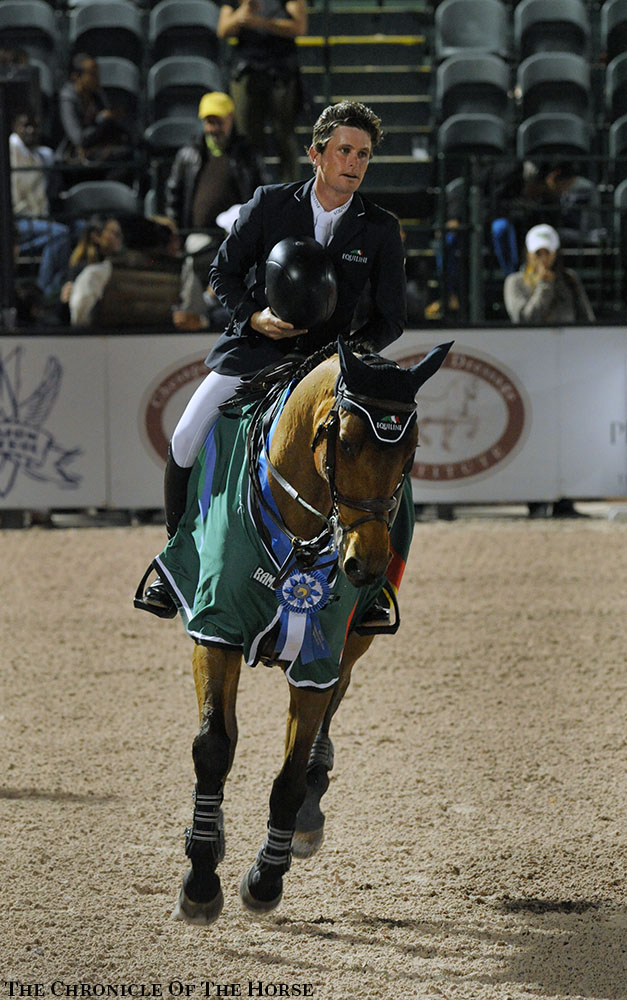 Kenny and Red Star D'Argent take a victory lap.
In a field of 43 competitors, only three jumped a clean first round over the Richard Jeffery-designed course in the main ring at the Palm Beach International Equestrian Center's Stadium — Kenny, Chapot and Sayre Happy, riding HC Sport Horses Ludwig's Joker B, who also produced one of just 10 clear rounds of 71 competitors in Thursday's $30,000 Ruby et Violette WEF Challenge Cup VI, won by Conor Swail and Dillinger. But in the jump-off, Happy's streak of clear rounds ended, as Ludwig's Joker B stopped at the second fence, losing a shoe in the process, which caused her to retire from the round. On Thursday, the gelding also lost a shoe – the same shoe – but continued on and jumped fault-free.
"This is the biggest class I've jumped on him," Happy said. "[The refusal] was my fault. I was a mile away from the jump. He tries his heart out every time. He's a really fun horse.
"He lost the same shoe yesterday," she added. "I'm a little concerned with that."
It came down to just Kenny and Chapot, and Kenny had the advantage of following Chapot in the order, knowing the time he had to beat. Chapot, who regularly dominates the 1.40-meter speed classes at WEF, was quick in 39.486 seconds, but she left the door open when bypassing the inside turns. Kenny and Red Star D'Argent started on a slower pace, but they picked it up as the round went on and adeptly navigated those inside tracks, sealing the victory when clearing the final fence, a wide red and white flower-patterned oxer that claimed many rails throughout the first round. Kenny leaned far across the 11-year-old Selle Francais stallion, giving a hefty release; Red Star D'Argent gave a big effort and rewarded his rider with a victory. Their jump-off time was 39.272 seconds.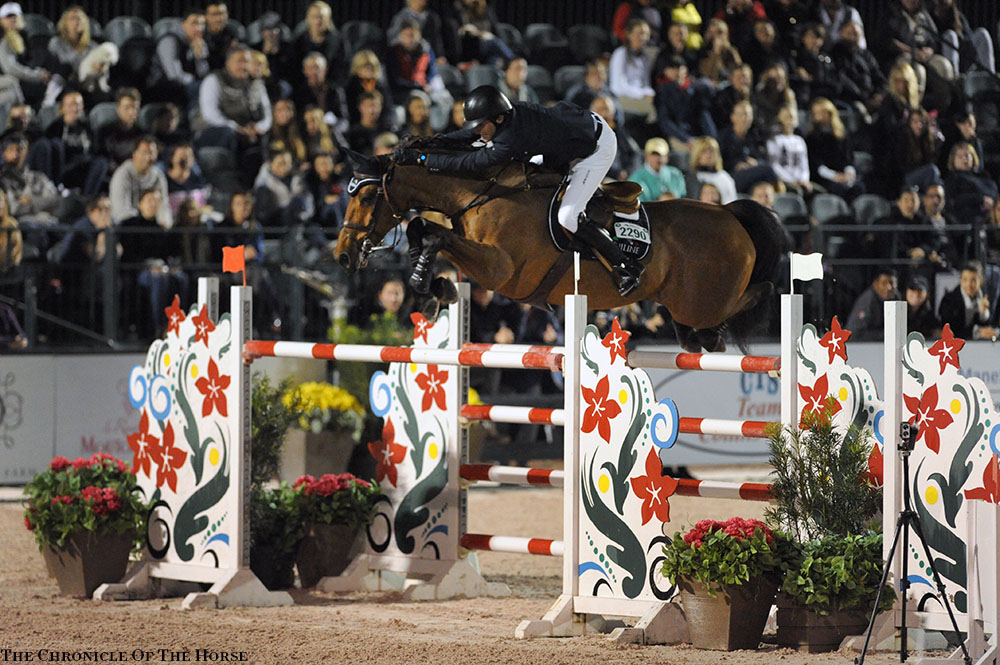 Kenny and Red Star D'Argent clear the final fence in the jump-off.
"I just played it a little too safe in jump-off," Chapot said. "I probably should have made at least one of the inside turns, but with only three in the jump-off and the first [rider] being out, I think I wanted to put pressure on [Kenny] and not make mistake, but with the way my horse was jumping, I probably should have gone and done [the inside turns]. That would have made the difference.
"I didn't actually watch Laura," Kenny said. "I know she's an extremely fast rider. I had one of my friends watch her and he basically just said, 'You've got to go for it and see what happens.'
"This horse is very easy to turn, and he jumps even better when you turn him back up the jumps," he added. "He really tries and he's very careful, and he has good technique. It's easy to turn really short with him."
Red Star D'Argent is a sale horse, as Kenny's business largely relies on developing and selling top-level show jumpers, but if the horse does not sell in the immediate future, Kenny plans to compete him again in two weeks during the eighth week of competition at WEF, a CSIO 4**** event. The $150,000 FEI Nations Cup takes place that week on Friday, March 4, could be a possibility.
"That depends on what my chef thinks of tonight!" Kenny said.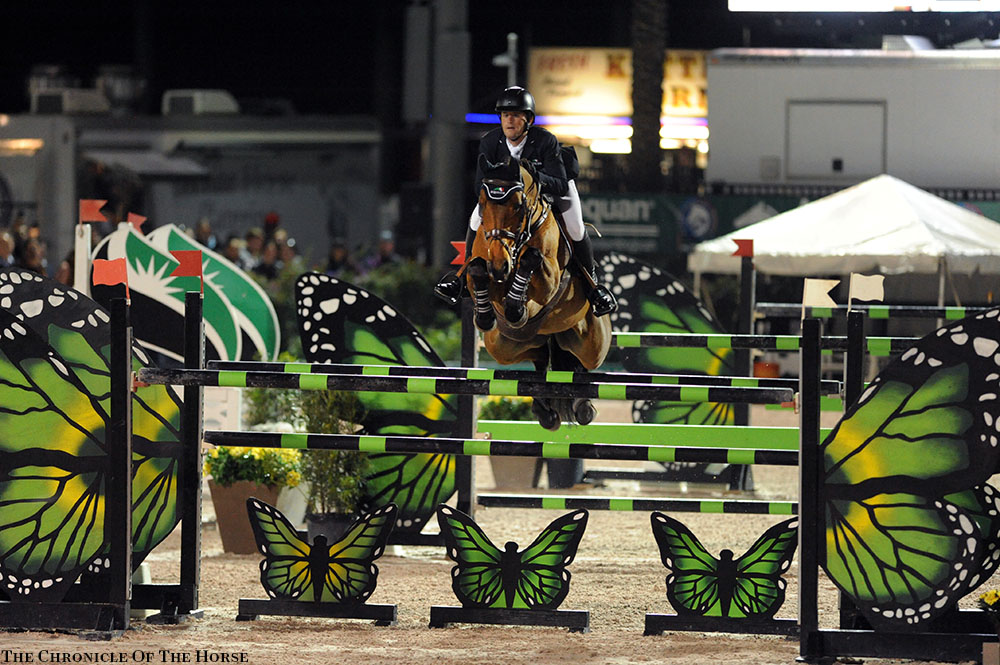 Kenny and Red Star D'Argent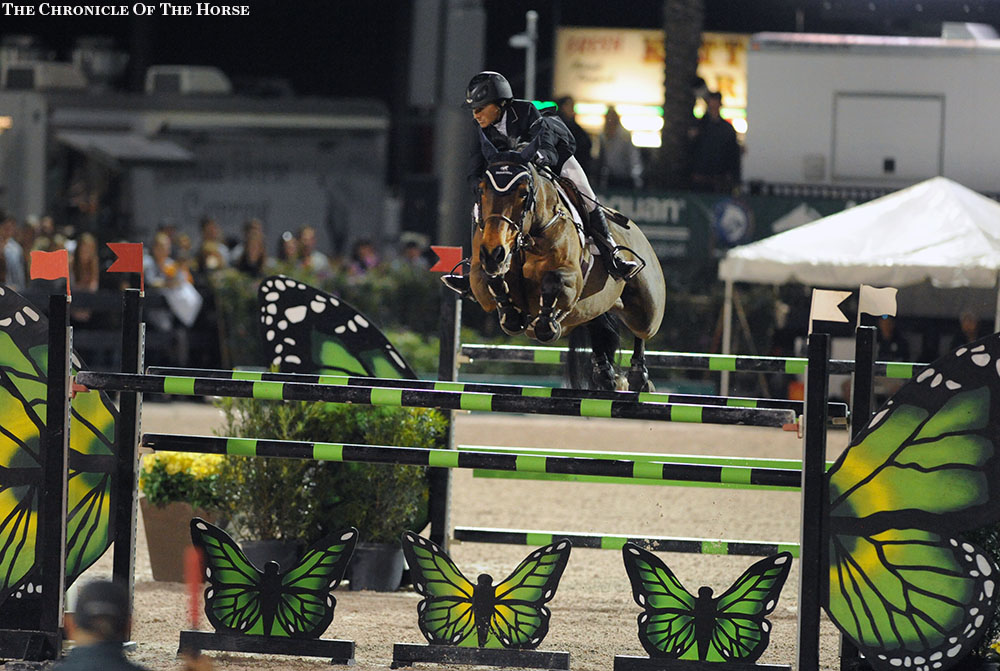 Laura Chapot and ISHD Dual Star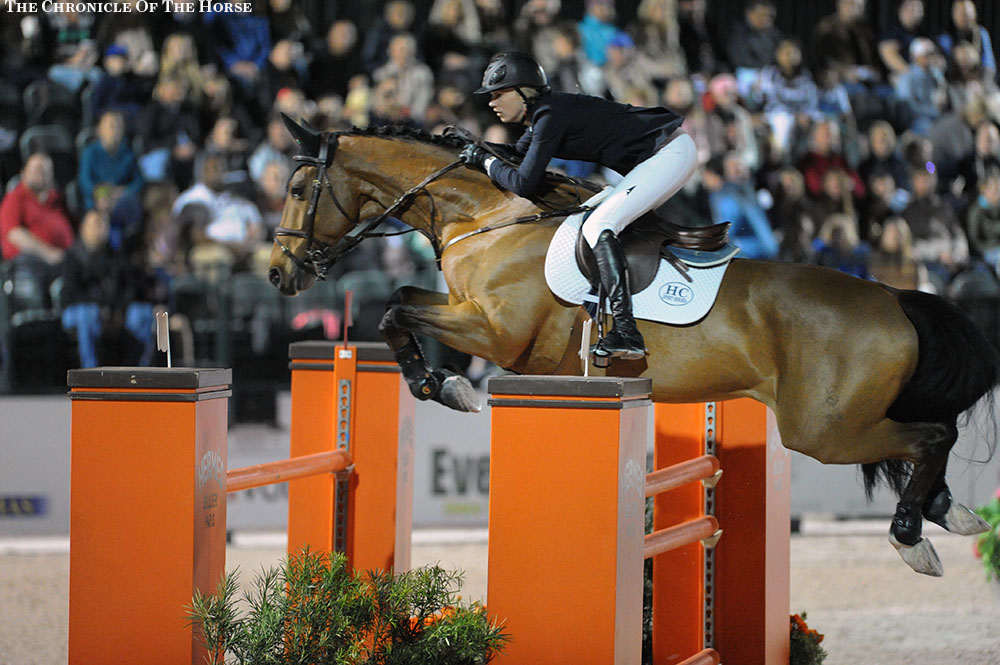 Sayre Happy and Ludwig's Joker B