In honor of Ros Canter's record-setting, 15-point winning margin at the Badminton Horse Trials (England), we're looking back at another particularly memorable Badminton: 2016, when Germany's Michael Jung and his remarkable La Biosthetique Sam FBW became the second—and most recent—winners of the Rolex Grand Slam of Eventing. No one has repeated the feat since. This article originally was published on May 8, 2016:
Badminton, Great Britain—May 8
After Michael Jung galloped through the finish timers with his clear round at the Mitsubishi Motors Badminton CCI****, he pumped his fist in the air and smiled widely. Then, as he galloped by one set of stands, he lowered his gaze for a second to the neck of La Biosthetique Sam FBW and slowly shook his head. It was a very "I can't believe this just happened" kind of moment.
But anyone betting would have believed it'd happen; indeed, it seemed an almost foregone conclusion as the day began, or maybe even before the week started.
Jung came into this competition fresh off winning the Rolex Kentucky CCI**** by a landslide on fischerRocana FST. All he needed was to win Badminton—a four-star he's never topped—and he'd take home the Rolex Grand Slam trophy, which goes to any rider who can win Badminton, Burghley and Rolex in a row, and the extra $350,000 that goes to the winner. It's only been done once before, by Pippa Funnell in 2003, but Jung's been basically unstoppable of late, and he had his longtime partner "Sam" on his side for this competition.
And three perfect days—one Badminton record-breaking dressage score (34.4 penalties), one double-clear cross-country trip and one faultless show jumping round—culminated to give Jung the Badminton victory, with the lowest-ever finishing score, and the Grand Slam trophy.
"I think it's really special," said Jung. "You win one competition, but maybe then you are just in second place on the next one, and then you have to start from the beginning again. I'm very happy and very proud of my horses. I have to say really big thank you to my team at home that they trained my horses so well when I was in Kentucky. It's very difficult to make the horses ready for a four-star this early in the season.
"A big point is the weather," he added. "We had a very soft winter and good training [in Germany]. My horse is in a good form, and also at this competition we were very lucky to have sunshine every day, and that the ground was perfect. I think that's not normal."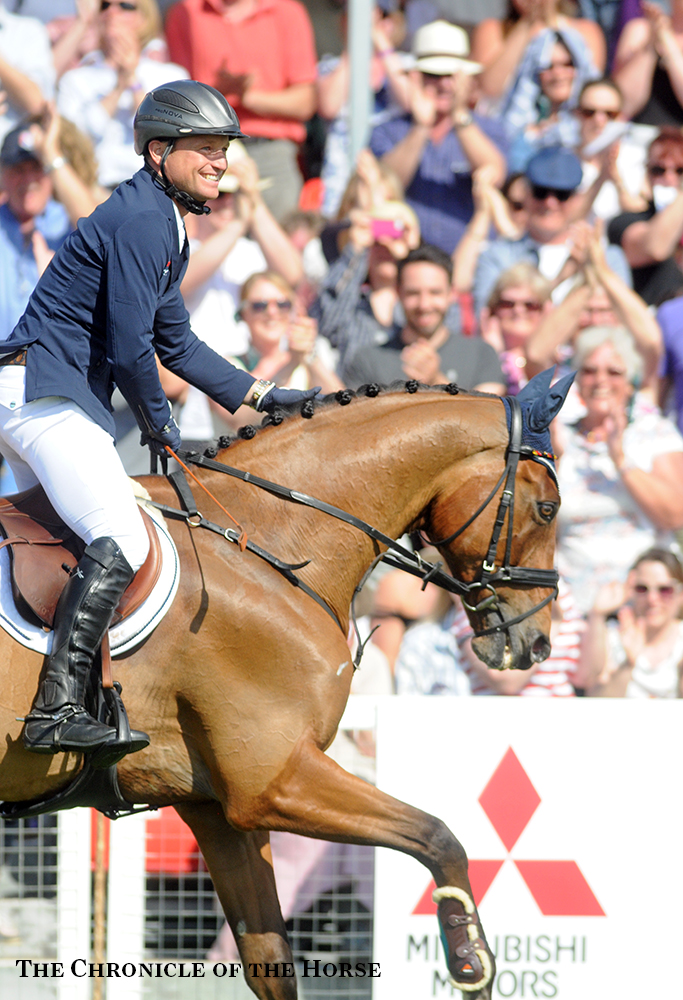 The Rolex Grand Slam winner. Photo by Lisa Slade.
Sam was Jung's partner for last year's Land Rover Burghley CCI**** (Great Britain) win as well. He's 16 this year, but as he demonstrated in the prize giving ceremony—when Jung had to take him out of the ring and then return with a different horse when Sam got upset—he's far from slowing down.
"I always joke that the last competition for Sam is [the 2020 Olympics Games in] Tokyo," said Jung. "He's in super form at the moment. We are really not thinking about the finish for him. We're really looking forward. He's such a special horse. He gives me a really, really nice ride every time on cross-country; he likes that so much—the galloping forward. He relaxes more on cross-country than in the dressage. He likes to jump, and then the next morning when you look at him, he's like a 3-year-old horse."
Jung didn't even need a perfect day today as he entered with two rails in hand. His countryman Andreas Ostholt had also jumped clear on So Is Et, and he finished second (43.4).
"I think it will take a while to realize that I'm again sitting here," said Ostholt. "Every day [in the press conference], we say, 'OK, we'll see you tomorrow again,' and it's tomorrow again. My aim was to be always here. It worked out, so I feel really, really happy. That it worked out to second, it's more than I ever wished."
Andreas Ostholt and So Is Et at the conclusion of their clear show jumping round. Photo by Lisa Slade.
Gemma Tattersall completed her large jump the leaderboard (from 16th after dressage day) to finish third and as the highest-placed British rider on Arctic Soul. Arctic Soul also won the prize as the highest-placed former race horse.
"The horse has been on the form of his life this year," she said. "He was second in the first event of the year, and then he won his first advanced of the year. I knew he was on form; it was just coming here and competing at the top of our game, which I think we did. I could not be more proud of him. He did a personal best dressage score and finished on his dressage score."
Libby Head and Sir Rockstar had just one rail down to take 31st as the sole U.S. finishers this year.
"He was jumping out of his skin," said Head. "I got a little nervous; I didn't ride as well as I could have. He was jumping 2' over them I think. Personally I try not to look around [at the crowd], so it feels like I'm by myself, but at the end it was great to hear everyone cheer."