Lexington, Ky.—April 23
It's the end of Day 1 of dressage here at the Rolex Kentucky CCI****, and Germany's Michael Jung is leading with Fischerrocana FST with a 39.3. Is anyone surprised? Probably not, since he's won Olympic gold, FEI World Equestrian Games gold and FEI European Championships gold.
And one of those WEG medals came from this very facility, at the 2010 Alltech FEI World Equestrian Games, which he won with La Biosthetique Sam FBW.
"I have very good memories of Kentucky," Jung said. "It's a really nice place with very good conditions for the horses—a very nice stadium, very quiet stadium, and it's good we can work in the stadium before dressage. It helps a lot for the horses, especially at the beginning of the season. The cross-country is also difficult, but I think they are very nice fences and friendly for the horses."
Tomorrow Jung rides "Sam," but he's not sure if the gelding will be able to steal the lead from his mare.
"Today, 'Rocana' gave me a really good feeling—calm and quiet," said Jung, who also rides in grand prix show jumping competitions and at the top levels of straight dressage. "I can do everything I want. She was fantastic to ride, and I think this was one of the best tests for her. Today she's the leader, and tomorrow we will see. Sam is in very good form, but you never know."
But Jung's not the only one who's taken a turn in the pure dressage ring at the upper levels. Ashker started competing Andalusian Santiago Del Escarvido at the Prix St. Georges and Intermediaire I level, and she said it's helped her break down the simpler eventing dressage tests. This, the score of 44.2 penalties, was Anthony Patch's best-ever mark at the four-star level and put her in second place. Leaving the ring, Ashker couldn't control her emotions over the ride.
"It's a little bit like a dream come true," she said. "This is my eighth Rolex and my first time in the press conference, and so it's pretty awesome. I'm extremely elated, and it seemed to all come together today. I couldn't have asked for anything better."
Ashker also earned a new pair of Dubarry boots for best-dressed woman at the first horse inspection yesterday. Phillip Dutton, who's third after Day 1 dressage with Fernhill Fugitive and seventh on Fernhill Cubalawn, was named the best-dressed man.
Dutton still has one more mount, Mighty Nice, to come tomorrow.
"I'm pleased-ish," said Dutton. "Fernhill Fugitive is the greenest of them, and he's a very laid-back character, so I didn't ride him this morning. That kind of goes against my instincts. But I got him down there, and he was a little on the fresh side, but he worked in well and did about the best test he's ever done. Fernhill Cubalawn started out great, and I think I went for a little too much. The pressure of that got to him, and he lost it in the canter. I could have done a little better job there. I hope Mighty Nice beats them tomorrow. He's been working well. I think it's shaping up to be an exciting competition here."
Dressage begins again at 9:30 a.m. tomorrow, with Lillian Heard on Share Option kicking off the day.
The Top Riders' Thoughts On The Cross-Country Course
Most of the riders have now walked around the course at least once. Lexington was hit with heavy rains over the last several weeks, but the ground at the Kentucky Horse Park still appears to be in excellent condition. Derek di Grazia's track this year spans 6,4000 meters, with an optimum time of 11:14.
"The place is very hilly. You're never galloping on flat ground. That's tough for the horses. There are very big fences—a lot to jump, and it's technical. I think everything you can ask a horse is in there. It's tough, but the jumps are very friendly and very clear—very nice for the horses." —Michael Jung
"I stressed a little bit about it, with Al being an older guy. But I've been tickled; the footing is absolutely beautiful. In all the years I've ridden it, it has a lot more open space. It's a lot more open in the first half of the course. It's going to be good for my horse. He's an off-the-track Thoroughbred, so my job is to get him jumping well and settled early in the course. It's hard to do that when you have a lot of combinations coming at you. I think the galloping will be good. I have to remember to keep a hold of him in the beginning and not wear him out there because there is so much galloping." —Laine Ashker
"The course is as big as I've seen here. It wouldn't be super technical, but it's just big and forward-riding fences. It doesn't let up the whole way around, right from fence 4 and onwards. There are big imposing jumps and not a lot of room for errors. It's a lot of pressure on riders and horses to ride sensibly and accurate and forward." —Phillip Dutton
Other Tidbits From The Day:
Francis Whittington came from Great Britain with Easy Target. He's fourth right now with 47.6 penalties, but it wasn't the score or ride he wanted.
"He went brilliantly out [in the warm-up], and I was ready about 20 minutes earlier. Twenty minutes earlier he was fine," he said. "I took him for a nice wander around, and then he just came in and knuckled down. He got straight on the bit. By the time he got in there, he was starting to get heavier on the shoulder, and then once we were in there it was too flat.
"We thought [this event] would suit him," he added. "I thought the all-weather-arena, a nice big arena, would work with the atmosphere to help pick him up. Show jumping again on all-weather. Everything like that I thought was going to be ideal for him, but the terrain we've got here is fairly similar to Blenheim as well, and that's a course that he likes."
Whittington rides Easy Target in an unusual-looking Wow H girth.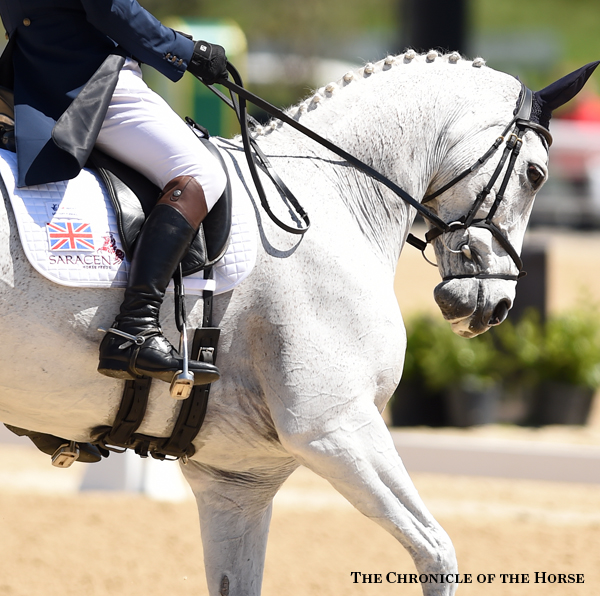 "It sits down the middle of the sternum and such, so the straps come in just to help seat the saddle in place and keep it exactly where you want it," he said. "He's quite long in the back, so we had to shape the saddle specifically for him to fit that space to make it more aesthetically pleasing when you look at him. As a result, we're also trying to make sure the saddle stays still and fits as well as it should do. We then found that putting a girth like this just spreads the load slightly and allows a better fit."
Elisa Wallace, who's here at her first Rolex Kentucky and first four-star on Simply Priceless, laid down a lovely test to slot into sixth on 50.8 penalties after this Day 1 of dressage.
"My horse felt like he was a blanket of calm. Normally I go in there, and he feels like a pin cushion," Wallace said. "I know my horse can do it, and I know I can do it, so it was just a matter of getting there—just getting the mindset."
Bunnie Sexton, who came all the way from California with her Rise Against, is riding in her first Rolex at 53. She's currently sitting on 69.8 penalties.
"I think I represent a lot of people who raised kids and didn't think they were going to go past advanced and just kind of brought horses to that level and passed them on and didn't really think this kind of thing was for the 'ordinary' trainer," she said. "With hard work and dedication, it is."
Jennie Jarnstrom, riding for Sweden but based in the United States, was eliminated with Cape Town after the horse demonstrated prolonged resistance within in the ring.
WOFFORD'S WORDS
Can't get enough from Jimmy Wofford, who did the predictions for the Chronicle's Rolex Kentucky preview issue? Don't worry! He's going to continue sharing his thoughts here throughout the competition.
"The first thing that I have to say is that space restrictions in the Rolex Preview issue prevent me from recognizing the presence of the volunteers here. The talk is how technical and proficient the riders are and how fancy the horses, and we forget who puts this event on. The sponsors pay for it, but the volunteers make it happen. There will be 2,300 volunteers helping here at Rolex this year, 300 of them alone on cross-country day. If you're physically present on the grounds, find a volunteer and tell them thank you because Rolex would not happen without our volunteers.
"I have not done any statistics, but it seems we have a large number of Rolex rookies this year. I love that sort of situation because I know at least a third of them are going to literally leap into prominence this weekend. A case in point are the welcome scores from Elisa Wallace, Jolie Wentworth and Lainey Ashker. Lainey is not a rookie here, but I'm especially pleased for her because she has demons to conquer here at the Horse Park, and so far she has a stranglehold on them. Michael's test was everything we had hoped for. The judges seem to have gotten the scores right, but there is room for some fancy horses at the top tomorrow.
"If La Biosthetique Sam FBW and Bay My Hero go as well as they look, we might have our first Rolex winner in the high 20s."
See the full scores on the Rolex Kentucky website. Make sure to check out our play-by-play of today's dressage action and see the photo gallery. Or you can look at all of the Chronicle's Rolex coverage.