Paso Robles, Calif.—June 4-5
When Zangersheide stallion Jonkheer Z (Jetset—Ulderina van Westleven, Skippy II) surfaced in the barn of California-based New Zealander Guy Thomas' Willow Tree Farm, not many realized that the change was a homecoming of sorts for the veteran horse.
Thomas's father, Butch, found "Johnny" for Karl Cook seven years ago, when Cook rode with the well-known, Bay area trainer.
The relationship between Johnny and Cook developed to include FEI World Cup Qualifier wins in 2012 and in 2014 and two appearances at the FEI World Cup Final, first in 2013 and again in 2015.
But in June of last year, Cook's current trainer, France's Eric Navet, took over the ride on Johnny while Cook focused on his newer mounts. And by Week 4 of the HITS Thermal Desert Circuit (Calif.) Guy, in partnership with his parents—Butch and Lu—and client Emily Livermore, managed to acquire the 14-year-old bay for his string.
"Dad found him in Belgium at Ilan Ferder and Tal Milstein's," Guy said. "His record speaks for itself. He's done World Cup Finals, the Million in Thermal—he's jumped the biggest tracks in the world. I'm thrilled he's back in the family, so to speak. My father's always really loved him. He feels incredibly happy right now, and I think he's just going to get better and better."
An appearance in the $100,000 Grand Prix of Del Mar (Calif.) at the start of May for the new partners resulted in a solid fourth-place finish. There, the pair was the first to go in the four-man jump-off and collected 8 faults to show that they were still adjusting to each other.
But a month later, on June 4 at the Central California Classic in Paso Robles, Calif., they claimed their first grand prix victory together in the $24,500 CWD Grand Prix of Paso Robles.

Guy Thomas on the way to the only clear round of the $24,500 CWD Grand Prix of Paso Robles with Jonkheer Z. Photo by Alden Corrigan Media
A technical course designed by Mexico's Catsy Cruz featured 13 obstacles and 16 jumping efforts, with three double combinations and a demanding time allowed. The first in the order, California's Kristin Hardin and Firestone S, managed to leave all rails standing but collected a single time fault. Thirteen more combinations followed, all acquiring a number of faults, until Guy and Johnny delivered a double clear, the only pair that managed the feat out of the 32 entries.
"He's been jumping great on the field here," said Guy. "I really just tried to get him on a good stride—he's got a beautiful gallop—and let the stride work for us.
"I know there was a lot of question walking the course [about the striding] from [Fence] 4 to 5—whether to do the five or the six [strides]. The beautiful thing with him is that I don't have to worry about it. I can just canter down there. Anything that's long really isn't long. We're getting to know each other more and more with every time in [the ring], and I'm thrilled and fortunate to ride him. He's an amazing horse."
Willow Tree Farm is also standing Johnny for stud, already breeding him to some of their competition mares. Breeding has long been an interest of Butch and Lu Thomas at their Burson, Calif., ranch, and as a side note, Guy also rode one of their homebred, young horses, Idagio Van Het Nerenhof, in the grand prix at the Paso Robles horse show.
"We'll continue to breed Johnny," Guy said. "Hopefully in five or six years, you'll see a bunch of Johnny babies running around."
At the close of the show, Guy and his horses returned to their new location at Stanford University's Red Barn. Although Thomas's reining horses have yet to find stalls at the famous facility, his jumpers are settled in there.
Small Adventure Scores Her First Derby Win
Over the first round of the $10,000 USHJA International Hunter Derby at Paso Robles, Hope Glynn, John French and Bert Mutch's names dominated the field. In the end, it was French who ended up with the win aboard a horse with which he's more familiar watching than riding.
Small Adventure, owned by Iwasaki & Reilly, came to California's Makoto Farms from Guillermo Obligado just over a year ago. Discovered competing in the 1.40-meter jumpers in Europe, she quickly adapted to the hunters, showing in the 3'3" hunter divisions last season, pairing with then 11-year-old Augusta Iwasaki and Rose Carver.
This year, Small Adventure moved up to the 3'6" junior division with Iwasaki. French picked up the ride in the second year green classes last month, and both he and Iwasaki have piloted her around the USHJA International Hunter Derby classes.
"She's unflappable. She walked right into Devon [last week] and jumped around with a little kid," said Liz Reilly, owner and mother to Iwasaki. "We always knew she would be really good at derbies. She's new to the whole hunter thing, but we knew once she got it, she would be great at it."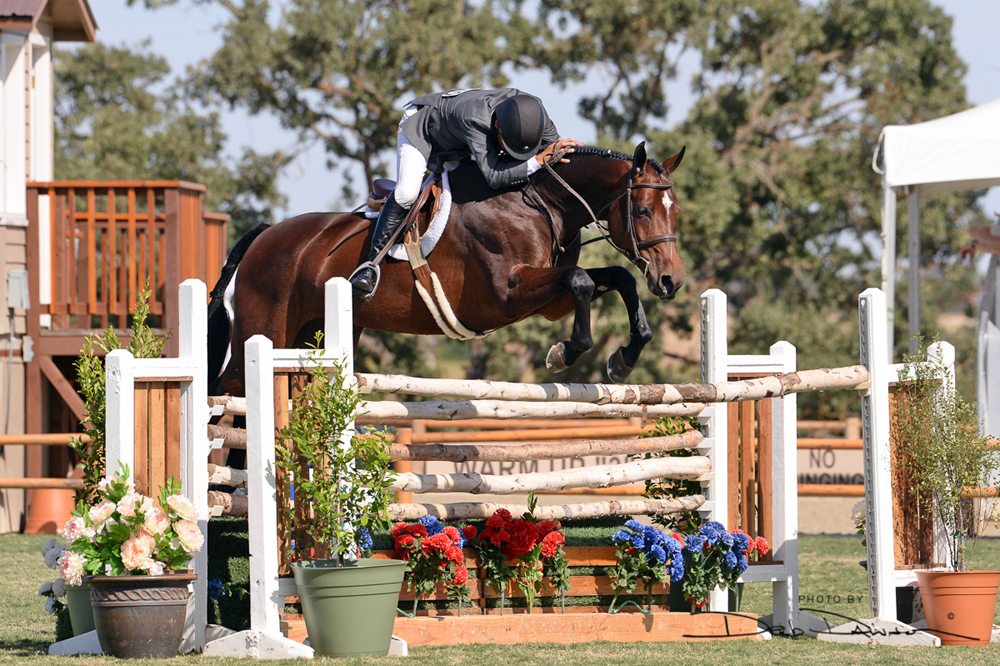 Small Adventure and John French. Photo by Deb Dawson
Small Adventure and barn mate and seventh-place finisher Small Gesture both competed at the Devon Horse Show's Junior Weekend (Pa.) before traveling back to the West Coast, where they're based. French trained Iwasaki on his derby mounts at the East Coast show.
"I've ridden her a couple times before and knew her a little bit, but I know her more from the ground and from helping Augusta with her at Devon," added French. "So I know her more from coaching than I do from riding her."
John Manning designed a flowing course on the big grass field at Paso Robles. "There were a lot of singles and long gallops to jumps. The course used the field well—it's a beautiful field. It's not too often the opportunity to show on grass like this," French said. "And to be in a ring of this size is really nice because it allows you to show the horse and gallop between the jumps."
For the handy round, French had four called back (Banderas, Small Gesture, Small Adventure, and Solider), Glynn had three (Corriendo Tau, Full Circle, and Carson), and Mutch had three (Agusta, Bunistar, and Brunswick). Jamie Taylor and Patton and Jessica Allan and Fanciful also made the final cut.
In an effort to move up in the ranking, Mutch made the strategic decision to attempt the skinny, high portion of an airy, post-and-rail fence. His first attempt with Agusta resulted in a refusal at the obstacle, but his later rides proved game to tackle the difficult element to help move up to second- and third-place finishes.
"[In retrospect], thank goodness I didn't try the high one—after [other horses missed at the jump] and especially with the horses of mine that were in the lead," French said, referring to his positions in first and second with Soldier and Small Adventure, respectively. "It was too risky to try it. But for Bert, he had to use that option to move up. That would probably have been my same strategy if I were him.
Although Small Adventure trailed Soldier heading into the handy round, the bay mare's fluid turns and impressive jumps helped her move up to claim the victory. A little luck also played to her advantage when Soldier cantered the last step of the trot fence, and Glynn's veteran derby mount Carson uncharacteristically missed a lead change to the final fence.
And while Small Adventure stayed consistently at the top over both rounds, the arguable star of the handy round was Mutch and Bunistar. Together they moved up from ninth after the first round to then finish as the runner-up.
Results for the CWD Grand Prix of Paso Robles Presented by Travel Paso:
| | | | | | | |
| --- | --- | --- | --- | --- | --- | --- |
| Place | Number | Horse | Owner | Rider | Round 1 Faults | Round 1 Time |
| 1 | 229 | Jonkheer Z | Emily Livermore | Guy Thomas | 0 | 82.938 |
| 2 | 551 | Firestone S | Nicole Teague | Kristin Hardin | 1 | 84.12 |
| 3 | 632 | Dacarlos | Mattias Ekeroth LLC | Mattias Ekeroth | 4 | 80.625 |
| 4 | 274 | All Shenanigans | Morgan Caplane | Morgan Caplane | 4 | 81.129 |
| 5 | 565 | Cyrus | Blake Gardiner | Blake Gardiner | 4 | 81.448 |
| 6 | 234 | Carone | Sn Stables Llc | Simon Nizri | 4 | 81.751 |
| 7 | 580 | For Fun | Russell Morgan | Russell Morgan | 4 | 81.764 |
| 8 | 142 | Milano | Abigail Weese | Mandy Porter | 4 | 83.772 |
| 9 | 340 | Nelson T | Erika Cooper | Erika Cooper | 4 | 87.777 |
| 10 | 148 | Little Gancho | Moonlite Beach, LLC | Marc Grock | 5 | 84.472 |
| 11 | 568 | Thumb's Up | Linda Starkman | Joie Gatlin | 5 | 84.859 |
| 12 | 158 | Quincy Z | John Gist | Sarah Invicta Williams | 7 | 86.017 |
Results for the USHJA International Hunter Derby Presented by Cross Creek Farm:
| | | | | |
| --- | --- | --- | --- | --- |
| Place | Number | Horse | Owner | Rider |
| 1 | 640 | Small Adventure | Iwasaki & Reilly | John French |
| 2 | 474 | Bunistar | Naomi Rubin | Hugh Mutch |
| 3 | 473 | Brunswick | Airlie llc | Hugh Mutch |
| 4 | 443 | Carson | Kathryn Taylor | Hope Glynn |
| 5 | 161 | Corriendo Tau | Karen Trione | Hope Glynn |
| 6 | 521 | Soldier | Meadow Farm | John French |
| 7 | 641 | Small Gesture | Iwasaki & Reilly | John French |
| 8 | 719 | Banderas | Ecole Lathrop | John French |
| 9 | 216 | Patton | Marion Lowry | Jamie Taylor |
| 10 | 275 | Fanciful | Jayme Jenkins | Jessica Allan |
| 11 | 469 | Agusta | Elena Canova | Hugh Mutch |
| 12 | 165 | Full Circle | Karen Trione | Hope Glynn |