Jonkheer Z is a 13-year-old, Zangersheide stallion with two FEI World Cup Finals already under his belt with his 24-year-old rider Karl Cook. Owned by Cook's mother, Signe Ostby, "Jonny" lives at the family's Pomponio Ranch in San Gregorio, Calif. He and Cook compete in the FEI-level grand prix classes and Jonny also stands at stud whenever his traveling schedule allows.
Standing at 17.1 hands, the athletically built horse is reminiscent of the old world style of warmblood, according to one of Pomponio's barn managers, Margeaux Day. With so much raw power and strength, he excels in big, open courses like the ones at Spruce Meadows, recently taking fourth in the $400,000 ATCO Power Queen Elizabeth II Cup with Cook's trainer Eric Navet in the irons.
This season, Cook and Jonny will attempt to qualify for their third World Cup Final. The partnership between horse and rider is going on its fourth year, and Cook is quick to credit the stallion for teaching him the ropes at show jumping's highest level. And with a specialized care program, Cook and the Pomponio team aim to keep Jonny going strong around many more 1.50- and 1.60-meter tracks.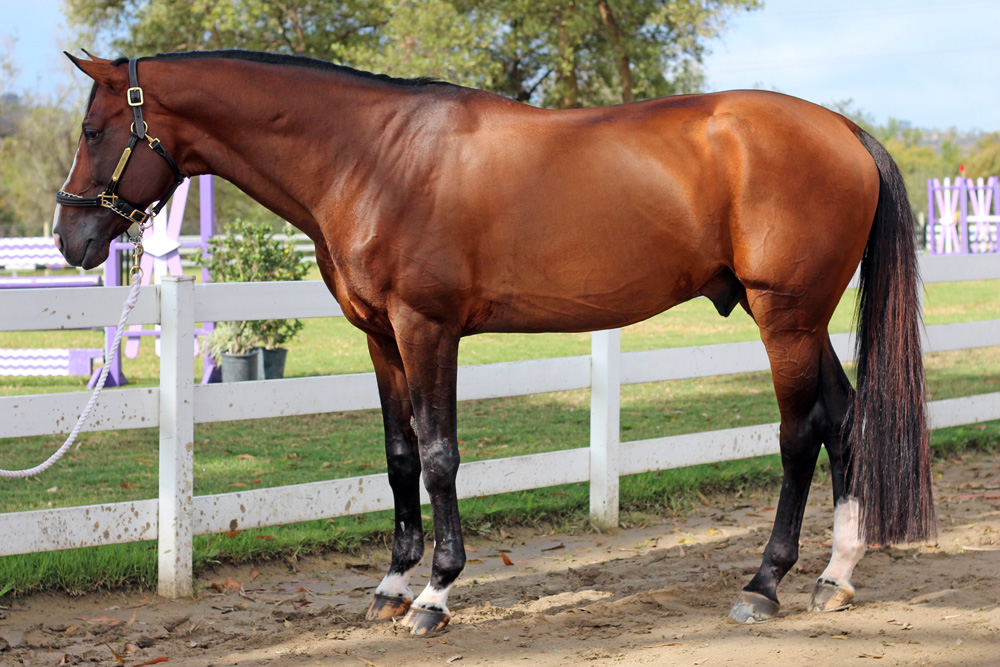 Cook found Jonny in Belgium in 2011, and when Jonny first entered Cook's barn, he didn't like his ears to be touched, but now he doesn't really care.
His large, expressive ears, referred to as his antennae ears, flop easily, and his foals seem to inherit the trait. A 2015 colt by Jonny already bears an uncanny resemblance to his father, especially in the ears.

The ears
Weekly work at home for Jonny includes trails, flat rides and pole exercises, followed by conditioning on a treadmill or walker and turnout in the round pen in the afternoon.

"We don't jump very much at all at home," Cook said.

Cook swears by his equine spa that circulates cold saltwater, and the equipment travels to shows with Pomponio, requiring special transportation.

"It was stuck in Canada after Spruce," Day said. "It's finally crossing the border after multiple attempts of trying different shipping methods."

Jonny also receives shockwave therapy to address any soreness that can result from hard footing at shows, specifically in the neck and in the pelvis. He also gets rub downs with traumeel to address any inflammation, and Cook brews his own hoof oil to keep Jonny's hooves healthy.

"The main reason for all the therapy and the stretches is that we want the horses to last for a long time," said Day, a former vet technician for a sports medicine specialist. "If Jonny jumps, he always goes into the spa."
Cook keeps his vet on contract from France, and the farrier and the dentist are also from France. Trainer Navet is originally from France, although he has since relocated to Pomponio's training operations in San Diego, Calif.

"I have a thing for the French," Cook said.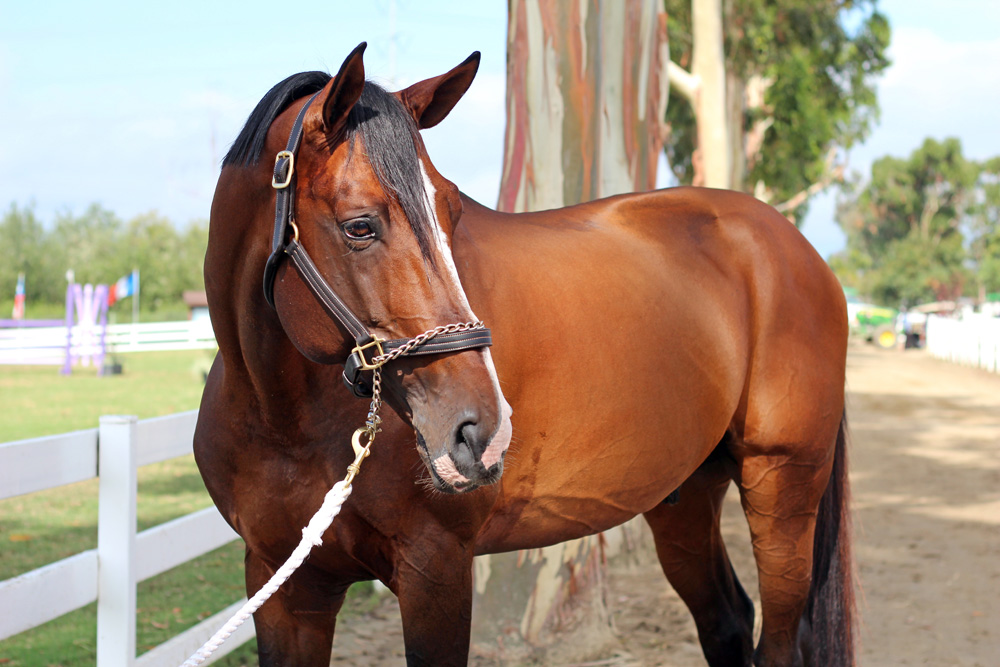 A complicated feeding schedule begins at 6 a.m. everyday and alternates grain with steamed timothy hay throughout the day.
Jonny is usually calm, cool and collected on the ground, often walking at a snail's pace, except for during the jogs before grand prix classes. "He will try to eat you, which is super fun," Cook said.
But his one vice is forgiven since he isn't one to hold a grudge. "If I make a mistake on course, he'll forget it two seconds later," Cook said. "Unlike my mare Tembla—she's more sensitive."
Speaking of Tembla, Cook's newer FEI-level mount, she's often on the receiving end of Jonny's nickers in the barn.
Jonny also loves ponies and will try to drag his grooms over to them to say hello.
When the grooms try to bridle him, he will often whip his head to the right, as though he's trying to do one last carrot stretch before going to work.
And most importantly, he responds well to big crowds at the big shows and will rise to the occasion to perform.

"The more you're around him, the more you like him," Day said. "He's so consistent, and he has a great character."