Washington, D.C.—Oct 25
Scott Stewart almost got a little tired at the end of the professional divisions at the Washington International Horse Show. The New Jersey-based rider brought nine mounts to the city, and walked away with two division championships—the green conformation championship aboard Private Life and the3'6" green title with Wonderly, both owned by Betsee Parker.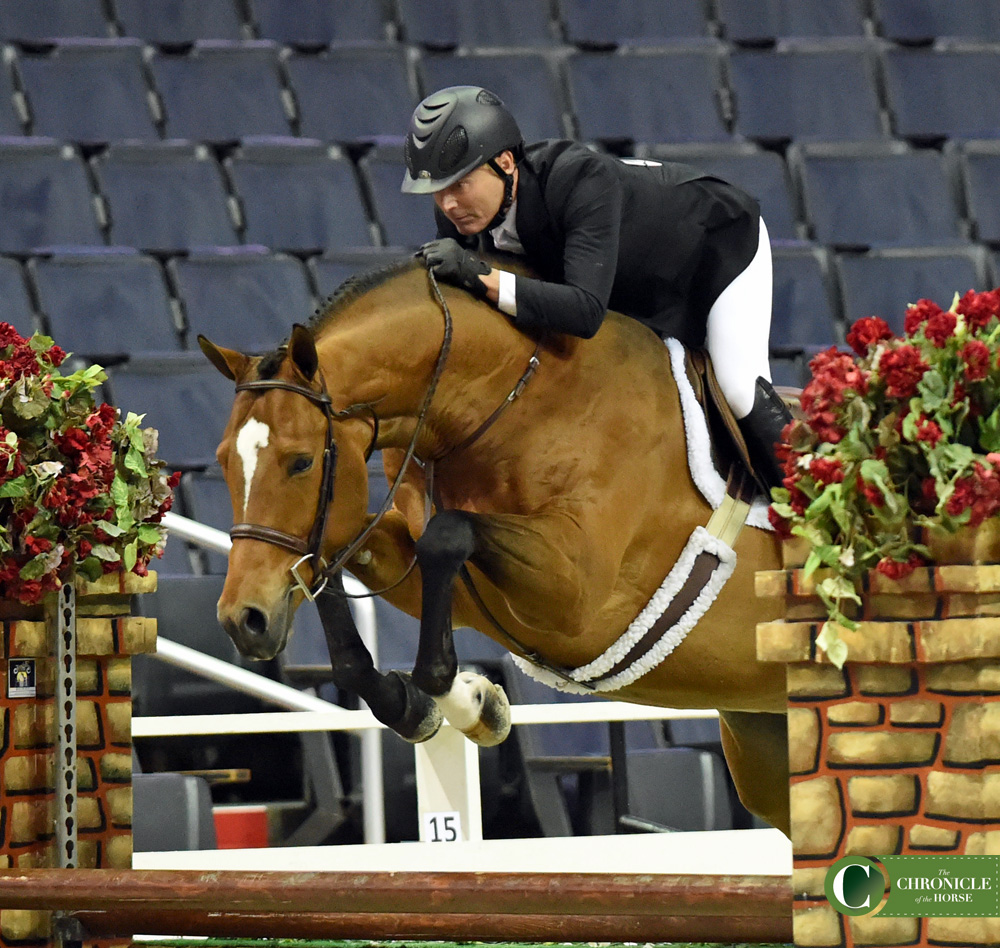 But Stewart, who's always seen plenty of success at this event, wasn't done there. The final portion of the awards presentation was dedicated entirely to him as he picked up the grand hunter championship, the high point green hunter championship and his 10th leading hunter rider award.
"Well I love being in the city here," said Stewart. "It's great to be here, and it's probably the closest to [the National at Madison Square Garden (N.Y.)]  because of the city atmosphere, and if you're lucky to be done early you can go do some stuff, which I am.
"No amateurs today, so I can go to lunch," Stewart quipped.
Both of his mounts are straight off victories at the Pennsylvania National, and Private Life, a 6-year-old Dutch Warmblood (Verdi—Pinot Rosso) stepped it up to top all three over-fences classes to take top call.
"I thought he was going to be an attractive horse and a conformation horse, but he was very immature," said Stewart. "Just all of a sudden last year he started to blossom and look like a beautiful conformation horse."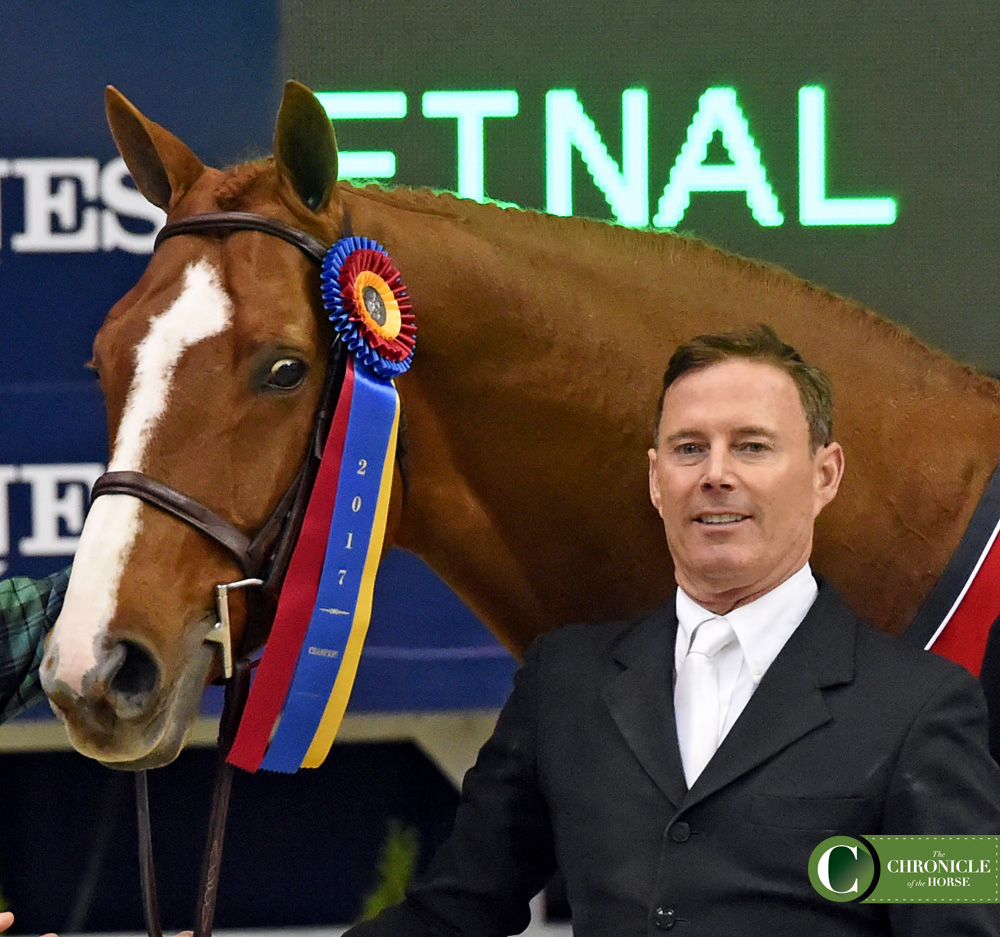 It was also Wonderly's first trip to the city, and Stewart felt that the 8-year-old Brandenburger (Burberry—Elbana) blossomed this year.
"I think because he's bigger he's a little slower to develop, but mentally hewas always quiet and nice," said Stewart. "I think he's just feeling finished and stronger. He got fitter, so he could jump nicer."
Patriot Struts His Stuff
Patriot is quickly proving to be a horse that excels in an unusual and difficult show environment. He finished third in the $50,000 Duchossios Cup in the middle of Central Park (N.Y.), and in his first trip to the nation's capital, he earned the3'9" green championship with Hunt Tosh up.
"He's been wonderful," said Tosh. "He's great in an environment like this. He's super; he walks in. He's not spooky; he's easy to get to the ring, so it's a fun place to show him for sure."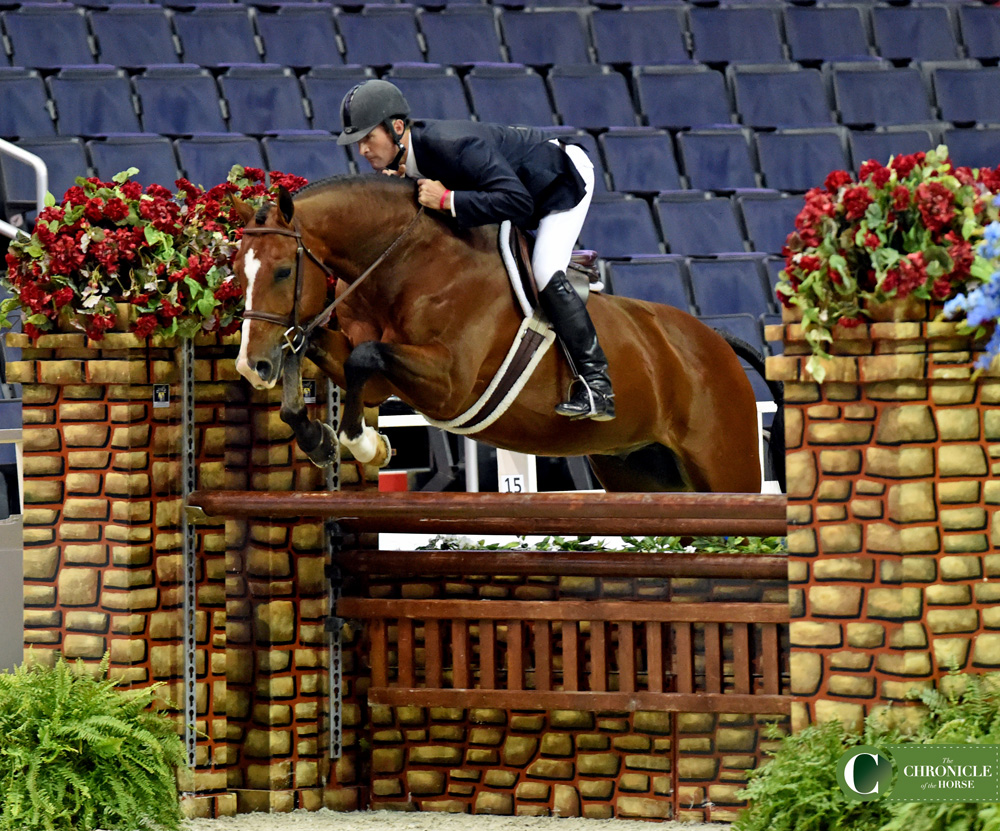 Washington marked the 10-year-old Oldenburg's final horse show for the season, and he's definitely earned his vacation, as he's straight off a win at the Pennsylvania National.
The gelding only started his hunter career last year, but he's certainly taken to the job well. He went straight into the green conformation division and hasn't let Tosh down yet.
"From the very beginning he was pretty easy and straightforward, so he hasn't really changed that much," said Tosh. "He's always one that tried to win the classes, and he tries not to let you down in the ring.
"He's careful," Tosh continued. "He's a nice jumper. He's not spooky or hard to get into the ring, so it's fun to have him at a horse show like this where it's a little challenging. It's a small schooling area, and he handled it great."
A City Horse
If Boss keeps his winning streak up, Laura Wasserman is going to run out of room for the gelding's iconic red Washington International coolers. Since the Dutch Warmblood (Samba Hit II—Vulana D) first attended the show back in 2015, he's left the ring with a championship ribbon.
This year was no different. John French piloted the gelding to two blue ribbons to take home the high performance conformation championship.
"He doesn't really need much practice in the warm-up area, and the schooling is not ideal," said French. "I really like this ring; I like the fact that it's long. Every time he comes here he's been really, really good. Last year he was superb. I don't know what it is about it, maybe he likes the city."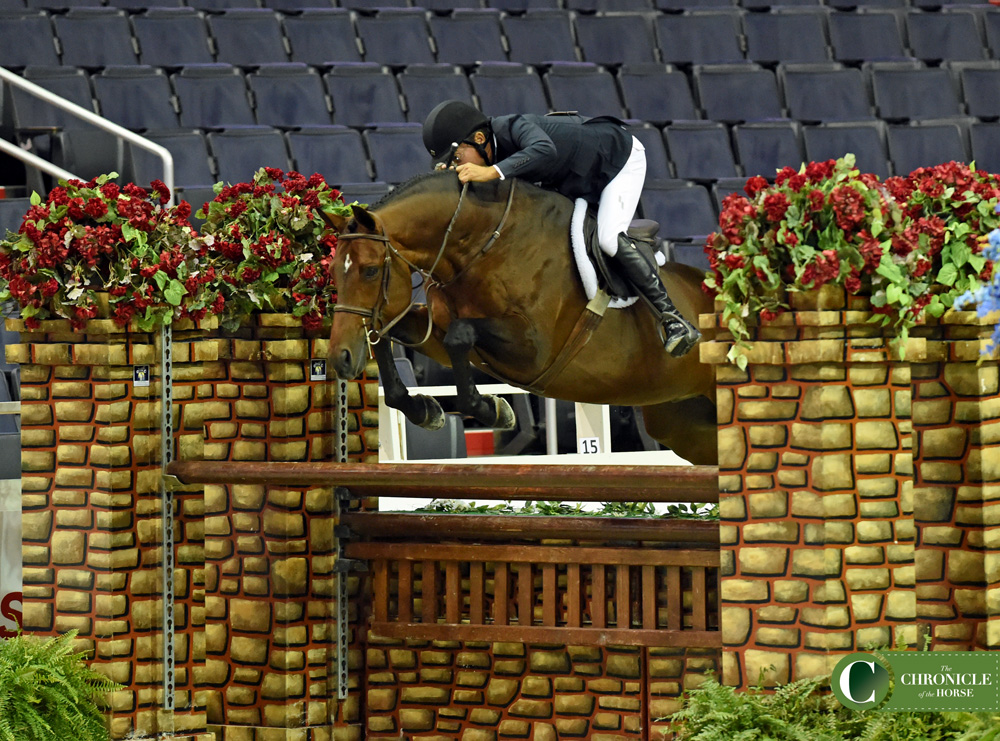 While Boss has proved to be a Steady Eddie, initially Washington wouldn't have been an ideal environment for the gelding.
"At first he was hard to steer, and I don't think you could have ridden him in this ring," said French. "But now he's gotten so much better about turning. He won the handy here and that was always the tricky class—the question was could I turn him in the handy. Now he's gotten handier and much easier. He kind of knows his job. And he's a bit of a poser too. He goes around with his ears up; he always looks like he enjoys his job."
Holding Her Own
Samantha Schaefer is no stranger to winning at Washington. Last year she topped the amateur owner, 18-35, division with Classified, but this spring she turned in her amateur card and became a professional and the dynamic changed.
"There's no room for little mistakes," she said. "Where in the amateurs maybe a late change or a light rub is still winning the class. It makes you want to be that much better. It's just a step up."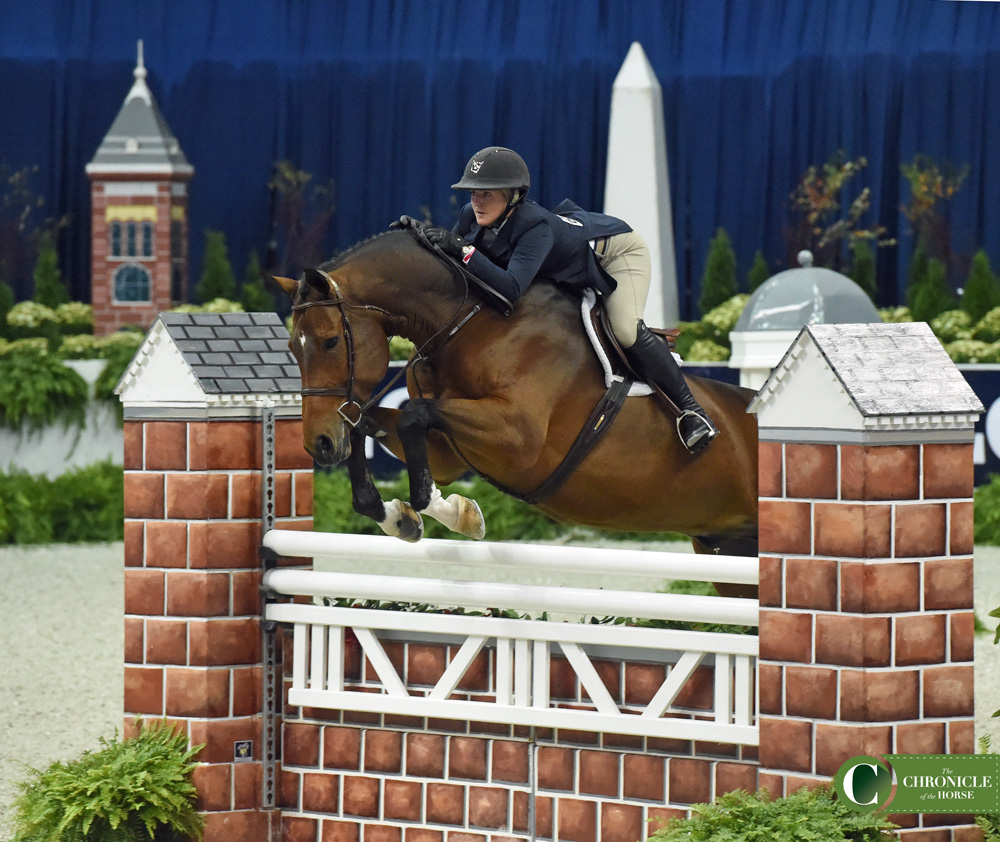 That higher standard has caught her the past few times she showed Madeline Schaefer's In The Know. Mistakes like cantering the trot fence, late changes, rails and just generally feeling off her game has kept her out of the top ribbons, so heading into Washington she made it a goal to eliminate those problems.
"I felt like coming into this show the last four or five times that I've shown him I let it slip away. I was thinking this past week, god I've got to seal it. I've got to be more on it. I felt like I was letting it slip through the cracks. I came in here trying to be sharp right off the bat."
She did just that. She rode the 8-year-old warmblood (VDL Arkansas—Cavelle) to the blue ribbon in the first over-fences class and followed it up with a win in the handy. And that was enough to boost them to the high performance hunter championship.
IMPORTANT LINKS:  All the COTH Washington International  coverage  |  What You Need To Know  |  live results/order of go  |  live streaming  |  show website