April 24 – Lexington, Ky.
Welcome to the Chronicle's live updates for cross-country day here at the Rolex Kentucky CCI****. We're starting at 9:45 am local time today, and the first few head out at five-minute intervals. But we quickly switch to three-minute intervals as the ground jury makes an effort to get everyone through the course before the worst of the rain and storms arrive.
Germany's Michael Jung on La Biosthetique Sam FBW and New Zealand's Tim Price on Wesko share the lead at the start of this phase. See the scores and ride times here, and you can also take a virtual course walk. Live video is on USEF Network. The optimum time today is 11:06, and the course has a distance of 6,320 meters.
2:05 pm: We'll have a full story and photos on today's events up for you in just a bit! Check back at www.chronofhorse.com.
TODAY'S PLACINGS
1. Tim Price on Wesko
2. Michael Jung and La Biosthetique Sam FBW
3. Michael Jung and Fischerrocana FST
4. William Fox-Pitt on Bay My Hero
5. Boyd Martin on Master Frisky
1:58 pm: Aaand our last of the day, Boyd Martin on Master Frisky, is home at 11:10!
Just a few time. We'll update with the current placings soon.
1:54 pm: Boyd and Master Frisky tick through the HOTL
PD and Mighty Nice home with just a few time!
1:50 pm: Boyd Martin and Master Frisky are the last pair to start, and they're over 7ab.
Phillip is clear through the HOTL.
1:48 pm: Phillip Dutton and Mighty Nice are started
We've heard James Allison had a fall from Tivoli at the Hollow.
Michael Jung is home! He finishes in 11:07! That's 1 second off the optimum.
1:45 pm: Reggie picks up a stop at the second element of fence 7. Buck's elected to retire.
Michael Jung is still cooking along.
1:42 pm: Buck Davidson and Ballynoe Castle RM at the start
William Fox-Pitt is home with some time (8.4) but no jumping penalties.
1:40 pm: Sam gets a rough trip through coffin, but still clear!
Liz Halliday has picked up 20 penalties at the HOTL, but WFP still clear. James Allison has started Tivoli.
1:38 pm: William is clear through double corners, and Michael Jung is clear at 6.
Lauren Kieffer has retired on course.
1:35 pm: We've just heard that Marilyn Little retired RF Demeter, and we're working on getting details
Michael Jung is soon to start La Biosthetique Sam, current co-dressage leader.
1:32 pm: WFP and Bay My Hero clear through 7
Lauren Kieffer picks up a run-out with Veronica at the HOTL.
1:28 pm: William Fox-Pitt about to start Bay My Hero
He's in third after dressage.
Lauren Kieffer is clear through 7, and Nicola Wilson is home jumping clear but with about 30 seconds of time.
1:26 pm: Gina retires SVR Ron on course after stops
Lauren Kieffer and Veronica are next to head out. Nicola still going strongly and clear towards the latter part of the course.
1:23 pm: Nicola Wilson has great ride through the HOTL.
Gina Miles very sticky through the Hollow and she chooses the C option there. Jennie Brannigan is still galloping, and now she's home with some jumping and some time penalties.
RF Demeter picks up 20 penalties when she stops into 9b, the last element of the coffin.
1:21 pm: Colleen and CR home! She picked up some time but looks very happy
Marilyn Little and RF Demeter head out now.
1:19 pm: Gina picks up a dead stop at the second table at fence 7 with SVR Ron.
Nicola Wilson has set out on her second mount, Annie Clover.
1:17 Gina Miles and SVR Ron on course, and the horse climbs over the table at 4a. They gallop on.
Ping falls through the second element of the HOTL and then runs out the C element.
1:14 pm: Jennie Brannigan on course
Colleen and CR are clear through 16ab, the mounds with the keyhole.
Jennie and Ping have a messy ride through the coffin, hanging a leg over the final element, but they continue on clear.
1:12 pm: Cover Rights clear the coffin at 9
Will Faudree is home with just a little time but no jumping faults!
1:10 pm: Colleen Rutledge and Covert Rights set to start
They were the highest-placed US pair after dressage in fourth.
Bill Levett has a disorganized ride through fence 7abc with Improvise, but they remain clear.
1:07 pm: Lynn and Donner are home with about 30 seconds of time but jumping clear.
Kevin Keane is on course and picks up 20 penalties at the 7b fence. Kevin then chooses the long way for fence 9, the coffin.
Will Faudree and "Missy" clear the Hollow fences.
1:05 pm: Lynn and Donner clear through the last water! They're galloping for home now
Will is now restarted.
1:04 pm: Will Faudree is held while they catch Collection Pass
1:02 pm: We've heard Allie Knowles retired on course.
Faudree has a clean ride through 4abc.
Collection Pass falls INTO the ditch at 11, but he gets up quickly, and he gallops off. Kate is also on her feet, being helped by medics.
12:58 pm: Kate Chadderton and Collection Pass on course
Lynn and Donner clear the HOTL. Will Faudree is about to head out on Andromaque.
12:55 pm: Allie Knowles retires at fence 14 after several stops on course
Donner slips before the a of fence 7, but he's clever and catty, and they continue on without penalty.
John Michael Durr has a third stop at the keyhole, fence 16a. He's eliminated there.
UPDATE FROM BOYD ON CRACKERJACK
"It's getting pretty torn up [on course]," he said. "My fellow started laboring about halfway, so I took my foot off the accelerator and decided to get him home and was well over the time. I'll have a bit of a crack at Master Frisky, try to go off the center lines, jump the galloping fences to the edges, and just have a crack at it."
12:53 pm: John Michael Durr sets out, and Lynn Symansky is soon to go with Donner
JMD picks up a stop at 9b, the last element of the coffin.
Katie Ruppel was eliminated after picking up a few stops, at fence 26.
12:51 pm: Amanda Wilson and Cool Decision clear the Hollow
Rachel McDonough tips over the neck of Irish Ryhthm at the B element of the mounds. She hangs on for several strides but then falls! The horse climbs on her a bit but she's up and walking.
12:49 pm: Rachel McDonough and Irish Rythm are out there now.
Lizzie finishes with about a minute of time but jumping clear.
Now we also have Allie Knowles and Sound Prospect on course.
12:47 pm: It's looking REALLY muddy at some points of the course
We're seeing a good amount of sliding on the approaches and in the turns.
Jordan is home with some jumping and a good amount of time penalties. Lizzie Snow clear the last water at 26ABC.
12:45 pm: Coal Creek slides and falls to his knees after the galloping fence at 20 but somehow gets righted. They're continuing on.
Katie Ruppel picks up a runout at the B element of the HOTL.
12:42 pm: Coal Creek slips badly around turn to drop at HOTL, but they get it done.
Holly Payne finishes! We're not sure about her time.
Revitavet Capato and Jordan are headed for home.
12:39 pm: Revitavet Capato has a sticky ride through the HOTL but clear
Lizzie Snow clear the coffin at 9.
Revitavet Capato picks up a stop at fence 16. Looks like he just lost momentum there.
Katie Ruppel and Houdini are next out of the box.
12:36 pm: Lizze Snow sets out on Coal Creek
Revitavet Capato climbs all over the out of fence 9b, almost falling to his knees on the landing, but she's up and galloping away.
12:32 pm: Jordan Linstedt sets out on Revitavet Capato
It's her horse's first four-star, and he's looking like he's having an easy trip through fence 7abc. Jumping huge though!
12:30 pm: Dressage leaders Tim Price and Wesko are home clear! We're waiting on the time now.
12:20 pm: Tim back on track and clear at the last water, 26abc
Holly Payne and Never Outfoxed are on course now.
Dana Widstrand is home with no jumping faults!
12:16 pm: Dana Widstrand also on course with Relentless Pursuit
Pirate has set out and she's over the first three easily. Tim is still waiting to restart.
12:24 pm: Anna Collier is restarted, and she's galloping towards fence 17.
Her horse reaches for the corner at 18 in the Hollow, but they're clear there.
Meghan and Pirate still waiting to start.
12:21 pm: We're still on a hold here.
Tim has actually dismounted and is hand-walking Wesko around.
12:15 pm: Tim and Wesko are clear through the HOTL, looking like they're having a great trip so far
Meghan O'Donoghue is heading out next on Pirate.
Tim's horse is galloping very strongly, ears pricked.
Erin Sylvester home jumping clear with just 3.6 time. Tim and Anna Collier are both held at the same place on course now to fix the corner where Mackenna fell.
12:13 pm: Wesko clear at coffin but Landioso hangs a leg in second of double of corners and falls. Mackenna is sitting up, and Landioso popped up right way.
12:10 pm: Maya Black home clear, while co-leader Tim Price and Wesko set out!
12:08 pm: Mackenna clear through coffin at 9
Anna Collier and Gleaming Road are on course now. Erin Sylvester is through the Hollow, 18.
Maya's horse still galloping strong towards the end of the course.
12:06 pm: Mackenna Shea and Landioso are away
They're currently the second-highest place US team after dressage in sixth. Mackenna's only 22!
Doesn't Play Fair goes through the Hollow at 18abc clear.
12:04 pm: Maya Black comes through HOTL quick and clear
Her horse is being super catty! They are really slipping on the turn approaching the drop into the HOTL.
12:03 pm: Boyd home on Crackerjack with just time penalties
Erin Sylvester leaves the box on No Boundaries. They had a bit of a bummer dressage test yesterday, so they'll be looking for a better time today.
Share Option adds a stride at second element of HOTL and climbs over it a bit, but they remain clear and gallop on.
12:02 pm: Share Option through 9 clear
Maya Black's Doesn't Play Fair looking very excited to head out on course at the start box!
12:00 pm: Lillian Heard and Share Option on course
Jolie's horse stumbles hard on landing after jumping into the HOTL, and then she picks up a runout at the B element. She elects to retire as she also had 20 at fence 4.
11:55 am: Sharon White retires Wundermaske after a second stop at fence 16
Buck Davidson is home with Petite Flower, no jumping penalties! Just a few time.
Jolie has a lovely ride through the coffin.
Boyd Martin and Crackerjack through the Hollow at 18abc.
11:53 am: Phillip brings home Fernhill Cubalawn with just a few time penalties.
Buck and Petite Flower clear through the Normandy Bank at 23abc.
Jolie Wentworth and Goodknight are now on course, and Boyd and Cracker are through the coffin at 9.
11:50 am: Petite Flower clear the HOTL
Sharon White has an incident at one of the galloping fences, and she's nearly unseated! But she stays on and they clear it on second attempt.
Boyd Martin and Crackerjack are on course now. This is his first of two for today.
Buck has a little bit of a rough ride at the Hollow, but he remains clear.
Phillip Dutton also gets a rough go of it at the Water Park at 26abc, but he sorts it out and also stays clear!
11:46 am: Buck takes the long way at the coffin but clear with Petite Flower
We've just heard Bunnie Sexton is home clear with Rise Against! Just some time.
Sharon White and Wundermaske are on course now.
11:44 am: Phillip Dutton is spot on through coffin at 8/9 with Fernhill Cubalawn
Buck Davidson and Petite Flower are on course now. They're very tidy through 4abc.
11:40 am: Austin O'Connor retires on course
Phillip Dutton and Fernhill Cubalawn are on course now. We're awaiting an update on what's happened with Austin's mount.
Ellen still galloping along, and she's home now! She has 20 penalties for jumping and quite a few time as well.
11:38 am: Angela Grzywinski is on course with Novelle
They're through fence 4abc with a looong spot at the C element. Bunnie Sexton and Rise Against are through the HOTL, and they're clear so far!
11:36 am: Dambala home with just some time!
Ellen goes clear at the HOTL, just a little sticky at second element in the water. She's also clear through the keyhole elements and the Hollow. Austin O'Connor's giving his horse a masterful ride here at the early parts of the course.
11:35 am: Dambala through the double corners clear
Ellen takes the option at the coffin, 9ab, and then has a very sticky ride at 11, the ditch brush. Austin O'Connor's horse also nearly climbs all over fence 2! We're not sure what's happening there.
11:30 am: Ellen Doughty-Hume has a runout at C element of fence 4 when horse climbs over B element before it, nearly unseating Ellen
Dambala clear through HOTL.
Austin O'Connor is away now.
11:27 am: Bobby Meyerhoff's horse sticks a leg into the second of double corners, but they stay upright and are clear
Emily and Dambala a bit sticky through coffin, but they sort it out and remain clear.
Sir Oberon and Ellen Doughty-Hume are on course now.
11:25 am: Jimmie's fallen from Bellamy at fence 25. She's up and walking.
Dambala nearly slides into fence 2! But they're clear, and they've moved on now.
11:22 am: Jimmie's restarted
She took the option at the Hollow, and came pretty close to getting tangled in the ropes on the side, but she's continuing on. It's really raining now!
Jimmie clears the double of corners. Emily Cammock starts out with Dambala.
Bobby Meyerhoff also on course, and he clears the HOTL
11:18 am: Francis home on Easy Target
Officials are still working to fix that corner.
UPDATE FROM COLLEEN RUTLEDGE ON SHIRAZ
"He's so incredibly honest, I'm so blessed to have a horse like him," she said. "He makes this ridiculously fun. He is phenomenal, like he IS phenomenal. I've said it all weekend, and there's nobody else I'd rather go out on first in the world. If it was a true military test, and we had to go somewhere and had no idea where, he'd be the only horse I would pick. He's so game, so bold and so smart, and that is a combination you don't find very often."
11:15 am: Jimmie through the HOTL and then held
We're on a hold right now while they try and fix this corner!
11:14 am: "That was a tranter to the keyhole," says commentator Karen O'Connor about Easy Target
Jimmie is clear through the coffin at 9.
Lisa has elected to retire at 21.
Francis' horse climbs all over the corner coming of the Hollow, and the corner is broken now!
11:10 am: Prince Charming stops dead at the keyhole at 16, and then takes a massive effort the second time through.
Jimmie Schramm and Bellamy are on the track now.
Lisa Barry sticky through the Hollow, but they gallop on clear there.
Francis clear the HOTL.
11:10 am: Lisa takes the option at B of the HOTL after a little bit sticky effort into the water.
Easy Target jumps HUGE over the 7b for the Frog Pond.
11:07 am: Lisa Barry and Prince Charming having great efforts through the first water at 7abc
They're also clear through the coffin at 8/9ab. Francis Whittington sets out on Easy Target. His horse nearly banks off fence 2! But theyr'e galloping on. The horse really picks up his knees through 4abc.
11:04 am: Barb Crabo has taken a spill off Everready at fence 4, but she's up and walking away.
Lisa Barry and FIS Prince Charming are through fence 4abc.
11:02 am: Eiisa Wallace home just over the time!
Sara K has a fairly easy ride through the HOTL.
UPDATE FROM MICHAEL JUNG: "Today was not so easy because of the weather; the ground was a little bit slippy, and she starts to get little bit shy in the beginning, on fence 4 and a little more on the coffin [at 9], but then she knew the ground, and she went better and better," he said. "I have to fight a bit more than normal, but she did a really great job and was galloping absolutely fantastic at the end. I'm pushing her little bit, and so in the end we're in the time, but I'm happy about the horse."
11:01 am: Elisa clear through the Hollow
Simply Priceless is looking like he's tiring a bit, but they're pressing on. Sara K's clear through 4abc. Cody Sturgess is home, but we're hearing he picked up 20 somewhere on course.
11:00 am: Simply Priceless sticky through coffin but clear
Cody's clear through the Hollow at 18abc. Sara Kozumplik Murphy sets out on Fly Me Courageous. Elisa has a great, bold ride through the HOTL.
10:55 am: Cody Sturgess clear through HOTL
Elisa Wallace is on course with Simply Priceless, and they're clear through 4abc, taking the long spots all the way through.
10:50 am: Tim Bourke is home!
Cody Sturgess is on course with Imperiad Melody. Caitlin Silliman and Catch A Star are headed home.
Julie Norman has a runout at final element of the HOTL, and she's eliminated there.
10:45 am: Sparrow's Nio home with the 20 and time
Julie Norman and Consensus are now on course. Sally and "Sue" twist over the skinny in the water at the HOTL, and Sally pops off. Sally is wet but up and walking around, and her mount looks fine as well.
Consensus has a rough go through 7abc, and they miss the flag on C element on the first try. They clear it on second attempt, and they're off. She has a stop the final element of the coffin as well, and she takes the option there and keeps on.
10:42 am: Sally Cousins and Tsunami are on course
Sparrow's Nio through final water at 26abc.
Caitlin Silliman elects to take the options through the HOTL.
Sally Cousins through 7abc.
10:40 am: Kristin Schmolze home with time but jumping clear
Catch A Star through 4abc. Tim Bourke gets a lovely ride through HOTL after slipping on approach to the drop.
Sparrow's Nio has a great go through the double of corners at 21ab.
Caitlin and Catch A Star have a sticky go through 7ab, but they make it through without penalty.
10:38 am: Sparrow's Nio easily through coffin; Laine home with Anthony Patch
Tim Bourke is on course now as well. Sparrow's Nio picks up 20 at the skinny in the water after the drop at the HOTL. They take the option out and are on their way.
Catch a Star and Caitlin Silliman start out on course
10:37 am: Parker home without jumping penalties
Allie Sacksen and Sparrow's Nio are on course now. The rain's picked up outside.
Laine through the final water at 26abc and headed home.
The adorable Sparrow's Nio makes easy work of the first water at 7.
10:35 am: Kristin Schmolze clear through HOTL
Laine's giving her horse a quiet ride now.
Elinoir McPhail has a sticky trip through the Frog Pond and 7ab, but she's through it.
And then Elinoir takes a fall at 9b of the coffin, the final element. She's up and walking away.
10:32 am: Laine's through the HOTL, carrying her 20 penalties
Kristin clear through the coffin at 8/9ab. Laine's Al takes such a big jump through the keyhole that she loses her helmet cover on the top of the brush.
Eli McPhail and RF Eloquence are on course and through 4abc.
10:30 am: James Alliston's Parker hangs a leg jumping into the Hollow, but James sits tight, and they're through and clear!
Kristin Schmolze and Ballylafin Brackin are now out and over the first 4.
Laine's had a stop at the b of the coffin, fence 9. That's the final element of the coffin, which is flagged 8 and 9ab. They take the option, and they're away.
10:25 Laine Ashker and Anthony Patch on course
Laine and Al are seventh after dressage.
Michael Jung is home within the time!
10:23 Michael restarted
He's going at an easy and good clip again. Parker is also restarted after a brief hold for him and James Alliston.
Parker clear through the HOTL.
10:21 am: Michael is being held. Jessica Phoenix has fallen from A Little Romance at fence 22, and Selena O'Hanlon has retired after two stops at 13 and 14, the Head of the Lake.
We're waiting on an update on Jessie.
10:20 am: James Allison and Parker on course
Nicola Wilson is clear with her first ride, and she's home with 14.8 time.
Michael still ticking along, through the Land Rover Hollow. His mare is so light and quick across the ground.
Parker is through 4abc.
10:17 am: Michael has a sticky ride through the coffin, but he's still clear! His mare really peaked at the ditch, but Michael sat perfectly balanced, and they sorted it out. He's giving her plenty of pats around this track.
Jessie's horse is galloping great. Michael has a blazing trip through the HOTL, makes it look super easy.
Canada's Selena O'Hanlon is on course now and through the first few.
10:15 am: Michael Jung and Fischerrocana are on course!
Nicola's clear through the Land Rover Hollow. Michael Jung clear through 4abc, going at a good clip!
Jessie's little but mighty mare is looking happy galloping through the HOTL, and she has no problems there.
10:10 am: Jessica Phoenix heads out with A Little Romance
Buck Davidson and The Apprentice are clearn through 25. Werner has decided to retire at 18c at the Hollow.
Nicola Wilson and Watermill Vision are also on course, and though her horse takes a huge jump over the B they're through and onwards.
10:08 am: Will Coleman's over the last and home, inside the time!
10:07 am: Werner picks up 20 at the first part of the Park Question at 9, but he's continuing on now.
10:06 am: Phillip's home with some time
A clear round but they're saying about 30 seconds worth of time penalties so far.
10:05 am: So far, not so bad with the weather
It is raining but not too hard! Buck and The Apprentice are clear at the coffin at 9.
Will and Obos O'Reilly make easy work of the Land Rover Hollow, 18 abc.
Werner Geven and Vandiver are away next.
10:00: Will Coleman's next out the box with Obos O'Reilly, Colleen and Shiraz are home clear!
We're waiting to hear if Colleen's inside the time, but it looks like it so far.
Phillip and FF have a rough ride through the Head Of The Lake, but they're still clear there.
Will Coleman's mount makes easy work of the HOTL after slipping at the fence right before.
Buck Davidson is next out with The Apprentice, and they're clear through 4abc.
9:55 Phillip Dutton and Fernhill Fugitive head out
Phillip's through the third, getting in a nice and galloping rhythm. Colleen and Shiraz are through the Hollow. Everything is looking easy for them today.
Phillip's through the coffin at 9 a little messily, but PD gets it done!
9:49 am: Colleen is out and away!
This is her very experienced partner Shiraz; he's completed four-stars all over the world. They make easy work of the first three galloping fences.
The first combination is at 4abc this year, the Market Moguls. Shiraz takes a flying leap over the giant table at 4a and then is quickly through b and c. No issues through the coffin at 9 for Shiraz. This horse is a super galloper and jumper; he gets an interesting spot at the ditch brush at 11, but he's so athletic it's no problem. Easily through the Head of the Lake as well!
9:38 am: Colleen Rutledge will be first out on Shiraz at 9:45
We can see her circling around in the warm-up. She leaves the box at 9:45 am, and then Phillip Dutton heads out on Fernhill Fugitive at 10. After Will Coleman and Obos O'Reilly leave at 10:05, we switch to three-minute intervals with the times. Colleen's smiling and looking relaxed as she walks around the start box.
9:15 am: THE WEATHER is the talk of the morning
This is the green blob we're currently under here at the Kentucky Horse Park. Not too bad, but conditions are expected to worsen as we head into the afternoon hours…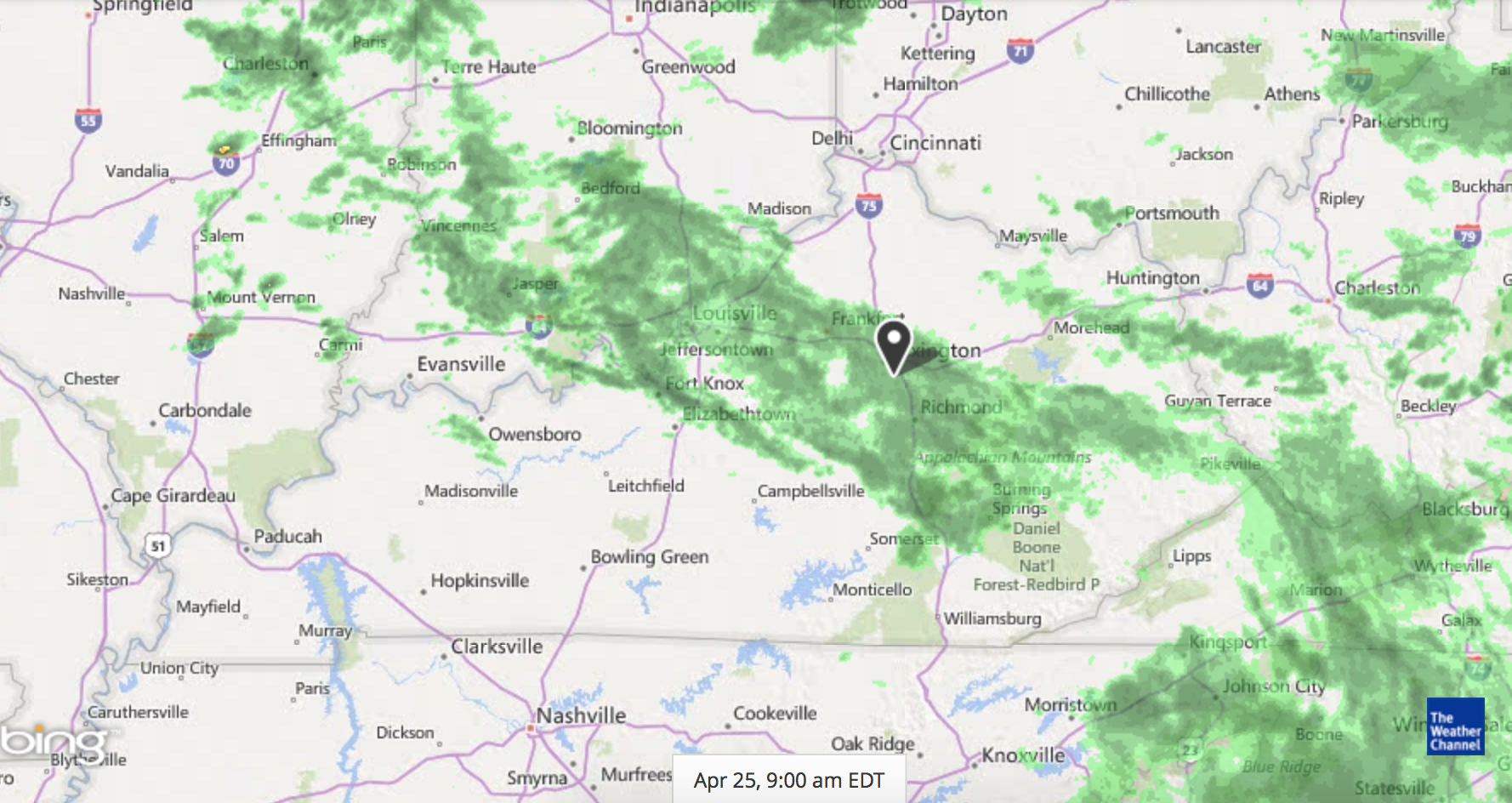 9:00 am: A Few Withdrawals This Morning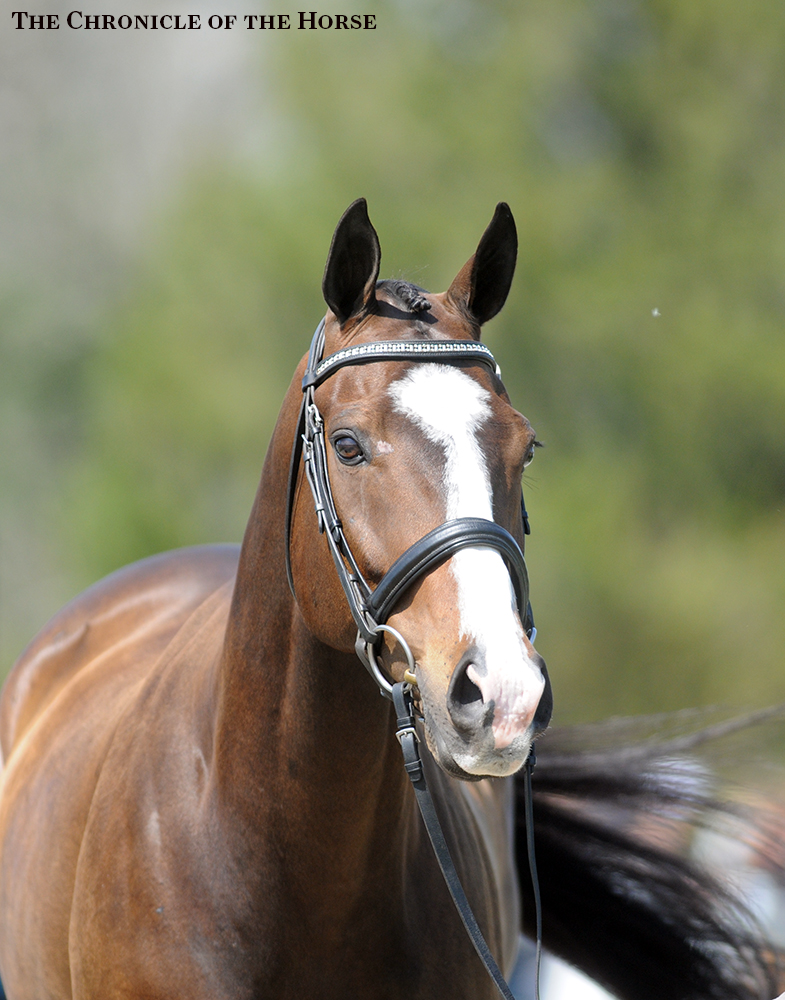 (AP Prime at the first horse inspection)
So far today we know of two withdrawals. The first, Canada's Jessica Phoenix and Pavarotti, was expected as Jessie said she was only doing dressage with that mount. She'll still ride A Little Romance around cross-country later today.
Leah Lang-Gluscic just posted on her Facebook that she won't be running A.P. Prime today.
"Just made the toughest decision of my career," she wrote. "The plan after the Fork was to always check AP one last time before cross country. My vet couldn't tell me that there wasn't any increased chance of injury at this point, so I have withdrawn him. Given the weather and that AP is the horse of a lifetime, I feel good about my decision, but am completely gutted. I'm so sorry to all of his fans who were so looking forward to watching him go around this awesome track in beast mode. Next year…"
We'll keep you updated if anyone else chooses not to run today.
Check out all the Chronicle's coverage from Rolex Kentucky CCI****.
For a full report from Rolex Kentucky CCI****, check out the May 11 issue of The Chronicle of the Horse.
Also follow along with the Chronicle on social media on Twitter, Facebook and Instagram.