Omaha, Neb.—April 1   
For about 45 minutes on Friday afternoon, spectators at the FEI World Cup Finals enjoyed a real treat—watching German rider Isabell Werth, who has 10 Olympic medals and seven World Equestrian Games medals to her credit, teach riders on three different horses.
The horses were a 5-year-old, a 7-year-old and an 8-year-old, and Werth sought to explain what she looks for in each step of development of a young horse on the way to Grand Prix. As she helped Karen Pavicic, Endel Ots and Sabine Schut-Kery with their horses, the concepts she used were remarkably simple, yet showed just why she's winning with Weihegold OLD, a horse judges like to describe as absolutely correct and relaxed.
With each horse, no matter how advanced its training, there were three main principles Werth focused on—inside leg to outside rein, establishing and maintaining a rhythm, and using lateral work to help develop engagement and connection.
The seats in the CenturyLink Center were packed, and a European journalist commented to me how surprised she was to see so many people so enthusiastic about the educational opportunity. But chances to see masters like Werth teach are few and far between in the United States, and the spectators paid rapt attention. Werth put on a fantastic show—she is just as gifted a teacher as she is a rider and trainer, and she seemed genuinely interested in helping the horses develop in her limited time with them—about 15 minutes per horse. When announcer Nicho Meredith would warn her of running out of time, she would fire back with a witty response and just keep on teaching.
Before Werth started helping Pavicic with the 5-year-old Hanoverian stallion Totem (Totilas—Denebola, Donnerhall), she described what she thinks is essential for a prospect for the FEI levels. "What do we look for when we choose a horse for dressage, with the challenge and the goal for developing a Grand Prix horse?" she said.
"First, we need three very good gaits—walk, trot, canter, without weaknesses. There needs to be no real weakness in the basic movement. Then they need very high rideability and a good mind. They have to love to move and love to go forward. And they have to have a lot of elasticity. These qualities make the difference between a good horse and a great horse," Werth said.
As Pavicic walked Totem, Werth complimented the chestnut's open walk, ample overstep and poise in an electric atmosphere. She noted as Pavicic picked up the reins at the walk: "When picking up the reins, the horse needs to trust her and have confidence to look for the reins, so there is a positive weight in your hands," she said.
As Pavicic and Totem moved into a trot, Werth encouraged her to first establish a good connection. "Find a good contact from behind to the bit, then start to do half-halts. First you have to have the horse from behind and in a good rhythm," Werth said.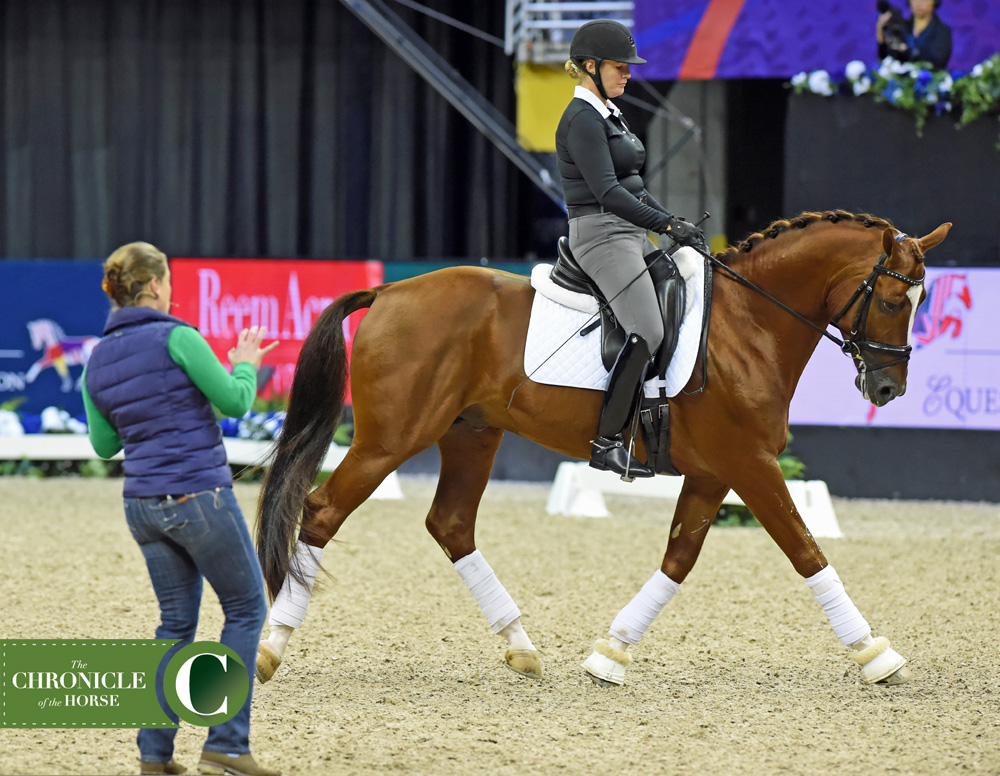 Then Werth helped Pavicic work on suppleness and emphasizing Totem's swing in the gait. "Most important thing in education of the young horse is to make them more flexible, more supple and more elastic," she said. Werth uses shoulder-in as her primary tool in this quest, and she noted that ages 5 and 6 is a good time to "prepare and perfect the shoulder-in," she said. She guided Pavicic through shoulder-in and bending to the inside but cautioned against using the inside rein too much.
"Inside leg, outside rein—I can't say how often I say this when I teach my students and when I ride myself," Werth said. "Don't interrupt the swing or rhythm with the inside rein. Let them swing from behind."
Werth then had Pavicic start some shallow leg yields. "Sit and use the outside rein," she said. "The most important thing when starting sideways work is to not lose the rhythm. You need to keep the same rhythm without interrupting. In the beginning of lateral work, you want less flexion but a free shoulder. Little half-halts help the horse swing. The sideways work makes the horse more elastic."
As Pavicic moved into the canter work with Totem, Werth encouraged her to emphasize the jump in his canter. "The transition [from trot to canter] needs to always come from behind so he jumps into the neck. Let him jump in the canter. As soon as you have a horse on the inside rein, you block the horse on the inside leg, and you lose the rhythm and the jump," she said. "The inside leg defines a good clear, big jump in canter."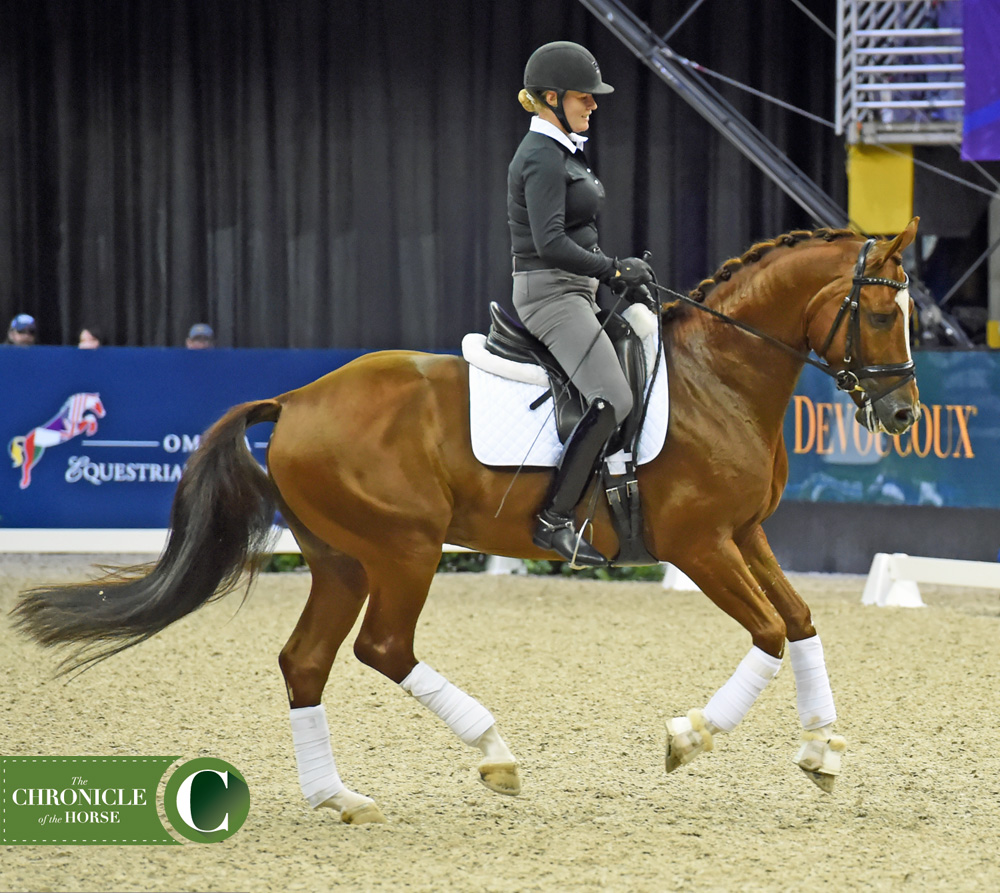 Werth was impressed that Pavicic did a flying change when changing rein at canter. "Ha!" she said. "That's good. Everybody who started with young horse, the first flying change is like winning a Grand Prix."
The Next Generation
Werth then moved on to help Endel Ots on the 7-year-old Hanoverian Lucky Strike (Lord Laurie—Heidi), who won the Markel/USEF 6-year-old National Championship (Ill.) last year and has shown a few times in the Developing Prix St. Georges during the Adequan Global Dressage Festival (Fla.).
"Now we have the next generation with a 7-year-old," Werth said. "Here we see a nice, long swing. Now what do we need to build and improve this horse in the direction of Grand Prix? I would start with much more flexion and bending with shoulder-in. The swing is nice, but for the daily work I would try to make it a little quicker and smaller—less trot. You want little, quick steps with flexion."
Werth advised Ots to incorporate more bending into his work with Lucky Strike. "Keep him in front of you, and always try to flex more," she said. "He becomes more low behind and up in the neck and safe in the contact when you work in the flexion."
Ots moved on to the half-pass work and Werth noted a few times that he needed to lower his left hand and sit in the direction of the movement. She noted that Lucky Strike needed a better connection in the reins. "You need better contact. Everything you do in sideways work will help him to come to the bit and open his neck. Have horse look for the contact," she said. "This horse is a little bit too light in your hands. He needs to have more confidence in the bit, and then you'll get more flexion and balance. But that is always a question of months and years, not this 10 minutes. Step by step, you get more connection, and he starts to find a longer rhythm."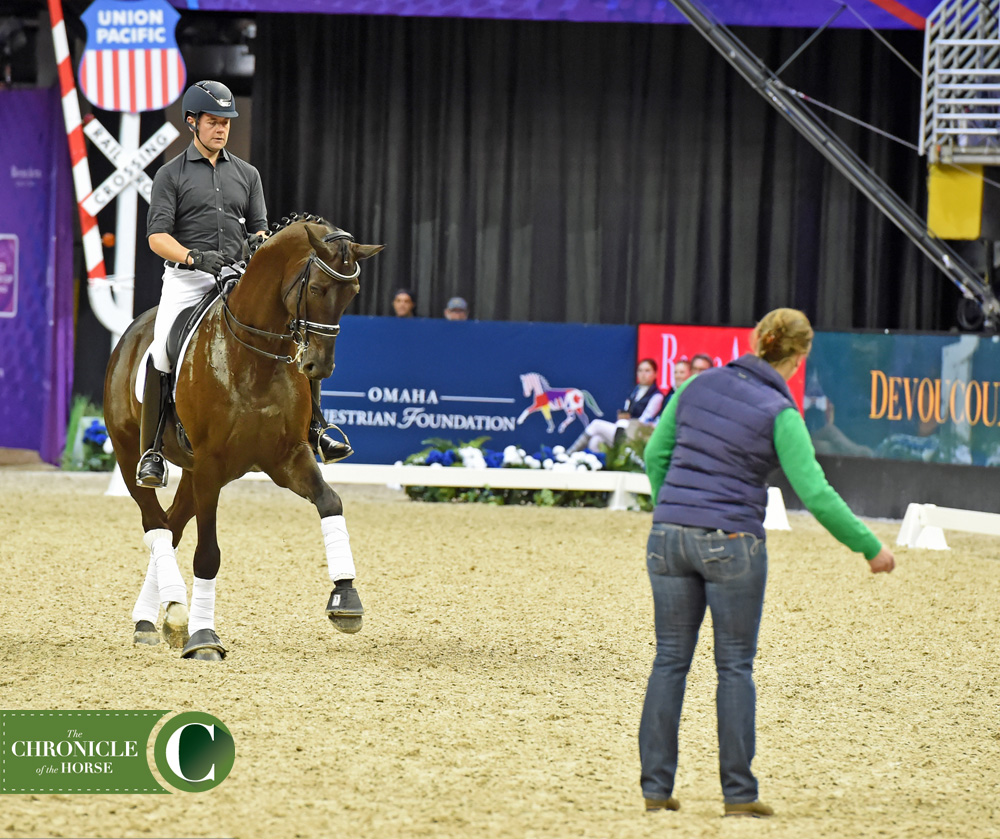 When Ots immediately dropped the reins for free walk, Werth chided him. "Not like that! He should take the rein! Don't throw away the reins!" They went back to the walk on contact, got the horse back on a genuine contact by bending, then Werth had Ots lengthen the reins gradually.
After a bit of a walk break, Ots and Werth worked in canter. Werth made sure Lucky Strike was honest in the connection before she let Ots canter. "Only start with canter when the walk is correct. It's a mental thing that the horse knows good walk before canter," she said.
As she did with Pavicic, Werth emphasized encouraging the horse's jump in the canter. "Good jump is the first goal," she said. "When you have the jump, you can start with half-pass and flying changes. You need a good basic canter with good jump first."
In the canter, half-pass, Werth cautioned Ots against shortening Lucky Strike's stride with his inside rein. "Too much inside rein," she said. "You want a really free shoulder.
And then in the flying changes, Werth emphasized straightness. "Before you change with a young one, the canter needs to be straight. Only a good canter can bring a good change," she said.
Werth seemed eager to keep working with Ots and Lucky Strike, but had to move on due to time constraints.
Start With Flexion Then Go Forward
Last in was the 8-year-old Hanoverian mare Hellohalli (Hochadel—Donata), who is showing at Intermediaire I. Hellohalli was a more nervous and hot type than either Totem or Lucky Strike, and was fired up by the audience's applause.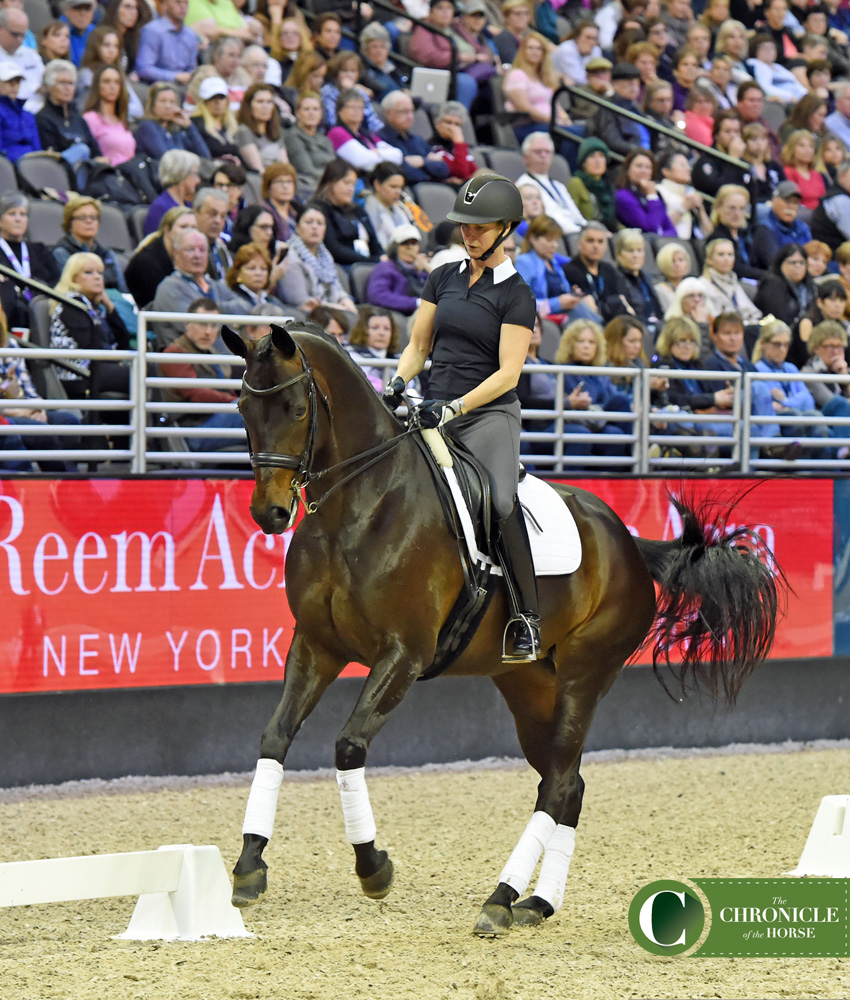 Werth focused on using shoulder-in and lateral work to help Schut-Kery lower Hellohalli's croup and increase her engagement. "Here we have to try to bring the croup lower and lower and to open and lift the shoulder," she said. The way she told Schut-Kery to do that? With the inside leg, and by sitting deeply and still.
Werth had Schut-Kery work in shoulder-in and half-pass at the trot quite a bit, looking to help establish a tempo in her pace. "When you start with half-pass, start with cadence and control, and then once safe in half-pass look for a little more forward and freedom," she said. "Start with flexion and control and then you go forward and look for more swing and fluidity."
In the canter work, Werth helped Schut-Kery use the shoulder-in and half-pass to help develop the collection needed to work on pirouettes and flying changes. "Keep more collected and sit heavy so she gets lower behind in a long jump. When she's more quiet, you can ride a bit more so the jump becomes bigger," she said.
When Schut-Kery started in the flying changes, Werth noticed that after the first or second change, Hellohalli would get a bit tense and short. She urged Schut-Kery to keep a better connection to solve the problem, telling her to work on getting the shoulder more free. "Get a bit more connection and contact between the changes," she said. "You want her to try to go forward through the reins."
Werth asked Schut-Kery if she'd attempted one-tempis with Hellohalli yet, and Schut-Kery replied that she had not. "No time like now!" Werth said. "Go ahead."
Schut-Kery twice got a single nice, clean and relaxed one-tempi change, and looked thrilled. Werth chuckled a bit, obviously happy with the progress.
Throughout all their work, Werth advised Schut-Kery to keep things slow and let Hellohalli find the rhythm that she's comfortable in. And when the mare was getting tense and spooky about the flower boxes by the ring, Werth had a pretty simple solution—to keep the mare slightly off the track to the inside to minimize her reaction to the flowers.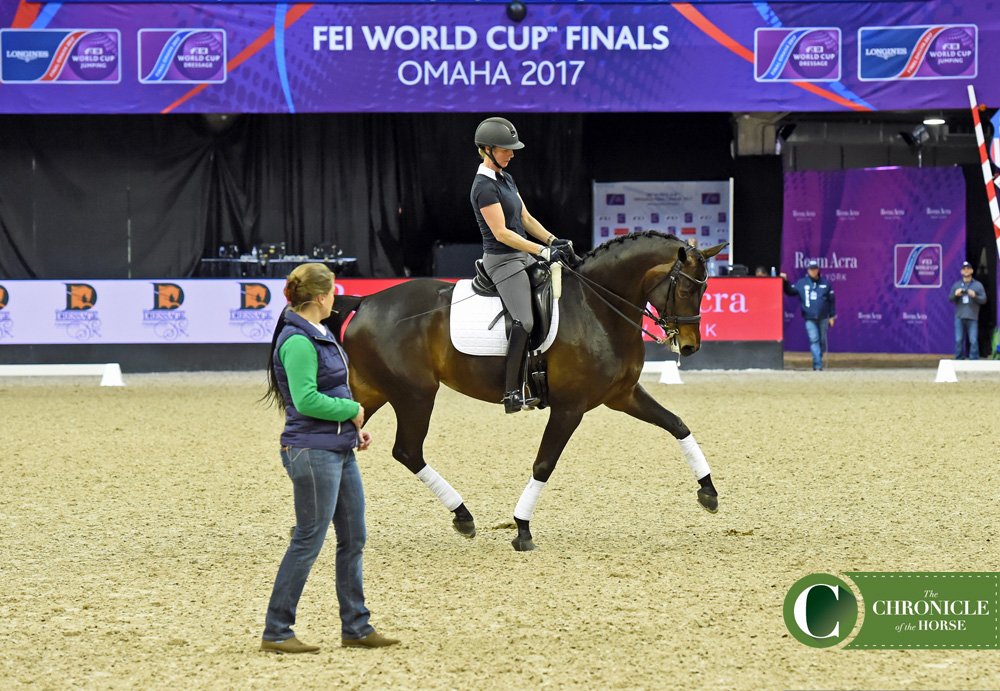 Werth is a gifted teacher, one of those who seems to ride along with the student as she talks them through a movement. Her words were peppered with the soothing "so," pronounced with the z sound, that's prevalent in German. And she seemed genuinely delighted when a horse and rider improved in front of her.
Watching Werth ride is a treat; watching her teach was even more so. There were no fancy tricks in her teaching, just solid basics of inside leg to outside rein, an effective connection, and using lateral work to help engage the hind end.
Have you missed any of our FEI World Cup Finals coverage? Werth and U.S. rider Laura Graves are going to go head to head in the Grand Prix freestyle for the World Cup title and you can follow along round-by-round. And U.S. rider McLain Ward is leading in the Longines FEI World Cup Jumping Final heading into Sunday's last rounds. CLICK to read all of the Chronicle's World Cup Finals coverage.
The Chronicle will have live blogs of competition sessions, Twitter updates, photo galleries, stories about each day's competition, and so much more on www.coth.com. Don't miss a thing—we'll have everything you need to know. Also make sure to follow along on the Chronicle's social media outlets: Facebook, Twitter and Instagram.