As Chronicle staffers covering competitions around the world, we take thousands of photos each year. Some of our favorite pictures are ones you might expect—riders winning major championships or smiling on a podium—but others make the list because they demonstrate a particularly strong bond between horse and rider. Still others were captured in beautiful light or under a clear blue sky.
Check out our top picks of pics for 2014: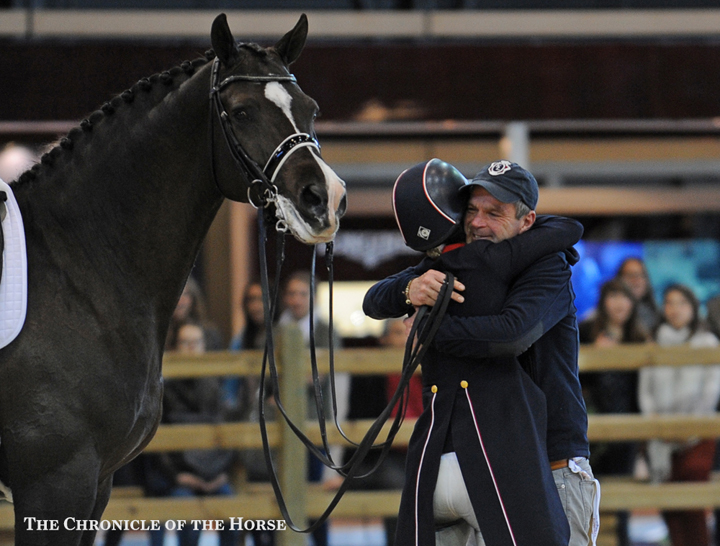 Some of the best moments don't happen in the ring. i just happened to be lurking at the side of the schooling area at the Longines FEI World Cup Dressage Final in April to grab interviews and had a camera in my hand. Winner Charlotte Dujardin came out of the ring and embraced Valegro's groom, Alan Davies, with such unabashed joy that it really moved me. So much so that I knew I had to write about Alan, which I did for an issue of The Chronicle of the Horse Untacked in the fall.
– Photo by Molly Sorge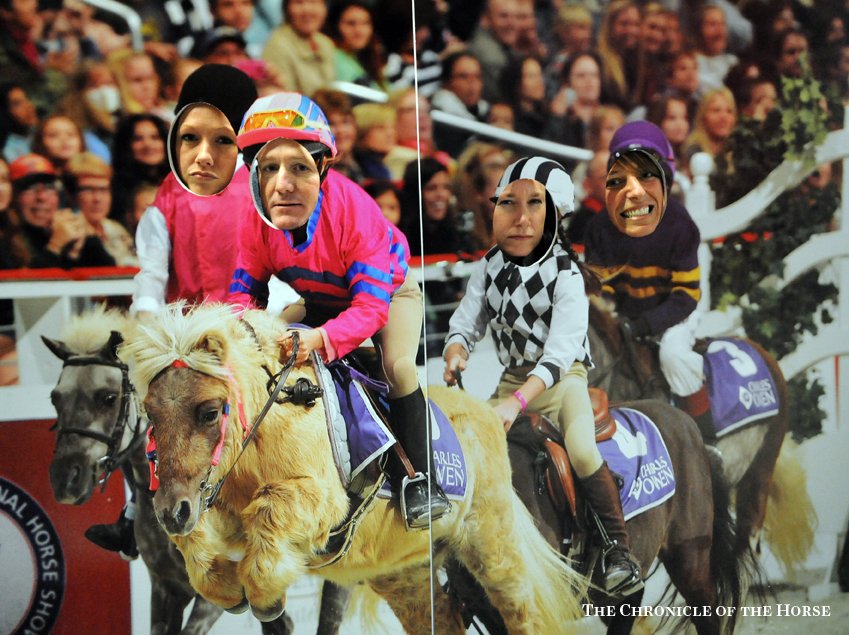 What's not to love about this hysterical photo? McLain Ward (second left) mugged for the Shetland pony racing cut-out shot with Lauren Fisher (left) and Jennifer Wood (second right) of the Washington International press room and the Chronicle's own Mollie Bailey (right). Of course, McLain got to ride Cricket, the winning pony.
"Make sure you're serious," McLain said. "We're competing." Mollie didn't follow directions.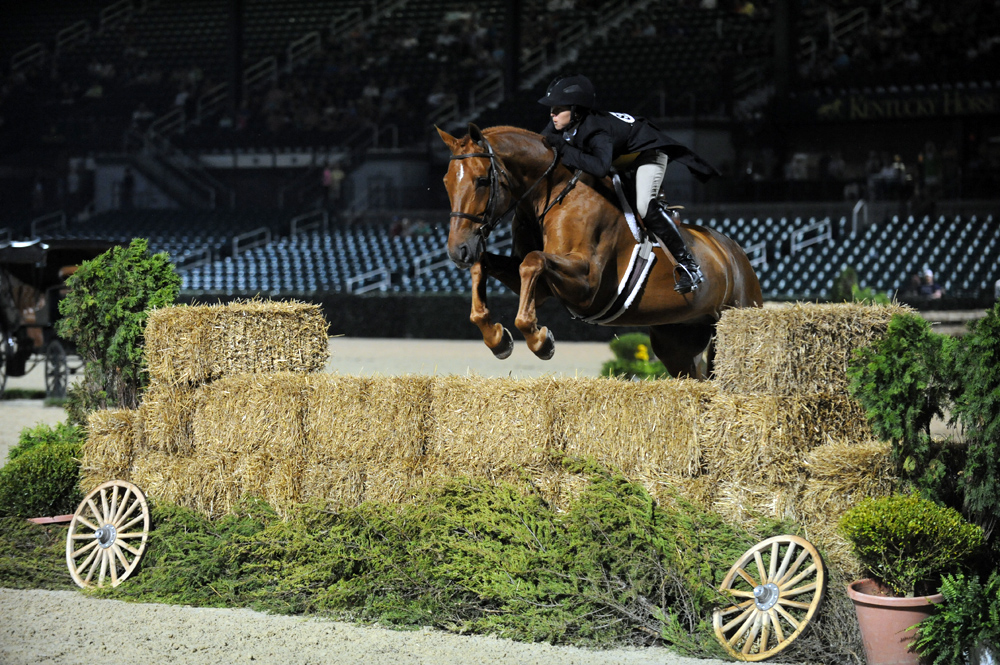 A journalist's first year at the Chronicle can be rough if she has zero photography experience.
At least I thought so—this photo of Liza Boyd and Brunello putting in a stunning round at the USHJA International Hunter Derby Championships (Ky.) in August took my breath away. Actually, it was more a gasp of relief that I managed to capture a decent image of her jumping to the title for the second year in a row, just three months after giving birth to her daughter. That after several misses—some of my shots were too early, too late, out of focus, poorly-angled—I had put it all together.
Looking back, would I rather have adjusted my camera settings for the lighting a tad more accurately? Yes. Would I have positioned myself a bit more wisely during the awards ceremony to capture a candid emotional pat, or Liza's beaming smile as she led the victory gallop? Absolutely.
But, however dark or ordinary-looking, the photo represents a personal victory and a year of learning. Let's just say my editors and co-workers have been pretty patient as I've picked up photography, and the tact required to get that perfect image to accompany a story. 

Cheers to Liza, determination and a little luck.
– Photo by Taylor Joyce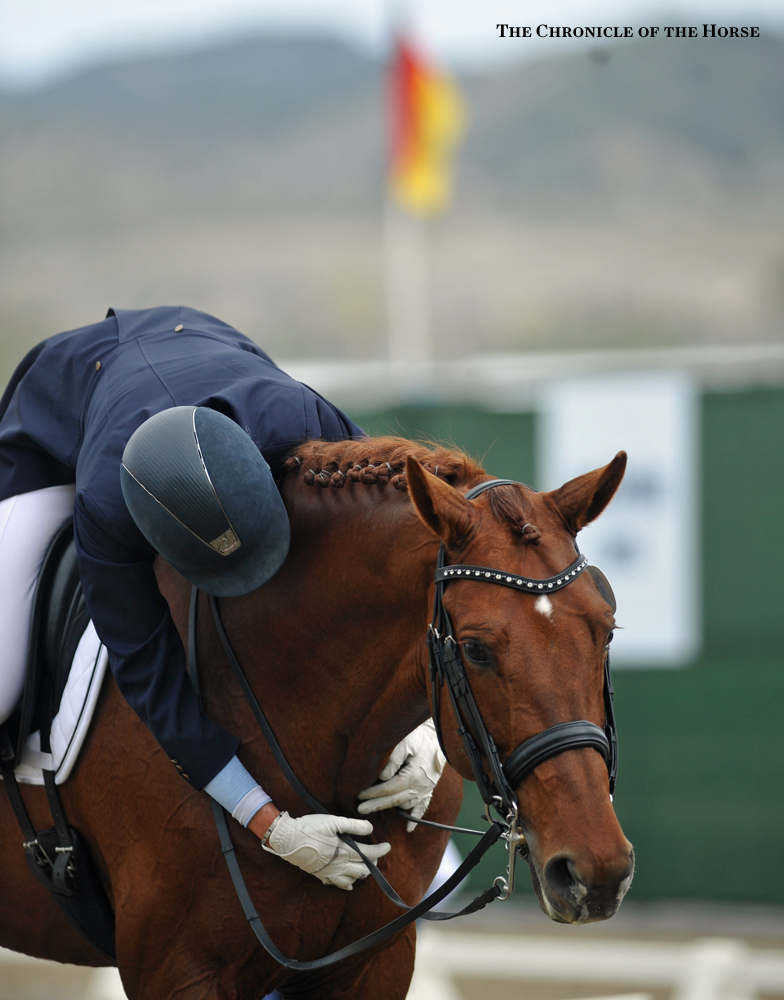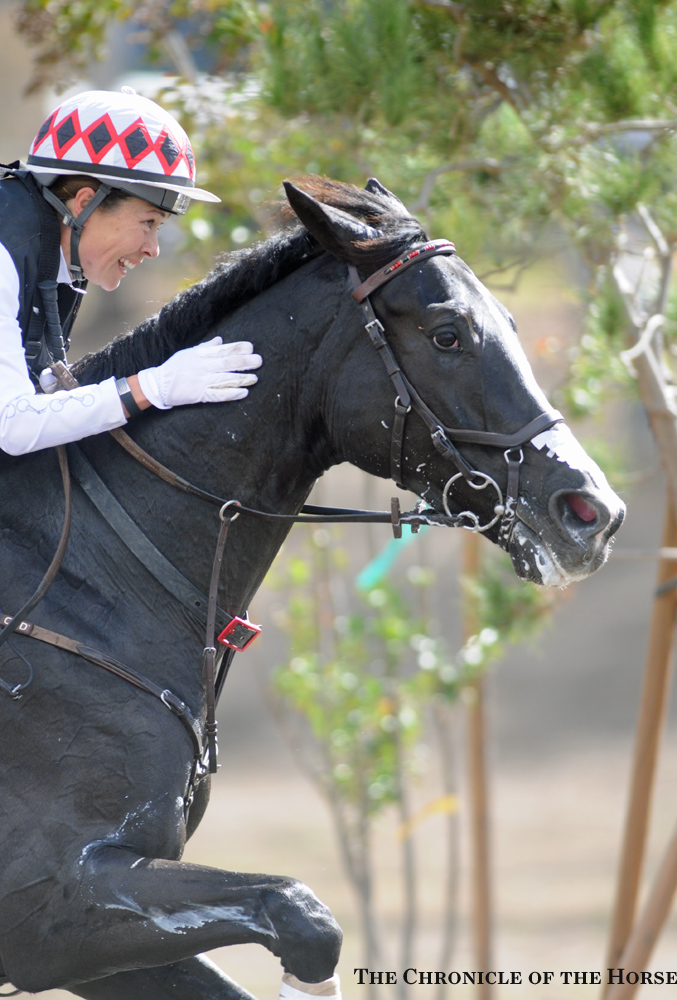 That moment of appreciation a rider gives his or her horse after a great ride is always fun to capture—during that ride is harder but just as rewarding. On the left, Charlotte Jorst thanks Vitalis for a great test at the San Juan Capistrano CDI (Calif.). On the right, Jennifer McFall shows High Times some love while on the cross-country course at the Galway CCI*** (Calif.) – Photos by Lisa Slade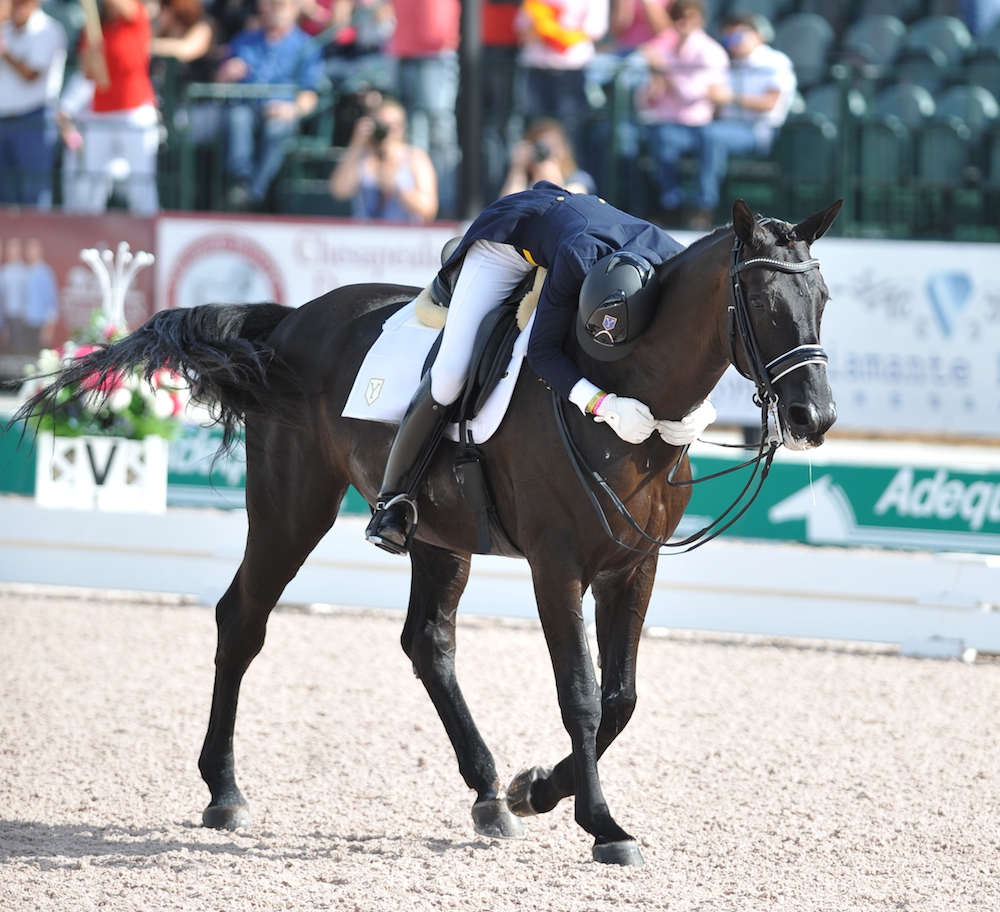 Juan Matute Jr., had quite the winning streak this Florida season with Don Diego YMAS on the small tour and he was such a pleasure to speak with, especially for someone so young. – Photo by Lindsay Berreth
Jennie Brannigan's elation at jumping a clean show jumping round at the Dutta Corp Fair Hill International CCI*** with Cambalda was infectious. She couldn't even watch as overnight leaders Boyd Martin and Master Frisky jumped their round, ultimately dropping a rail and giving her the win. – Photo by Lindsay Berreth
Sometimes, the fun of photography is catching horse and rider in a moment of intense concentration and fierce joy in their performance, which is what this photo of Sir Donovan and Phillipa Humphreys competing in the Galway Downs CCI** conveys.
- Photo by Lisa Slade
Adrienne Marciano was beside herself to win the $20,000 Show Jumping Hall of Fame Classic at Devon on her Laspari.
- Photo by Mollie Bailey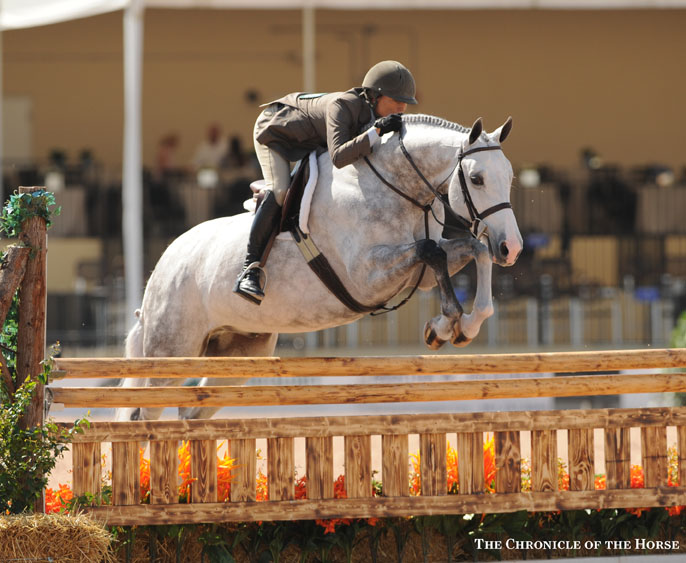 Gray horses are just so pretty, and Bacardi showed off some incredible form with Havens Schatt aboard.
– Photo by Mollie Bailey
The painter jump was the talk of the Alltech FEI World Equestrian Games show jumping and a hot favorite with photographers. Germany's Daniel Duesser and Cornet d'Amour were perfect over it.
- Photo by Mollie Bailey
There are few venues more picturesque than the Red Hills CIC and Horse Trials (Fla.). Here Ellen Doughty and Sir Oberon jump in the CIC***.
– Photo by Kat Netzler
It's not often that you get to shoot horses competing against a backdrop of the New York City skyline, but that's just what happened at the inaugural Central Park Horse Show.
- Photo by Kat Netzler
The top 10 stories on www.chronofhorse.com in 2014 ran the gamut from tack malfunctions to humor, classic George Morris wisdom and social media criticism. You can check out all 10 of the most viewed stories of the year here. And Chronicle reporters share some memorable moments from their time on assignment here.
And see what our favorites images from 2013 were…