With a horse show happening every weekend, and sometimes multiple major events taking place in locations around the country on the same day, the Chronicle reporters spend countless weekends on the road.
But regardless of how many horses we see winning championships and cantering down centerline, a few special moments always leave a lasting impression long after the story is written and the results are old news. As we head into the new year, here are a few of our favorite moments from 2014.
Lisa Slade's Favorite Moment: Laura Graves' Fairytale Coming True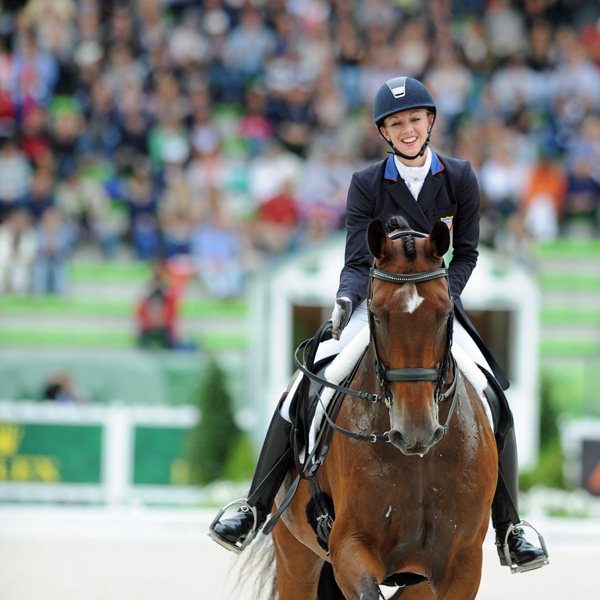 The 2014 Alltech FEI World Equestrian Games marked the first time I watched, in person, Charlotte Dujardin and Valegro. It was my first time seeing Isabell Werth's young star Bella Rose. And somehow it was the first time I ever saw Laura Graves and Verdades.
And while seeing both Valegro, stunning in the flesh, and Bella Rose, so promising and elegant, stood out in my mind as excellent moments of 2014, watching Laura and "Diddy" in the Grand Prix Special still ranks as the best part of those Games.
Laura had a remarkable Grand Prix test, helping the U.S. team to fourth, and she was an unbelievable fifth in the freestyle on the last day of dressage competition. But for some reason, I remember every moment of that Special.
The Special is a long test; there's seemingly endless piaffing and passaging, and so I'm certain I didn't hold my breath for the entire test. But by the time Laura and Diddy were doing their canter pirouettes and one-tempis on the centerline, I suddenly became conscious of the fact I wasn't really breathing, and for a few seconds I'd forgotten that I was supposed to be taking pictures.
It wasn't just the beauty of the moment—though that was part of it—it was how badly I wanted everything to go perfectly for this person I'd never even met. And it wasn't pure patriotism either. Much more often than not, the fairytale doesn't happen. The horse you buy as a foal doesn't make it to Grand Prix; the rider with no international championship experience doesn't make the WEG team and then become the highest-placed American. But it did happen in France—absolutely everything came together for one horse and rider at the right moment and in the right place, and it was, to say the least, memorable.
Mollie Bailey's Favorite Moment: Turning The Tables On The Europeans
It was pretty easy to figure out which of the three Chronicle reporters would cover some of the eight sports for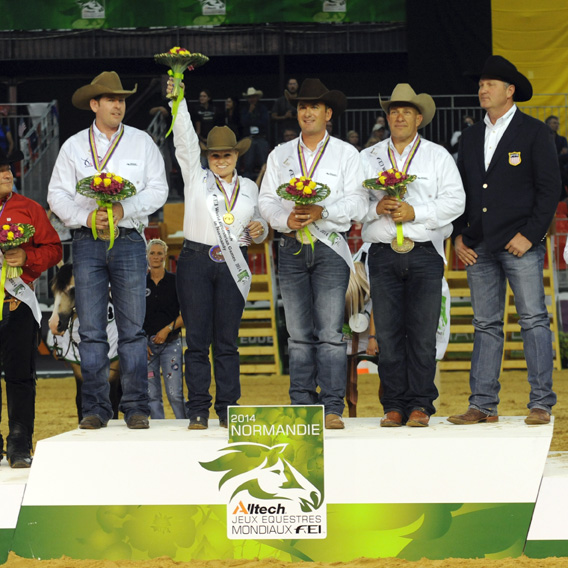 most of the Alltech FEI World Equestrian Games last summer in Normandy. After all, Sara Lieser and Lisa Slade focus on eventing and dressage for the magazine most of the year, and I follow show jumping most closely. But I was most excited to watch the reining—a new sport for me—at the Games.
The appeal is obvious, to me and to the rest of the world that's embraced the sport over the last few decades. Prim and conservative is out, and spangles and hollering is in. Best of all for me, we—the United States, that is—win a lot. Sure enough, the U.S. team of Mandy McCutcheon (Yellow Jacket), Andrea Fippani (Custom Cash Advance), Jordan Larson (HF Mobster) and Shawn Flarida (Spooks Gotta Whiz) took team gold with Flarida, Fippani and McCutcheon taking over the podium on the individual day as well.
The reiners are affable and fun, and they're great with the media. Mandy in particular is very conscious of her role as the first woman to ride for the United States, and incredibly gracious and likeable.
In jumping and dressage the Western Europeans tend to breed the best horses, host the most competitive events, and produce the most consistent teams. Seeing the Belgians, Germans and Dutch decked out in cowboy boots and Wranglers aboard their 15.1-hand powerhouse Quarter Horses felt like a stunning role reversal. All of a sudden I was writing about Europeans who had flown to Texas to pick out World Games mounts instead of the other way around, and they were the ones struggling to pronounce their horses' names.
It felt well-earned when the U.S. jumping team earned their bronze medal, and Beezie Madden took her individual bronze, but watching Europeans cheer while competing in the most American of horse sports made the event feel like a truly "world" games.
Taylor Joyce's Favorite Moment: Chasing Beezie
I'll always remember hurrying down the industrial, white-block hallways after the Grand Prix de Penn National in October. After the victory gallop that night in Harrisburg, the top three riders dismounted and seemed to disappear in different directions, deep into the multi-level Expo Center with tons of confusing throughways, doors and halls filled with vendors, all perfumed with mulch.
As a first-year staffer at the Chronicle, your worst nightmare is missing the opportunity to get quotes from riders. How horrible would it be if your paid trip to Pennsylvania, including a great hotel and all those trips to Dunkin Donuts, didn't pay off with a good story by the Wednesday deadline? How embarrassing would it be if you got lost, victim to the maze that is Harrisburg?

You can buy a professional photo (and believe me, I've made too liberal use of that luxury and have sent many Christmas thanks for the many photography tips I've received)—but you can't buy a good quote. Phone calls aren't the same. Seeing someone face to face, asking thoughtful questions, and witnessing his or her emotion immediately after a big win is key.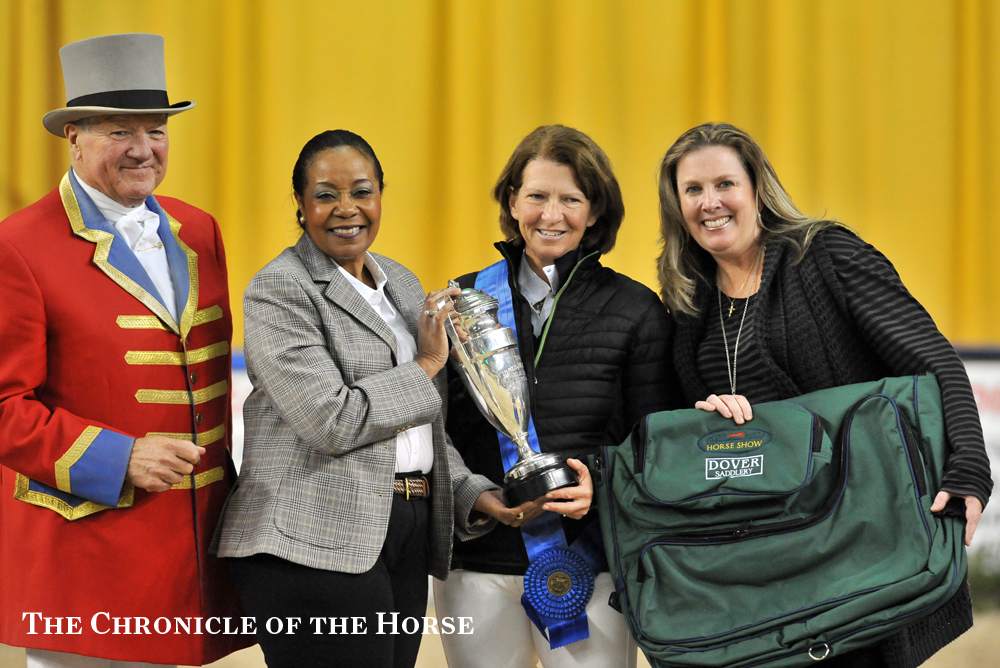 Off went first place, Beat Mandli, carried by a sea of his crew, second-placed Todd Minikus in the opposite direction. Then there was Beezie, the Leading Lady Rider. I wasn't so sure if it was so thoughtful to yell, "Hey, Beezie!" at the entrance of the FEI stabling, where press members aren't allowed, when my co-worker and I saw her heading back to her stall area. An unamused security guard got up from his chair at the line where we stood like desperate fans.

Why'd we go after Beezie, instead of the top two? She was getting away! And maybe it had to do with some personal affinity—it was BEEZIE MADDEN! And of course, the press manager must be catching the top three, we assumed.
Beezie didn't hesitate to come over to see us, journalists and autograph-seeking young fans alike (OK, we all pretty much looked like the latter). Her take on the course, her season and recovery from a broken collarbone was amazing to hear about. But the best part was her candor and humility. She was patient and talkative, and though we used only a small fraction of quotes from that chance interview, and rushed back to formally speak with the winners, getting to know her just a little bit was well worth the extra running around frantically.
Sara Lieser's Favorite Moment: Playing Make-Believe At The WEG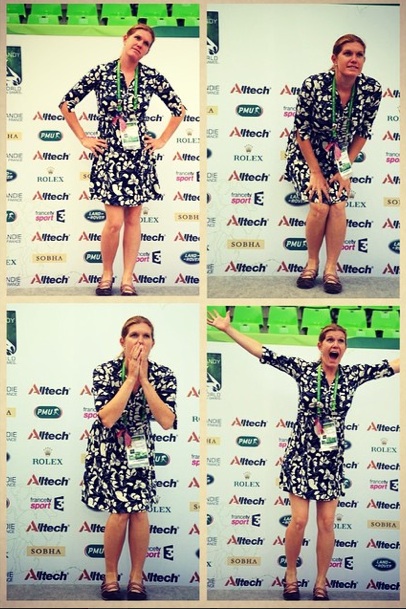 A veteran of two FEI World Equestrian Games, I didn't think twice about signing up for a third tour of duty this year. I mean, the best horses and riders in the world competing in a picturesque region of France known for its cheese and cider? Sign me up, right?
As it turns out, many of my experiences at this year's edition of the World Games were not what I would call "highlights." While the competition was stellar, poor organization, lack of sleep and the language barrier took their toll. And—I know I'll find no sympathy for this—after almost three weeks of crepes and baguettes, I now run the other way when I see a French restaurant.
But there were still a few sparkling moments of fun amidst the crazy hours, and one stands out in particular. My co-worker Mollie Bailey and I were allowed down on the arena floor to examine the show jumping course early one day. We took the obligatory tourist shots of jumps towering over our heads and oohed and aahed over the beautiful details in the ring.
But then we got inspired as we eyed the "kiss and cry" zone. This small stage set against the arena wall was where teammates and loved ones watched when their rider was in the ring. The video feed of their expressions—kicking an imaginary horse, hands covering eyes, jumps of exaltation, groans, gasps, fist pumps, clucking and clucking and clucking—was almost as popular as the footage of the competitors.
Mollie and I knew this was likely our only chance to demonstrate how one should behave in the kiss and cry. So I hammed it up to the max, while she played paparazzi.
I'll never ride at an international championship, but every now and then I get the chance to play the part, to be so close to the grand prix jumps I can touch them or stand on a stage where giants of the sport have stood before me. And I won't deny that it's silly, but it's also a little magical too.
Molly Sorge's Favorite Moment: Seeing Charlotte Dujardin And Valegro Be Imperfect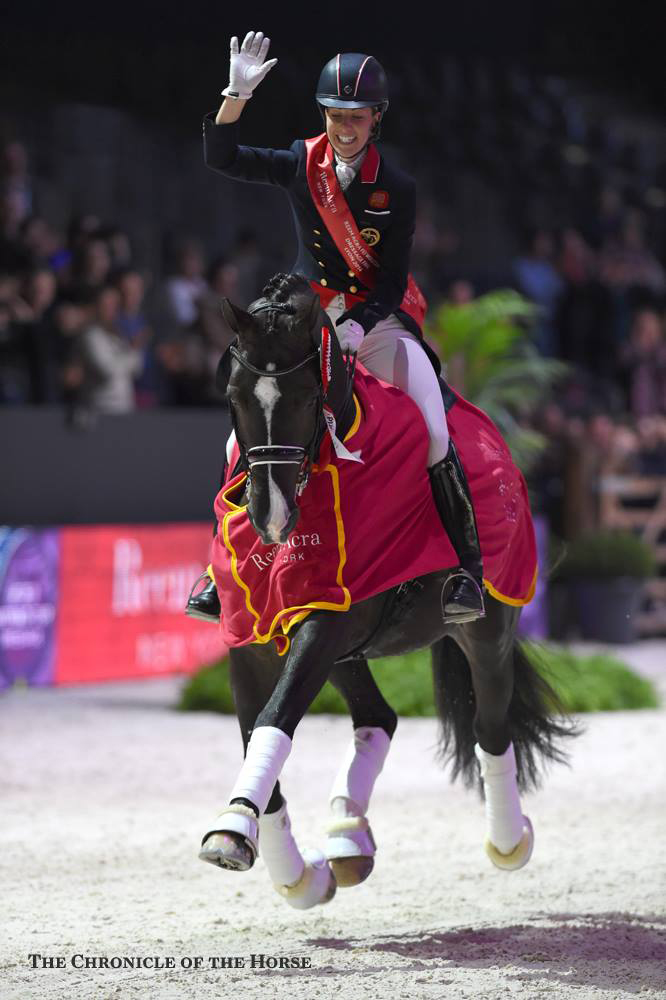 It's easy to say Charlotte Dujardin and Valegro are over-hyped. Charlotte's toothy, mega-watt smile graces magazine covers, ads, everything. She and Valegro are the undisputed king and queen of dressage.
That's why I wasn't expecting to be blown away at the Reem Acra FEI World Cup Final when I saw them in person for the first time. But I was. They really are just that good. They make all the intricate, demanding movement of Grand Prix look like skipping effortlessly. And "Blueberry" is so obviously a happy horse. Watching them compete is truly awe-inspiring.
But what was even more interesting to me was to watch them warm up. I watched Charlotte walk Blueberry into the schooling area (followed by a veritable wave of spectators, by the way) and then methodically put him to work. But this wasn't a performance. When Blueberry resisted the leg a bit, he got a pretty obvious kick from Charlotte. And when she wasn't happy with his rhythm in the passage, she made some obvious corrections.
Charlotte knew how to not win the warm-up, for sure. It reminded me that perfection in the ring isn't just the effortless joy it sometimes seems to be. Even for the best in the world, it's the result of some judicious preparation that isn't afraid to fix an issue. Charlotte and Valegro aren't immortal, eerily perfect aliens. She has the same process as everyone else; she's just honed it to perfection. Even for the very best in the world, corrections and reminders have to be made.
Lindsay Berreth's Favorite Moment: When Eventing Came Back To Great Meadow
I'll admit, it was very hard for me to choose a favorite moment this year. I mostly cover eventing for the magazine, and I've been at several of the biggest U.S. events this season. I've witnessed Jennie Brannigan's emotional win at The Dutta Corp. Fair Hill International (Md.), watched British Olympian Mary King teach a fabulous clinic, seen a display of sportsmanship as Boyd Martin gave the ride on Trading Aces to Phillip Dutton at the Rolex Kentucky CCI**** and the Alltech FEI World Equestrian Games (France), and was inspired by nearly everything that Buck Davidson said, but I also saw the revitalization of high performance sport at several venues this year.
The Carolina Horse Park hosted a lovely new top-class event, the Cloud 11-Gavilan North Carolina International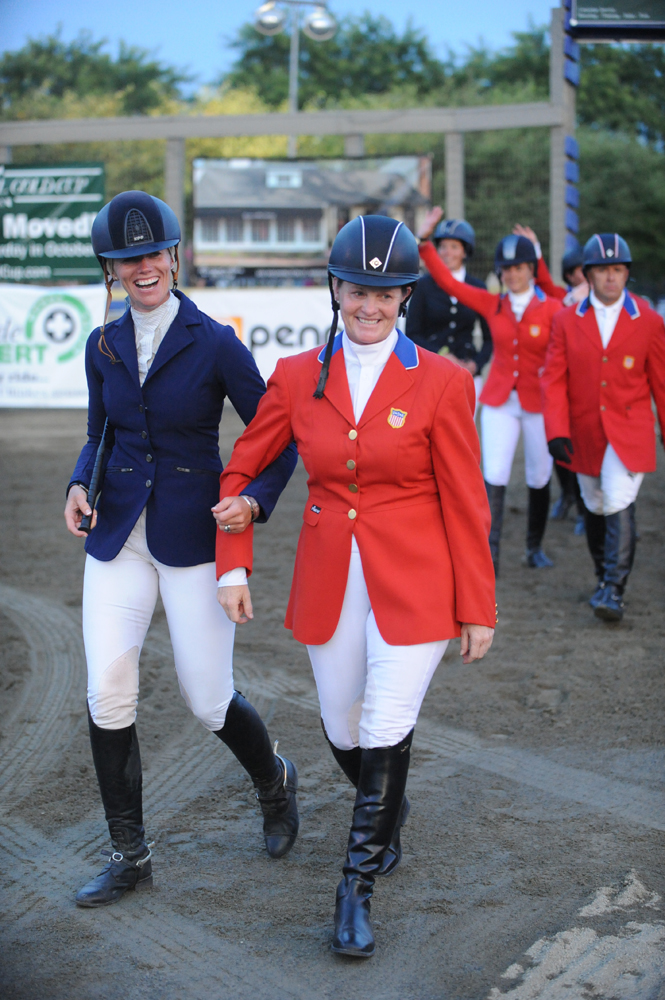 CIC*** (N.C.), and one of my favorite venues to compete and spectate at, Morven Park in Leesburg, Va., hosted their first CIC*** in October. With advanced level entries waning at the former staple event, I'm hoping the addition of an FEI-level class will keep it as a destination event for years to come.
But what I was perhaps most excited about this year was the return of eventing to Great Meadow in The Plains, Va. I competed there growing up, but it's been many years since an event was held on the picturesque grounds.
I drive by Great Meadow everyday on my way to the office, so I grew more excited each day as I saw cross-country jumps, tents and vendors setting up.
We lucked out with the weather in July, and hundreds of fans came out to support the Land Rover U.S. Eventing Team as they put the finishing touches on their performances before the World Games.
Even though there were only 14 combinations, each phase was thrilling, featuring an electric atmosphere that's usually only found at Rolex Kentucky.
As I walked out to my place to photograph on cross-country, memories of my time competing there as a young rider flashed in my head—somehow those ditches and banks seemed smaller, but no less scary!
Ultimately, the team didn't fare as well in France as everyone had hoped, but what came out of the prep event was a new CIC*** for 2015, practically in the Chronicle's backyard, and a camaraderie between riders and team spirit from the fans that I hope will carry us through many more championships.
Watching our team riders up close week after week is one of the privileges of my job, but seeing them at their absolute peak and giving them a rousing send-off was one of my favorite memories of 2014.
Want to see some of the Chronicle staff's favorite photos from 2014? They're here.
And check out the top 10 most popular stories of 2014 on the www.chronofhorse.com website here.