After a brief hiatus, it's business as usual for Lauren Hough's long-time partner.
Going at the end of a jump-off is an advantage to any rider, and Lauren Hough is no exception. The second-to-last in the order, she posted the only clear round on Meredith and Laura Mateo's Casadora and triumphed over a field of 25 competitors to win the $75,000 Green Cove Springs Grand Prix CSI-W in Green Cove Springs, Fla., Jan. 19.
Course designer Dave Ballard included a demanding triple combination, with a vertical to an oxer liverpool to another vertical, spooking many horses and causing many four-fault rounds. McLain Ward and Phillipa, who won the $25,000 Welcome Stakes Friday night, were one of the victims of the combination.
"I thought it was a good course, certainly World Cup standard," Hough commented. "I went late in the class, so I saw horses looking at the white rails over the liverpool and the problems it caused."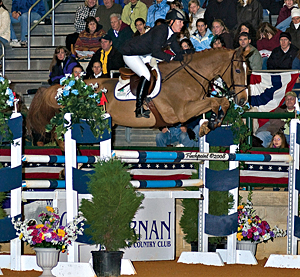 Going into the jump-off, Hough watched three riders before her, including last year's winners Margie Engle and Hidden Creek's Quervo Gold, pull rails as they tackled a course of seven jumps with tight rollbacks. Rodrigo Pessoa, riding Double H Farm's Rufus, posted the fastest time, 36.09 seconds, but pulled a rail through the combination.
"Going second-to-last, I decided the best thing I could do was to concentrate on leaving the fences up," she said. "I was leaving the door open, but I thought it was the best idea."
Riding a smooth and conservative first round, Hough replicated her same strategy for the double clear in a time of 38.41 seconds. The only other contender to follow Hough was Laura Kraut, but her mount, Happy Hill Farm's Cedric, ran out at a jump and left her with 4 faults in a time of 43.70 seconds.
"It really worked my way, because someone could have gone faster than me," Hough remarked. "But you certainly always need a little bit of luck also."
Hough felt confident in Casadora after pinning second in the Welcome Stakes the night before. "She went really well for both classes. She jumped four clean rounds in two days," she said.
Casadora, a 12-year-old, Dutch Warmblood mare by Indoctro, has been Hough's partner for the past four years. Together they won the $200,000 CN Grand Prix at Spruce Meadows in Calgary (Alta.) last year, along with competing at the Pan American Games in Brazil.
"She's a super horse and has had lots of good results—indoors or outdoors, she's great," she said. "She felt very fresh going in, and she'll accommodate to any situation for me. She really stepped up to the plate for me."
Hough also pointed out the mare's strong personality, which most would notice by the red ribbon in her tail. "She definitely lets you know when she doesn't want something near her, so it's a courtesy because I don't want anything to happen in the schooling area," she said with a laugh. "She's never kicked another horse, but she'll definitely let out a kick while I'm tightening her girth in the barn."
The win came as a surprise for Hough, considering Casadora just returned from a two-month break.
Hough, who is based out of Wellington, Fla., kept the mare in shape with treadmill work and supplemented her days with long turnouts.
"I make sure my horses stay fit but happy as well. We have a great farm down here, and they can go back home after they finish showing and enjoy themselves," she said.
The points Hough accumulated from her win have brought her World Cup total to 65 points, almost guaranteeing a spot to compete at the finals. She now has more time to focus on the upcoming USEF Show Jumping Selection Trials, which will be held in Wellington, Fla., beginning Feb. 28 and ending March 9.
"My No. 1 focus is the trials, and I have a plan mapped out for Casadora. She'll jump in two shows before the trials; I need to do enough so she's in form but not overdo it," she said.
Hough is also busy with Laura Mateo's other horse, Quick Study, a 9-year-old, French Warmblood gelding she purchased in Europe two years ago. Working slowly with flatwork, Hough has nothing but praise for the gelding now, and she hopes to point him toward the trials as well.
Hough remains positive for future competitions despite Quick Study's young age. "We did our first grand prix of the year this past week, and he was third, so I'm really pleased how well both horses have started off this season," she said.
Beth Johnson