There was a time when people would look up at the night sky and think that stars were momentary glimpses into heaven, holes between our earthly wanderings and the eternal. I was raised in rural Louisiana, where the night was a blanket of black punctuated by seemingly limitless stars.
I first learned about light pollution by noticing the dulling of the night. I now live in Arlington, Virginia, where the luminescence of the streetlights and city buildings means that only the brightest stars can be seen—and even then, they are a pale shadow of themselves.
A lot has changed since you last heard from me. I had a second child, I got a second master's degree and I founded a school which now has two campuses. My life got so busy and so modern that the days turned into years and the moments at the barn were fewer and farther between.
Right before the birth of my first child, a fellow young mother eventer left the start box and didn't return. Her last Facebook update was of her months-old daughter with a statement about how excited she was to see her at the end of the course. While she wasn't the first person I have known to die in my sport, her death was the most impactful.
I spent months thinking about eventing, and why we do what we do, and if it is worth it. What is risk, and what is worth, and how do I balance them both? I didn't blog about these struggles, as I didn't want an internet debate over another person's life and death. So I stopped writing, and I stopped running fast and jumping high, and I had a child and disappeared into the abyss of motherhood. But there was still that yearning that I felt could only be sated with horses and training and competition. It nagged at me in the quiet moments.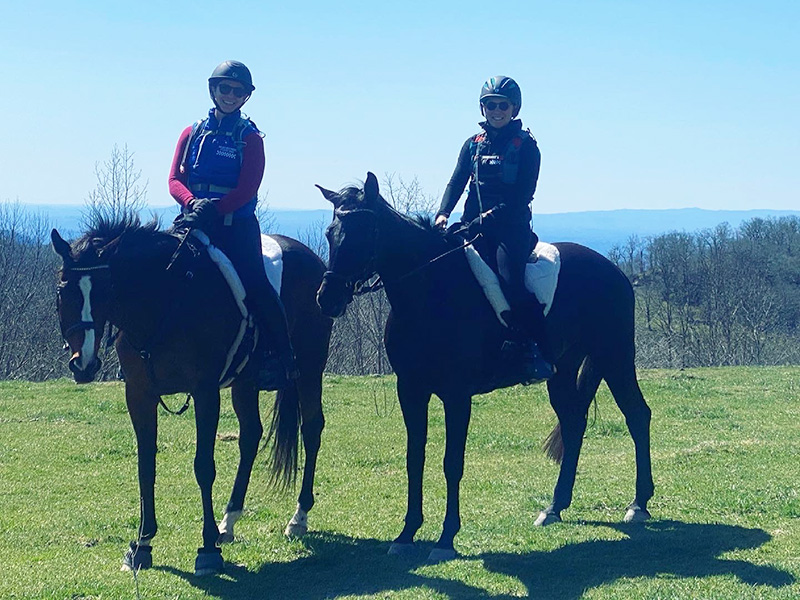 I didn't think I could run the upper levels again considering the risks, and the lower levels didn't give me whatever it was that I was looking for in the saddle. Like the sky above my house, everything seemed dulled. I was diagnosed with post-partum depression and anxiety, began a years-long battle with insomnia, and spent the sleepless hours at night contemplating what exactly it is that I wanted from this life.
I love being a mom. Wildly so. The cuddles and the chaos and the little hearts beating inside little chests mean so much to me. But life is also about more than motherhood. I went back to graduate school for a second master's, and that was fulfilling (I am now working on my doctorate), but it wasn't enough. I took lessons here and there on my horses. I dropped in a couple times a year to run my mare around some training level events. But largely I just felt an absence of something I couldn't quite figure out.
I thought back to life before the big international competitions, before the cross-country drives and winters spent training down South. I didn't come to eventing by lineage, and I didn't grow up even knowing what a real training barn was like. I grew up spending four hours a day in a  Wintec saddle in the summer, riding rescue ponies on the pipelines for miles on end, jumping in the pool post-ride to cool off while still wearing my boots (they were rubber anyway), running out at 10 p.m. to play bareback games on old barrel horses. There was a magic in my childhood that was missing now, and it wasn't about the competition.
There is a modern phenomenon where we try to monetize everything we love: side hustles, the gig economy, the passion-to-career pipeline. I felt like I had done the same with my riding. This raw thing I adored had become about a competition calendar and clinics and qualifications. But there is a part of me that loved riding because I love the challenges my partnership with my horse must overcome. I wasn't sure if and how I could recreate that. One day in August 2019 I was reading a website and saw coverage of the Mongol Derby. It's a wild 1,000-kilometer horse race on semi-feral Mongolian ponies. On a whim, I applied. Life went on and then I got an interview, and then an offer, and I had to really think about what I wanted to do. This surely wasn't the safest alternative to eventing, and I had no endurance experience, but it was something.
All I could think about was the Mongolian nights on the steppe. I bet there are more stars than I have ever seen, brighter than I ever imagined. The stars sold me, so I signed up.
COVID-19 came and my race got delayed, but I shifted gears in my training. I loaded up my old event horse Trance and traveled all over the East Coast climbing mountains, riding miles and miles, learning about navigation and endurance, and in general getting into all sorts of wild dilemmas. And I loved it. The sense of discovery, the hours of pure partnership, the pushing myself past what I thought possible: it brought back that joy I had been missing for so long. Some people go to Mongolia to find themselves, but I rediscovered myself on the nameless trails preparing for the trip.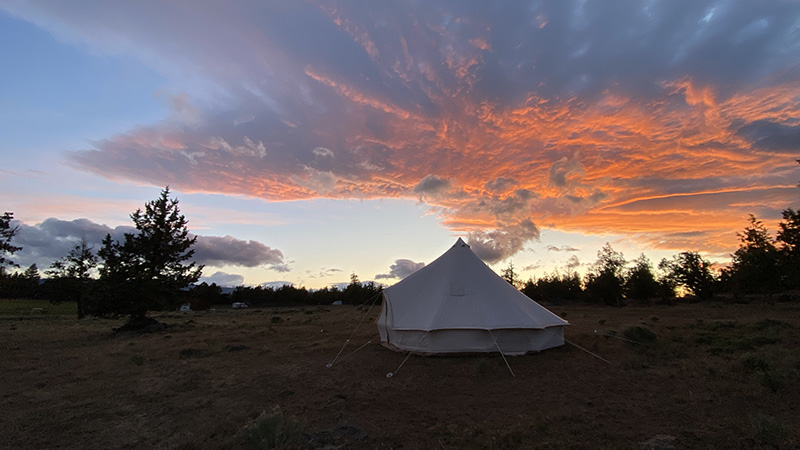 I am now in the final training stage, as I leave for the race July 15. But the hours on the elliptical and in the saddle are on hold, as I sit on a plane flying home to Louisiana. I have a sister who is very sick, and the moments I can get with her are what matter the most.
I found myself wanting to write, so here I am. I think it's important that people know about the good and the bad in life, and I never wanted to have an Instagram-filtered reality. I am OK with not being OK, and I think the gift of horses is that they are OK with it, too. I plan to share more about some of the trials and tribulations of training for this race, the absurdity that was an eventer learning about endurance, and the times when making myself the priority was hard—but worthy.
I hope you are still yearning and finding what it is that fulfills you. I hope that whatever life stage you are in, you are chasing dreams as they matter to you. I hope that you still get the spark in the saddle that started you on this road, and if you don't, I hope you take the time to find it. And when you look up at night, I hope the sky takes your breath away. When my sister has her last breath, she will escape through one of those holes to heaven, becoming a constant reminder that our time here is fleeting and the world is ours for the taking. I want to gallop fast, and cry hard, and be unable to count the stars.
---
Kristin Carpenter is an eventer turned Mongol Derby 2022 competitor who is raising donations for Steppe and Hoofe (targeted at helping herders and their families on the Mongolian steppe to preserve their lifestyle and culture). She is Head of School for The Linder Academy and mother of two boys, three horses, five chickens and two dogs. Kristin grew up in Louisiana and produced her OTTB Trance to the CCI*** level of eventing. You can follow her on Instagram at fleetingandfinite.