Harrisburg, Pa.—Oct. 16
In order to win in the Neue Schule/USEF Junior Jumper National Championship, just being good wasn't enough: You had to be nearly perfect. Hannah Hoch and Shariva were just that, not touching a rail over four rounds of jumping to finish on top.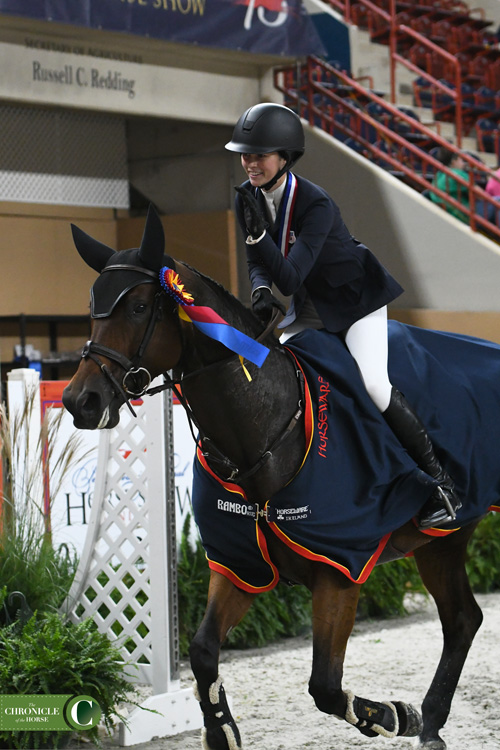 Natalie Jayne, 17, kept all the rails in the cups with Columbcille De Reve over three days as well, but her slightly slower speed round ended up putting her in second.
Speed day winner Taylor Kraft on Volt Du Thot ticked a single rail in today's final round of the championship to take the bronze medal.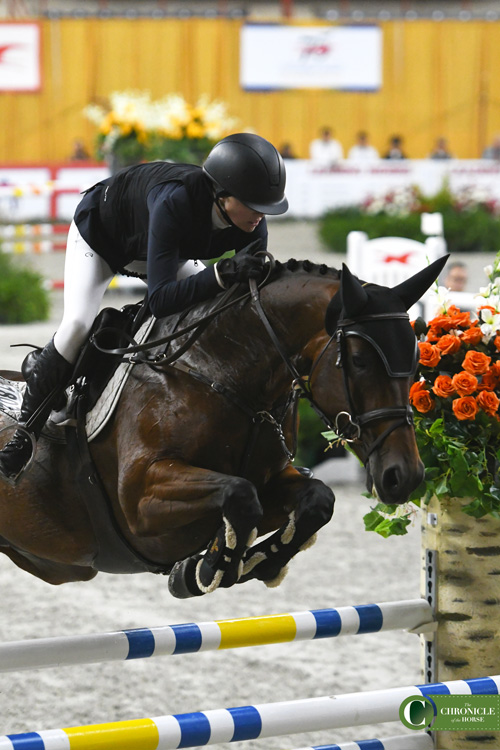 After a relatively soft course yesterday from course designer Manuel Esparza, things got tougher on the final day, when 21 riders took a turn around the ring.
"My first reaction was, 'Oh my, these are big jumps,' " said Hoch, Whitefish Bay, Wisconsin. "It was a little bit of shock after yesterday's soft build. There were a lot of questions, and we came up with a good plan. I utilized my horse's adjustability. She's got a lot of blood, but she's got great impulsion, and I'm able to fit in strides where other horses aren't. With those big square oxers, that really was to my advantage. While the track was very difficult, I think it helped me at the end."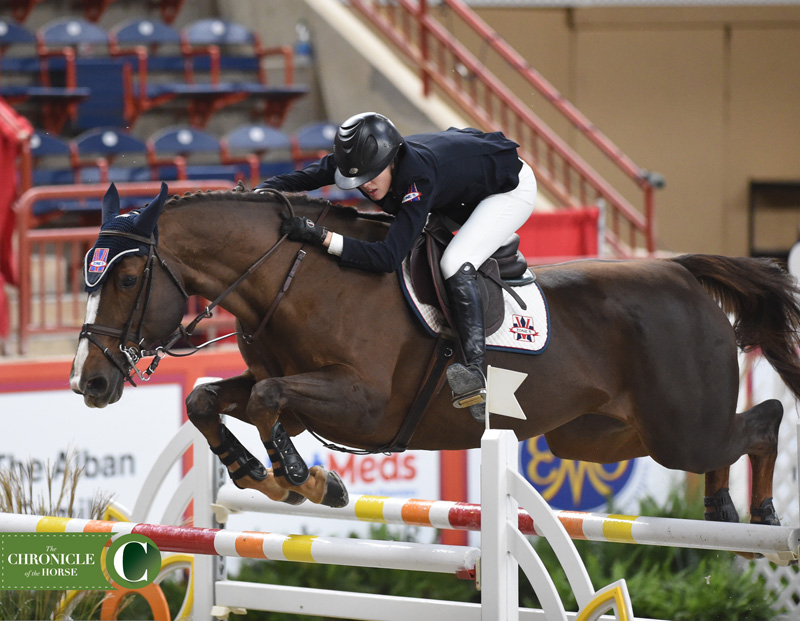 Rails came all over the course, and one rider—Eva Fisherman—took a tumble. Only three riders managed to find a clean and clear path over the track: Hoch, Jayne and Elena Haas on Centana, who finished fourth.
Hoch, 18, counted on her equitation training from Andre Dignelli and Patricia Griffith and the team at Heritage Farm to help her bond with her 10-year-old Hanoverian mare (Stolzenberg—Romina RH), whom she paired up with a year and a half ago.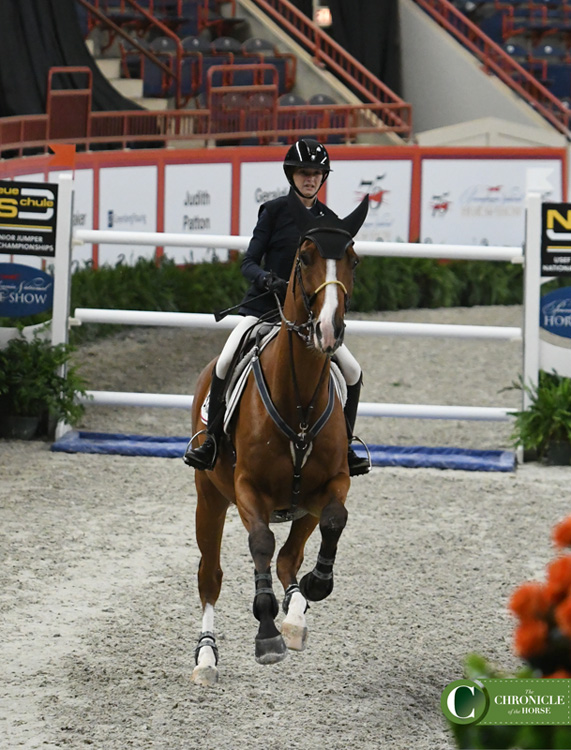 "I was very green when I got her," said the 18-year-old. "I hadn't jumped bigger than 1.30m. I didn't know how to ride a typey hot horse, and Shariva has taught me everything I know about the jumper ring. She really embodies a good mare. I walk into the ring, and I know she's going to give her all every single time. She has heart, and she has blood, and as you can see throughout the week she's really a fighter. I just have 100 percent trust in her, and I wouldn't want to do this on any other horse.
"[She was] very different from what I'm used to," she continued. "[At first] we leased her for the summer, and throughout the summer, riding her every day, we were building a partnership, and I was getting a feel for efficacy on a hot horse; how to use your leg, how to use your body. She's a very intuitive mare, so you have to be deliberate how you use your leg and your hand."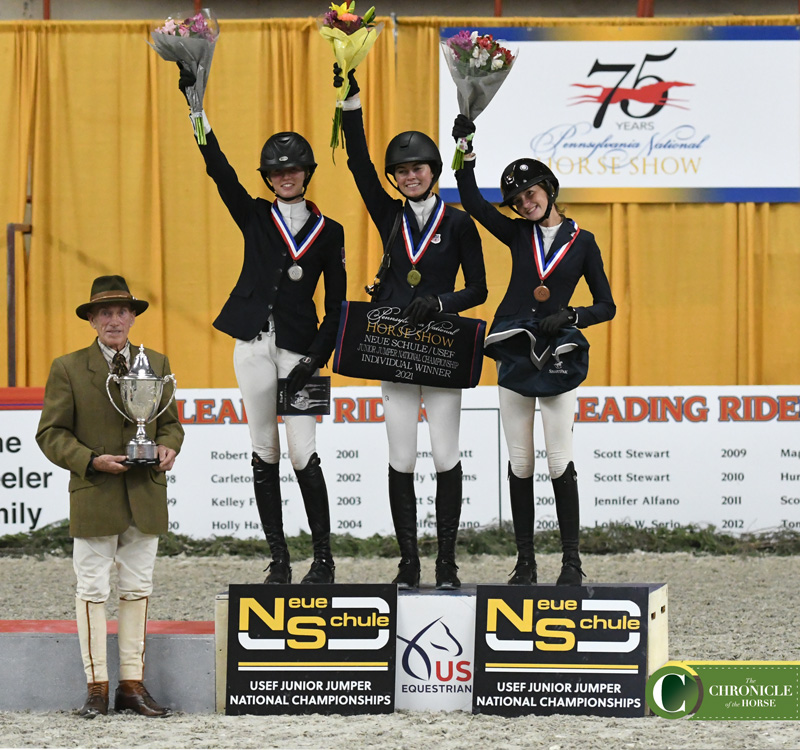 Jayne was pleased with her mare's efforts in their second place finish. "She goes in the ring and wants to win every time, and she always gives her all," Jayne said of the mare owned by Wembley Farms. "That's a great feeling to have on a horse. She jumped incredible all week, just fighting to win. It was awesome feeling to have."
Hoch and Jayne are long-time Pennsylvania National regulars, having started here on ponies, but Kraft made her debut at Harrisburg this year. Kraft just paired up with Volt Du Thot two months ago, which didn't give her time to qualify for a team and compete in the Prix Des States competition. But a new rule this year gave the next 20 riders from the national standings a chance to compete as individuals in the national championships.
"This helped kids that may have a new horse that weren't on the top of the zone standings list," said Erin Keating, U.S. Equestrian Federation director of jumping development programs. "They wouldn't have had that opportunity if we didn't add that aspect to it this year."
See full results here. Want more Pennsylvania National? The Chronicle will be on the scene through grand prix night bringing you photos and stories. Plus see more analysis from the Pennsylvania National in the Nov. 8 issue of The Chronicle of the Horse magazine.