Washington, D.C.—Oct. 28

As soon as it flashed up on the scoreboard that HH Carlos Z had topped the $50,000 International Jumper Speed Final, McLain Ward knew that the time had come for the gelding to retire.
"I'd kind of been saying the next good win, I was probably going to call it a day," said Ward. "This was his last show for the year anyway. I thought this was a good time. He's always been a winner when it counted. He did it again. A little bitter sweet, but he doesn't know anything."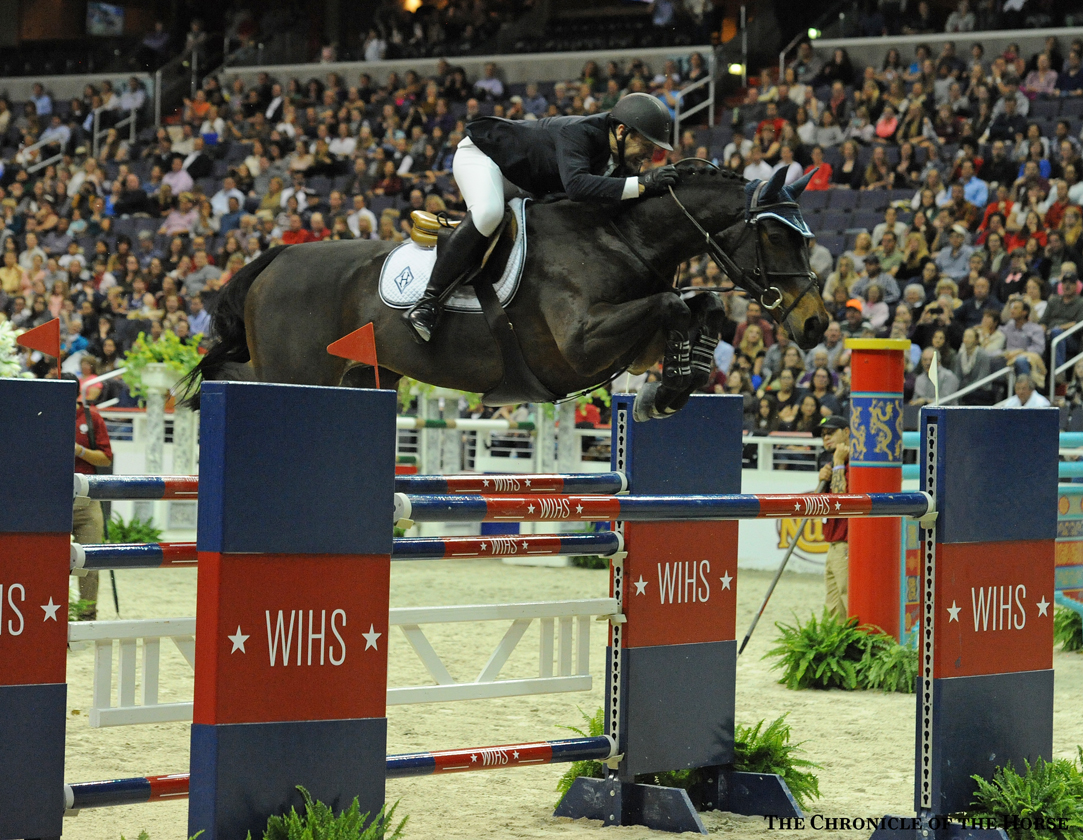 For the past three years, the 15-year-old gelding has been a mainstay in Ward's string. Hes won the $125,000 Longines FEI World Cup Jumping Washington at the Washington International Horse Show in 2014 and the $500,000 Rolex CSI***** Grand Prix (Fla.) in 2015. He's jumped clear rounds in Nations Cup competition and won countless speed classes.
Ward felt it was only right for the Zangershiede (Chellano—Sara Van Het Parelshof, Voltaire) to go out on top, so draped in the iconic Washington red cooler, Carlos entered the ring one last time to get the send-off he deserved.
"He's given more than he had to give," said Ward. "He's been an incredible horse, an incredible winner. He's won everything from five-star grand prix [classes] and jumped Nations' Cups to being a day in and day out winner. The life of that type of horse is hard because they come to the show and go in three, sometimes four classes. They jump the grand prix when you need them. They do the speed classes. They go fast every day. They protect the Azurs of the world.
"I could feel that we got one more year out of him. He had a good season; he won a great class in Calgary at the [Spruce Meadows] Masters (Canada). I wanted the horse to win a good class to finish on," Ward continued. "I didn't want him to end poorly. This is a nice moment, and I'm very, very grateful to Mr. Harrison and Double H Farm to have the opportunity to ride this horse. It was a bit by chance. And also for the opportunity to care for him and retire him in the way he deserves."
"Carlos" got his start in international grand prixes with Belgian show jumper Nicola Philippaerts in 2009. He came to the United States in 2013 to show with Nick Dello Joio, and Ward got the ride when Double H Farm purchased him in 2014.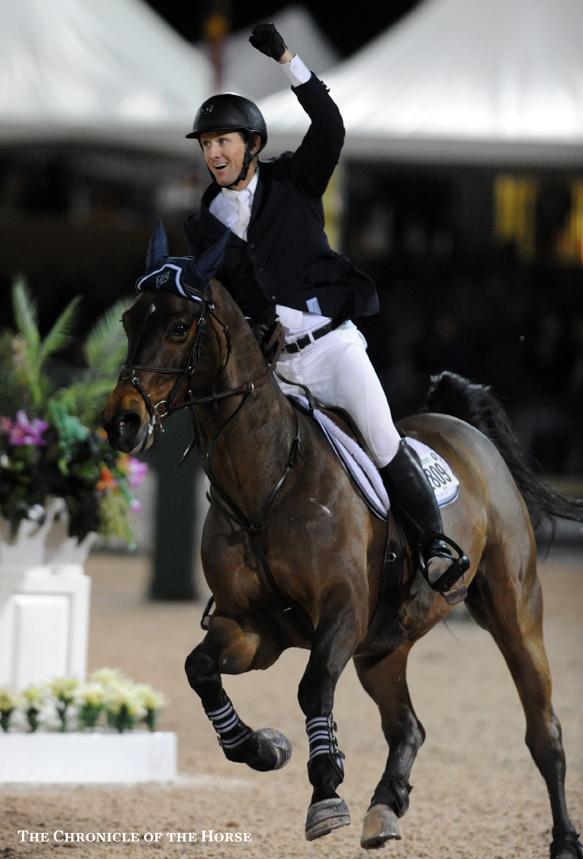 In his final class, Carlos made a spectacular effort. Riders were chasing Devin Ryan's clear round effort in a time of 58.50 seconds on Eddie Blue, and even when things got sticky, Carlos persevered to turn in a time of 57.77 that no other rider could catch.
"I completely missed to the flag, [at fence 7]," said Ward. "I wanted to go for one more, but I checked up, and it was too late. Most horses should have knocked it down, but he found a way to jump it. That's what he does. He finds a way to leave the fences up, he always has."
IMPORTANT LINKS:  All the COTH Washington International  coverage  |  What You Need To Know  |  live results/order of go  |  live streaming  |  show website