Toronto, Ontario—Nov. 9
McLain Ward has won the World Cup qualifier at the Royal Agricultural Winter Fair Horse Show in Toronto so many times that the place—the bright lights, the full crowds, the tricky courses, the smell of popcorn in the halls—feels like home for him.
Ward's win in the $130,270 Longines FEI Toronto World Cup qualifier earned him the Hickstead Trophy in honor of Eric Lamaze's Olympic gold-medal mount.
With a faultless win the brilliant young mare, HH Azur last night, Ward has now won eight of these World Cup qualifiers at the Royal, and the last four consecutively. It was last year at the Royal that HH Azur made a big splash, winning the World Cup qualifier and the $75,000 Big Ben Challenge at the show.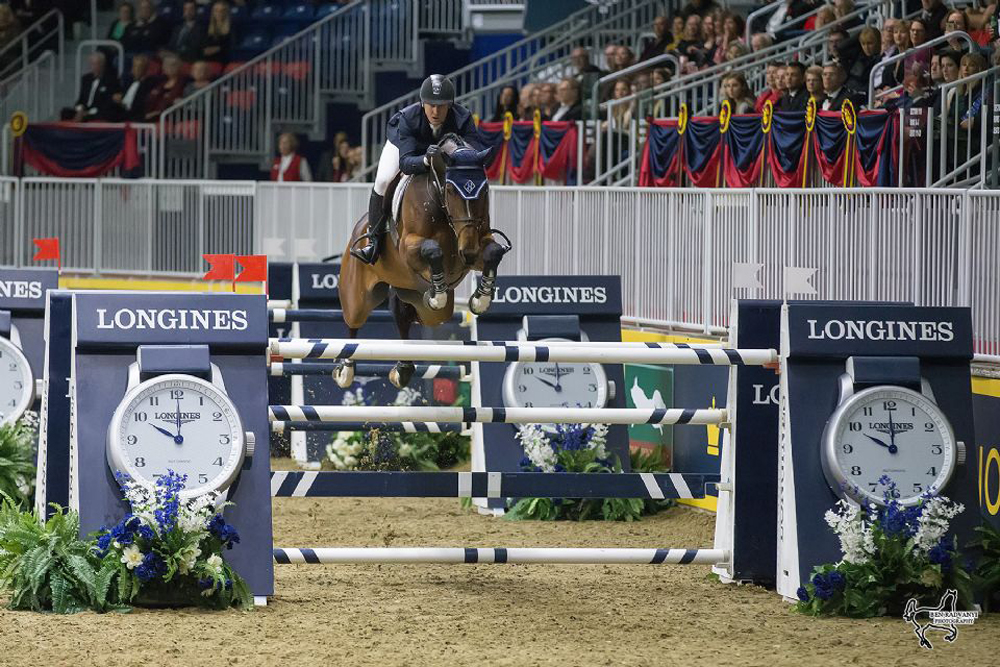 McLain Ward and HH Azur on the way to the win in the $130,270 Longines FEI Toronto World Cup qualifier. Photo by Ben Radvanyi Photography
"This venue has been very good to me," Ward said. "So it's like coming home."
HH Azur, a 10-year-old mare, had to step to the fore this week in Toronto because Ward's veteran grand prix horse, HH Carlos, sustained a minor injury at the Washington International (D.C.), and is taking the rest of the year off.
Still, Ward felt the pressure to ensure he has enough points to qualify for the Longines FEI World Cup Final this season, particularly since it's in the home country, in Omaha, Neb., next March.
"The World Cup is very important to me this year," Ward said. "I felt [Azur] had enough in the tank. I felt she could handle coming here and jumping a couple of classes to try to make sure that I had enough points. I didn't want to get caught in February, trying to figure out a way to hustle at the end."
Ward won a five-horse jump against some heavy hitters: Olympic individual gold medalist Nick Skelton astride Big Star; Kent Farrington on a new promising horse, Creedance and Shane Sweetnam on Chaqui Z.
Ward was the only jump-off rider to go clear. His time of 36.02 seconds was enough to win, while Farrington finished second with a rail down in 35.19 seconds, Skelton third (37.26 seconds) and Sweetnam fourth, a blink behind Skelton (37.49 seconds).
"Last week in Kentucky, Kent laid down such an incredible round so I was trying to catch him," Ward said. "But when you're pressing that hard often a mistake happens and it did [in Kentucky]. Kent and Nick both had a fence down today so it took a lot of that pressure off. But Shane [Sweetnam] is a trier and a competitive guy. I couldn't take him for granted so I still wanted to put enough pressure on, but certainly I took a notch off of speed here or there.
"When you have a horse like Azur you just try and stay out of her way and she's normally giving a great performance. Every once in a while, I don't mess it up," Ward said.
Skelton was first into the ring, forced to set the pace but leave the fences up, too. Skelton and Big Star cleared the first jump, an oxer, with room to spare and looked electric by the time he reached the third obstacle. However, after a very tight turn to a tricky vertical over a liverpool that had been foiling the opposition all night, Big Star dropped the rail.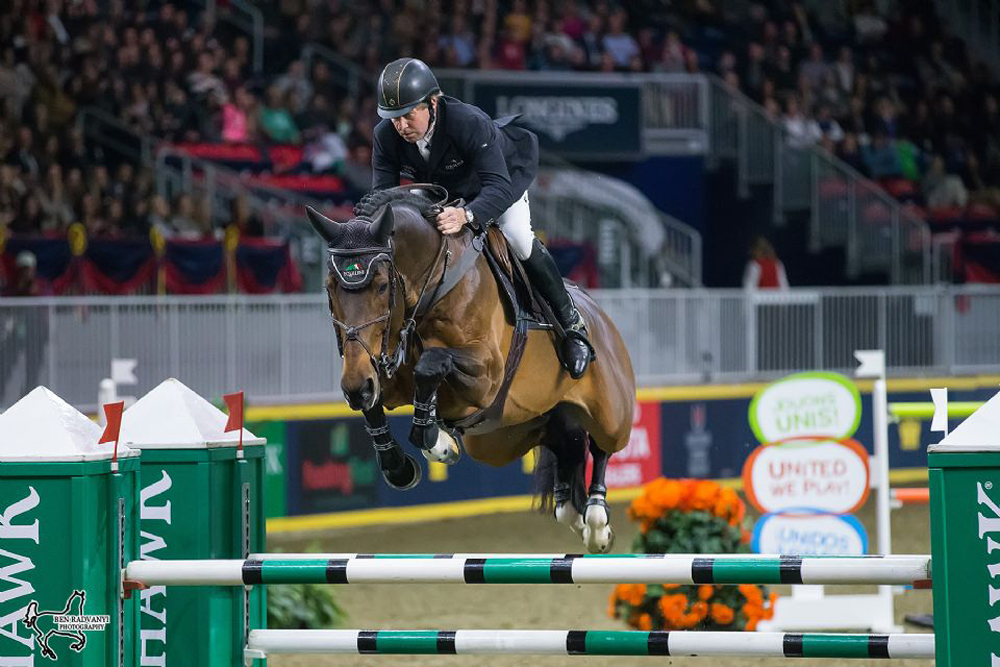 Nick Skelton and Big Star. Photo by Ben Radvanyi Photography
"He hasn't jumped indoors much, funnily enough," Skelton said of the 13-year-old. "This is the fourth show he's ever done [in an indoor ring]. He came here when he was 8 years old. I wouldn't say indoors is his forte. He likes wide-open spaces. But I was very pleased. You go first, you try to put a decent enough time up, but when you've got these guys behind you, it didn't work out today."
Farrington, as usual, was ready to rumble. It helps that Creedance is a fast horse. But the flashy chestnut stumbled after clearing the first fence, and they bravely only survived the tight turn from fence 6A to the tricky liverpool. In fact, they may have turned too tightly; Creedance headed for the far left side of the obstacle, but cleared it anyway. Still, after scorching the course in the fastest time of 35.19 seconds, they knocked down the final fence.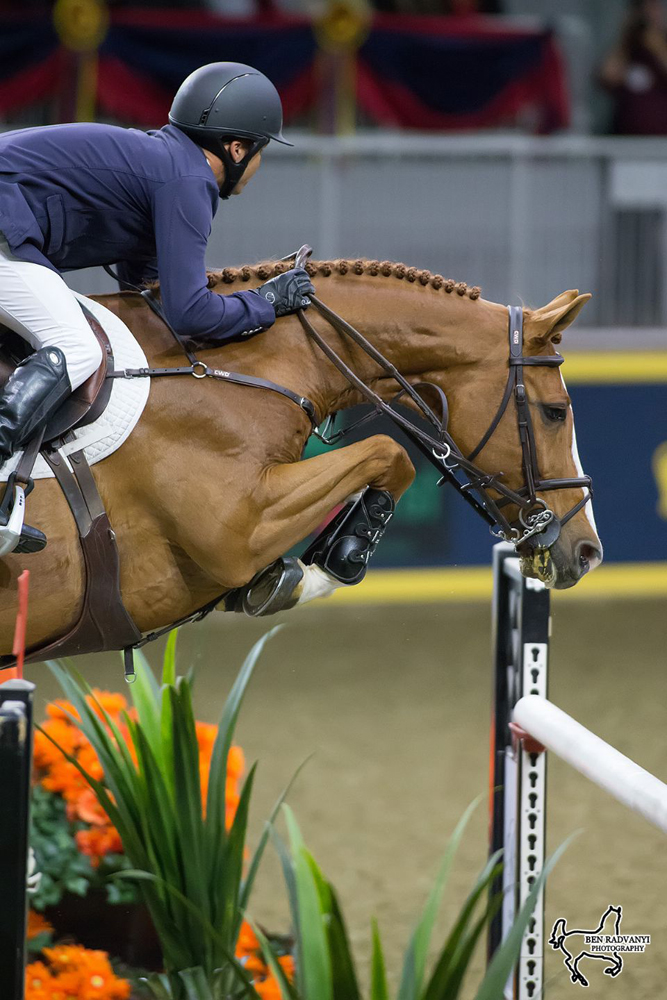 Kent Farrington and Creedance. Photo by Ben Radvanyi Photography
Sweetman, so brilliant in the opening round, also dislodged a rail on 11A, the first part of a double combination.
Still, Farrington was happy with Creedance, who is only 9 since he hasn't done a lot of indoor competitions. "This is his third show inside," he said. "He's coming on well and I think he has a bright future in the sport."
Farrington has had Creedance for two years, and like others in his stable, he gets them young, and trains them up. "This year he has stepped up to a higher level," he said. "He hasn't seen many international shows."
Some say the horse show this week has been the toughest seen at the Royal in a decade. Four of the top five finishers in the World Cup qualifier are Olympic medalists: Skelton won team gold at the 2012 Games in London and an individual gold in Rio this summer; Farrington and Ward were members of the U.S. team that won silver in Rio; Mac Cone, who finished fifth with 8 faults in the jump-off, won a silver team medal for Canada at the 2008 Olympic Games.
Ohlala, the mare who had been so brilliant two weeks ago for Lauren Hough to win the World Cup qualifier in Washington, earned 8 faults after encountering the liverpool and then the mare had the next fence down, too. They were 12th.
Ian Millar, who won his 12th Canadian title last weekend, knocked one rail down to finish 11th with Dixson, which hasn't shown indoors at the Royal before this season. Dixson hadn't had a rail down in four previous rounds at the Royal this week.
All in all, Farrington easily leads the North American East Coast League World Cup qualifying standings with 72 points, while Audrey Coulter is second (45) and Ward third at 44 points.
See full results from the $130,270 Longines FEI Toronto World Cup qualifier.