Washington D.C.—Oct. 29
Lauren Hough hasn't taken part in the pomp and circumstance of FEI World Cup Final since 2010. But six years later, she's got Omaha clearly in her sights.
And by capturing the coveted President's Cup trophy for the $130,000 Longines FEI World Cup CSI-W, she and Ohlala (Orlando—Carrera, Cardento) took one positive step further to achieving that goal.
"I think Ohlala is well suited for the format, so I'm making it a big priority to try to qualify," said Hough. "So this is the first [qualifier] that I've done. And I will be next one [at The Royal Winter Fair (Ontario)]."
Lauren Hough and Ohlala. Photo by Laura Lemon.
With an early win this week in the $35,000 Welcome Stakes, Hough felt prepared for success. As the last one to enter the jump-off of seven returning riders, Hough decided to ride the round best suited for the Swedish Warmblood mare, especially since Laura Kraut presented the only clear round after speedy Kent Farrington knocked down a late rail.
"I heard it was clear and quick," said Farrington. "I was really competing for the win with one of the fastest indoor horses going last. I looked for a competitive indoor round to put pressure on Lauren."
"Kent [Farrington] went and took every risk, and having one down I saw the difference in round between Kent and Laura," said Hough. "I did one more step in the first and last line which works for her since she's quick across the ground."
And her level-headed mentality and horsemanship allowed her to efficiently keep all the fences up while also besting Kraut and Confu's time by 1.24 seconds.
"I wasn't sure what to expect because I've never jumped him indoors," said Kraut of the 9-year-old Holsteiner gelding (Contact Me—Riga II, Cambridge). "The first day on Thursday he jumped very well. We went medium in jump off—not particularly quick. I think I was fourth. When I saw the line up, the ultimate goal was to finish third, so I'm very happy with second. Hopefully the three of us will be at the World Cup."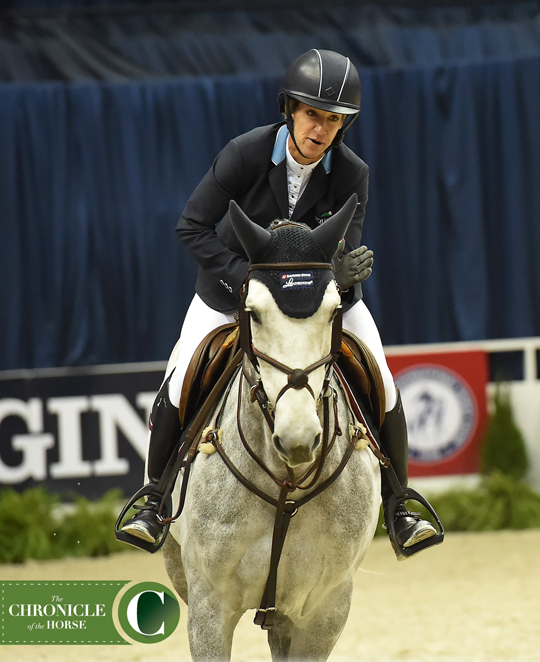 Laura Kraut and Confu. Photo by Laura Lemon.
The night and this particular victory in the capital itself proved a goal for the rider.
"I've been second a couple times but I've never won it which makes you a bit hungry for it," she said. "I had to stay focused and not get ahead of myself.
"All the stars were lined up for me this week."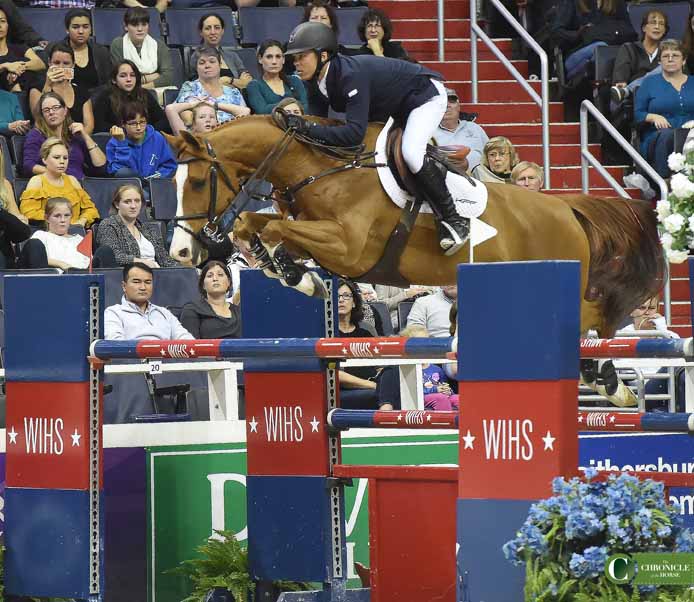 Kent Farrington and Creedance. Photo by Laura Lemon.
Get full results at ryegate.com.
Want more Washington International Horse Show? No problem—we have you covered. And don't miss the Nov. 14 issue of the Chronicle of the Horse magazine for full analysis of the competition.