Omaha, Neb.—March 31
Yesterday as HH Azur was jumping around through the prize-giving for the speed leg of the Longines FEI World Cup Jumping Final, McLain Ward looked over to show official Jon Gardner and remarked he should bring a mint with a wrapper for the next day.
"He looks at me and goes 'That's a bit presumptuous,' and I said, 'If I don't believe, who's going to?,' " Ward said.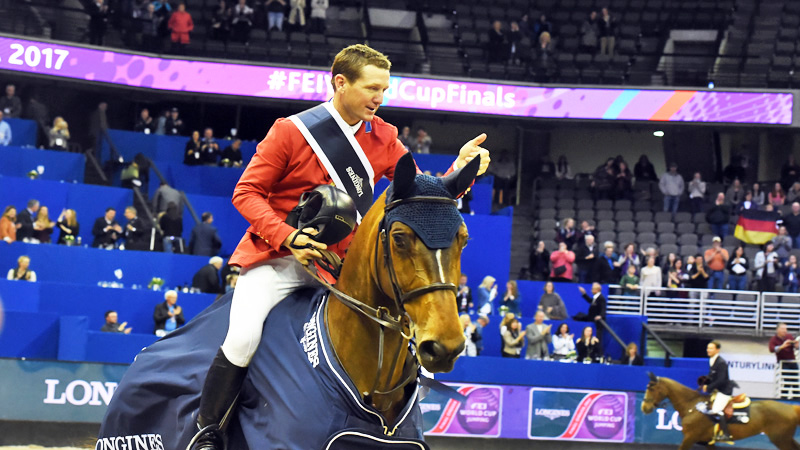 Tonight, Gardner had his wrapper, and it got put to good use after HH Azur put in a double clear performance in the second leg of the Longines FEI World Jumping Final to not only win the class but also maintain his lead in the overall standings. Ward will go into the last day of the competition on Sunday with 0 faults, while Belgian rider Gregory Wathlet is second and has 3 faults to his name and Romain Duguet of Switzerland is in third with 4 faults after the World Cup's scoring system calculated the results from Days 1 and 2.
While Azur stole the show in the ring, it was Ward's young daughter Lilly who stole the show in the resulting press conference.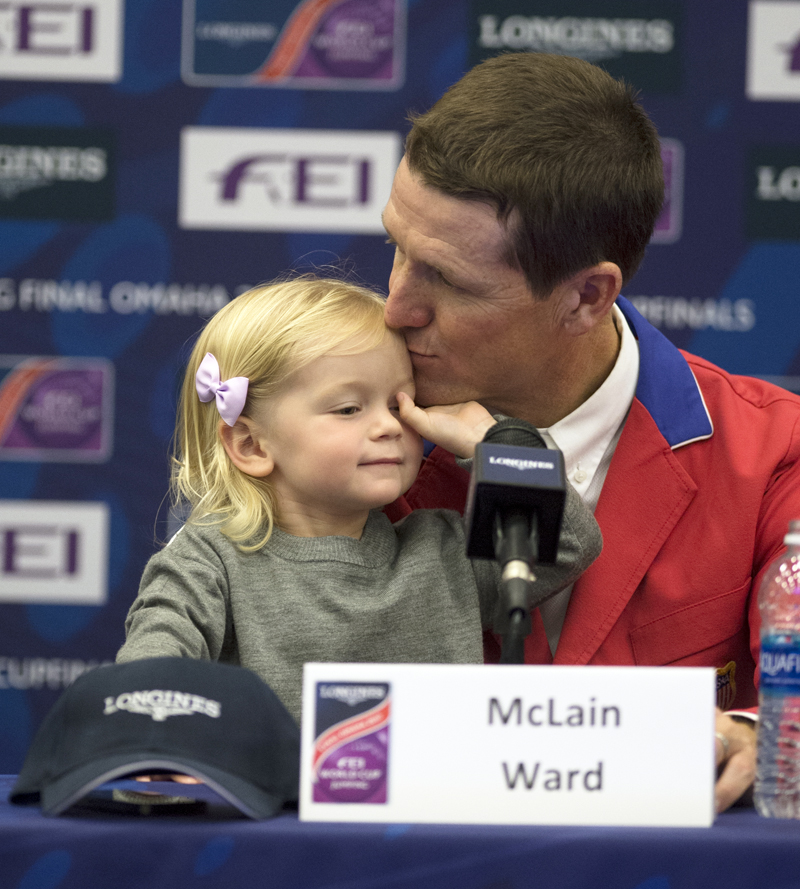 Lilly perched on her father's lap for a majority of the press conference and when he prompted her, she repeated "Double clear" in a quiet voice.
Six riders out of the 34 starters advanced to the jump-off over the Alan Wade-designed track. An additional four riders jumped clear over the fences only to fall victim to the time in the first round. Ward's fellow U.S. riders Laura Kraut had a rail in the first round to place 14th in the class and lie in 12th overall. You can read more about each rider's round in COTH's round-by-round commentary of the class.
At jump-off time,  Marcus Ehning and Guido Klatte Jr. both faulted over the short track while the riders that followed them slowly chipped away at the time Martin Fuchs set as the first to go clean. Last to go, Ward and Azur turned on the afterburners, stopping the clock at 36.87 seconds ahead of Wathelet and Forlap on 39.39 seconds.
"I was probably a little faster than planned," said Ward. "You try to just do enough—I'm a big believer in that—but you also have to go to this competition with a level that is so high and try to do the best that you can every night and be in the fight to the very end. I'm pleased with the horse, and I'm excited to be in the position."
Both Steve Guerdat and Henrik von Eckermann faulted in the first round of today's class, dropping them down in the overall standings and  leaving the door open for Wathelet and Swiss rider Duguet to move into second and third respectively.
Wathelet brought Forlap up the levels before selling the gelding two years ago to Oleksandr Onyshchenko. The Belgian Warmblood showed under numerous riders and went up for sale following the 2016 Rio Olympic Games, when Wathelet got him back.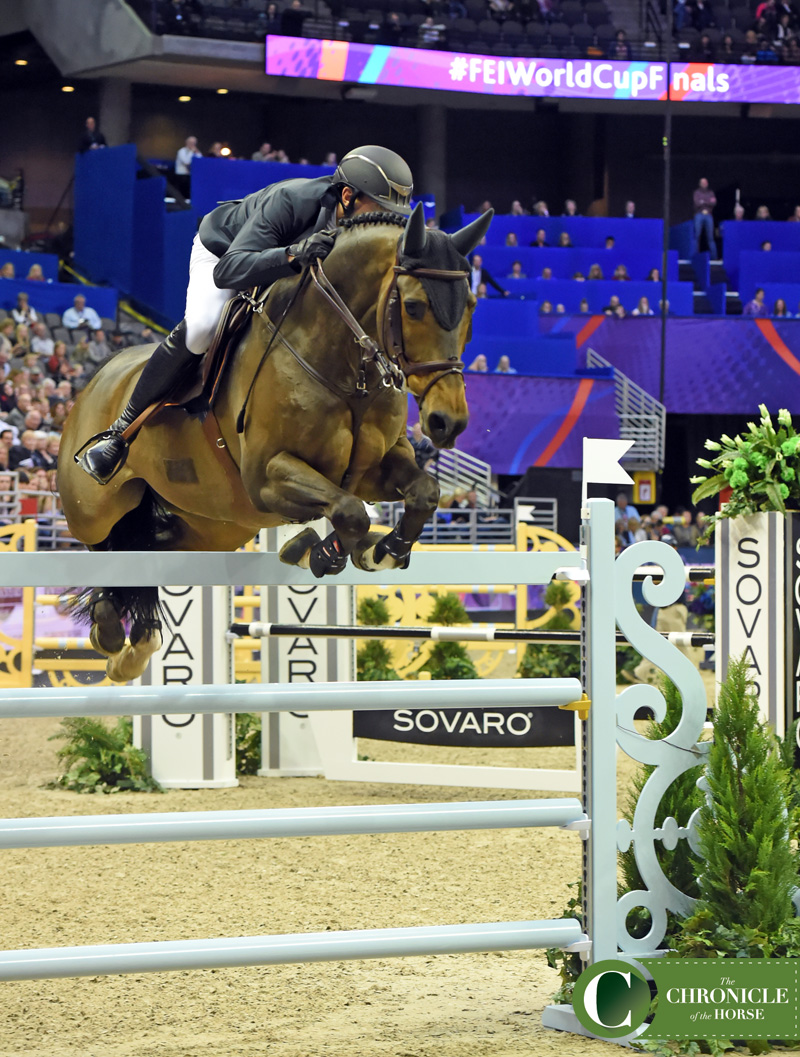 "I was really happy to get him back," the Belgian rider said. "I was surprised how quick he got his confidence back. It's unexpected to bring him here a few months ago. I had a good feeling two weeks ago at the last show I did and I thought maybe I could bring him here.  I think right now so far it was a good choice and it's always a horse that will fight for me."
Duguet has a longstanding partnership with Twentytwo des Biches, but he didn't originally plan on bringing the mare until top mount Quorida De Treho had a small injury this winter.
"I bought her when she was 5 years old, and she was not always spectacular, but was always doing many clear rounds," said Duguet. "After I decided to take her she's only 10 years old and now she proved she can do some really good rounds. I go day-by-day in this final and today it was a good day. I'm really happy. She jumped better in the jump-off than in the first round. I hope she stays like this for Sunday."
Ward will go into Sunday on 0 penalty points with less than a rail in hand over Wathelet.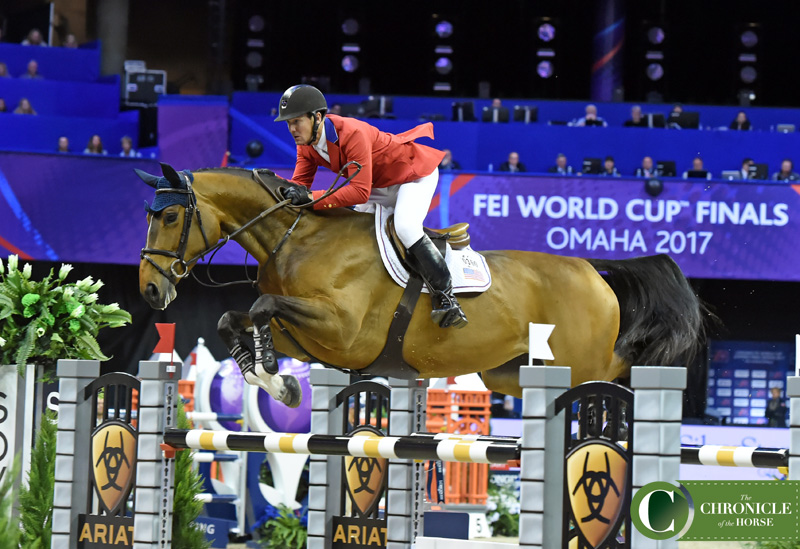 "Well, I think any rider at this level who wants to do as well as these riders do, you feel tension," he said. "Anybody who says they don't, I don't think they're telling the truth. That gets particularly highlighted at championships, and when you think you have a shot. When you're coming just to get a placing or get a pay check, it's different than when you come and you see the riders up here and the top 10 for that matter, who really do have a chance to win this competition, so I think that pressure is there.
"To be honest the home crowd support only makes it a little bit easier," he continued. "I don't think that adds pressure. It's the moment and it's the moment we all work very hard for. To be honest a lot of people behind this worked very hard for and you carry that on your shoulders."
See full results from Day 2's class of the World Cup Final and also see the full overall standings of the World Cup competition.
The Chronicle will have live blogs of competition sessions, Twitter updates, photo galleries, stories about each day's competition, and so much more on www.coth.com. Don't miss a thing—we'll have everything you need to know. Also make sure to follow along on the Chronicle's social media outlets: Facebook, Twitter and Instagram.
2017 Longines FEI World Cup Jumping Final Day 2
Molly Sorge / Apr 1, 2017 12:14 pm