Tallahassee, Fla.—March 11
After dressage at the Red Hills International Horse Trials yesterday, Hannah Sue Burnett knew Harbour Pilot was feeling fresh. She planned to let him let off some steam on cross-country today with a forward ride, but she was in for a surprise during the CIC*** show jumping this morning.
"William" was ready to run, and let it be known when he bucked her off in warm-up.
By the time he headed to cross-country warm-up, he was calm and cool, unusual for the experienced gelding,
Despite her "embarrassing" fall, Burnett and William jumped a clear show jumping round over Chris Barnard's course, adding 2 time penalties, then stormed around Michael Etherington-Smith's cross-country track to finish with 8.8 time penalties, which was good enough to seal the win.
"I had a really good run, he was nice and easy and fun. Not so much in the show jumping warm-up—he bucked me off in the warm-up and ran away!" said Burnett. "Then I got back on, and he show jumped beautifully. Sometimes he needs to be a little bit crazy, then he's really well behaved.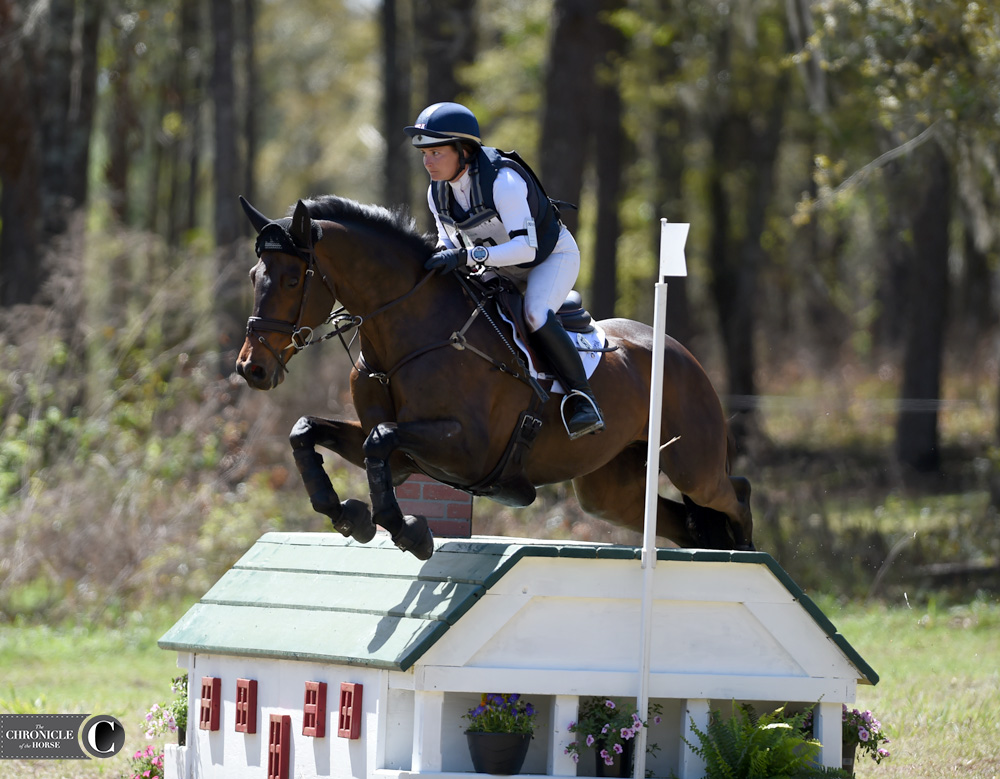 "In the cross-country warm-up where he's usually really nervous and excited, he was standing there really quiet. I was like 'Do you feel better buddy?' Then he cantered around really nicely," she added.
"It is really nice to finally kind of pull the trigger and have it work out all the way through the weekend," said Burnett.
Burnett's good friend Jennie Brannigan finished in second place with Cambalda, who made his first FEI appearance since taking 2016 off for an injury. They moved up from a tie for seventh after dressage and added 2 time penalties in show jumping and 12.8 time penalties on cross-country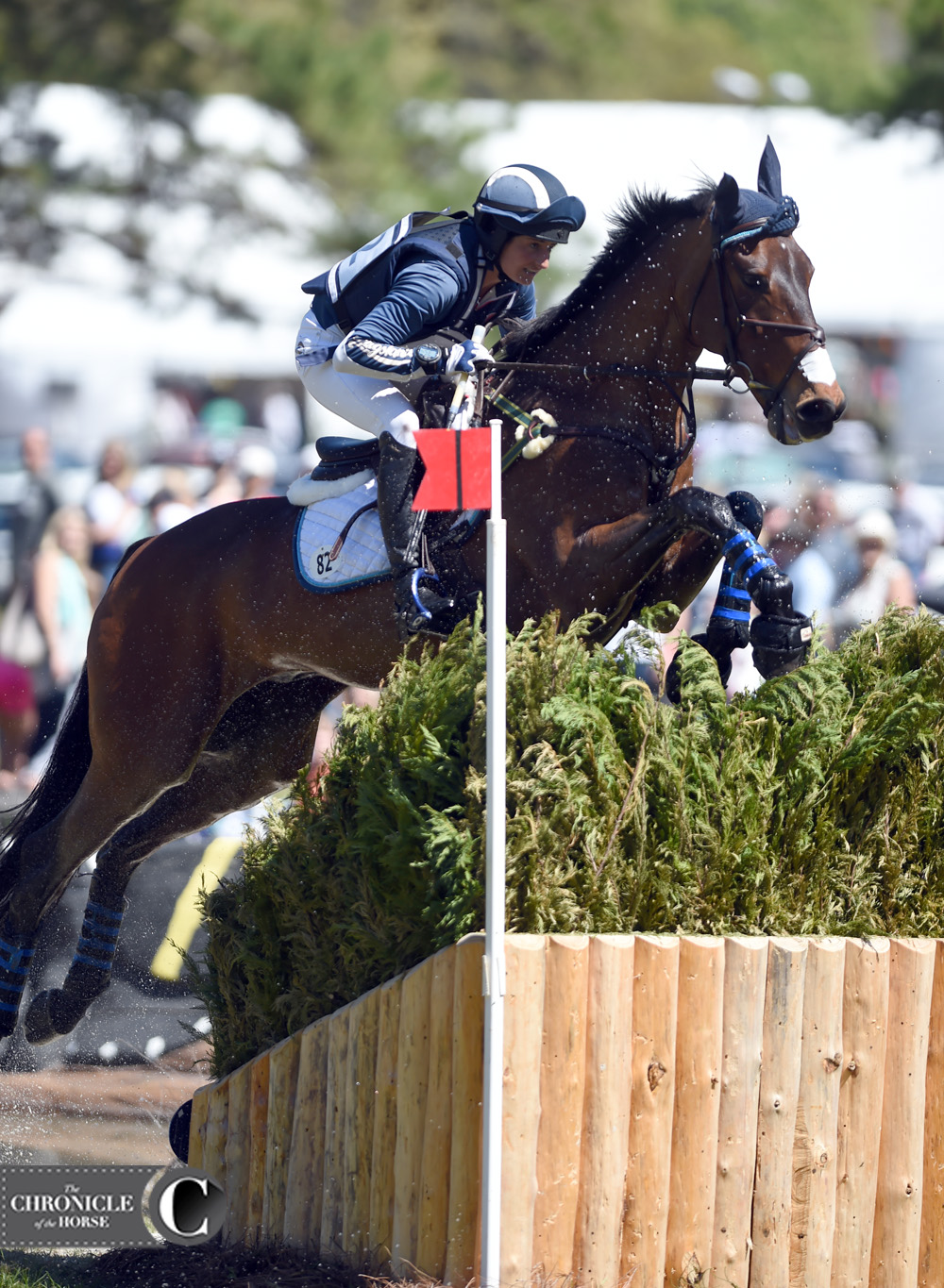 It wasn't quite "Ping's" first event back, as he and Brannigan's groom Erin Rose contested the novice at Three Lakes Horse Trials (Fla.) in January as a way for her enjoy the horse she's dedicated to caring for and to get him back competing again.
"I had to get special permission to run this event because they called and said, 'This cannot be right, this horse has only done one novice in the last sixteen months.' I was like, 'Oh, that's right!'" said Brannigan with a laugh. "I honestly have to say it's great to have Ping back. He's been a really wonderful horse for me in my career, and I think the last year and a half has been about focusing on the future and producing other horses. I feel very lucky that I can still focus on the other horses and have Ping come out and do well at this level. It's fun to have him. He's a good boy. He felt a little bit rusty this weekend, but he felt great cross-country. It was probably one of the best rounds he's had. It's fun to have him back."
Brannigan's not sure what the plans are for Ping, but she'll discuss it with his owners Tim and Nina Gardner this spring after the Cloud 11-Gavilan North LLC Carolina International CIC*** (N.C.) later this month.
"He's a horse that doesn't owe me anything. All I care about is him being happy, and that's all the care about as well. He's 15 now, so knock on wood, he's had a long career and was great jogging out today, so we'll do whatever's best for him," she said.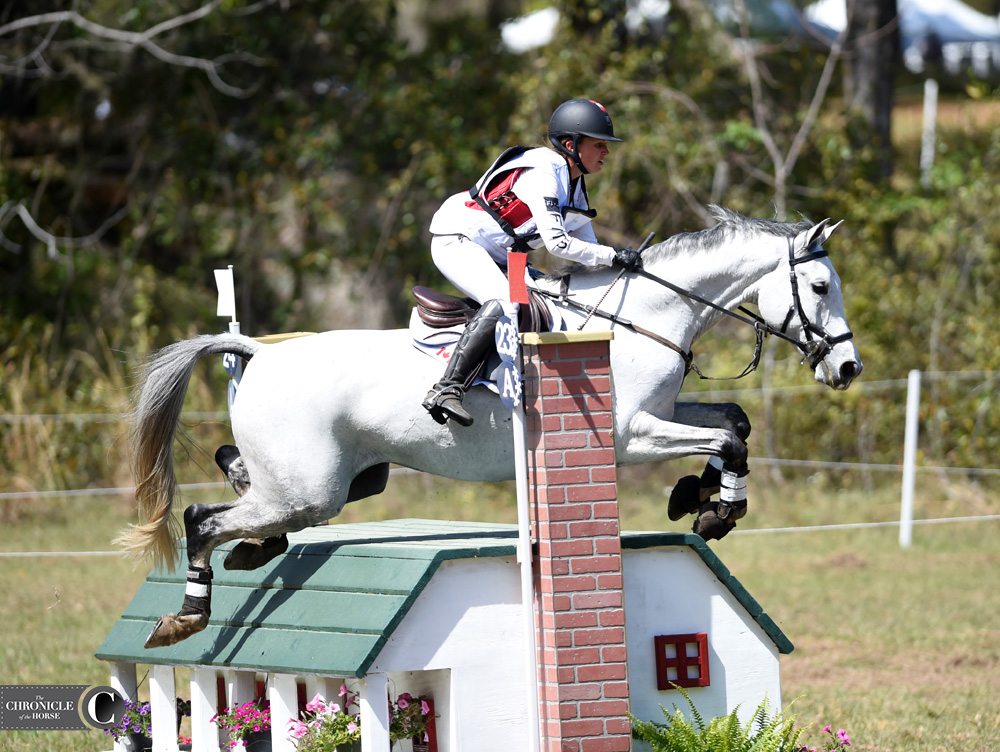 Canada's Jessica Phoenix and Don Good's Bentley's Best rounded out the top three, adding 2 time penalties in show jumping and 16 on cross-country.
Phoenix was thrilled about her ride and enjoyed the large crowds that turned out to watch.
"He was so much fun, all weekend long. He just feels like a new man this year. He's strong, and he's playing at the level, which is so cool to have a horse like that underneath you," she said.
"It's one of the only other events that we experience other than [the Rolex Kentucky CCI****] that has a community 110 percent behind it, and I think that's huge for our sport—to be able to gallop through those galloping lanes with all of those people cheering us on, it's really one of the only venues we get to do that at before a major event. It's important for the horses."
Overall, the show jumping rode tough. Barnard is in his first year of designing at Red Hills after taking over from longtime show jumping designer Fuzzy Mayo.
Nearly ever rider had time penalties—only four jumped double clear and six other jumped clear with time.
On cross-country,17 of 21 starters completed. There were two rider falls—Lauren Kieffer parted company from D.A. Duras at fence 15C, a triple brush, and Boyd Martin fell from Tsetserleg there as well. Both horses walked off course. Justine Dutton and Huck Finn both fell at fence 8, a log into water, but the live scores currently show it as a rider fall.
Four pairs picked up one stop, and Buck Davidson retired Halimey on course after two stops.
Burnett thought the course was tough, especially at the first water where riders dropped in over a log, then chose four or five strides to a corner in the water, then another four or fives strides to a boat out.
"I thought it rode pretty hard. The first water rode pretty tough. I think everyone was a little confused on whether to do a four [strides] to a four or a four to a five or a five to five," she said.
Phoenix agreed. "I thought it was really hard. Like Hannah was saying, the distances you had to wait until your horse jumped in and see how they jumped in, then make a decision, so you had Plan A, B, C and you sometimes ended up further down the list. It was just riding off your instinct, and the horses came out and jumped really well and felt confident," she said.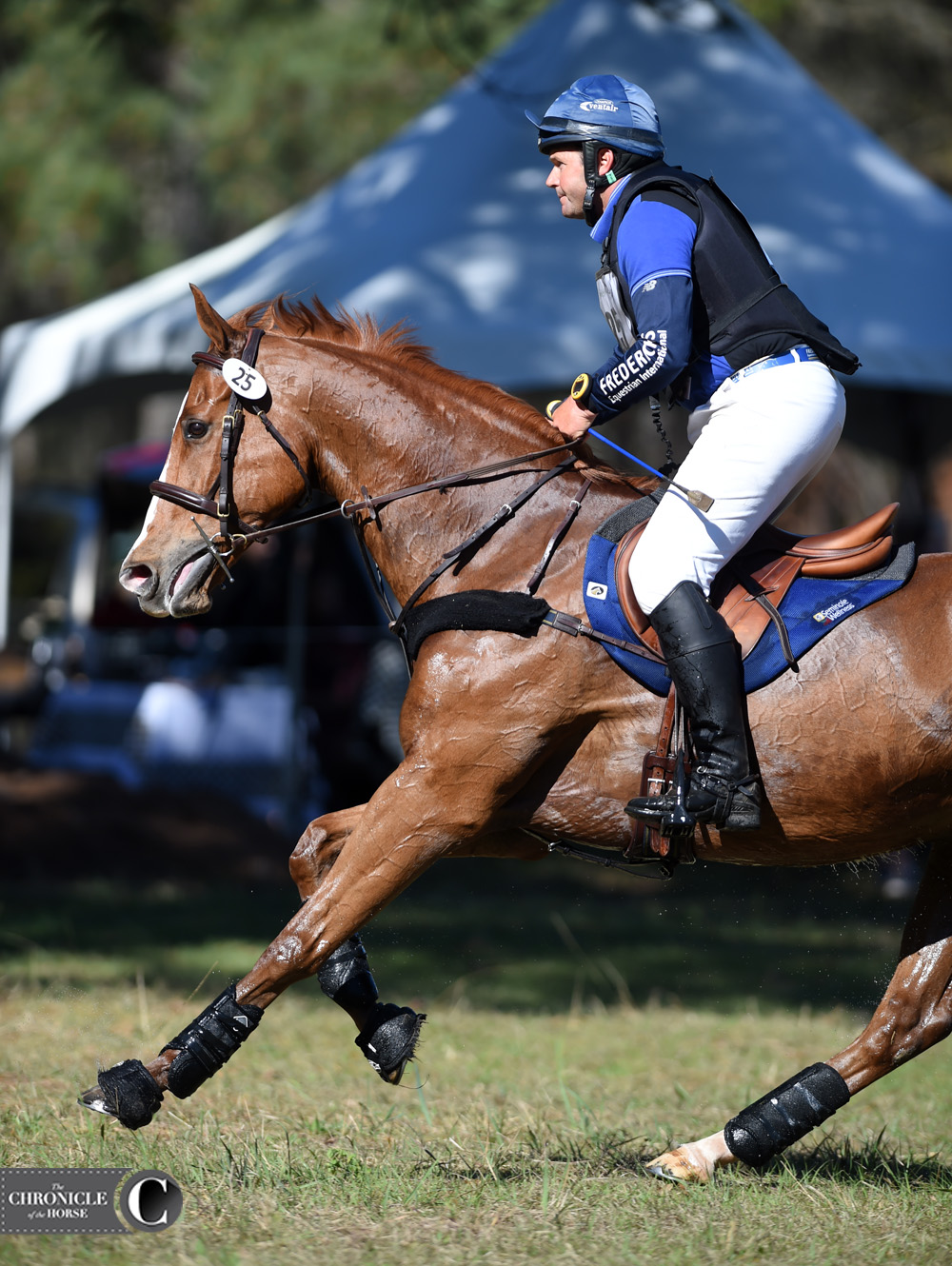 Clayton Fredericks held onto his lead in the CIC**, but on a different horse. He was leading after dressage on FE Ophelia, but after picking up some time penalties, he dropped to third with her and moved from second into first place with Katie Ruppel's Houdini.
Fredericks has taken over the ride on Houdini, who's competed to the four-star level, as a possible mount for the FEI World Equestrian Games in 2018 in Tryon, N.C.
"She's done a great job with him. He's a very competitive horse, and I can't thank her enough. It's an opportunity for me to have a shot at the WEG maybe," said Fredericks, who's ramped up his competition schedule again after discontinuing his role as the Canadian team coach this year.
"The advantage is the strong Australians aren't riding for Australia! I think we all stick together pretty well. I'm happy being based in the U.S. Obviously now that we have the WEG in Tryon I think it gives me a little help to get there," he said. "I remember last time the WEG was in the USA I think Peter Atkins got a call at the last minute. Maybe I'm that lucky guy that gets that at the last minute. Hopefully not. Hopefully I've done well enough to get a spot before the others arrive."
Fredericks is eyeing a late spring or summer CCI*** with Houdini.
"He was absolutely foot-perfect, and it's taken awhile. You don't strike up a relationship [easily.] He is a Thoroughbred horse, he's a little bit nervy at times. He's certainly taken a little while to get to know me. I'm not in a hurry, but I think with his experience, my experience, I'll plan out a nice preparation," he said.
Of 46 cross-country starters in the CIC**, only one pair, Jessica Schultz and Lock N' Load, made the time. Eight pairs had one refusal, and two broke frangible pins. Two pairs retired on course after two refusals, and Ashley Kehoe was the only rider fall, parting company with Kiltealy Toss Up at Fence 9.
Alexandra Knowles and FE Crosby, third after dressage, both fell at Fence 15. FE Crosby was led back to the barn, and Knowles was transported to Tallahassee Memorial HealthCare in serious condition. She reported she fractured her collarbone and pelvis and will undergo surgery tomorrow.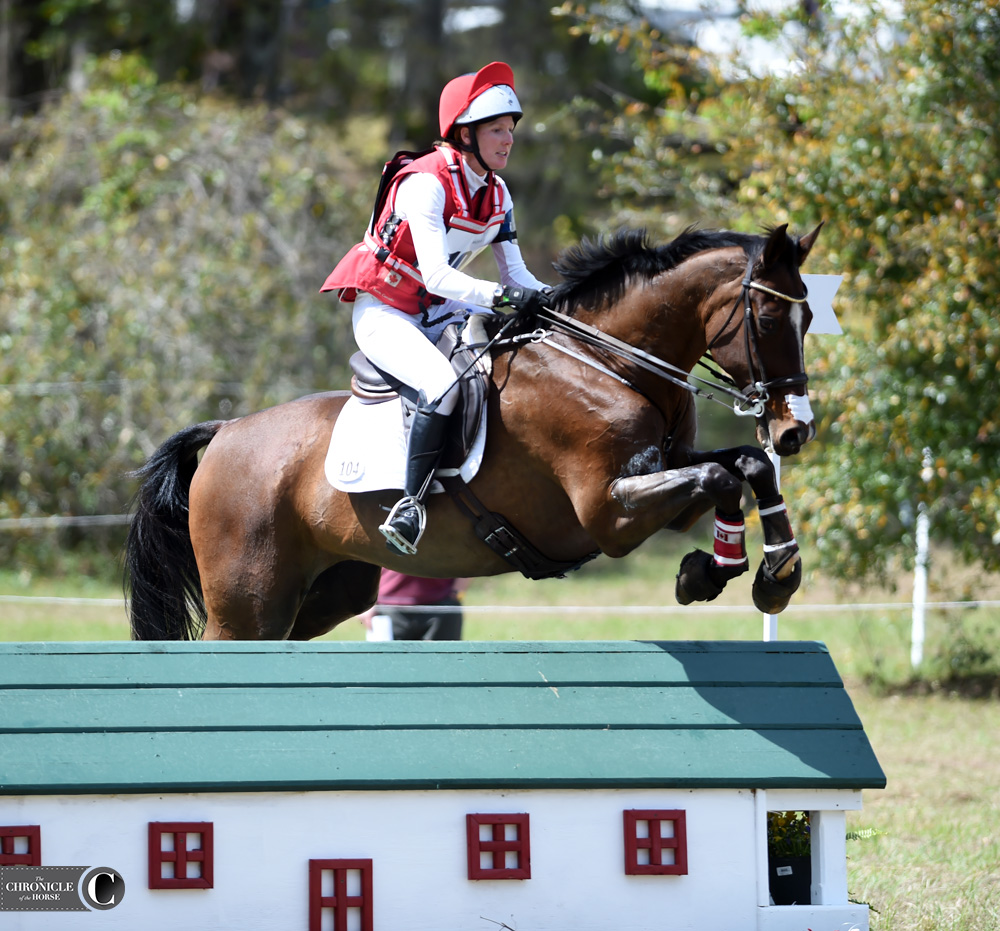 In the advanced division, Selena O'Hanlon held onto her dressage lead, adding 2 time penalties with Foxwood High.
"I was super pleased. I remember the first time I rode him around here after the World Equestrian Games [in 2014] he had no respect for the fences because the WEG was the first time I really got to push him at things," she said.
"I rode him at Rocking Horse [Fla.] a couple of weeks ago, and jumping into the water he peeked a little—I thought I'd given him a good shot in, and my breastplate clip broke. I had to keep reaching down and grabbing it because it was flying around and hitting him in the face," she continued. "It was disappointing because that took a lot of time, but I think it taught him a good lesson. When he came to the second water [here] it was the same kind of question, and he had some really good shape over it. He came out here today, and I was able to ride him really fast because he was looking at his job. He was very quick, and I had a foot-perfect ride."
The division was largely composed of horses new to the level. Of 14 pairs to start, one had a refusal and two retired after one refusal. Lauren Kieffer withdrew Veronica after her fall in the CIC***. Diana Burnett and Manny parted company at fence 22, but Burnett was up quickly and Manny was led back to the barn.
For full results, click here. And don't forget to read the March 27 issue of The Chronicle of the Horse for more in-depth coverage of Red Hills.