Tallahassee, Fla.—March 10
Although the Red Hills International Trials is one of the earliest CIC***s on the calendar, riders know to come extra-prepared. Held at the picturesque Elinor Klapp-Phipps Park among elegantly draped live oak trees draped in Spanish moss, the event is hugely popular with the local non-equestrian community, who come out in droves on cross-country day and even provide a bit of atmosphere for the usually quiet dressage day on Friday.
Whether it was the crowds, the windy weather or something else, scores across the CIC*** division trended higher than usual today, and in the end, Hannah Sue Burnett was one of just three riders to break into the 40s and take the lead on Harbour Pilot (44.1). Courtney Cooper and Who's A Star are in second place (46.3) and Canada's Jessica Phoenix and Bentley's Best slotted into third (47.6). Burnett is in a familiar position as she led the dressage at last year's event and ultimately finished third.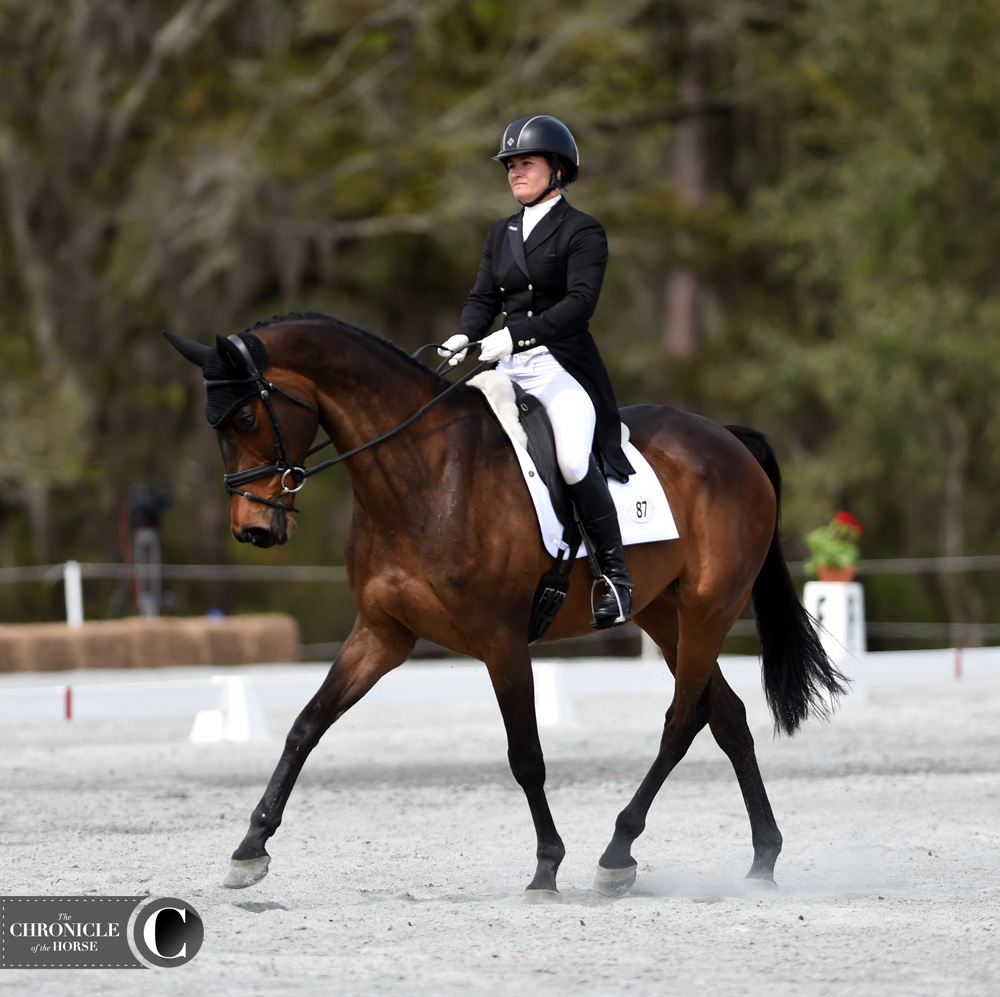 She said "William," a 14-year-old Irish Sport Horse gelding owned by Jacqueline Mars, was a bit hot today despite two morning rides. She usually only rides him once.
"I think the atmosphere here is really intense. There's a lot of people walking around and a lot of kids and strollers so it takes a little while for them to relax. Also, the ring by the [VIP] tent is far away from the warm up, and that I think it lights them up a little bit," she said. "He was really well behaved, and he knows his job, but he was definitely tense—I couldn't push him at all, I was just doing the movements. Hopefully [in the future] I can work him in a little bit more, and he'll be more elastic during the test. We'll push forward."
Burnett and William finished fifth in last year's Blenheim Palace CCI*** (England) and had one preliminary run before Red Hills this year. Burnett, The Plains, Va., said she likes the look of Michael Etherington-Smith's slightly beefed up cross-country track and plans to let William gallop on.
"I think it looks good. The first water is quite big. They've done a lot to the footing—it's a lot better than last year. You'll have to be on your A game," she said. "I think William needs to go out and blow off some steam! He's been wound up this whole year, so I'm going to let him run a bit. I'll let him have a little bit of a blowout."
She added that Red Hills course, which winds through the park's woods, can be good practice for bigger events to come.
"For the riders who are looking forward to [the Rolex Kentucky CCI****] and the bigger events, if you can get used to this kind of pressure this early on, it doesn't seem like as big a deal later on. It always is a big deal at Rolex, but it helps to get you a step up ahead of the game, rather than staying at home at smaller events then all of a sudden you're at Kentucky," she said.
Courtney Cooper's return to the advanced level with Who's A Star was an emotional one as he nearly died last fall after a battle with inflammatory bowel disease.
"He was quite sick last fall, and we almost lost him a couple of times," she said. "We did some biopsies at New Bolton Center [Pa.] which [was] confirmed at UC Davis [Calif.]. He also has some pretty strong allergies as well, so we put him on different medicines."
Cooper was happy with her ride today, and said she'll try to be competitive tomorrow, but will keep "Tag's" wellbeing in mind.
"He just let me really ride him today, and I put a lot of pressure on him. There were points where I thought I could have done better with him, and every day is really a privilege with him to have him back and be able to have him at all," she said. "My goal is to go out and be competitive. Most importantly to get a qualifying score for Rolex, that's the goal, because I need to get my CIC*** score. To jump clean with some time, to have a good show jump round, to feel like he's back on his feet. That's my goal. To do that I'm going to be running but not trying to make the time."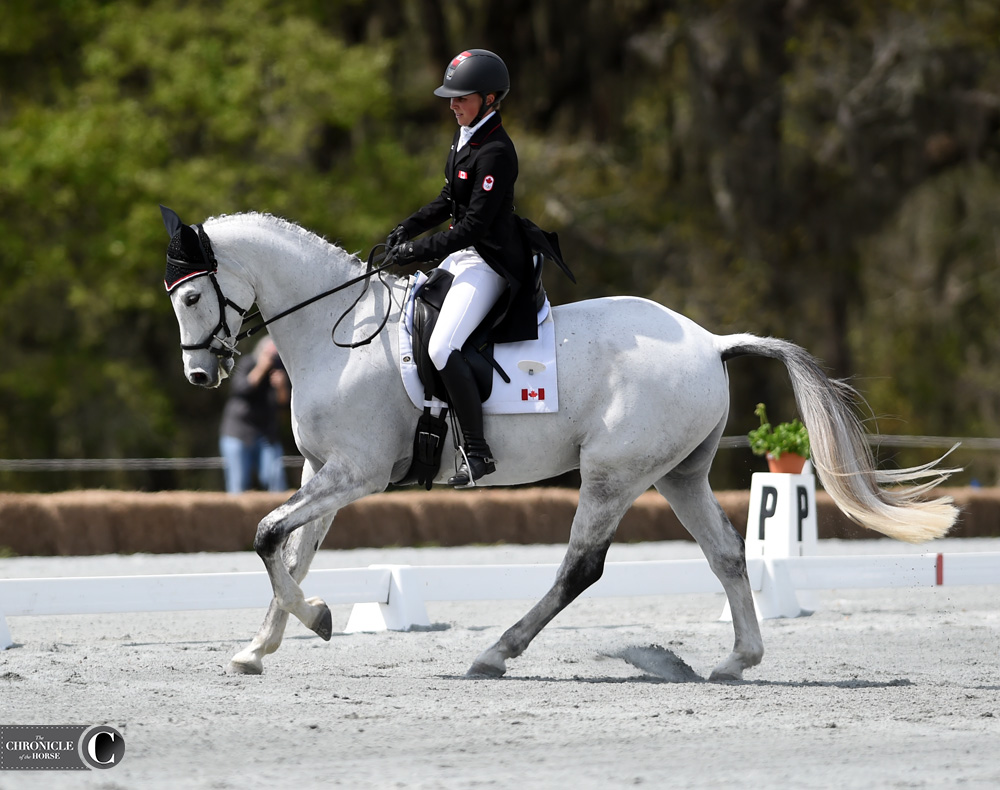 Phoenix has been thrilled with "Benny's" progress on the flat over the winter, and said he's come out stronger.
"Last year he was definitely moving up a level, and this year he's come out a lot more solid—he's got a lot more muscle and he feels like he can hold himself better," she said. " Over the winter he's done lots of gymnastic work and dressage to get stronger. It was so great to get him out in this venue—he loves atmosphere, he almost goes better with more atmosphere."
Phoenix is aiming for the Rolex Kentucky CCI**** with Benny, so she'll use her run tomorrow as a fitness gauge.
"With Rolex in mind, I think I really want to get out there and have a positive jump round and use the hills because we don't have a lot in Florida. I'll definitely be pushing up the hills," she said. "I think this is a really important venue for us in preparing for a spring event. Whenever you have this much of a crowd, you don't know what the horse is going to do. It's an unusual atmosphere for us to put our horses into."
Tidbits
– In the CIC**, Australia's Clayton Fredericks leads on FE Ophelia (37.2) and is second with Katie Ruppel's four-star mount Houdini (37.7).
– Canadian Selena O'Hanlon and Foxwood High are the advanced division leaders on 30.0.
– In the CIC*, Megan Lynn and The Natural E were the only pair to break into the 30s to lead on 38.0.
– Phillip Dutton made his return to competition with seven horses after spending a quiet winter at his home base in Pennsylvania where he's been caring for his stepdaughter Lee Lee Jones, who suffered a severe head injury in December.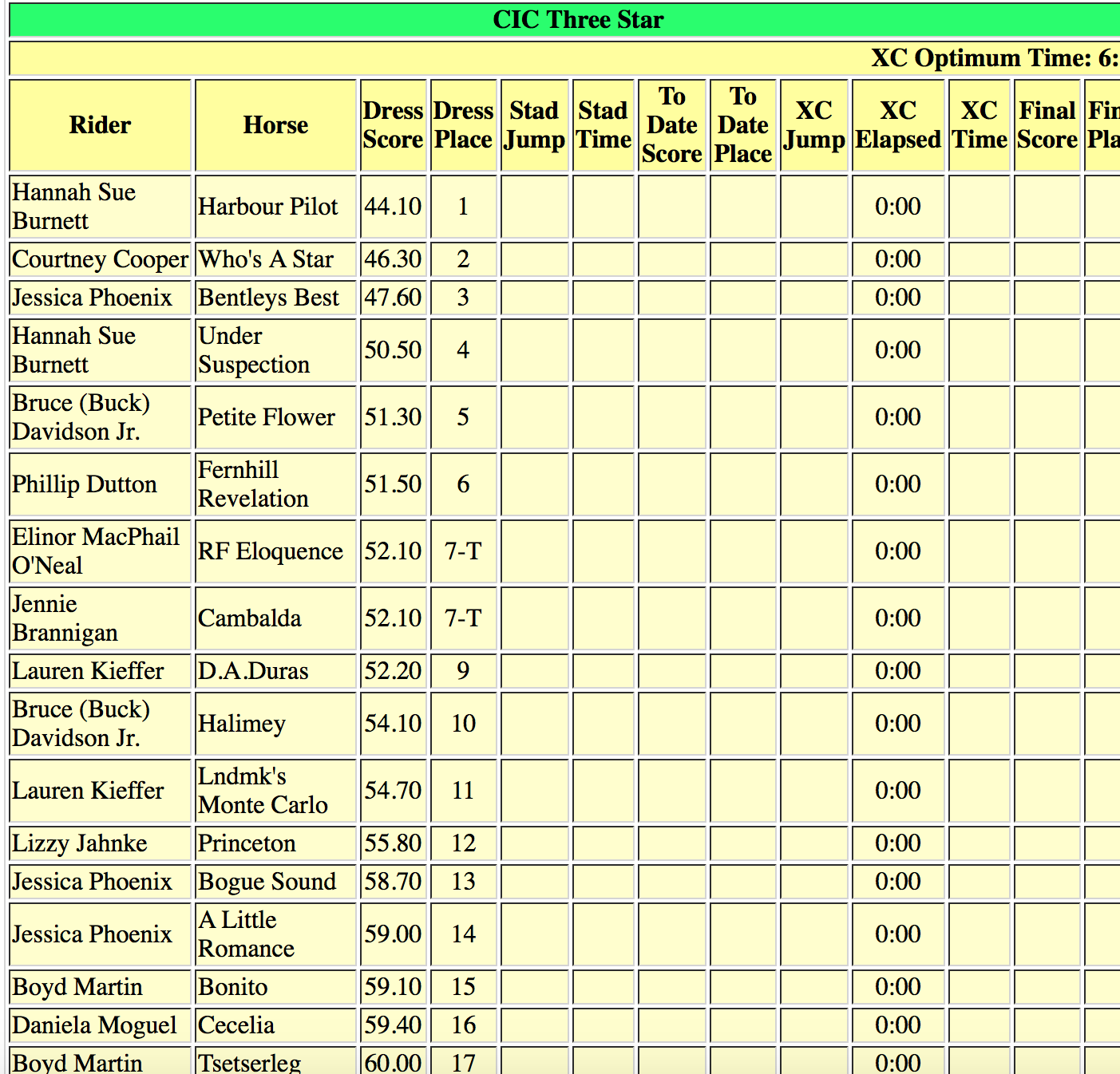 For full results, click here.